Emily Easton had been trying to lose weight.
But a sand volleyball injury set her back.
After surgery to repair her knee, the Council Bluffs woman got back on track.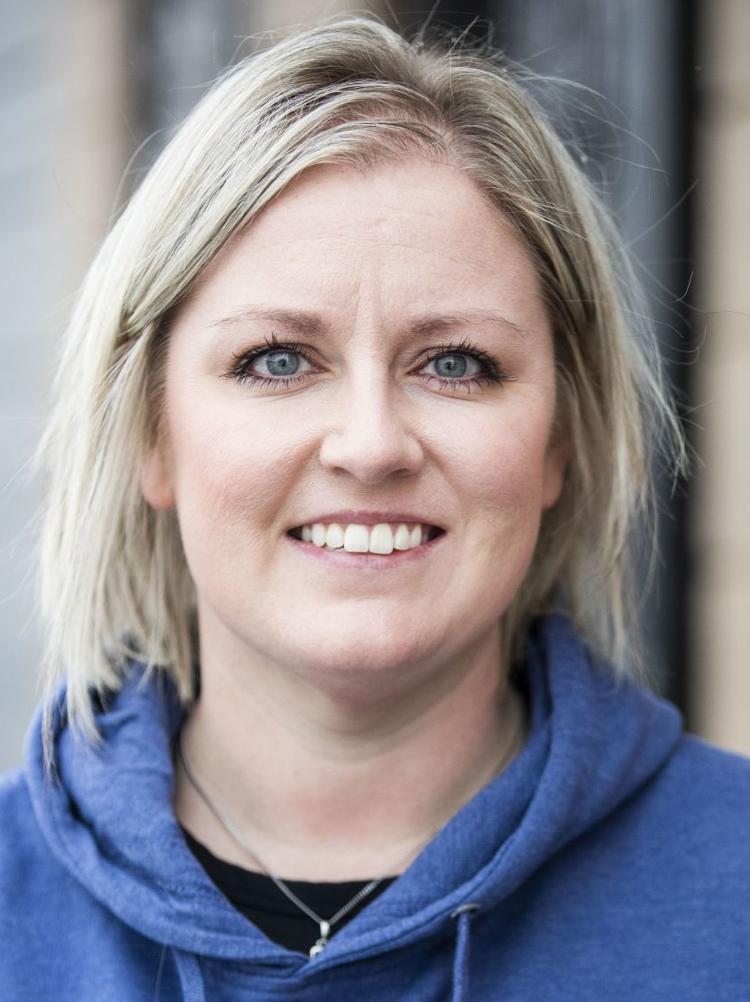 She joined Big Kent's Strength and Fitness, 10912 John Galt Blvd., to regain her strength.
Easton, 29, was hesitant to join a gym, especially after a knee injury.
"I've been to the gym," she said. "I've used weight equipment before, but I've never worked with a trainer that pushes you this hard.
"I had hit rock bottom. I had hit the point where I was going to do anything to lose weight."
Easton tackled workouts tailored to her abilities while she continued to recover.
She has dropped about 50 pounds, putting her halfway to her weight-loss goal. Easton, a nurse, said shedding some pounds has made being on her feet at work and climbing the stairs much easier.
Being in the gym regularly also has helped her build confidence.
Sign up for the Live Well Nebraska newsletter
Get the latest health headlines and inspiring stories straight to your inbox.
Q: When did you start working out and why?
A: I started at Big Kent's Strength and Fitness in September. I was pretty sedentary. I'm a nurse, so I'm on my feet a lot, but I was not exercising anywhere near the recommended amount.
Q: Describe your workouts. How many days per week do you exercise?
A: Kent (Fleming) is a phenomenal trainer. He mixes it up every single day. I don't think I've ever done the same workout more than once. He tailors my exercise to my needs. I do a lot of bodyweight exercises and machines. It's a lot of strength building, but he mixes in cardio with whatever activity we're doing.
Q: What is your current fitness goal?
A: Strength building. I want to be as strong as I possibly can. I recently started running again. Running a 5K would be another goal.
Q: What has been your biggest accomplishment?
A: Pushing past my limitations. I'm notorious for saying, "I can't do this." Kent pushes me past that. It's amazing what you can do when somebody's there pushing you to do it.
Q: What has been the toughest hurdle and how did you overcome it?
A: I still struggle with motivation sometimes. I don't miss a day, but finding the motivation to get through a workout is sometimes a challenge. Once I'm there and we're talking about the workout, I get really excited and then I'm in.
Q: What helps you stay on track?
A: Kent makes workouts so much fun. It's always different, and changing it up like that really makes it fun and interesting. I kind of crave it. After the first month, it became a routine. I feel better if I go consistently.
Q: What is your gym pet peeve?
A: One thing that's maybe not a pet peeve, but is something I wish would change, is the stigma of the gym. I'm a bigger girl. People look at you like, "What are you doing in the gym? You're overweight." Well, that's why I'm here. I wish people would be friendlier in the gym. We're all there for the same reasons.
Q: What do you do when you aren't in the gym?
A: My husband and I like to camp. We camp all summer long with a huge group of friends. I don't have much free time now, but I do enjoy reading and crafting.
Q: What is the piece of equipment, supplement, clothing, etc. that you can't live without?
A: The preworkout that I use every single day is called Prolific. I use melon berry twist.
Q: What advice would you give to someone who is just starting their fitness journey?
A: Stick with it. The longer you do it, the more consistently you work out, the easier it's going to get and the harder you're going to be able to push yourself. Eventually, it's going to become a habit.
Gymgoers share what motivates them, pet peeves and their proudest accomplishments
You never know who you might run into at the gym.
There's the man who's exercising as he waits for a heart transplant. Or the woman who's made Jazzercise workouts part of her life for more than 30 years.
Some workouts see moms accompanied by babies. Elsewhere you'll find folks well into their 90s who stick with exercise.