After about three months of regular workouts, Erin Wolfe is already noticing her clothes fit a little looser.
But being comfortable in her own skin is only part of the reason for her new fitness routine. Wolfe is living with kidney failure.
She was diagnosed with kidney failure in 2009, a complication from having Type 1 diabetes.
The 37-year-old wants to be ready and in shape should she need a transplant. She's been stable in stage 3 kidney failure for about nine years.
Q: When did you start working out and why?
A: I started working out at the end of April. I'm a Type 1 diabetic, and I have stage 3 kidney failure. I wanted to be ready whenever I need a transplant.
Q: Describe your workouts. How many days per week do you exercise?
A: Every day it's different. You start on either the rower or the treadmill. Then you do floor exercises, which can be lifting free weights, ab workouts or using the TRX straps. I'm here three days a week.
Q: What is your current fitness goal?
A: To be more comfortable in my own skin.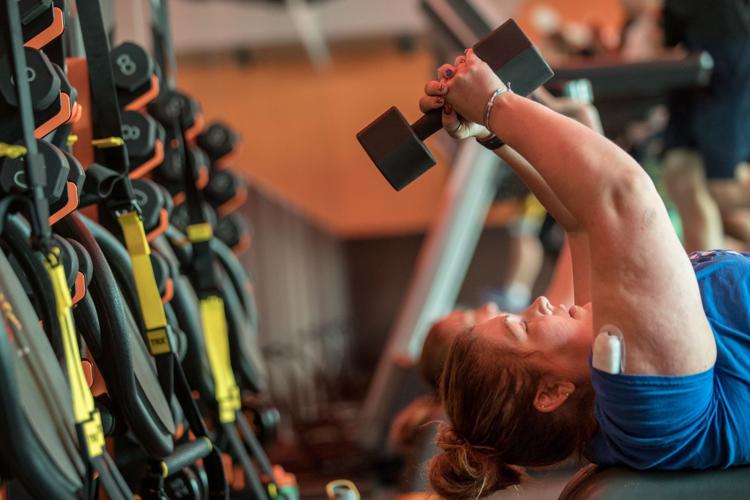 Q: What has been your biggest accomplishment?
A: My clothes are starting to fit a little looser, and I have more energy. Health-wise, I had a close call in May with my kidney failure, but I'm back to stage 3.
Q: What has been the toughest hurdle and how did you overcome it?
A: The toughest hurdle is waking up knowing (kidney failure) is still here.
Q: What helps you stay on track?
A: The family from Orangetheory. It stands out from any other workout place I've ever been to.
Q: What is your gym pet peeve?
A: When you don't get the help you need and you're guessing how to do it on your own.
Q: What do you do when you aren't in the gym?
A: Spend time with my family.
Q: What is the piece of equipment, supplement, clothing, etc. that you can't live without?
Q: What advice would you give to someone who is just starting their fitness journey?
A: To stick with the course. Everyone here is here for a reason of their own, but at the end of the day, we're all here to help each other. Just don't give up on yourself.
Gymgoers share what motivates them, pet peeves and their proudest accomplishments
You never know who you might run into at the gym.
There's the man who's exercising as he waits for a heart transplant. Or the woman who's made Jazzercise workouts part of her life for more than 30 years.
Some workouts see moms accompanied by babies. Elsewhere you'll find folks well into their 90s who stick with exercise.