There are no treadmills humming. There are no weights clanking to the ground. There are no medicine balls smacking against the walls.
The only sound in the room is the smooth swish of water coming from a line of rowing machines and music blaring from the speakers.
Five minutes into the workout, 11 rowers were breathing heavily.
As exercises ramped up in intensity, their instructor offered words of encouragement: "Don't give in. Remember, we're all on the same boat."
By the end of the 30-minute class at First Row Fitness, participants were covered in sweat. They groaned as they clambered off the machines, still trying to find their footing on wobbly legs.
Rowing isn't new, but it's slowly making a splash in the local fitness scene.
The exercise machines have long been left in the dust at big box gyms, surpassed in popularity by treadmills, the weight room and group exercise classes.
But in recent years, rowing machines have been reintroduced through fitness trends like CrossFit and Orangetheory — the latter offers circuit-style fitness classes.
And within the last year, at least two local studios have debuted classes built around the rowing machine.
The exercise, which looks as if users are rowing a boat, is low-impact, increases the heart rate and works several muscle groups.
It was the right format for Carrie McDonald's Council Bluffs facility, First Row Fitness. McDonald, a longtime fitness instructor, wanted a workout for all fitness levels.
First Row Fitness, which opened at 623 W. Broadway in June, offers kettle bell and yoga classes, too. But rowing is the focus.
Rowing classes, offered three days a week, are always full with 11 participants. Attendees are a mix of men and women. The oldest client is 78.
"I usually have a wait list on those classes, which is a good problem to have," McDonald said.
Over the past two years, rowing studios have popped up regularly in cities like Chicago and New York.
After visiting a New York studio, Trevor Fleming was inspired to open his own in Omaha. Dynamic Rowing, which opened a year ago at 14505 Grover St., offers seven rowing classes a week.
Like the Council Bluffs studio, Fleming uses water rowers at his facility. A water rower doesn't jerk or jolt the joints, he said. That's good for individuals who are overweight, have arthritis, joint pain or injuries.
"The concept behind water rowers is it's ... replicating what you would actually get on the water: that full, smooth, consistent stroke," Fleming said.
Rowers sit on the machines with their backs straight, knees bent and fingers grasping a handle attached to the front of the machine. They kick off the rower, straightening their legs, while simultaneously pulling the handle to their chests. Rowers repeat the motion over and over, at different speeds and intensities, depending on the workout.
If using proper form, the exercise works 80 percent of the body's muscles. The majority of the muscles worked are in the legs. It also helps strengthen the core, arms and back.
Fleming said his clients often find that it's harder than it looks.
Fleming mixes in resistance training in his classes, which can accommodate between two and 10 participants. He said most classes fall somewhere in the middle.
During a Tuesday evening class, Kathy Rains and her classmate used the rowers and a TRX system, a pair of straps anchored to the wall that use gravity and body weight for resistance training.
The two women leaned back, holding onto the straps as they performed lunges, squats and pushups. The more reps they did, the more their arms started to quiver.
While Rains and a classmate rowed, Fleming crouched between their machines to offer advice: "Catch your breath. Nice and slow."
Rains had been in boot camps on and off over the years. Once she tried rowing, she was hooked.
"I like getting more bang for your buck," Rains, 51, said. "It was something that really made me work, but I can go at my own pace."
In the eight months the Papillion woman has been rowing, she's lost 30 pounds. She also has more energy.
At the University of Nebraska at Omaha, rowing is a popular alternative to high-impact exercises, said Skyler Brooke, assistant director for fitness and strength programs. He said the machines are so in-demand on campus it can be hard to find one available.
Brooke has clients use the rowers while warming up because it works so many muscle groups. He said the exercise also can supplement other training.
Brooke also incorporates the rower into his high-intensity interval class on campus. Sometimes participants "race" on the machines or track how many calories they burn.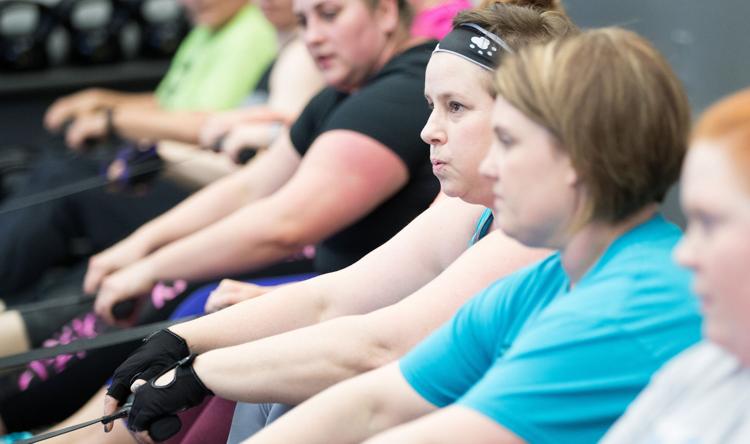 Rowing hasn't caught on everywhere. While most local gyms have rowing machines, few offer rowing-centered classes.
Many instructors credit the CrossFit craze with boosting rowing's growing popularity. CrossFit gyms use the rowers daily for warm-up and cool-down routines. The machines are incorporated into different interval workouts about three times a week, said Jonathan Pingel, owner of CrossFit Papio.
The machine's appearance on the Netflix series "House of Cards" helped, too.
Sales spiked at the water rower company after the show's protagonist Frank Underwood started using the machine, said David Jones, director of sales and marketing at WaterRower.
The company has been producing more than 1,000 machines a week to keep up with demand.
Patty Scarpello, who works out at First Row Fitness, spent nearly three decades doing the same workout: running and weight lifting. The Omaha woman now rows two to four times a week and takes other fitness classes. Since changing things up, she's gone from 48 percent body fat to 32 percent.
Josee Beier was new to the sport, too. The Glenwood, Iowa, woman used to do competitive weightlifting and bodybuilding in her 20s. She then took up bike riding and Jazzercise, although the latter bothered her knees.
Since she started rowing last summer, the 55-year-old hasn't had any injuries.
"At first, I thought I didn't know if I could do this," Beier said. "You get in a groove. It's a sport that anyone can do."