Editor's note: This piece originally was published on July 6, 2003, as part of David Harding's "Everyday History" column in The World-Herald.
As a kid, Jim Schwertley was small, scrawny and funny-looking. Just ask him.
"I had these big ears that stuck out, so I was real bully bait, " he said.
Schwertley signed up for the Charles Atlas mail-order bodybuilding program. It was advertised in all the comic books and magazines as a cure for the "97-pound weakling."
He followed it religiously, and it gave him added strength, but not the bulk he really wanted.
At age 16, he discovered weightlifting, a virtually unknown exercise technique at the time he took it up in 1945. He ordered a set of barbells by mail and began to follow the course outlined in an accompanying booklet.
His father — a physician — was concerned that all of this lifting might put too much stress on young Jim's heart. But he didn't intervene, and Schwertley kept at it.
In two years, he gained 30 pounds of muscle. The bullies backed off, and other neighborhood kids wandered over to the basement of the Schwertley residence at 39th and Nicholas Streets. They wanted to see where Jim's muscles came from.
Before long, 10 to 20 boys were gathering in his basement on evenings and weekends to hoist the heavy metal. Younger kids peeked through the barred windows to behold this strange activity.
"It was a pioneer version of Gold's Gym, " said Schwertley. "There was nowhere else for kids to learn about it."
Among the guys who stopped by at least once was a determined kid named Ernie Chambers, who still keeps a set of weights in his office at the State Capitol.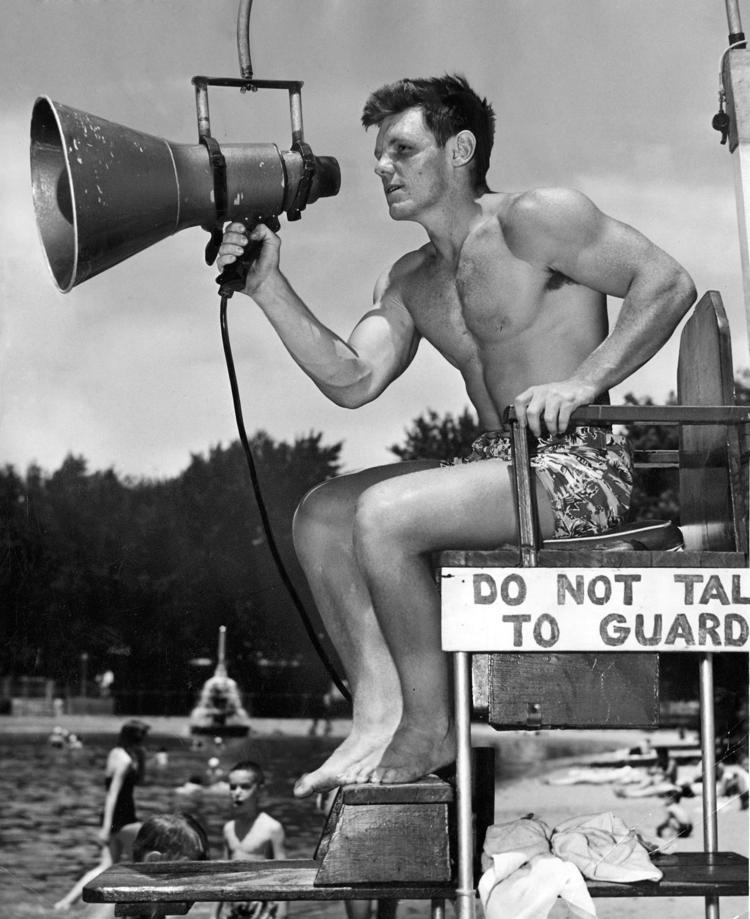 Schwertley entered the first Mr. Omaha contest in 1948. He didn't win, but he returned the next year and took top honors as the best physique in town. He went on to win the Mr. Nebraska and Mr. Midwest contests in both the physique competition and the light-heavyweight division in weightlifting.
"It was my 15 minutes of fame, " he joked, adding modestly, "There weren't a whole lot of guys doing it in those days, so it wasn't as great as it sounds."
Schwertley joined the Air Force in 1951 and managed to get assigned as physical trainer at a base in New Mexico, where he developed what may have been the first weight training program in the Air Force.
He returned to Omaha after his tour of duty. As part of a YMCA exhibition during the city's 1954 centennial celebration, Schwertley attempted to beat his own Midwest record by lifting 300 pounds over his head in a move called the "clean and jerk."
He succeeded. People still tell him they recall that demonstration as the first time they ever saw a muscle man.
"I guess that was my second 15 minutes of fame, " he said.
Schwertley came from a religious family, and in 1956 he went into the seminary to become a Catholic priest. Characteristically, one of his first projects at the religious academy was to start a weight room.
Weight training was still a foreign concept to most people — certainly among seminarians. As Schwertley hauled weights into his makeshift "sweatshop, " a monk frowned and asked, "Has that guy ever done time in prison?"
The Rev. Jim Schwertley has certainly done plenty of time in weight rooms. He never abandoned his belief in weightlifting as a source of health, fitness and confidence. At age 74, he still lifts weights twice a week.
"It's the best habit I ever had, except for going to church, " he said.
Want more of this? Check out Omaha.com/history for more stories from our city's fascinating past.