You might start a Color Run in a white shirt, but the shirt almost surely won't be just white at the finish.
Most people finish the 5K run/walk looking like a rainbow after event volunteers douse them with colorful powder at each kilometer along the route. The powder gets in your hair, on your glasses and, unfortunately, in your mouth.
The 4,000 people at Saturday's event, held outside the CHI Health Center, didn't seem to mind.
Sign up for World-Herald news alerts
Be the first to know when news happens. Get the latest breaking headlines sent straight to your inbox.
Some participants make it a point to get messy — they either stop near a powder-bearer and spin to get a good coating or fall into powder piles and make powder angels.
Raushanah Novotny and her 8-year-old son, Kayden, decided that the event would be their first 5K together, and the two of them ran the whole thing.
"The whole spirit of it is to have fun, so that's what really drew us … is that we knew it'd be fun," she said. "You didn't have to worry about your time or take it so intensely."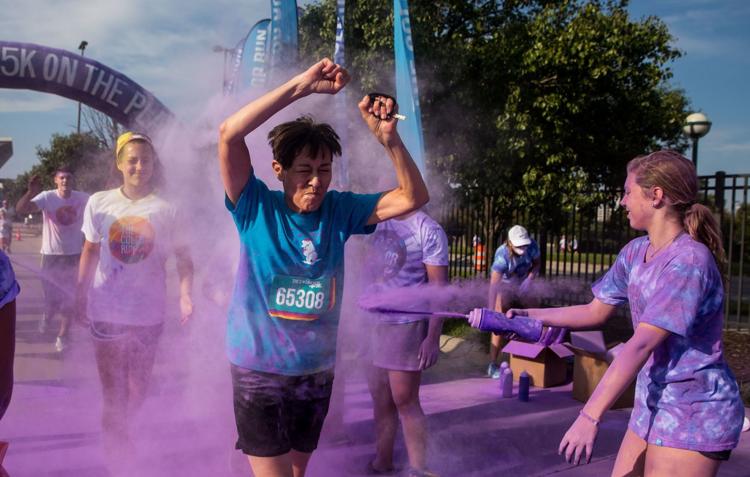 Novotny said she has participated in several other fun, active events, such as Trek Up the Tower at Omaha's First National Tower, and multiple triathlons.
Many of those who showed up Saturday made it a point to look silly even before getting covered in color. Several people wore tutus, vibrant tights or costumes, including a Stay Puft Marshmallow Man costume from "Ghostbusters." One runner wore goggles resembling those of the minions from the "Despicable Me" movies.
Angel Lipton was sporting her own unique look: a unicorn headband, tutu and knee-high socks she bought at a previous color run.
Lipton, who is retired from the military, said she ran in multiple color runs when she was stationed in Hawaii.
Saturday's event was her first color run since moving to the Omaha area five years ago.
"Since I retired from the military, I try to find ways to have camaraderie and try to find ways to do things with other people," she said. "This is the perfect avenue for that."
Lipton said she was walking the event with an Army veteran and an active-duty Air Force member.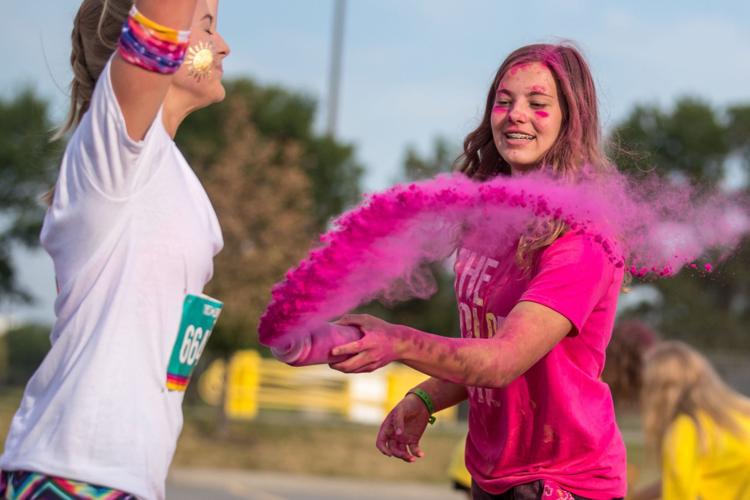 The Color Run came to Omaha in 2012, said Katie Morrison, a Color Run spokeswoman.
The race partners with a local charity in every city where it is held. In Omaha, it partners with the Omaha chapter of the Junior League.
Laura Praus of the Junior League said that by providing a certain number of volunteers, the group receives $8,000 from the Color Run. This year, about 100 volunteers came out.
It's not only a chance for Junior League members to log volunteer hours, Praus said, but it's great to sponsor such a fun event.
The Color Run's website says the organization has partnered with 80 different charities so far and given away more than $5 million nationally.
This year's race did have one significant tweak. The route — which was presented on the event's website as circling downtown Omaha — instead weaved in, out and around Parking Lot D of the CHI Health Center.
The modified route didn't seem to bother the participants. Novotny wasn't hesitant about wanting to do the race again.
"They should do one once a month," she said.