Nancy McCormick knows she's competitive.
And when she adopts a new fitness routine, she goes all-out.
When the Omaha woman took up running in her 40s, she was nationally ranked in a handful of distances.
Now 85, McCormick has landed a record in a new sport.
She set a national age-group rowing record for 1,000 meters during a recent rowing challenge at Creighton University.
McCormick finished in about 4 minutes, 37 seconds. The previous record was around 8 minutes, McCormick said.
"I looked at that and said, 'That looks very doable,' " McCormick said.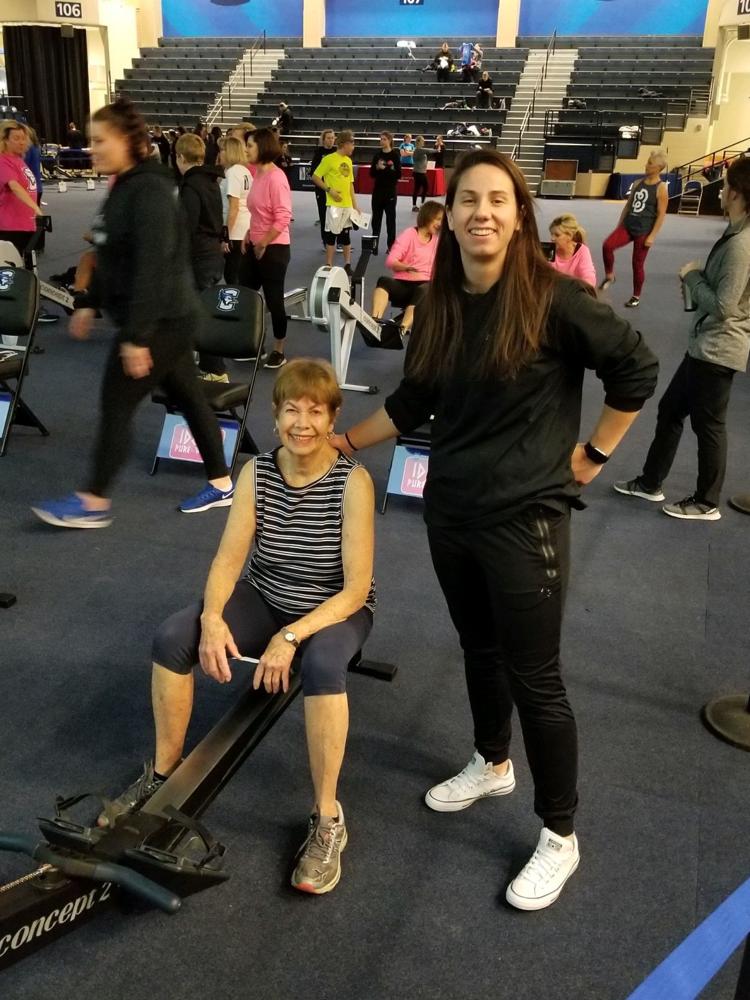 After tackling the rowing challenge at Creighton last year, McCormick started looking into national and world records. The world record was 4 minutes, 20 seconds.
"I'm happy that I broke it as well as I did," she said of the national record. "I would have loved to have gotten the (world record), but I didn't go into it expecting to."
McCormick has been rowing for about three years.
She set her running shoes aside in her 60s after experiencing continued knee trouble. She tried other fitness routines, including tennis and pickleball. Eventually, the rowing machines at her gym, Engage Wellness, caught her eye.
"I thought that sounded like a win-win," McCormick said. "I started rowing and I just love it."
She teamed up with coach Grace Rauh, a graduate student and rowing coach at Creighton.
"She's probably the most motivated person I have ever met," Rauh said of McCormick. "It's a lot of fun to work with her."
Rauh gave McCormick workouts to tackle. The two also met a couple times a week.
Setting a goal to beat the two records helped motivate McCormick.
McCormick said she always has been active, but she didn't get into organized sports until her 40s. She and her late husband, Fred McCormick, took up running.
She has run the Boston Marathon and the London Marathon.
In the 1980s, she was a nationally ranked over-40 distance runner, according to a World-Herald article. At one point, she held the record for the 15,000-meter race. She also was ranked for 10,000 meters and the marathon.
Sign up for the Live Well Nebraska newsletter
Get the latest health headlines and inspiring stories straight to your inbox.
Now, she's in the gym three days a week. In addition to cardio, she does weightlifting, stretching and classes like tai chi. On her days off from the gym, she walks or uses her rowing machine at home.
"I used to tell my kids that exercise should be like brushing your teeth," McCormick said. "You don't say, 'Am I going to brush my teeth?' You just do it."
Staying active has made aging easier, McCormick said. It gives her a boost of energy, and she's able to shovel her driveway, rake her yard and clean her house.
"I don't think there's any age that you can't start (exercising)," McCormick said.
McCormick is in great health, Rauh said, and it wouldn't be surprising to see her try for the international record next year.
"You would never expect Nancy to be 85 years old given the way she looks and walks around," Rauh said. "She's a great example of what consistently moving and staying active can do for you."
Friends, family and fellow gymgoers cheered on McCormick at the recent rowing competition.
It was fun to see the other rowers, she said. But the best part was celebrating with a piece of chocolate cake.