A number of proposals have been floated nationally in recent years to address continued interest in paid family leave for parents of new and adopted children.
They have ranged from requiring employers to provide the leave to allowing people to tap their future Social Security benefits to cover time off.
Nebraska lawmakers have come up with their own options.
The new federal tax law includes a provision championed by Sen. Deb Fischer, R-Neb., that offers a tax credit for companies that provide paid family leave.
Fischer's tax credit is set up as a two-year pilot program.
Under the program, billed as the first nationwide paid family leave program, employers can offer up to 12 weeks of paid family leave. Employees can use it to care for a family member or for parental leave with a newborn or adopted child.
[Read more: New moms in Nebraska government rely on co-workers to donate time]
Employers who use it can get a credit of up to 25 percent of wages replaced. Fischer has said the measure targets lower- to middle-income workers by capping employees' eligibility at an annual salary of $72,000. It also extends to part-time workers and those employed by businesses that have too few employees — fewer than 50 — to qualify for the federal family leave law .
"This plan is a middle ground that respects both families and businesses," Fischer wrote last winter in the Washington Post.
Federal officials recently issued guidance for employers who seek to use it. Fischer's office staff had heard from some Nebraska businesses that were interested in the program and were awaiting those details. Fischer and other lawmakers also have introduced a bill to extend the program through 2022.
State Sen. Sue Crawford of Bellevue seeks to create state leave insurance that would allow employees to take time off with partial wage replacement to care for a new child, a family member with a serious illness or a family member preparing for or returning from military service.
Leave through the program would kick in after any other leave runs out for up to 12 weeks with a new child or up to six weeks for illness or military service. A new mom who takes six weeks after the birth of a child under an employer's policy, for instance, could receive wage replacement for an additional six weeks. Crawford plans to introduce the measure when the Nebraska Legislature convenes in January.
The program would cover workers across the board, including government and the private sector. Wages would be replaced on a sliding scale based on income, so the highest-earning leave-takers would receive less than the lowest earners. That's based on the idea that taking time off would put a larger dent in a low-wage earner's budget than in that of a higher-wage earner.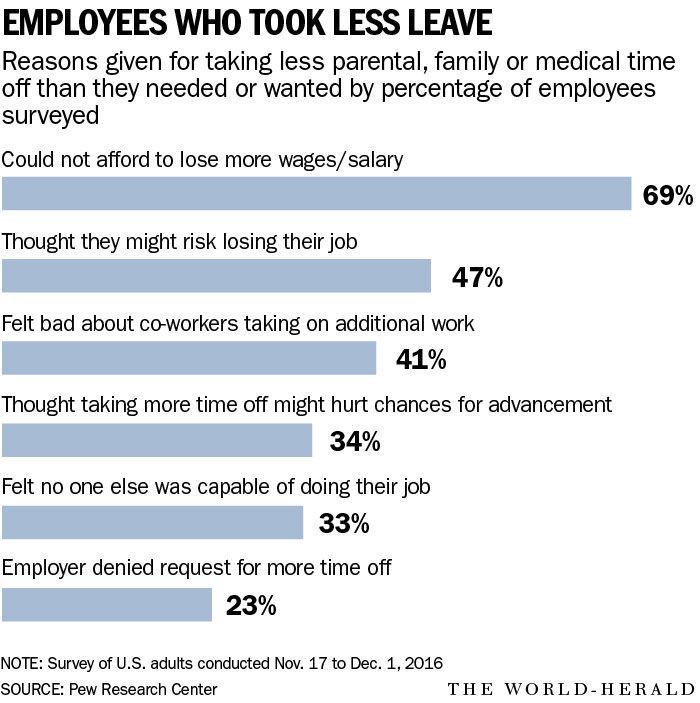 Currently, Crawford said, there's no private market for paid family leave insurance as there is for disability insurance. Under the program, employers would pay a small fee. Estimates from other states put the cost at about $50 a year or less for an employee with an average salary, about $50,000 a year.
Employers that already offer comparable family leave benefits could opt out. But the statewide structure, she said, would help all employers, including small ones, provide family leave. Many low-wage workers have no paid time off. Among the lowest 25 percent of earners, only 6 percent had access to paid family leave, according to Bureau of Labor Statistics figures for 2017.
Not only would such a program improve the state's draw to young families and young professionals, but it also acknowledges brain science stressing the importance of early bonding time.
"People are increasingly realizing how important it is to balance family and work and so they're increasingly demanding it," Crawford said.