Meteorologists have lots of tools — weather balloons, Doppler radar, satellite data — to help them forecast the weather.
Public health officials, on the other hand, often find themselves looking in the rearview mirror, trying to track disease outbreaks after they already have begun. That includes spotting potential new spikes of the novel coronavirus, a job complicated by the virus's long incubation period and the time it takes sick people to get in and get tested.
Now a team of University of Nebraska researchers is investigating whether fever data from Internet-connected thermometers can help forecast COVID-19 hot spots in Nebraska weeks before new outbreaks are officially reported.
Fadi Alsaleem, a University of Nebraska-Lincoln engineer, said data he obtained from the thermometers showed a spike in fevers in Nebraska in mid-March, about a month before a surge in cases was reported in the state.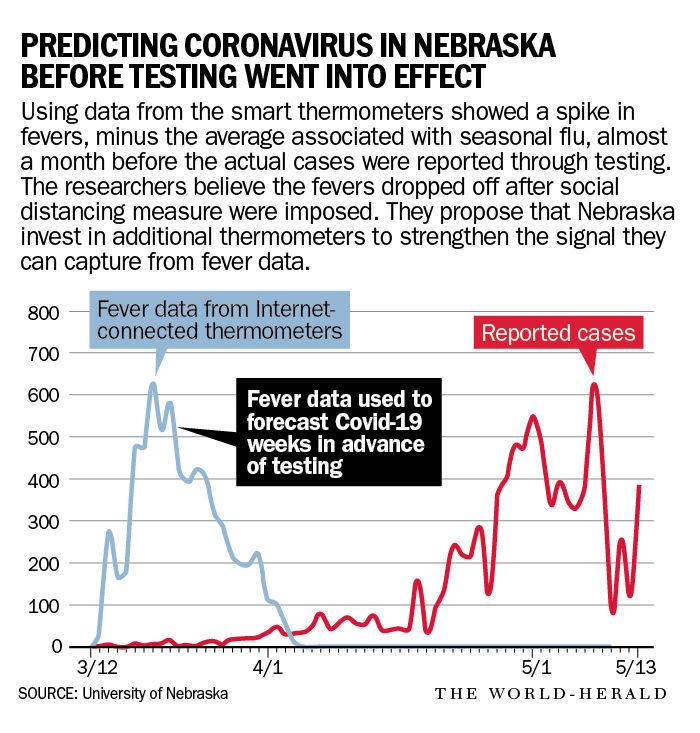 "It's a big thing if we can know that we have this virus almost a month before it is reported from testing," said Alsaleem, an assistant professor of architectural engineering and construction. "One quick way we could potentially use this is to forecast a new outbreak."
He and other researchers also are seeking to combine the thermometer data with other data sets to build a model that might better predict how the spread of coronavirus will respond to the relaxation of social distancing guidelines.
The thermometers are produced by Kinsa Inc., a San Francisco-based company that for several years has used anonymous fever data uploaded to the Internet to track influenza.
This year, the company took the fever signals it was seeing and subtracted what would normally be expected during that time of year, based on the five-year averages it had compiled, said Inder Singh, the company's founder and CEO. About 1.5 million Kinsa thermometers are in use in homes across the United States.
What was left, Singh said, were "atypical fevers," those that don't match historical flu patterns. These days, those atypical fevers likely are associated with the coronavirus.

Recently, the company published research indicating that the data provided clues to spikes weeks in advance. The data also signaled when fevers declined after social distancing measures were enacted. The study has not yet been critiqued by outside scientists.
Alsaleem, using the company's Nebraska data, found that the difference between fevers this year and prior years closely aligned with the number of coronavirus cases reported in the state from mid-April to mid-May.
Similar to the company's findings, he also noted that the incidence of fevers in Nebraska began declining after state officials announced social distancing guidelines, schools closed and some employers began allowing employees to work from home.
Alsaleem and his colleagues recently proposed that the state invest in additional thermometers to bolster its data. Gov. Pete Ricketts said last week that he has asked his team to look at the proposal.
Kinsa already is working with Colorado, Connecticut, Oregon and Idaho, which are purchasing and distributing additional thermometers, said Nita Nehru, a company spokeswoman. Similar efforts will take place in California and Louisiana with private money.
Colorado plans to start with a pilot program that will distribute 15,000 thermometers to families of first responders and essential workers in three communities, according to the Colorado Governor's Office.
"We need an early warning system in this country," Singh said. "We need an early warning system in the world."
Dr. Alison Freifeld, professor of infectious diseases at the University of Nebraska Medical Center, said widespread use of the thermometers could allow researchers to rapidly track data about where and when fever activity is spiking. Then, testing and stronger physical distancing measures could be targeted to those locations, while keeping unaffected areas open.
"I think it's an exciting development, a pathway forward to predicting where spikes of (COVID-19) will occur so we can have the ability to forecast (and) predict how to respond," said Freifeld, who recently joined the project.
Meanwhile, Alsaleem and his collaborators also are trying to figure out how to predict the impact of easing social distancing by bolstering the fever data with data from other sources.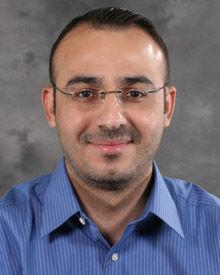 Basheer Qolomany, who studies machine learning and big data at the University of Nebraska at Kearney, began collecting tweets from across the country in January and searching them for the word "fever." The researchers found they provided an even earlier predictor for outbreaks than the fever data.
Alsaleem also tapped data on bike riding collected during recent research he'd conducted for the Nebraska Department of Transportation, which used a networking app called Strava.
Before social distancing, for instance, the data showed more people riding to work during the day and fewer riding after work. After many businesses shifted to work-from-home mode, the numbers flipped and more people were riding after work than during the day.
The idea is to put all of these data signals together to provide a fuller picture than the individual pieces could do on their own.
"The more you bring these leading indicators together," Alsaleem said, "the stronger your signal."