Neal Shepherd won't remember his first birthday, but his parents sure will.
The family of three had the pleasure Tuesday of being together on Neal's birthday. The circumstances, however, were odd.
Neal, his father, Tyler, and mother, Yang Meng, are among the 57 people who have been quarantined at Camp Ashland between Omaha and Lincoln. None of the 57 has been diagnosed with coronavirus, which has swept part of China, but they must spend 14 days in quarantine to make sure they don't become ill with the virus.
Federal staffers overseeing the quarantine threw a birthday party for Neal in a conference room in the quarantine quarters. Neal's father said about 15 staffers came, as did some of the evacuees. The staff "got him a little cake and everything," Shepherd said.
The staffers wore their protective gear and masks. Some of the evacuees wore masks, too. The party was in a large conference room.
"Pretty much everybody was trying to stay apart from each other," Shepherd said.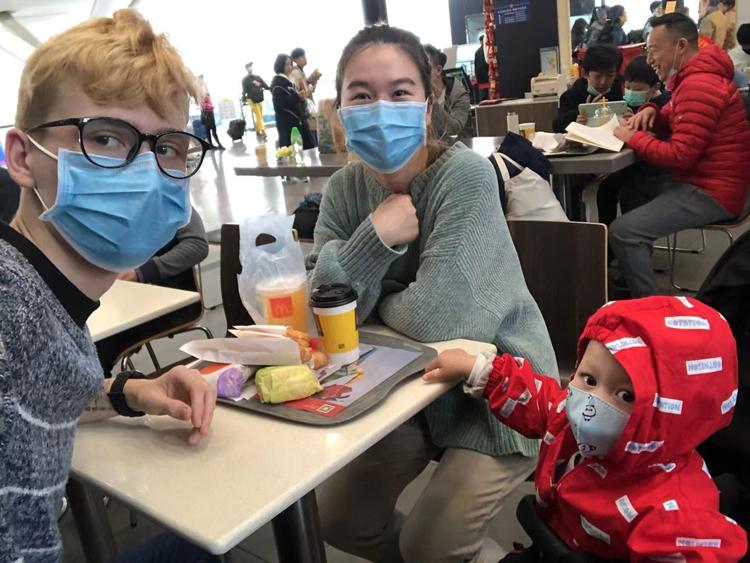 Because the virus is transmitted through cough and sneeze droplets, evacuees generally stay at least 6 feet apart.
Attendees sang "Happy Birthday" to Neal. They gave him a toy, a blanket and socks. The toy requires Neal to drop small, colorful, plastic donuts onto a stick. He then removes them, a dexterity challenge that Neal enjoys.
"He likes anything, to be honest," the father said.
The three wound up in quarantine in Camp Ashland because they had visited some of Yang Meng's relatives near the city of Wuhan, which has been hit hard by coronavirus. Shepherd said he is an English teacher in China.
They spent a couple of weeks in lockdown with Yang Meng's father, then managed to get on an evacuation flight to the United States. Travelers from the Wuhan area have been quarantined at places in California and Texas, and at Camp Ashland.
It's been a weird experience, Tyler Shepherd said. But the situation becomes less frightening as time passes and everyone remains well. Staffers have "been very nice to us, trying to do everything they can to make our quarantine pleasant," he said. "There haven't really been any bad parts of the experience so far." Staffers acquired a kind of snack chip that Tyler wanted.
The family of three can take walks outside in a specified area and toss a Frisbee. They go down the hall to pick up their meals and take the food back to their room. Staffers check their temperatures twice a day. Including the day they flew out of China, they are in day five of their quarantine.
Shepherd has had no income during this time, and family members have set up a GoFundMe page.
When the three are released, they will visit Shepherd's family in California. They owe at least $2,200 for the evacuation flight and more if they are charged for Neal's ticket. They'll owe a few hundred to fly to California. They also have diapers, wipes, food and other expenses to worry about.
They pass the time by watching television, playing with Neal and communicating with others by social media.
Neal had no problem with Camp Ashland on Tuesday. What's 14 days of quarantine when you've been on Earth for a whole year?
World-Herald staff writer Jessica Wade contributed to this report.
---
A look back at the Nebraska Medical Center biocontainment unit's Ebola patients