Hundreds of Omaha-area residents who rely on a transportation program to get to medical appointments, day programs and the like could be stuck at home, starting next week.
The changes, made on short notice to the Eastern Nebraska Office on Aging's rural transportation program, go into effect Monday. Officials are scrambling to find short- and long-term solutions.
State Sen. Carol Blood, who represents western Bellevue and southeastern Papillion, learned about the changes from a constituent and has pressed transportation officials to move quickly.
"The issue for me is we've got to do this in a timely manner. We don't have six months," Blood said. "A lot of circumstances are going to prevent people from getting the transportation they need, and we need to kick it into gear fast."
The program, offered for more than 30 years, subsidizes transportation costs. It is open to the general public but is primarily used by the elderly and individuals with disabilities, said Dennis Loose, ENOA's executive director. The group provided more than 19,000 one-way rides in the last fiscal year.
Officials learned in mid-May that the existing boundaries — which allowed anyone west of 120th Street in Douglas County and anyone in Sarpy, Cass, Dodge and Washington Counties to use the service — were no longer in compliance with federal guidelines. The program is funded in part by federal grants, distributed through the Nebraska Department of Transportation.
Census data determine which residents are eligible for the service. The most recent census information from 2010 hadn't been taken into account until this summer.
Sign up for The World-Herald's afternoon updates
Receive a summary of the day's popular and trending stories from Omaha.com.
Vicki Kramer, communications and public policy director for the Nebraska Department of Transportation, said the department understands the importance of the programs and is exploring solutions. She wouldn't disclose details about the proposed fixes.
"It's not our goal to reduce this service, but we need to be in compliance with the federal standard," Kramer said.
ENOA directors said an individual who lived east of the 120th Street boundary complained, which alerted officials to the error.
The Department of Transportation informed ENOA of the changes. "It was a surprise to us," Loose, of ENOA, said.
ENOA then sent notices of the changes to riders who had used the service in the past year, giving them a month's notice to make other plans.
Blood said 100 people attended a public hearing June 18.
Changes now show urban Omaha stretching to 204th Street in Douglas County. Bellevue, Papillion, Gretna, Bennington and Waterloo are also considered urban under the new data and are therefore not eligible for the rides.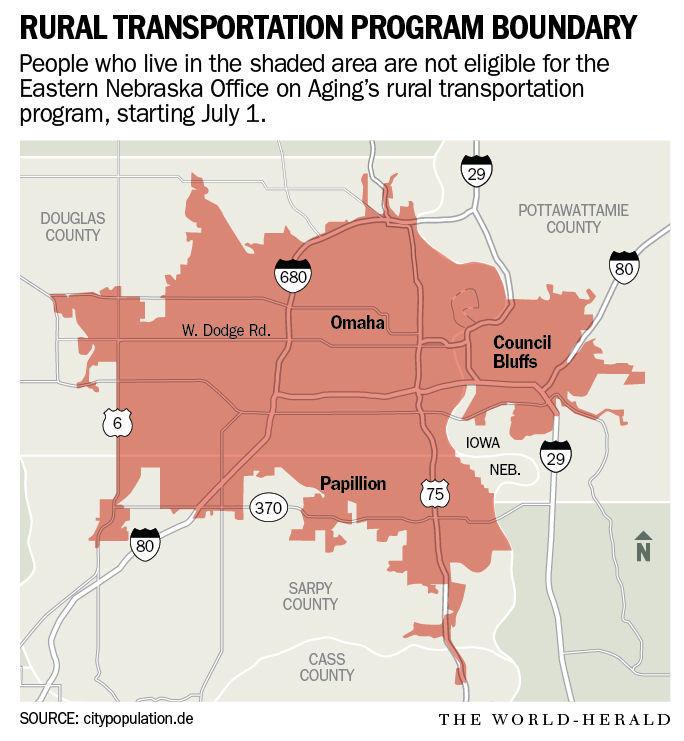 Most riders use the service to get to doctor's appointments; personal appointments, like to the hair salon; senior centers; and day programs. The $604,000 program provides users with an affordable travel option, officials say. Users pay between $3 and $9, with the highest price for one-way trips of more than 61 miles.
Loose said almost 90% of current riders will no longer be eligible for the service.
"Any time people lose a service they've had, it's a concern," Loose said. "Especially for some of them, the options are severely limited or not at all. That's a huge concern."
State transportation officials said they expect to have more information within the next two weeks.
Photos: Our best shots of 2019 (so far)
Take a spin through the best of our staff photos from 2019. The gallery will be updated throughout our journey through the next year.