Tuesday was a "big day" for the Omaha zoo's snow leopard cubs.
Dan Houser, curator of large mammals, said it was a graduation of sorts.
"(They're) the very last cats to leave the old cat facility built in the late '70s and move to the new Asian Highlands snow leopard exhibit that we have," Houser said. "It's a graduation from the old to the new, an exciting moment."
The cubs were weighed in the old cat facility Tuesday.
The male weighed in at 16.53 pounds; the female, after a few growls and squirms, weighed in at 14.55 pounds. Both healthy weights, Houser said.
At 1 month old, both cubs weighed just over 5 pounds.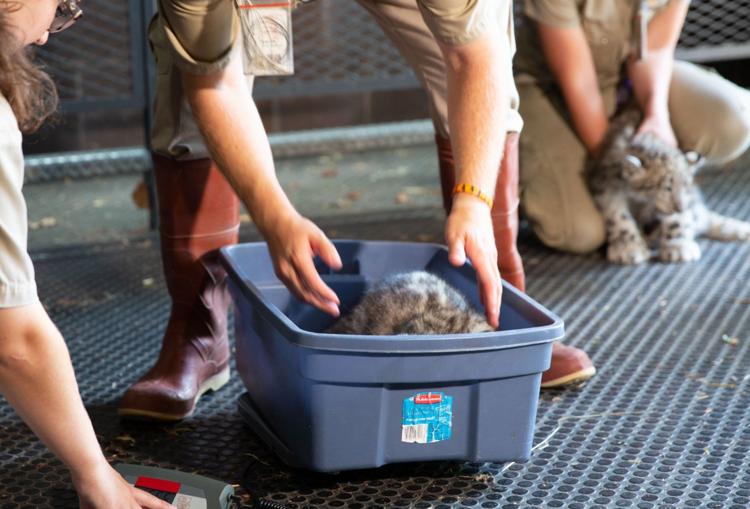 Born May 22 to their mother, Rosemary, and father, Pasha, the cubs aren't on display yet, but soon will get acquainted with their habitat in the Asian Highlands exhibit.
Rosemary, 5, arrived at the Omaha zoo a little more than three years ago. She and Pasha are also parents to Victoria, who was born at the zoo in 2017. She went to live at the Binder Park Zoo, near Battle Creek, Michigan, this month.
Houser said the Omaha Zoo has a history of successfully breeding snow leopards, a species listed as vulnerable by the International Union for Conservation of Nature's Red List, according to a press release from the zoo.
The Omaha zoo works with 56 other accredited zoos in gene diversity and breeding planning.
"We plan for where the gene diversity is going to be in 100 years," Houser said. "It's a really big, coordinated effort. In our case, Omaha has a history of actually being quite the leader."
Houser said 37 snow leopards have been born at the zoo in 20 litters.
The cubs born in May will be named at the zoo's Zoofari fundraiser on Friday.
There are an estimated 2,700 to 3,300 snow leopards left in the world. The main threats facing the animals are loss of habitat, retaliatory killing from predation on livestock and illegal trade in furs, bones and other body parts.
Photos: Henry Doorly Zoo & Aquarium's Asian Highlands exhibit opens