The Lincoln Children's Zoo isn't so little anymore.
On Friday, the zoo will open part of an expansion that doubles the size of the zoo and transitions it from a seasonal zoo to a year-round one.
The expansion marks the debut of giraffes and tigers at the zoo. It also adds a 28-foot-high indoor climbing playground that shares a glass wall with spider monkeys, a marquee exhibit for red pandas, an animal show amphitheater and a new entrance.
"It's all about conserving nature, about caring, about community," said zoo Director John Chapo as he unsuccessfully fought off tears of joy. "This is just a crescendo for my 33 years and the biggest thing for the zoo since it opened."
The 8-acre project was announced in 2018 and grew in scope as fundraising exceeded the zoo's expectations. It began a year ago with an $18 million price tag, which swelled to $24 million thanks to a surge in donations, including the zoo's first individual donations of more than $1 million.
A play-in stream will be complete within the next few weeks, an education building will open this summer and a cafe between the tiger and giraffe buildings will open this fall. Even more projects will come in 2020.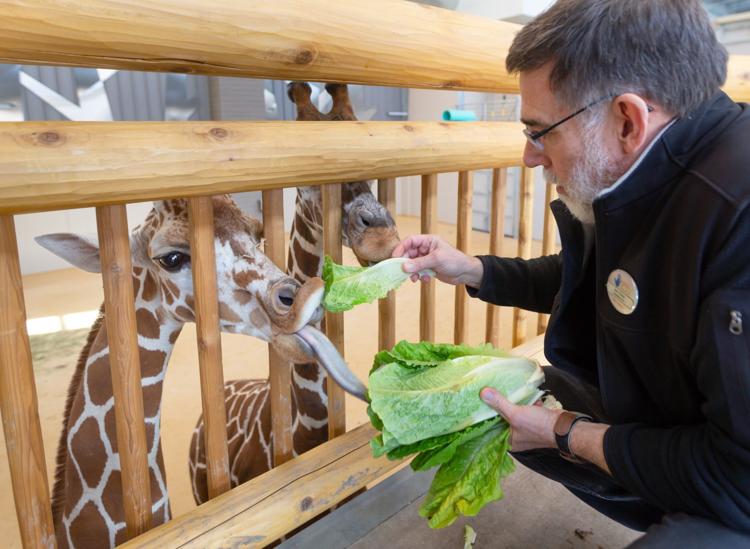 Initially cut from the plans, a cheetah habitat with a straightaway sprinting lawn, a giant anteater exhibit, a playground that extends over the outdoor giraffe yard and an event lawn with a permanent stage will all come next year.
Initially cut from the plans but now scheduled to open next year: a cheetah habitat with a straightaway sprinting lawn, an exhibit with giant anteaters, a playground that extends over the outdoor giraffe yard and an event lawn with a permanent stage.
Friends and family of zoo employees got a sneak peek of the new area Thursday afternoon. At least two children paused to thank Chapo.
"Thank you for putting the new animals here," said an elementary-aged boy wearing a fighter pilot jacket. Another, a teenage girl with her mom, said, "This is amazing, thank you."
The zoo consulted with community members throughout the planning process, asking for input from such groups as the Lincoln Children's Zoo Moms Panel.
Sarah Christianson, ambassador of the 11-member panel, praised the zoo for including them.
"It's a huge honor to feel like the zoo is coming to us," she said. "Everything that they have come up with has been phenomenal."
Zoo visitors won't have to search for the new additions. They will be the first things they see when they pass through a new entrance. The zoo's previous entryway now serves as a gateway connecting the old Lincoln Children's Zoo with its addition.
The new entryway promises that guests will be greeted immediately by animals. Small critters will be waiting by the front gates with an animal handler. Then, just a few feet inside the gates, red pandas will walk along a log tube arching overhead, connecting the species' two habitats.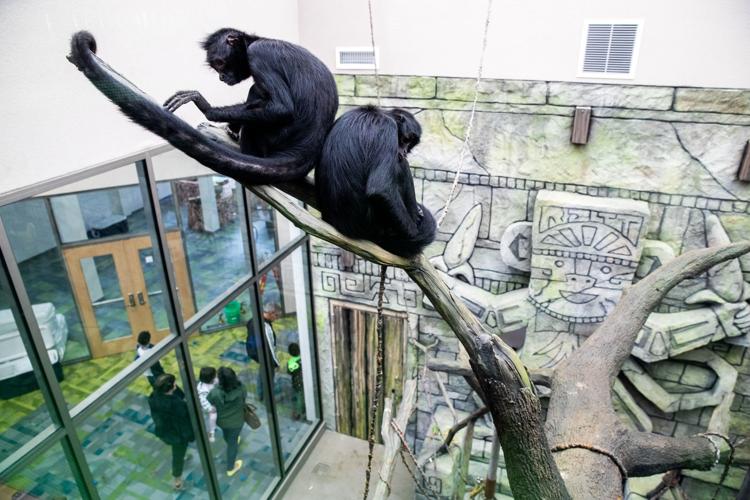 The largest addition is an 8,600-square-foot giraffe building with a companion yard outdoors. No matter where the animals are on a given day, zoo visitors will be able to feed giraffes romaine lettuce leaves. A bundle with one large, one medium and one small leaf of lettuce costs $3, or $5 for twice the lettuce.
Nearby, Sumatran tigers Axl and Kumar, who were born at the San Diego Zoo Safari Park, will lounge in a run-through stream or jump up on a Jeep that is half inside and half outside the exhibit, separated by thick glass.
Sometime soon, after the tigers have acclimated to their new home, zookeepers will organize a tiger-tug-of-war with a tiger on one end of a mesh fence and zoo visitors on the other side.
"It might take a few Husker players" to beat just one tiger, said Kim Jacobson, lead tiger keeper.
As part of the project, the zoo repurposed an old Works Progress Administration building that previously housed the city's Parks and Recreation offices. It had been an aviary. Now it houses a jungle-themed indoor play place where kids can share a glass wall with spider monkeys.
About half of the indoor play place is adult-sized so parents can weave through with young children and get an up-close glimpse of the spider monkeys.
Sign up for The World-Herald's afternoon updates
Receive a summary of the day's popular and trending stories from Omaha.com.
The new area also includes the Wild Kingdom Theater, an amphitheater for flying bird shows with macaws and hawks, plus shows with mammals new to the zoo, including sloths, porcupines, anteaters and a lemur-like raccoon relative called a kinkajou.
Shows also will include animals already at the zoo, such as an African serval cat and an alligator. In the future, giraffe training also may be held at the amphitheater.
Construction on the 2019 additions will continue throughout the year, but zoo visitors shouldn't have much contact with work crews.
The area in development is off in one corner of the zoo and doesn't redirect or block access to any attractions.
Now that the first part of the zoo's expansion is ready to debut, the gravity of the accomplishment has hit Chapo. It's the first time in 33 years, he said, that he has cried at the zoo.
"That's why I get up in the morning," he said. "I want (kids) to care, I want them to be our stewards for tomorrow. That's why I do what I do. I love that energy here."