In the year since elephants arrived at Omaha's zoo, they have grown into a unified social group, and each elephant is further along in training than zoo officials expected them to be at this point.
"It's beyond what my expectation was," said Dan Cassidy, the general curator for the Henry Doorly Zoo & Aquarium. "(Their training) seems to go in spurts, then all of the sudden they're doing this, this and this. When they pick up one thing, it's like they just leap, then it takes a while to learn another thing, then they just shoot ahead."
Omaha's six elephants arrived on a Boeing 747 cargo plane one year ago Saturday, to the elation of many zoo fans but the disapproval of some animal-rights groups. The 36-hour journey from Swaziland to Omaha included stops in Senegal, Texas and Kansas, depositing some of the herd's elephants at two other American zoos. Veterinarians accompanied the elephants along the way, and zoo staff met the elephants at Eppley Airfield.
Spectators lined 10th Street in the Old Market, waving and applauding as a semitrailer truck drove the crated African elephants to their new home in the zoo's new $73 million African Grasslands exhibit.
The elephants have trained since the day after their arrival. The elephants have settled into their new way of life, but the zoo doesn't want them to settle in too much.
"The goal is to maintain their roots," said Sarah Armstrong, who works exclusively with elephants as elephant manager. "We want their relationships with each other to trump their relationships with us."
The zoo doesn't want the elephants to lose their wild side.
Back in their homeland of Swaziland, Africa, they roamed unfettered in an expansive wildlife park, foraging for food for as many as 18 hours per day. They left their home as conditions deteriorated during a record drought that threatened the park's animals. Park officials planned to cull the herd to save resources for rhinos and other species.
Zoo staff prepared long before the pachyderms' arrival to make sure their new home offered some of the same perks as their home in Africa.
Photos: Henry Doorly Zoo elephants, one year after arrival
One year ago a group of African elephants made the journey to three zoos in the United States. Six of the elephants came to the Henry Doorly Zoo in Omaha. 
Armstrong, who has worked in Omaha for more than a decade with various species, traveled to zoos in Dallas, St. Louis, San Diego, Phoenix and Tucson to train in elephant husbandry. Teams of people at the zoo, including Cassidy and zoo director Dennis Pate, researched elephant exhibits and conditions in the wild to create an exhibit that would better fit an elephant's wild lifestyle.
Instead of a simple pen, the elephants have a big indoor space — the largest in North America — with an open room and a soft sand floor. Hay drops down triggered by timers, treats are hidden in puzzle balls in holes on the wall and downed trees are scattered about, giving the elephants opportunities to move around and work for their food like they would in the wild.
They have open access to one and sometimes two yards — one where they're alone with a mud wallow and another where they share a watering hole with other species. Slowly, they're integrating with zebras and, eventually, impalas.
At other zoos, where exhibits are limited in space and interaction, zookeepers work with their elephants for longer to stimulate them. In Omaha, training sessions are only about 10 or 15 minutes per elephant, compared with an hour or more at the zoo's previous elephant exhibit.
"Long drawn-out training sessions were much more important then," Armstrong said, "because you want to continually stimulate them. Their environment is very stimulating."
When the elephants do train, it's with a purpose.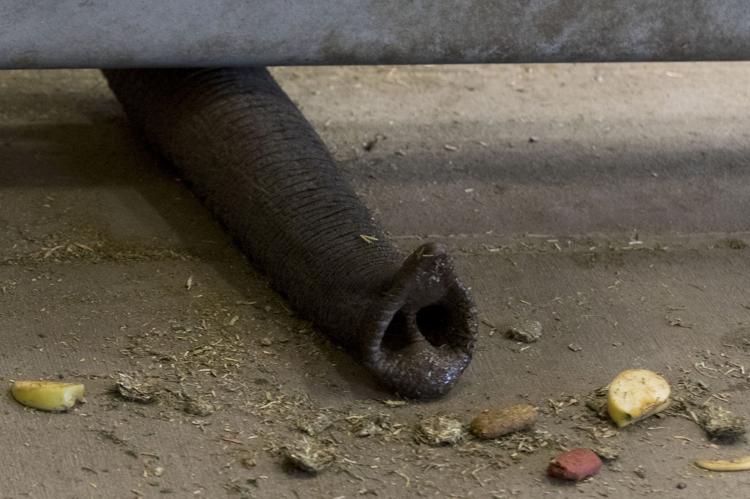 Each elephant is assigned one primary keeper for initial behavioral training. To build that bond, keepers started by rewarding the elephant any time it came to the training station, even if it came just to raise a fuss.
Keepers then graduated to using targets and a whiffle-ball-topped bamboo pole to station and guide the elephants, blowing a dog whistle and praising with goodies, usually fruit, when the behavior was performed correctly. Training maneuvers help monitor the health of the elephants and draw blood for a genetics study and, eventually, will help veterinarians test for disease.
When asked, the elephants will present a floppy ear through a slot in a sturdy metal training port. They'll present a foot for a sort of pedicure, with keepers scrubbing their pads and checking for debris. Many health problems in elephants start with poor foot care, keepers said.
A few will even stick their trunks through and let them fall limp for a keeper to wiggle back and forth and up and down. Just like training other animals or a pet at home, when they do the right behavior, keepers tweet a dog whistle and give them a treat.
Pate said the zoo industry has evolved in how it trains elephants. Other institutions previously used harsh training means, and zoos across the board now abide by high standards of care, and he considers Omaha a leader in that sense.
"Back in the old days, if you didn't come right up, you got smacked," Pate said of other zoos. "We don't do any of that here. It's all reward and it's all based on the elephants volunteering to participate."
The trunk wiggle is one step on the path to eventually teach the elephants to suck sterile water up their trunks, let it drain through, then spit it back out. That's how vets test for tuberculosis.
Through training, each elephant has expressed its own personality.
Omma, one of the youngest of the group, stays close to her mother, Jayei. When she trains, Jayei periodically checks in, but it doesn't hinder Omma, who is one of the fastest learners in the herd.
Kiki, the zoo's second-largest elephant at arrival, will refuse any treat that isn't an apple, grinding oranges with her foot until she gets her favorite treat. Warren, the bull elephant, is just the opposite, and will eat anything they put in front of him.
Warren trained with keepers at the same rate as his peers, even while nursing a broken ankle, an injury he suffered just before arriving at the zoo. The zoo's lone male elephant didn't go on display to the public until July, resting the injured limb. The injury has completely healed now — albeit with a lump — and Warren joins the herd regularly, though he also spend some time alone in a bull yard, as is common with male elephants.
"He tends to hold the affected foot up when he is standing still," said Dr. Doug Armstrong, the zoo's director of animal health. "We cannot tell if that is a behavior he just learned during the initial injury, just a habit now, or if there is still some discomfort. I am inclined to think it is a learned behavior because he does not currently limp when walking."
Officials from the zoo have kept zoos in Dallas and Wichita up to date with their herd. The zoo partnered with the two zoos in importing the elephants — five from the same park in Swaziland went to Dallas and six to Wichita.
At Wichita's Sedgwick County Zoo, the new elephants were gradually introduced to the zoo's other elephant, Stephanie. Slowly, keepers eased the lone matriarch into the herd, and now things are reported to be going well.
Dallas Zoo's elephants also blended into an existing herd, joining four elders. Although Dallas got one fewer elephant than the others after one elephant in the group died in Africa, the herd quickly grew by one.
Shortly after arriving, it was discovered that one of Dallas' elephants was pregnant. On May 14, Mlilo gave birth to the first elephant in the herd born in North America, a little tyke named Ajabu.
Omaha's herd isn't ready to reproduce yet. First, the zoo needs to learn how the elephants are related to one another. Training the elephants to willingly give blood is a crucial step in the process of learning about the elephant family, and a step closer to a baby elephant in Omaha.