BASSETT, Neb. — Mandy Davis is behind the front desk of the Bassett Lodge at 11 p.m. to hand you your room key — a big, old-fashioned brass thing on a hefty blue key chain.
She's there at 7:30 a.m. the next morning, making sure the coffee's hot for the local women's bridge group.
She's there through the Sand Hills' high tourist season, when the Range Cafe and historic hotel's rooms fill up with sand-covered Niobrara River tubers. She's there in early fall, when Sturgis bikers stop on their way to the South Dakota rally. And she's there in the middle of winter, when a raging blizzard that drops a foot and a half can't keep locals out of the dining room.
That dedication can be expected from Mandy and her husband, Dale, who, with no experience in either hotels or restaurants, took over the architectural gem to ensure it stays open — and Bassett, population 562, stays on the map.
Mandy laughs, and shakes her head when she thinks about the past year and a half, 18 months that changed her life and Dale's life, and their six children's lives, too. She laughs when she thinks about how taking over the about-to-close Bassett Lodge and Range Cafe — the heart, some say, of this north-central Nebraska town — changed everything for them.
"You want to know the truth?" Mandy asks. "We love this community. I don't know what it would be like without this place."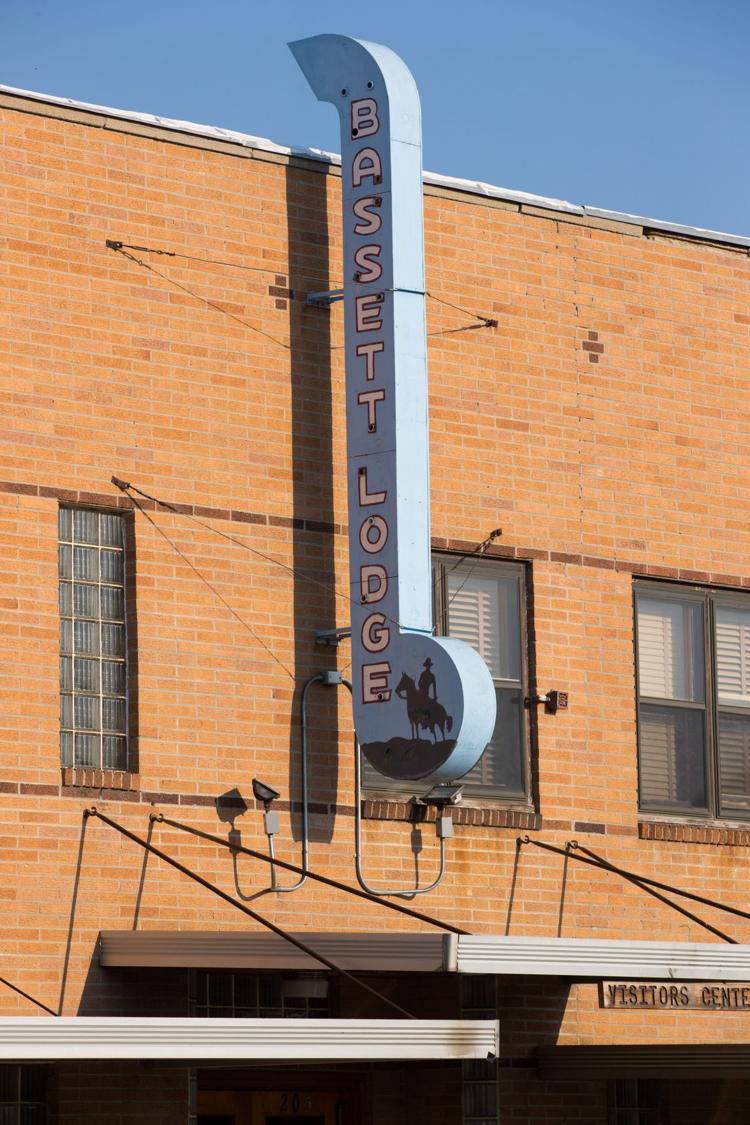 The Bassett Lodge and Range Cafe is the sort of place that nowadays exists only on picture postcards, a relic of a past when cattle buyers descended on small Nebraska towns like this one for booming livestock sales. Those ranchers needed a place to socialize and spend the night, and the Bassett Lodge became famous for providing just that. Now, livestock sales have consolidated, and only a handful of sale barns remain.
The Lodge opened in 1951 on the town's main street, a fine example of art moderne architecture, with its glass-block windows and simple dark-brick facade with rounded corners.
The vintage lobby — a time warp of decor, changed little since '51 — is made of mahogany wood and trim, with padded green wainscoting and a low fireplace along one wall. Green couches and comfortable chairs fill the space, dating from a time when guests preferred to mingle in the lobby instead of hunker down with cellphones in their rooms.
A switchboard that used to send calls to guests still sits behind the front desk. To its right, a painting of a curly-haired bull called "Grand Pappy" seems an especially appropriate welcome committee. In the adjoining Range Cafe, a long diner-style bar has its original low, swivel stools. Green and brown booths mirror the color scheme of the lobby. It's a comfortable spot both for tourists and locals, and its story, by this point, is Bassett legend.
Two generations of the Lackoff family ran the hotel for decades. Under their hand, the decor remained unchanged for a half-century. A group of business owners took the hotel over and kept it open.
Gale Simmons and Tony Ford, brother and sister, took it over around 2012. They added and renovated bathrooms, updated the beds and added television sets. Simmons and Ford put the hotel on the market in 2015; few buyers came forward. Late that year, they announced the hotel would close. The plan was to auction off the historic decor and contents of the cafe.
Potential buyers came forward. The Davises were the only ones from Bassett.
Dale had moved to town in 2001, when he started working for Nebraska Game and Parks. Mandy moved there in 2012.
He's originally from Decatur, and she's from Sargent. Though they're not natives, they both said sustaining the Lodge became a passion.
The Lodge closed for two weeks in December 2015, before the Davises officially took over, and opened again in January under their control. Ford stuck around to cook and help Mandy and Dale learn the ropes — a huge help, she said, especially because they had not worked in the hospitality world. (Mandy formerly worked as a medical lab technician, and Dale still works for Game and Parks as a conservation officer.)
"There was a lot of relief," said Marty Moravec, vice president of the Bassett Chamber of Commerce. "When one of the major businesses in town closes, it seems like the rest of them aren't far behind. It was a huge relief knowing it would stay open."
The hotel and cafe are no easy beast to care for, and Dale has become intimate with the quirks of this old place.
The main short-term goal: to keep everything running. The long-term goals: to install individual climate controls in each room. Dale would like to update one of the "pods" of rooms on the hotel's second floor that have one shared bathroom for a few rooms and market them to cyclists riding the nearby Cowboy Trail. They'd like to install more electrical outlets and finish remodeling every room.
"We have never done anything like this," Dale said. "I was in the Marines. That's similar."
Someone has to stay at the Lodge every night — "It's a 24/7 business," Dale said — and back in the day, the Bassett Lodge had a full staff. Not so these days. Either Dale or Mandy is there four nights a week, and an employee stays the rest of the nights. When the Davises spend the night, they stay in an apartment that's big enough for the two of them and the four of their children who still live at home. (The two oldest are in college.)
"It's been a big change for the whole family," Mandy said. "Our kids are being raised here."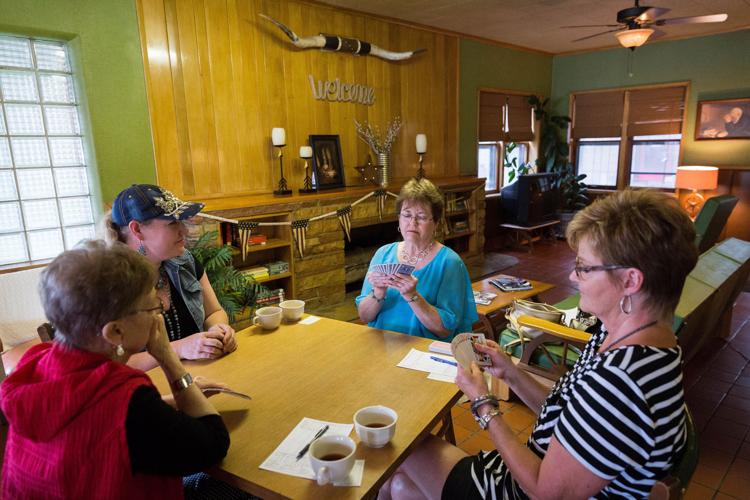 The family's gotten support from travelers, especially this time of year, but also from Bassett residents.
"We have a lot of return guests," Dale said. "People who come here every summer, or people who grew up here and come back."
When class reunion season comes around, the Lodge lobby is busy with parties. The same goes for graduation season. And the cafe gets packed with locals on the weekends and, on weekday mornings, with retirees.
"Small towns are very supportive," Dale said.
Mary Morton, who plays bridge in the Lodge's lobby, saw the hotel being built as a child in Bassett and said little has changed since then, both in how the hotel looks and the role it plays in Bassett.
"The cafe is a social hub," she said. "It means a lot to the town. If it closed, the town would just kind of shut down."
Moravec agrees: "From a tourism standpoint, it's huge. And for the locals, it provides another place to eat, which is a nice option in a town of 600-some people."
Since the Davises took over, Moravec said even more locals are supporting the cafe.
"The scare of it not being there maybe influenced more people to give them some business," he said. "People love seeing, especially in today's day and age, the whole family working together for a common goal."
The Davises do rely on their kids for help around the hotel. But even after they're all grown and gone, Mandy and Dale are in the Bassett Lodge for the long haul.
"I couldn't face the people in town if we sold it," she said. "We aren't quitters."
Food critic Sarah Baker Hansen is from Omaha. Columnist Matthew Hansen grew up in Red Cloud. As a married couple they travel Nebraska to share with each other little-known people, unexpected stops and memorable foods. Come along and discover more of what the state has to offer in "The Better Half," an occasional series prepared with support from the Nebraska Community Foundation.