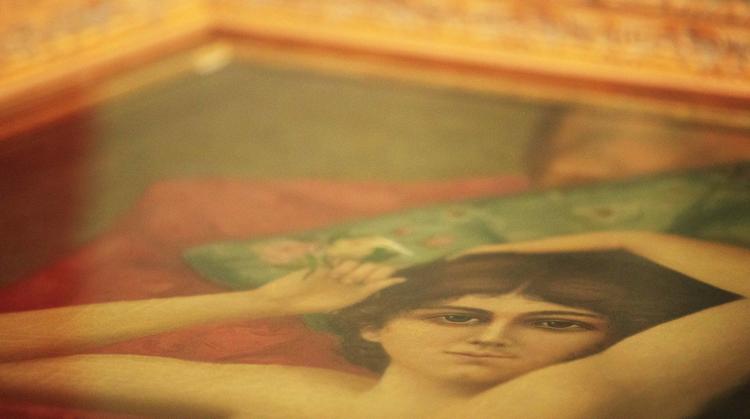 The woman in the painting poses on a divan draped in flowing white sheets. To some, she appears seductive. To others, demure.
She rests her head in the crook of her left arm, fingers lightly brushing the top of her head, from which thick brown hair runs almost to the bottom edge of the frame. Her dark eyes are piercing, unknowable and ... and ...
… unnaturally big. Way too big for the rest of her face.
No one ever said this was fine art.
This 70-by-40 inch image of a naked woman, known as "Black Bess," now hangs in a shadowy corner on a lower floor of the Durham Museum. And though she attracts her share of attention (it is a nude, after all), poor Bess is not entirely unique.
She was painted at the turn of the 20th century by a local portrait artist whose creative ambitions stopped short of breaking ground in the visual arts. He made paintings that sold, plain and simple.
But for years, Durham staff mistook Black Bess for a different nude painting, one that made headlines when it arrived at the 1898 Trans-Mississippi Exposition in Omaha. That painting, known as "Trilby," became one of the expo's most infamous attractions, the product of a bizarre pop culture craze that included sexual fetishes, hypnotism and (in at least one case) foot-shaped ice cream.
This year, the 120th anniversary of the exposition, Durham staff brought in Emily Godbey, associate professor of art and visual culture at Iowa State University, to examine Black Bess. Godbey quickly ruled out Bess as Trilby. The latter painting, she said, has been lost to time.
But while looking into Bess' mysterious past, Durham staff discovered she has her own story, one equally compelling. And similarly salacious.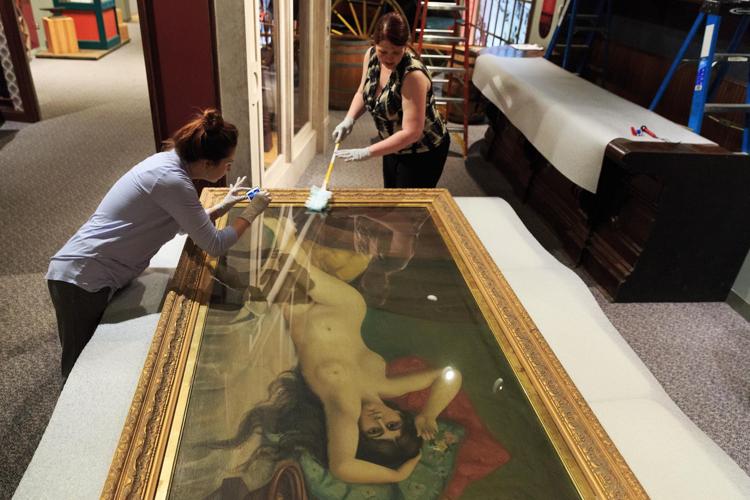 Trilbymania
In 1894, a British writer named George du Maurier began publishing a serialized story in "Harper's Magazine." The following year, the story was bundled and sold as a novel titled "Trilby."
The book tells the story of a young woman named Trilby O'Ferrall who, revered for her beautiful feet, works as an artist's model in Paris. Known for posing "in the altogether" (nude), Trilby is charming and quirky, flitting about the city streets in a men's military jacket and slippers.
Trilby, quite literally, falls under the spell of a man named Svengali, who hypnotizes her and transforms her into a successful singer. Svengali eventually falls ill on the night of an important performance, and, with the trance broken, Trilby is unable to sing on stage. The audience jeers at her, and Trilby, broken by the experience, dies a short time later.
"It's a very bad book," said Godbey, who wrote a chapter on Trilby for the "The Trans-Mississippi and International Expositions of 1898-1899," a book by University of Nebraska-Lincoln professor Wendy Katz.
Even in its day, the story drew its share of critics. A New York literary journal called it "awfully bad." Another critic called it "a very weird novel." Today, it's almost entirely forgotten, except for Svengali, whose name survives as a word for someone who exerts undue (and usually evil) influence over another.
But high-brow literature or not, sex tends to sell. And "Trilby," with its tales of nude modeling and foot worship, sold.
The book spawned an international merchandising frenzy, Godbey writes. Stage plays based on it were performed in cities around the world. There were Trilby-branded soaps, stoves, hats, sausages and, yes, the aforementioned foot-shaped ice cream. In Nebraska, a Lincoln druggist sold Trilby headache pills and "Truthful pills" for "kidney and liver troubles."
And in the midst of it all, a St. Louis-born artist capitalized on the craze.
Astley David Middleton Cooper's paintings centered around two main themes: western motifs and mostly-nude women. The latter paintings, Cooper often sold to bars and saloons to settle his tabs.
His life-size interpretation of Trilby depicted the novel's heroine posing for a Parisian art class. Though no images of the painting can be found today, descriptions are clear that the central figure was standing, appearing to the viewer to exist in three dimensions just a few feet away from the edge of the canvas.
The painting toured the country before landing in Omaha for the Trans-Mississippi Exposition in 1898. It was housed in its own "temple" on the Midway, which was decorated "in keeping with the exhibition of a grand work of art such as Trilby is," the World-Herald reported at the time.
The newspapers couldn't get enough.
Advertisements ran leading up to the painting's arrival. Once in place on the Midway, reviewers breathlessly described the effect of entering the temple and being stunned by the illusion that that popular protagonist was standing right before them.
"The effect produced on this canvas has never before been equaled," one World-Herald reviewer wrote. "The drawing, the modeling and flesh tints are truly wonderful. The pose is the acme of grace, and the entire effect is most charming … A description cannot do it justice."
Another, writing in the colorful style of the day, described the reaction of two "country cousins" who went to see the painting: "... one of the men said to his companion in a hoarse whisper: 'That haint no paintin', Bill. That's one of them thar livin' pictures like we see'd at the oprey house last year. They can't fool me, by gosh.'"
But not everyone fell under the painting's spell. One writer for the Omaha Bee, Ethel Evans, criticized the painting's form, focusing (where else) on Trilby's feet, which Evans wrote, "are poorly drawn, much too small and seem to be dragging in air." The face, Evans wrote, was painted with "eyes much too large, mouth too red, nose very straight … the face is banal and lacks all charms of nature and all beauty of truth of character."
"I feel I should apologize for writing at length of a picture which merits so little consideration," Evans wrote, "but I have heard it spoken of as quite a masterpiece, and it really does not belong in the higher walks of art at all."
What became of the painting is shrouded in mystery. It was eventually seized by fair officials — in a violent brawl that resulted in one man breaking his fingers — after its custodians failed to pay their concession dues, Godbey said. After a lengthy court battle, the painting was returned to its owners, where it continued to tour the country, often appearing as an attraction in department stores to draw in new customers.
But after a time, it disappears from the record altogether.
"Where it went, nobody knows," Godbey said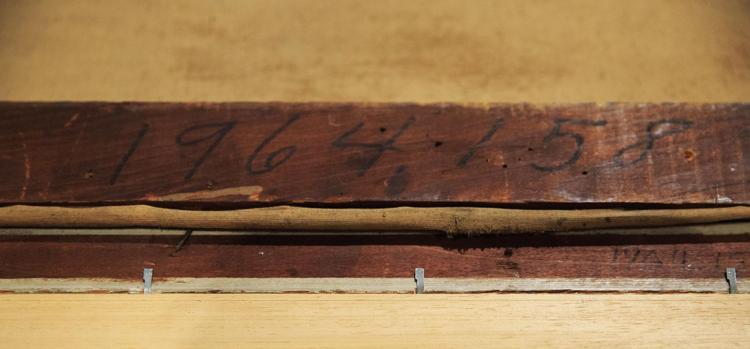 Who was Black Bess?
For some, Trilby was a mysterious brown-haired woman with an unnerving stare reclining on a canvas in the Durham Museum archives.
To be clear, the paintings are not one in the same. Despite both being nudes, they show completely different images. Still, by the time Carrie Meyer started at the Durham, the story that Black Bess was actually Trilby was firmly entrenched in the museum's records.
"It was always rumored that (Black Bess) hung at the Trans-Miss and was behind a little curtain, and farmers could pay a quarter and open it up and see it," said Meyer, director of curatorial and education services at the museum.
So, with the 120th anniversary of the exhibition approaching in 2018, Meyer reached out to Godbey about giving a lecture on the Trilby painting, which Meyer said was in the museum's collection.
Godbey, after seeing pictures of "Black Bess," quickly corrected the story.
But that left the mystery of Black Bess herself. The painting had come to the Durham from the Joslyn Art Museum in the early 1990s. But who painted her? How did she get mistaken for Trilby? And who was this woman?
Haiden Nelson, collection facilitator at the Durham, began digging into the painting's history with Godbey's help. And though they were able to answer many of their questions, some are possibly lost to time.
What they found: The painting was done about 1900 by an artist named James Knox O'Neil. O'Neil, who moved to Council Bluffs in the 1880s, primarily painted portraits and landscapes. He held many jobs to make ends meet, but became known as a respected painter around the region. According to one newspaper story, he was friends with Buffalo Bill Cody, and once painted a self-portrait wearing Cody's clothes.
But who Black Bess was painted for and where she originally hung is still a mystery, Nelson said. Though the painting's name and content might give clues to its intended purpose.
The name "Black Bess," which has followed the painting for decades (though Durham archives suggest it was attributed to the work years after it was completed), was one of many slang terms to refer to a prostitute at the turn of the 20th century, Meyer said.
And similar nudes were known to have hung in the saloons and brothels of the day, said Sharon Wood, professor of American social history, gender and material culture at the University of Nebraska at Omaha. It's likely O'Neil intended the painting to depict an Omaha prostitute — whether a real woman or an imagined composite figure — and sold it to an establishment known for employing such women.
One rumor, Meyer said, states that the Black Bess painting hung in a brothel owned by famous Omaha madam Anna Wilson. But with all the other misinformation surrounding the work, that could be just a story, she said.
Somehow, the painting wound up in the collection of George S. Wright, a Council Bluffs attorney and art collector who often made the newspapers as the city's "most elusive bachelor."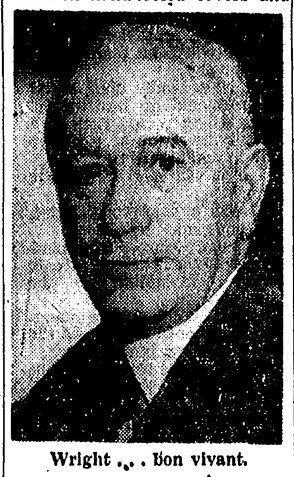 Wright was something of a cad, who hung the Black Bess painting in his upstairs bathroom alongside at least 20 other nudes. When he died in 1953, the World-Herald described the pieces in his collection: "some of them lusty, and all of them masculine."
At his funeral, Godbey said, Wright asked that mourners bring with them a guest of the opposite sex … who was not a spouse.
Before his death, Wright evidently gifted Black Bess to one of his friends, who in turn passed it on, Nelson said. Eventually, in 1963, the large nude landed in the home of Elizabeth and J. Allison Flynn.
And Elizabeth, a writer at The World-Herald had a lot to say about it.
"Black Bess is sequestered at present behind my dining room buffet, face to the wall," Elizabeth wrote in the newspaper that year. "Friends have all sorts of suggestions, mostly unhelpful, as to the disposition of our new legacy."
(After her initial story, Elizabeth would happily write that she had been inundated with inquiries from people offering to take the painting off her hands: "It's heartening to report that chivalry is not dead and that an aging beauty can find sanctuary and hospitality after decades in retirement.")
Ever the reporter, Elizabeth uncovered the broad strokes of Bess' tale, eventually making contact with O'Neil's daughter, who was living in California by the late 1960s.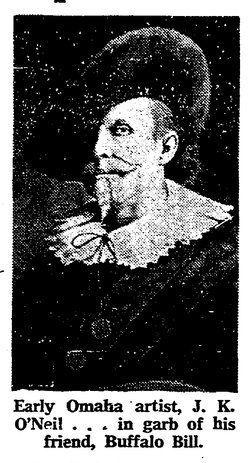 Here, it appears Bess' fate and Trilby's intertwined on paper for the first time: In a 1967 letter, O'Neil's daughter told Elizabeth: "My father painted a large nude called 'Trilby' that was displayed at a concession at the exposition; my brother sold tickets. Seeing this nude (she really was pretty!) was a really big thrill to the farm folk."
O'Neil signed the Black Bess painting with the year he finished it: 1900. So it's impossible that this particular painting could have hung at the Trans-Mississippi, which opened two years earlier.
Meyer speculates the confusion stems from a case of exaggerated family lore.
"It's possible that the idea that Black Bess was Trilby came about because O'Neil saw the 'Trilby' painting at the Expo and used it as inspiration for his painting, which was part of a much larger artistic style than just these two pieces," she said. "It seems plausible to me that over the course of 70 years, the two paintings merged in the daughter's mind. She was obviously proud of her father's work and knew it was somehow related to the 'Trilby.'"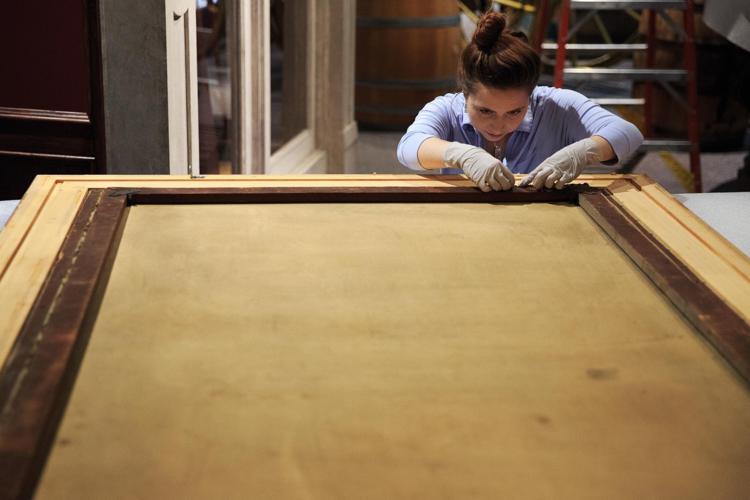 Peeling back history
Evidently done writing about her, the Flynns eventually donated Black Bess to the Joslyn Art Museum, which in turn sent it to the Durham in 1994.
Recently, at Godbey's suggestion, Durham staff removed Black Bess from her place on the wall and peeled off a paper backing which had been added to the frame much later. They hoped, Nelson said, to find clues to who had first owned it.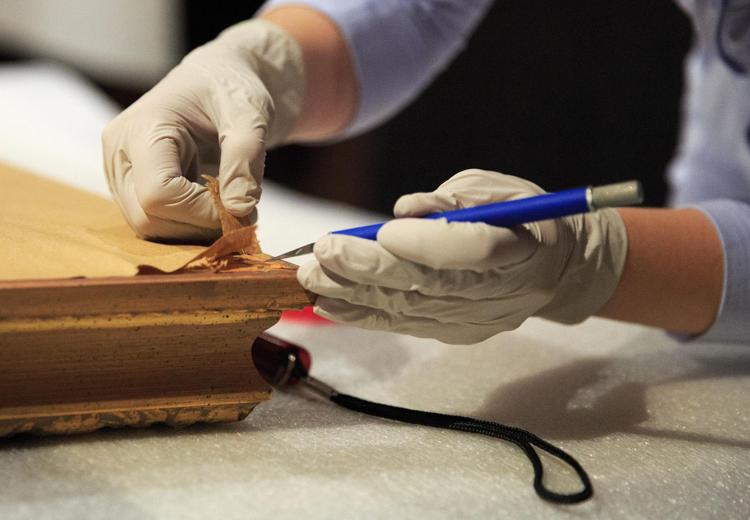 After removing the paper, Nelson and Meyer carefully examined the frame and canvas with gloved hands. But after just a few minutes, the results were in: Nothing.
Still, the up-close view offered other insights into Bess' mysterious past. Signs of damage were visible. Small imperfections that, nevertheless, ignited the imagination.
"I just think she's beautiful," Nelson said.
The image of the woman had been darkened by time and was much dingier than it likely had been when O'Neil first painted it. Darkened, Meyer and Nelson imagined, by years of smoke billowing from lit cigars in a dim barroom or illicit brothel.
"I think it takes you back," Meyer said. "It kind of gives you a little bit of a touch point to a time you're not ever going to see again."
All said, you have to admit: The painting has character. As it seems the Trilby did before it.
After all, here we are still talking about both over 100 years later.