One hundred and fifty years ago this spring, a German immigrant named Jacob Andra crawled down into a water-eroded pocket of a Dakota sandstone bluff under Lincoln. Over the next four years — using pickaxes, shovels and wheelbarrows — he and a few helpers dug out a 5,600-square-foot cave with 500 feet of tunnels.
The mostly man-made cave — called Robber's Cave but also, at other times, Lincoln Cave, Penitentiary Cave, Notorious Old Cave and Pawnee Council Cave — was first used as storage for a brewery. From 1906 to 1973, then '86 to '89, the cave was open to the public. But even in the years it was closed, countless people snuck in and etched their names (along with images, obscenities and obscene images) into the soft Dakota sandstone.
When Blue Blood Brewing Co. and developer Sam Manzitto reopened the cave in 2016, more than a century's worth of history had been scrawled into its walls. The written record of a city, 60 feet underground.
"All those carvings," Manzitto said. "It's a time capsule."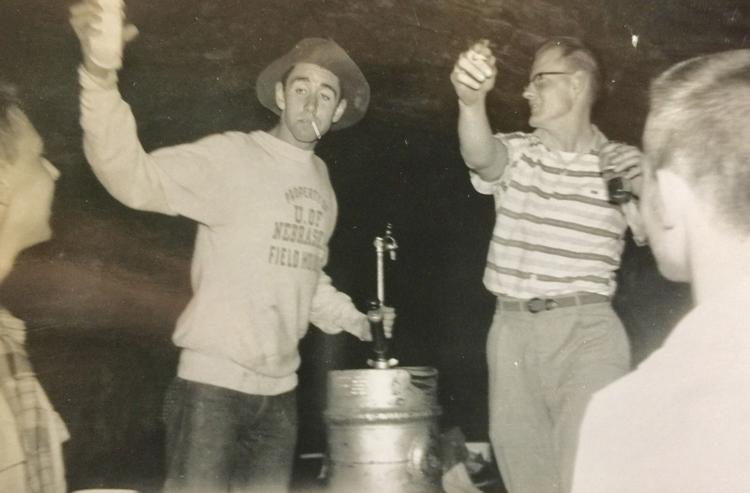 Since the cave tours started nearly three years ago, tens of thousands of people have walked through Robber's Cave. The tours have barely slowed down.
"They can go seven days a week, as many as eight tours in a night," said Joel Green, cave tour guide and the author of the new book "Robber's Cave: Truths, Legends, Recollections."
Green, a lifelong Lincolnite and Lincoln Public Schools teacher, estimates he's taken more than 40,000 people through Robber's Cave since 2016. But his history with the cave goes back much further. As a kid, he read all about it and other haunts in Alan Boye's "A Guide to the Ghosts of Lincoln." He's been fascinated by it ever since.
Green self-published his book last year. He decided to write it in part because of his own love of the cave, but mostly because of how much the cave means to Lincoln. In giving all those tours, he heard countless anecdotes and tidbits, and somewhere along the way he started to collect them. Sometimes guests complemented their stories with old Polaroids. If someone made an especially outlandish claim, he looked into it.
"There was this whole group of people that always wondered about the cave growing up but could never get in because it was sealed up," Green said. "Or there are those who come back for a nostalgia trip. People will tell you about how they had their first dates here, their first kisses, some find their names in the wall. Some of it's too much information. Some people bring their kids down there to show them where they were conceived."
Many of the lovers' trysts doubled as trespassing. When Green starts a tour, he always asks: "How many of you have been in here before?"
Then: "How about legally?"
The book, the cave
Joel Green's book, "Robber's Cave: Truths, Legends, Recollections," is now on sale. Go to robberscavebook.com to purchase the book or see where you can buy it.
Lincoln's Blue Blood Brewing Co., 925 Robber's Cave Road, gives private and public tours of Robber's Cave. Go to bluebloodbrewing.com/home to schedule a tour.
The cave has always held an irresistible pull for Lincoln's most curious. After it was closed in '89, people still snuck in, and by any means necessary.
"It was just this little seedy, abandoned property, just this white door into the cave," Green said. "(The owners) boarded it up, but people would just kick in the door. Then they blocked it up with cinder blocks, and people smashed up the cinder blocks to get in."
Developers finally just bulldozed the entrance, but even then people got into the cave. On the west side of the property, there was a two-by-two-foot hole where brave souls could shimmy on down into the cave. There are YouTube videos.
Throughout the 20th century, the cave's guests (whether welcome or not) used the cave as a venue for live concerts, keg parties, barbecues, shelter, shooting practice, winter picnics, literary societies and God knows what else. Thousands of them signed their names into the sandstone.
Over the past few years, Green has looked into every inch of the Robber's Cave story, sifting fact from fiction, learning which myths he could confirm or debunk once and for all.
His research not only resulted in a book (and made him a hell of a tour guide); it also spurred his campaign to get Robber's Cave into the National Register of Historic Places.
Green is working with Lincoln preservation architect Matt Hansen on the nomination, which they'll present next year.
"We're not arguing for it on the basis of an architectural masterpiece," Hansen said. "The category of significance we're pursuing is the social entertainment aspect. For Lincoln, it was an entertainment venue for so many people."
David Calease, the National Register of Historic Places coordinator with History Nebraska, said that "we have almost an abundance of documentation to show how popular this cave was both as a gathering place and a tourist destination."
With some help from UNL civil engineering professor Ricky Wood, Green and Hansen will be beefing up their National Register nomination with a digitized 3-D model of the cave.
Wood said they're waiting for the bats to finish hibernating before they scan the cave for their 3-D model. Among its many notable features, Robber's Cave is also home to an endangered species of bat.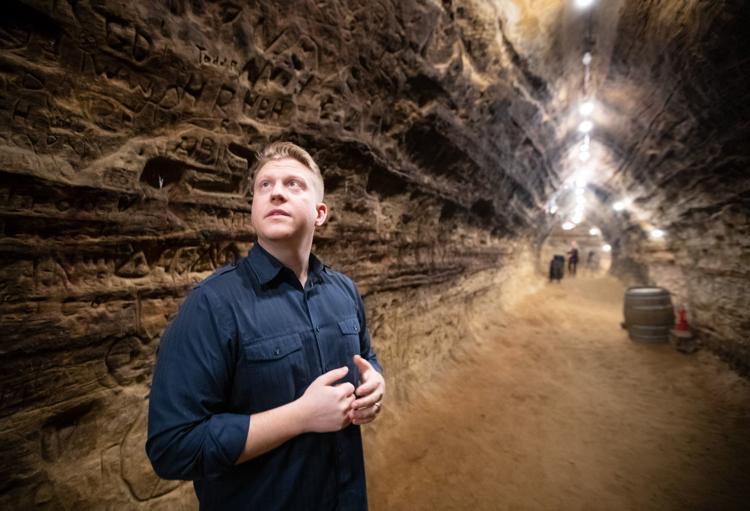 The cave's many myths are embedded into its story as clearly as the countless etchings on its wall. Robber's Cave gets its name from its greatest legend: that Jesse James used the cave as a hideout after a robbery. But there are so many other stories concerning the cave, and Green's heard them all.
That the cave was a place for KKK initiation and Native American ritual. That it was a stop on the Underground Railroad. At various times used as the site of a duel, dance hall, shooting range, a shelter for winter-struck settlers.
That Oscar-winning actress Sandy Dennis held her 15th birthday party in the cave, and that Chuck Norris once took a tour of the cave. (Insert Chuck Norris/Robber's Cave joke.)
Those questions have taken up much of Green's time over the past few years.
The following is a true-or-false dissection of the cave's craziest lore, based on Green's research. For a much more in-depth analysis, read his book.
Claim: Jesse James used Robber's Cave as a hideout after a bank robbery.
Verdict: Unconfirmed, probably false.
"The first thing people ask about the cave is Jesse James," Green said.
The story Green has heard mentioned most is that Jesse and Frank James hid out in Robber's Cave in the 1870s after a robbery gone wrong in Northfield, Minnesota. Green consulted Pulitzer Prize-winning historian T. J. Stiles on the matter. Stiles believes the James boys probably never came to the cave.
"The James brothers did not like caves," he told Green. "They had lots of supporters who put them up in houses, and now and then they slept in barns."
Stiles had not read any original sources that placed them in caves of any kind.
Yet Green has heard conflicting opinions, with some convincing justifications. James' mother lived in the southeast Nebraska village of Rulo, and the cave would have been on the way. The cave is also not like most caves in that it had horse stalls, a water source and a second exit in case one needed to make a quick getaway.
Green always tells his cave tourists that the James legend is "possible but not probable."
Claim: The KKK used the cave for initiation rituals.
Green's research confirmed that in the 1920s, the Klan had a membership drive in Nebraska, and a few members leased out Robber's Cave to initiate new members.
Claim: Robber's Cave was a stop on the Underground Railroad.
"That gets brought up a lot," Green said. "But (the stops on the Nebraska route) were further south and east."
Green thinks the story was partly derived from the misconception that the Underground Railroad was actually underground.
Claim: Native Americans used the cave for rituals.
The cave was at times called the Pawnee Council Cave based on claims that Pawnee medicine men practiced religious rites there. But the cave was likely too far east for the Pawnee. Green, with some help from History Nebraska, determined that if Native Americans used the cave at all, it would have been the Central Plains tradition people.
Claim: The cave tunneled into the Nebraska State Penitentiary.
Green believes the rumors may have been borne out of the installation of brick barriers in the cave in the late 1900s. People wondered what was on the other side of the wall. But it wasn't an escape tunnel, just a cellar for the old brewery.
Claim: People made movies in the cave.
In 1966, a group of Lincoln high school girls filmed a horror movie in the cave, according to an article in the Lincoln Evening Journal. More than half a century later, local filmmakers shot a movie called "Meathook Massacre II" in the cave. It co-starred former Nebraska state senator Colby Coash.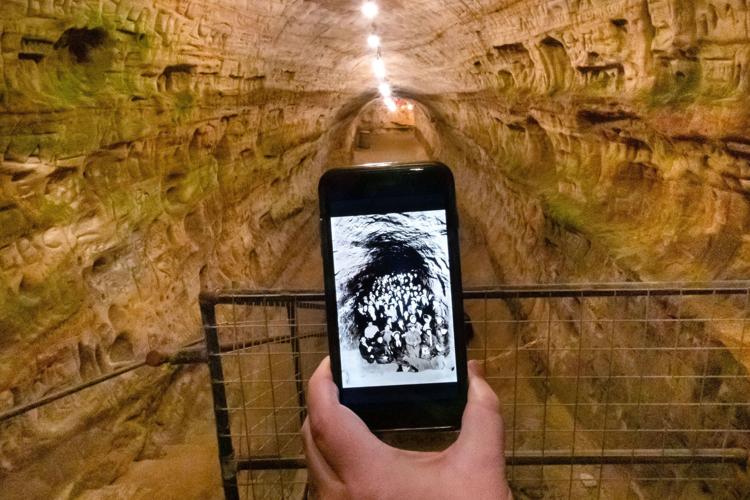 Claim: The cave was used as a day care center.
In 1906, John Wesley Scarborough bought the cave (and its surrounding property) with the intention of turning it into a mushroom garden. But as soon as he learned that everybody wanted to come see the cave, he turned it into a tourist attraction: Come enjoy a winter picnic! 25 cents!
Robber's Cave stayed with the Scarboroughs for four generations. In writing his book, Green spent hours talking to John Wesley's great-grandson, Ed Scarborough Jr., shortly before he died last fall at the age of 88.
Ed had some stories. Many were about his Grandma Esther.
Esther, who had a pair of pet coyotes named Minnie and Seymore, used Robber's Cave as a makeshift daycare system.
"People would drop off their kids with old lady Scarborough," Green said, "and she'd let them run around in the cave all day unsupervised."
When it was time for the kids to leave, she would flick the cave lights off and on.
Claim: Chuck Norris has visited Robber's Cave.
Ed Scarborough, Jr. claimed that Norris came to the cave after he saw an advertisement at the Lincoln airport. But Ed's stepson, Scott Maybin, said it wasn't Norris, just a guy who looked a lot like him. But it makes for a good story.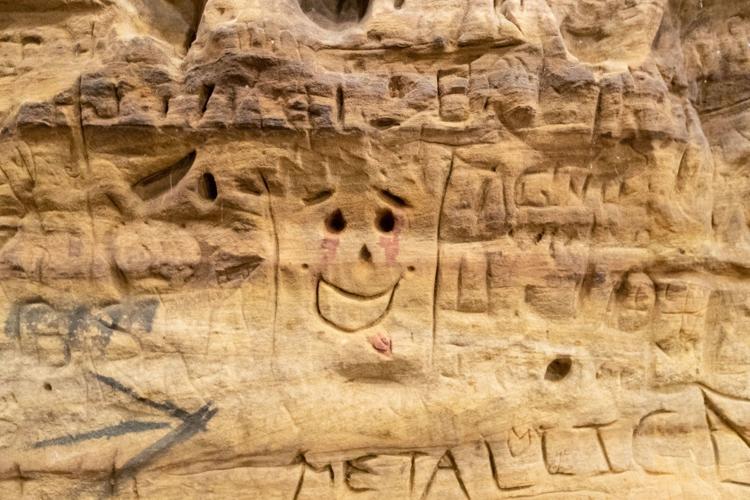 More facts about the cave
» Oscar-winning Nebraska actress Sandy Dennis celebrated her 15th birthday in the cave in 1952.
» The first recorded event in the cave — shortly before Jacob Andra began digging out the area — was an 1867 duel.
» During the Cold War, the city of Lincoln considered Robber's Cave for use as a fallout shelter. When Green asked Ed Scarborough Jr. about this, Ed said he told the city that the cave could be used as a shelter. But only for his friends and family.
» Dick Cavett visited the cave in 2017. Green gave him the tour.
» When the cave closed in 1973, Scarborough Jr., a gun collector with a class 3 firearms license used the tunnel as a shooting range, inviting his buddies from the police and sheriff's departments.
» The cave has a dance floor. In 1922, the Scarboroughs installed a flat slab floor in one of the cave's tunnels. Much of the floor remains.
Clips from Robber's Cave ads
1915: "Robber's Cave — for winter picnics."
1923: "Robber's Cave: Hidden in a Bluff of Sandstone. Used by Indians, Pioneers and Outlaws."
1923: "HAVING A PARTY? Plan it for … ROBBER'S CAVE, open 7 days a week. 30 ft. picnic table — grill your steaks or hot dogs right here!"
1966: "Have your office or store party at Robber's Cave."