COLUMBUS, Neb. — Glur's Tavern — long recognized as the oldest continually operating bar west of the Missouri — looks just how you might picture it.
It's a weather-beaten clapboard building just beyond the rumble and roar of railroad tracks, lit at dusk by oversize colonial-style light fixtures that glow a soft orange.
The big wraparound porch supported by chipped balusters looks almost exactly as it did in 1899, when co-founder William Bucher — who started the bar with his brother, Joseph — and pals posed under the "Saloon" sign for a photograph that still hangs in its dimly lit dining room.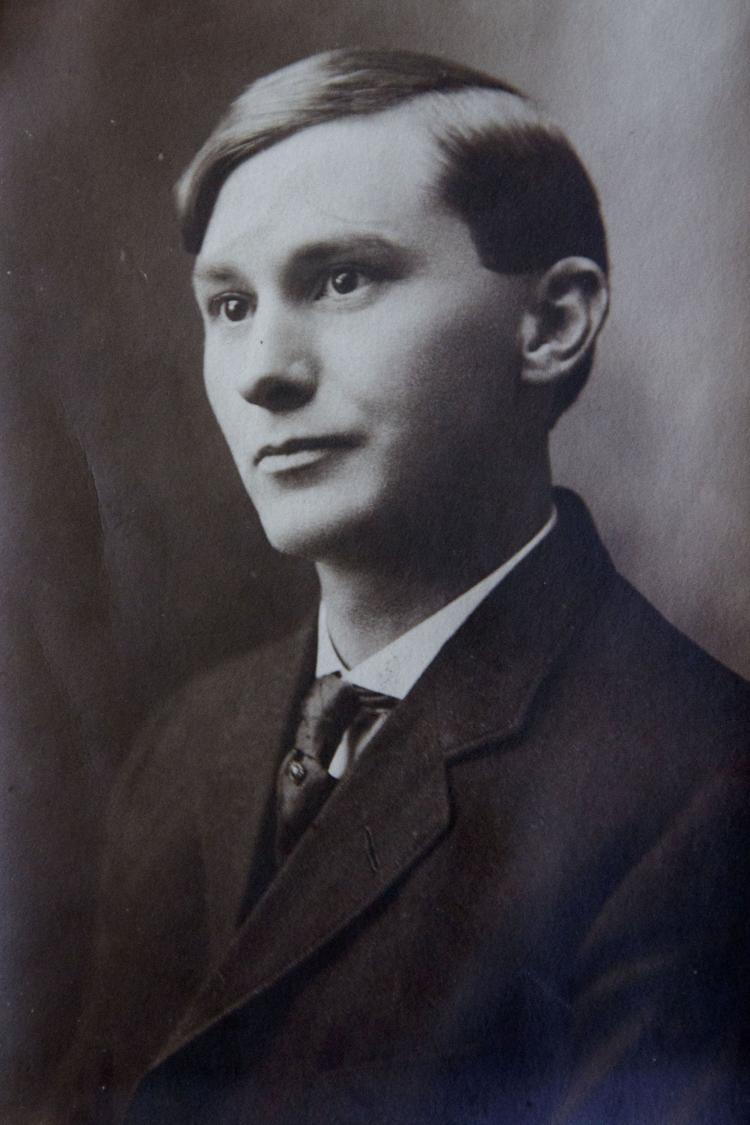 Glur's, named for second owner Louis Glur, has been family owned for most of its 141 years in business. And though its past certainly touches on Nebraska's cowboy era, it's beloved today not just for its place in history but also because it's still run by a local. Open the squeaky old door and you'll still find a place that provides townies with a cheap cheeseburger and a cold beer any night of the week, just as it always has.
"You know, it's an old, reliable place," said Todd Trofholz, who owns the bar now. "It's just like home."
The tavern's history — and its customers — have lengthy ties to the town.
Glur's lives on thanks to preteen baseball players and their parents sitting around long wooden tables, three of which are original to the bar. Or, at the opposite end of the bar, the family with a young daughter. Or the retirees seated under photos of Bucher and his pals. Or another couple sitting near a document proclaiming the tavern's standing on the National Register of Historic Places.
Then there's Dwayne Smith and his buddies, who meet regularly for lunch at the "round table," events that, as you might imagine, occur at a big, round table.
"It was a place that, if you were going to eat downtown, you knew that there would be somebody at the round table that you could visit with," said Smith, who is 83 and retired from his job at the Loup Power District.
A new generation is starting to take over the round table, Smith said. "It's always been a spot for locals."
It's been that way since brothers William and Joseph Bucher, immigrants from Switzerland, opened their "pioneer drink emporium" called Bucher's Saloon in 1876. William took over the saloon soon after he arrived in America; his brother left Nebraska and went to California to get into the winemaking business. It's said that trains delivered carloads of 50-gallon barrels of wine from California back to the bar.
William Bucher hired 17-year-old Louis Glur to work at the tavern as a bartender. Glur bought it 11 years later — in 1914 — and changed the name to Glur's Tavern. During the Prohibition era, Glur's became a soft drink parlor and started serving food, which it still does today.
Glur died in 1931, and his sons, Louis Jr. and Conrad, took over. After Louis Jr. died in 1968, Conrad sold the tavern a year later to their sister Elinor Glur Viergutz and her husband, Gus.
Elinor and Gus ran the tavern until 1977, when they sold it to Brian Gaver. Current owner Trofholz and his wife, Carrie, purchased Glur's in 1992.
Before moving back to Todd Trofholz's hometown, the couple lived in Omaha, where Carrie is from, and co-owned the former McFly's Center Street Tavern along with Glenn and Marilyn Moberg; Todd and Glenn played basketball together at the University of Nebraska at Omaha.
Trofholz and his friends came to Glur's every time he was home. During a road trip for a friend's wedding in Denver, Trofholz heard the bar was for sale. He and his wife talked about it on the long drive back.
"We decided we'd give it a try," he said.
At the time, his oldest daughter was just 3 months old. Those first years back in Columbus were challenging at times.
"The bar helped," Trofholz said. "Some of my best friends started out years ago as customers. Same for my wife."
Little has changed in the tavern since its inception. The biggest renovation probably happened in the 1960s, when the bar was moved from one side of the space to the other, where it is now. The kitchen was expanded in the '80s. Trofholz said he hasn't done much else — "We painted once," he chuckles — and the bar is, in essence, how it's always been, inside and out. The Trofholz family runs it together, and all of their children — Emily, Ben and Sam — have worked there.
Trofholz said that as the years have passed, businesses that used to be next to Glur's, including a local grocery store, have closed, and the bar has become more of a destination.
"But like any small town, I think the big attraction for Glur's is that it's just always been there for you," he said.
Cathy Hoops, one of Louis Glur's granddaughters, and her sister still visit the bar almost every Thursday night, and they sit at the same table, just off the kitchen. When another sister, who lives in Maine, is in town, she comes, too.
"I kind of grew up here," Hoops said. She remembers drinking root beers in the bar's outdoor garden, and her mother's warnings not to step in the spittoons that were on the floor.
Glur family reunions, not surprisingly, are at the bar. It's full of memories, and not just those of the Glur family.
The bar has stories even older, and the dusty images to go along with them. Like the one about how Glur's was a favorite hangout of legendary cowboy Buffalo Bill Cody, who visited with his Wild West show crew the handful of times he passed through Columbus.
There's even a story about how, during one of those visits, Cody slammed a thousand-dollar bill on the bar, promising "a round for everybody!"
"Bucher about fainted," surmises Trofholz.
So, one might ask, are those tales about this storied spot true?
"When the legend is bigger than the facts," Trofholz says — paraphrasing a famous line in the Western movie classic "The Man Who Shot Liberty Valance" — "you print the legend."
But Trofholz does have documents detailing Cody's visits, including a list of dates when he's purported to have come through Columbus, first in 1883 and a handful of times after that, through 1915. And the North brothers — Frank, Luther and James — who came to Columbus in the 1850s had ties to both Cody and the Pawnee Scouts. Frank North helped Cody start his Wild West show, and he drove a stagecoach during one of the main events.
The Platte County Museum is working on an exhibition about the North brothers and their ties to Columbus and Cody.
The cowboy history does pull people into the bar — listen up and you'll hear tourists in other restaurants and in hotel lobbies talking about Glur's — and Trofholz said the bar also has been a popular spot for former Nebraska coaches and athletes. Campaigning politicians, including former governors Bob Kerrey and Ben Nelson, found their way in. Former heavyweight world champion boxer Leon Spinks — who married Columbus native Brenda Glur (no relation to Louis) — has visited, too.
"With Facebook, we get a lot of tourists," Trofholz said. "They get on their phones and see 'oldest tavern in the state' and stop."
But sitting at the bar at Glur's, tucking into a hamburger and a couple-buck domestic beer, it's clear who really keeps this place on the map. It's the locals. And it's Trofholz, who speaks to just about every person who comes in and sits down at the bar next to us to share tales for an hour or two.
Hoops, though, might describe her grandfather's bar the best.
"Well. You know what it is? It's a family place," she said. "The hamburgers, and the atmosphere, they have always been good."
Food critic Sarah Baker Hansen is from Omaha. Columnist Matthew Hansen grew up in Red Cloud. As a married couple they travel Nebraska to share with each other little-known people, unexpected stops and memorable foods. Come along and discover more of what the state has to offer in "The Better Half," an occasional series prepared with support from the Nebraska Community Foundation.