LINCOLN — I asked Mickey Tran the tough question.
Namely this: If she were to lead me to the spot in Lincoln that serves a bowl of pho as close to the one her mom makes, where might that be?
She not only told me where to dine, she also met me there for lunch.
Lincoln's Vietnamese dining scene is second to none, thanks to families, like Mickey's, who immigrated to Nebraska decades ago and opened restaurants to support their own community. Now those spots support the whole capital city with soup, banh mi sandwiches, tea and hospitality.
Over three days this summer I did a sort of mini Food Prowl of Lincoln's pho — that comforting soup made with rare beef and brisket, meatballs, noodles, onions and a slow-cooked bone broth — to find my favorite spot. Thanks to Mickey, I did.
Drive down North 27th Street and you'll spot at least a half-dozen spots serving Vietnamese food. You'll see twice that number of Asian markets. And that's just on one stretch of road.
There are about 9,000 people of Vietnamese ancestry in Lincoln, and about 14,000 people of Asian ancestry in Lancaster County, according to the American Community Survey.
Vietnamese people started coming to Lincoln in the 1970s, with a large wave of arrivals in the early 1990s, said Sheila Dorsey Vinton, director of the Lincoln Asian Community and Cultural Center.
Mickey's parents, who were both here by the mid-1980s, ran a restaurant, Pho Nguyenn, for three years. Now Mickey's aunt runs the restaurant that lots of people suggested I visit, off 27th and Vine Streets, right in the heart of the 27th Street strip.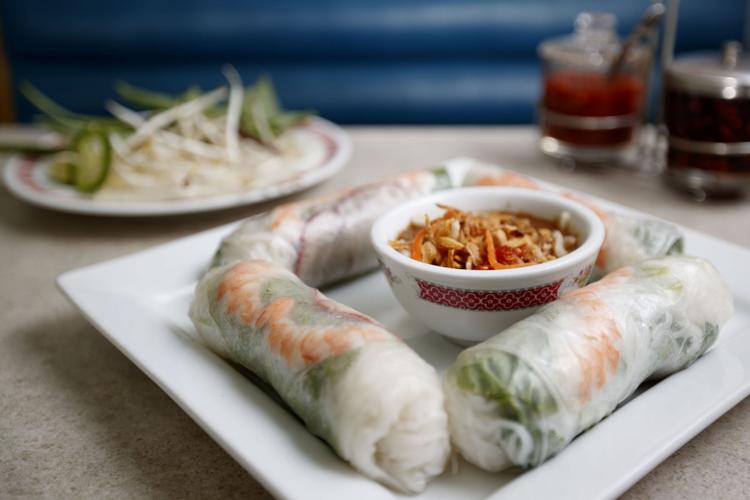 Like the other spots where I dined, it's a bare-bones place with little in terms of atmosphere but a menu that's worth exploring. I followed the lead of the mostly Asian crowd and ordered a bowl of noodles and an iced tea. (Delicious, by the way, lemony and sweet. Don't skip it.)
Throughout the meals, I stuck with combination pho, which generally comes with rare beef and brisket, meatballs, tendon and sometimes tripe. At Pho Nguyenn, I had rare beef, which arrived pink, brisket and tendon in a mild, soothing, almost clear broth with subtle hints of spice.
At Pho Factory, right down the street, diners will find the most atmosphere and the biggest menu, plus a full bar. Pho Factory shares the same plaza and ownership with Little Saigon market — where restaurant owner Khanh Nguyen said the restaurant gets its ingredients fresh daily. The family has owned the market for 25 years, and before Nguyen opened Pho Factory, her parents ran New Saigon Restaurant. They moved to Lincoln in 1980 when Nguyen was 4 years old.
On the other end of the strip is Banhwich Cafe — owned by Nguyen's sister and her husband — where I had a really tasty taro boba tea and a meaty bahn mi on soft but crusty bread topped with spicy pickles and a side of great cilantro dipping sauce. The strip is sort of like one family's one-stop shop for good Vietnamese.
I built my own bowl of pho from the Pho Factory's menu's list of ingredients, adding brisket, rare beef and meatballs. Their broth is meatier, with less spice but a strong flavor of slow-cooked beef. Though the brisket was a touch dry, the rare beef was lovely, and I especially appreciated the giant sprigs of basil that came on the side.
Nguyen said she's proud to see how Lincoln has embraced Vietnamese food.
"A few years ago, a lot of locals didn't know what pho even was," she said. "The five years since we've been open, a lot has changed."
That's clear, especially when Lincoln can support so many restaurants in such close proximity.
Vinton agreed with that summation.
"Even 15 years ago or so, there were just a handful of places to go eat Vietnamese," she said. "The business ownership has exploded, and a lot of them are along 27th Street."
After I left Pho Factory, I went across to Vung Tao, which is literally one minute away, on the other side of 27th Street. The broth here is more gentle in flavor, meaty but mild, and the bowl has a different look: thinner, wider slices of beef, lots of tripe tangled in with the noodles and super tender brisket, my favorite element of this bowl.
I met Mickey the next day across town, at her favorite spot. I'm far from the first person she's taken to House of Hunan, which I guarantee I'd not have discovered on my own. From the outside, it looks like the average strip mall Chinese spot, but it is much more than it seems.
"Nothing beats homemade food," Mickey said, as we settled into our corner booth. "But this is the closest to homemade."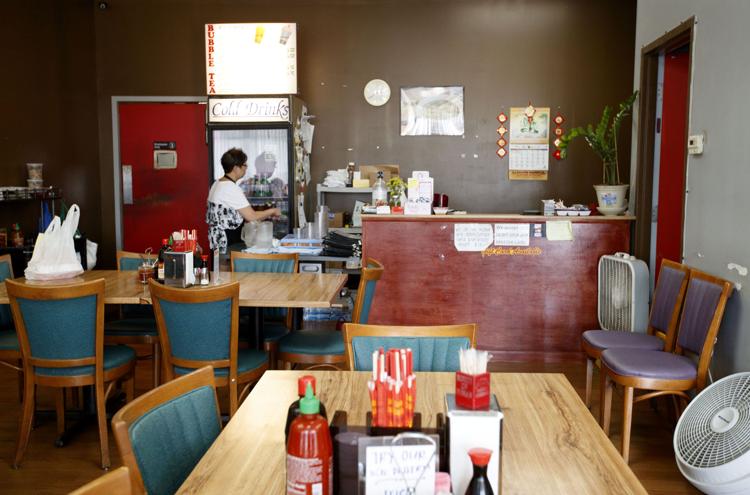 Mickey doesn't usually order pho when she eats at a Vietnamese restaurant. She instead got bun bo hue, a spicy soup with a bright red broth, thicker noodles and pork, among other ingredients, that she said comes from the middle region of Vietnam.
Mickey's parents met in Lincoln — her dad, Alex Tran, came here when he was 6, after the fall of Saigon, and her mother, Tuyet Nguyen, when she was in her early 20s. The two met at a Lincoln Vietnamese church, Immaculate Heart of Mary, where they were both in the choir. The family still goes to and volunteers at the church, which is known for serving pho on periodic Sundays and a buffet of takeaway Vietnamese street food and snacks on some Saturdays. (Mickey insisted we check it out, and I left with a savory meat pie and a sweet sesame bun for around two bucks.)
Now, Mickey is 19 and the president of the Vietnamese Student Association at the University of Nebraska-Lincoln, where she's a sophomore. She didn't lead me astray on my pho journey, that's for sure.
House of Hunan had, by far, the most flavorful, meatiest, spiciest broth I tried at any place.
Mickey said her family likes it because it's a good value for the money, and indeed, it did have a ton of meat, noodles and plenty of toppings, but still kept its balance. I wasn't left with a bowl of noodles and no meat when I was finished.
So far, Mickey said she hasn't learned her mom's cooking secrets; her mom wants her to focus on her computer science studies.
"Everyone knows my mom is an amazing cook, and I never really took it seriously," Mickey said. "But I want to learn."
We slurped the last of our noodles and headed out to the parking lot. I felt really lucky that afternoon to have been hanging out with a second-generation Vietnamese-Nebraskan willing to let me in on her family history — and help me find the best version of the soup she so clearly loves.
If you're smart, you'll go find a bowl, too.
Vietnamese dining suggestions in Lincoln:
Food critic Sarah Baker Hansen is from Omaha. Columnist Matthew Hansen grew up in Red Cloud. As a married couple they travel Nebraska to share with each other little-known people, unexpected stops and memorable foods. Come along and discover more of what the state has to offer in "The Better Half," an occasional series prepared with support from the Nebraska Community Foundation.