When Addie Borgmann creates a recipe, she has two easy guidelines.
It has to be healthy, and each dish needs to be something that her three younger brothers and sister will enjoy.
Addie, a fifth-grader at Skyline Elementary in Elkhorn, created a winner with her Skinny Mini Mexican Meatball Boats.
The 11-year-old submitted the recipe to the Sodexo Future chefs competition and won first place.
Addie won at the district and national level and was one of five chosen from the final 40. Students from 256 school districts — about 2,700 kids in all — created original Mexican-inspired recipes.
Addie doesn't always cook with her own recipes, but each dish that she serves has her unique flair.
"I get most of my ideas for recipes from food that my mom or grandpa make and I put my own twist on it,'' she said. "Or, I take something I have already made or seen online or in a cookbook and I change it up to add flavors that I like better.''
That's what she likes most about cooking, she says. There are no strict rules, and you don't have to be precise.
She loves to experiment, and "shake it up a bit,'' she said.
Her advice to beginning cooks is to have fun. Don't worry about making mistakes because it will just make you better.
"You might burn something or over season it, but then you know for next time to alter your recipe. And, always taste test your food and sit down and enjoy it,'' she said. "After all, it's your masterpiece. Never tell yourself, I can't.''
Here's Addie's winning recipe, along with a few other favorites.
"The Scratcharoni Con Queso and the Pudding Crumble Cake are original recipes created by me,'' she said. "The others are modified to be my own.''
Skinny Mini Mexican Meatball Boats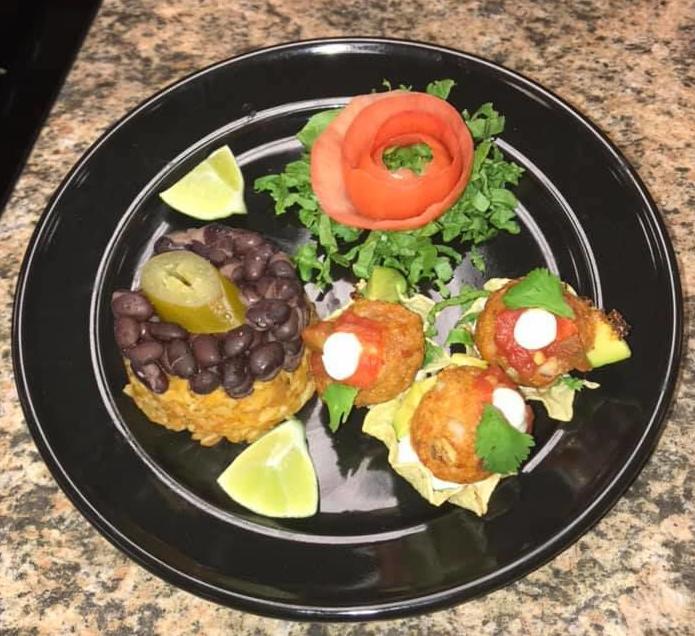 (Serve with black beans and brown rice.)
1 pound extra-lean ground turkey
1 package low-sodium taco seasoning
¼ cup salsa, plus extra for garnish
¼ cup fat-free sour cream
Heat oven to 425 F. Coat a baking pan with nonstick spray. Set aside.
In a large bowl, mix egg, onion, cornmeal, taco seasoning and salsa. Add turkey and blend well.
Scoop one level tablespoon for each meatball and roll into balls. Place meatballs in a baking pan. Bake uncovered for 12 minutes.
To assemble each meatball boat: Place a pinch of lettuce in a Tostitos Scoop, one small slice of avocado and drizzle sour cream. Place meatball in the "boat" and drizzle with salsa and sour cream.
Garnish with cilantro, black bean and diced tomato.
Scratcharoni Con Queso
(homemade macaroni and cheese)
2 cups grated Colby Jack cheese
Bring a large pot of salted water to a rolling boil. Pour in the noodles. Cook until just shy of al dente.
When the pasta is done, drain and add the butter, milk, sour cream, cream cheese and grated cheese. Stir constantly until melted. Add pepper, paprika and salt to your liking. Taste and adjust seasoning, if needed.
This can be topped with additional shredded cheddar cheese and baked at 350 F for 30 minutes or golden brown.
For variety, add chicken, beef or ham.
Sign up for The World-Herald's afternoon updates
Receive a summary of the day's popular and trending stories from Omaha.com.
Pudding Crumble Cake
1 box cake mix (any flavor)
1 box instant pudding (any flavor)
Prepare cake mix according to directions on the box and bake. Allow cake to cool.
Prepare pudding while cake is cooling.
Break cake into small pieces and place in electric mixer. Mix in prepared pudding on low speed.
Once combined, pour mixture into a cake pan and freeze for 2 hours.
Once frozen, top cake with frosting of your choice. Serve partially thawed.
Two-Ingredient Banana Pancakes
2 large eggs, lightly beaten
Maple syrup, Nutella, jam and/or powdered sugar for topping
Mash the banana with a fork until no large lumps remain. Stir in the eggs until completely combined. The batter will be very loose and liquidy.
Drop about 2 tablespoons batter on a hot griddle or pan over medium heat. Cook for one minute and flip. The edges should look set, but the center will still be liquidy. Cook for another minute or two. Flip the pancake again. May need to continue flipping until the pancake looks set.
Serve warm with your favorite topping.
Japanese Rice Balls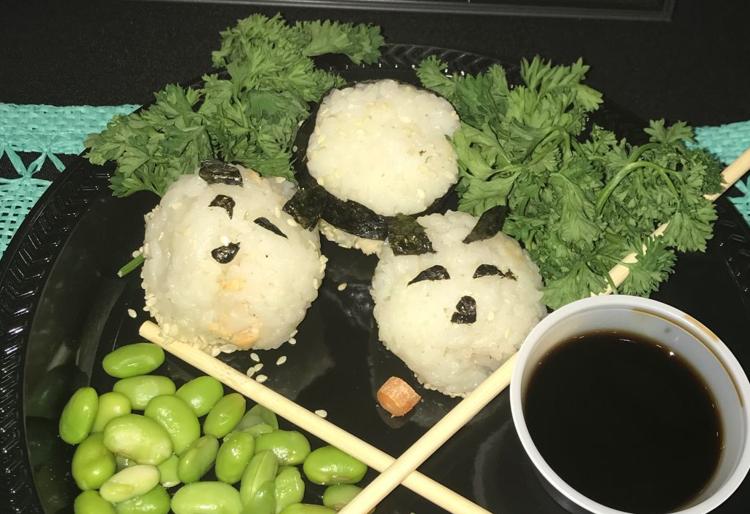 2 cups Crock Pot Teriyaki Chicken, recipe follows
4 cups sushi rice, recipe follows
5 strips sushi-style nori
1 cup low-sodium soy sauce
Cook Crock Pot Teriyaki Chicken. Keep warm.
Cook sushi rice, and keep the rice slightly warm.
Set bowl of cold water at your work space to wet hands as you form rice balls. Wet hands and scoop a small handful of rice (about ¼ to ½ cup depending on the size of rice ball you prefer). Flatten rice into a thin oval layer in the palm of your hands
Scoop a small spoonful of the teriyaki chicken into the center of the rice, and gently fold the rice around the chicken. Using both hands, pack the rice into a ball and then gently press it into the shape you like.
Roll the rice ball in the sesame seeds.
Cut the sushi-style nori into little strips and wrap one around the ball for a Pokemon-style rice ball.
To make a panda, use kitchen scissors to cut small shapes out of the sushi nori. Cut two semi circles, 2 ovals, 1 small oval and a pointy triangle.
Create your rice ball creation and serve with a side of low-sodium soy sauce and chopsticks.
Serve edamame along side your rice ball creation!
Sushi Rice
2 cups uncooked sushi rice
1 tablespoon vegetable oil
Very important: Rinse the rice in a strainer until the water runs clear.
Combine the water and rice in a medium saucepan. Bring to a boil, then reduce the heat to low, cover and cook for 20 minutes. Rice should be tender and water should be absorbed. Cool until cool enough to handle.
In a small saucepan, combine the rice vinegar, oil, sugar and salt. Cook over medium heat until the sugar dissolves. Cool, then stir into the cooked rice. When you pour this into the rice, it will seem very wet, but don't worry. Keep stirring and the rice will dry as it cools.
Crock Pot Teriyaki Chicken
4 large boneless chicken breasts
1 cup low sodium soy sauce
1 cup low sodium chicken broth
1½ tablespoons corn starch
Place the chicken breasts in a single layer in the slow cooker
In a medium bowl, whisk together the soy sauce, chicken broth, pineapple juice, brown sugar and minced garlic until the sugar is dissolved. Pour the mixture over the chicken breasts, and set on low for 4 hours, or until thoroughly cooked.
Using tongs, remove the chicken breasts. Using two forks, shred the chicken breasts and place in a large bowl.
Pour the remaining sauce from the slow cooker into a medium saucepan and bring the sauce to a boil. In a separate bowl, whisk together the cornstarch with 3 tablespoons water and make a thick paste.
While the sauce is boiling, whisk in the paste and continue to boil until thickened.
Pour over the shredded chicken and stir.
Set aside for your rice balls.
Check out 42 stories that built, defined and characterized Nebraska
The World-Herald has gone back through the archives and uncovered stories that define not only the Omaha area, but the entire State of Nebraska.