I bought one of every single chocolate out of the case at Chocolat Abeille, and I did not feel a split-second of guilt over it.
OK, maybe just a second's worth. But if you're so inclined, I encourage you to do the same thing at pastry chef Tina Tweedy's jewel box of a chocolate shop that opened in December in the Old Market.
Her handmade and, in some cases, hand-painted chocolates are divine, truly worth the indulgence. The heady scent of chocolate hits you as soon as you open the door, and you know you're in for a special experience.
If you've ordered dessert in the past at Della Costa — when I reviewed the Midtown Crossing spot last year, her creations were the highlight — or M's Pub, where she was the pastry chef for many years, you'll know her talent.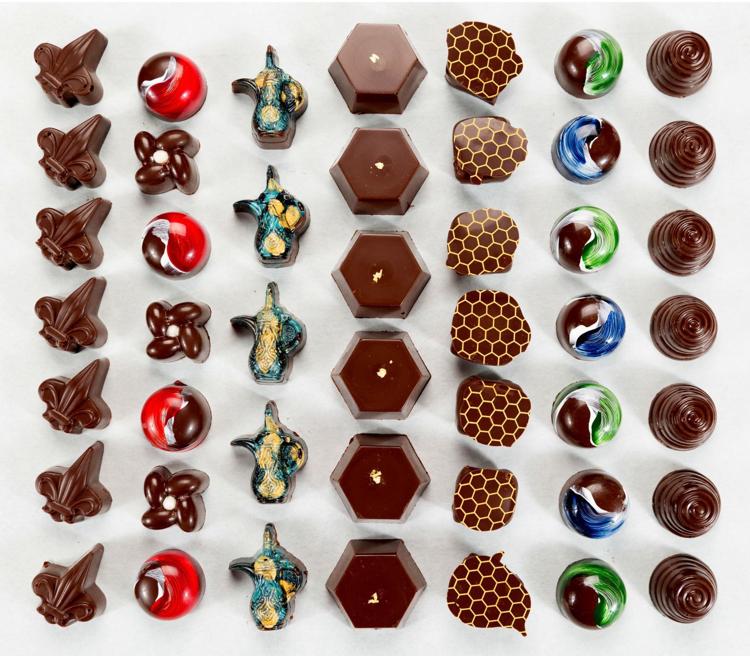 It's difficult to narrow down my favorites, because each chocolate had so much to love: a rich, delightful exterior and, no matter the flavor, a surprising bite into a filling sometimes crunchy, sometimes smooth, but always full of flavor.
My absolute favorite is the hazelnut honey crunch, a five-sided candy decorated on top with a fine grid of lined golden honeycomb. Inside, finely chopped, savory hazelnuts meet honey-laced chocolate. There are more honey-focused chocolates, too, including a beehive-shaped dark chocolate with honey filling and a milk chocolate version topped with a tiny bee made of gold leaf.
All honey in the shop comes from Tweedy's bees, which she raises on her property in Bellevue. "Chocolat Abeille" translates from French to "chocolate honey bee."
She sells honey in beautifully packaged bottles that line one wall of the shop. Tags on the bottles are made of homemade paper, and if they're planted, they'll sprout wildflowers. The chocolates in her shop rotate; at one point, she was selling chocolate-covered honeycomb, though she didn't have any during my visits.
Tweedy makes cases full of the tiny chocolates using a chocolate tempering machine — a recent addition to the shop. Before, she was making each one by hand, she said, and when a customer would come in, sometimes the chocolate would harden before she was ready and she'd have to start over. The new machine runs a steady stream of rich chocolate all day long.
The fleur-de-lis-shaped Paris chocolate was another favorite of those I tried. It's filling is infused with Parisian Harney and Sons tea, a blend of caramel, vanilla and bergamot. A tangy-sweet passion fruit, beautifully decorated with splashes of sparkling orange and pink, packed a powerful punch.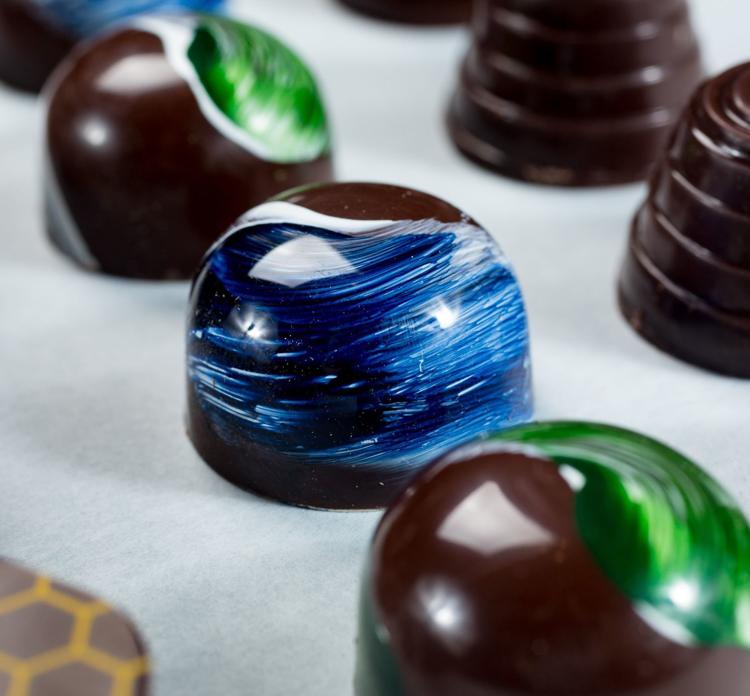 There are many traditional chocolates to be had, including a vanilla-bean studded creme, a flavorful raspberry and a caramel ganache (decorated with a spray of gold on top.) But Tweedy also takes many creative liberties with her sweets.
There's an earthy white chocolate mushroom shaped candy made with porcini powder, a herbaceous fresh mint chocolate and Blue 72, made with 72 percent bittersweet chocolate. There's saffron honey, a vibrant orange chocolate and verdant green-topped chocolates filled with medjool dates.
"I like the customers to step outside of their comfort zone," she said.
She also sells chocolate "confections," which can be any number of things: chocolate eggs and adorable, floppy-eared milk chocolate bunnies are her latest seasonal creation. There are chocolate mushrooms topped with dotted red and white caps, Parisian drinking chocolate and a giant, three-pound chocolate egg she's planning to give away as part of an online contest.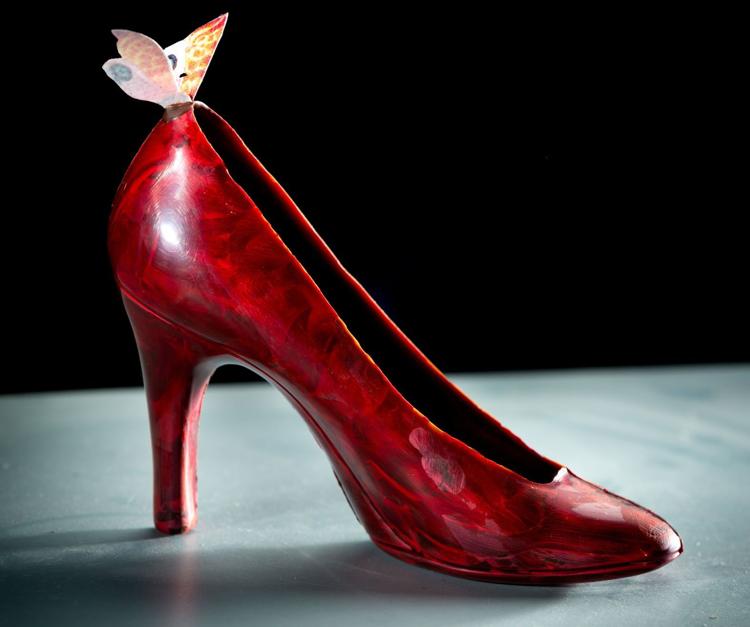 And then there are high-heeled chocolate shoes. Some are red, others are black, and even more have decorations like butterflies or flowers made from edible paper. They've been incredibly popular.
Inside, the shop is warm and welcoming, colored in hues of gold and dark teal. The shop has an entrance off 11th Street and another from the Old Market Passageway, a benefit that Tweedy said has helped increase foot traffic. Tweedy carefully, caringly packages all her chocolates by hand in cream and gold boxes, tying them with a green bow to match the shop's color scheme. So far, she said she has no plans to expand her selections into full desserts, but she might make some fruit tarts this spring.
I'm a sucker for sweets, especially ones as carefully crafted and as beautiful as those Tweedy is creating. Abeille drew me in like a bee to a wildflower; I expect it will for many others, too.