POTTER, Neb. — Feet dangling from the old-school soda fountain stools, 10-year old Alaree White and her 8-year-old brother, Max, trade excited whispers.
The siblings lean forward as waitress Nancy Hutchinson grabs an old-fashioned soda glass and starts filling it with heaping scoops of vanilla ice cream. She slowly pours on hot fudge, then tops that with chocolate ice cream, piling it well past the fluted brim.
As Max watches her work, his mouth slowly morphs into the shape of an "O."
"I can eat it all," he says.
"You would have a bellyache!" his sister exclaims.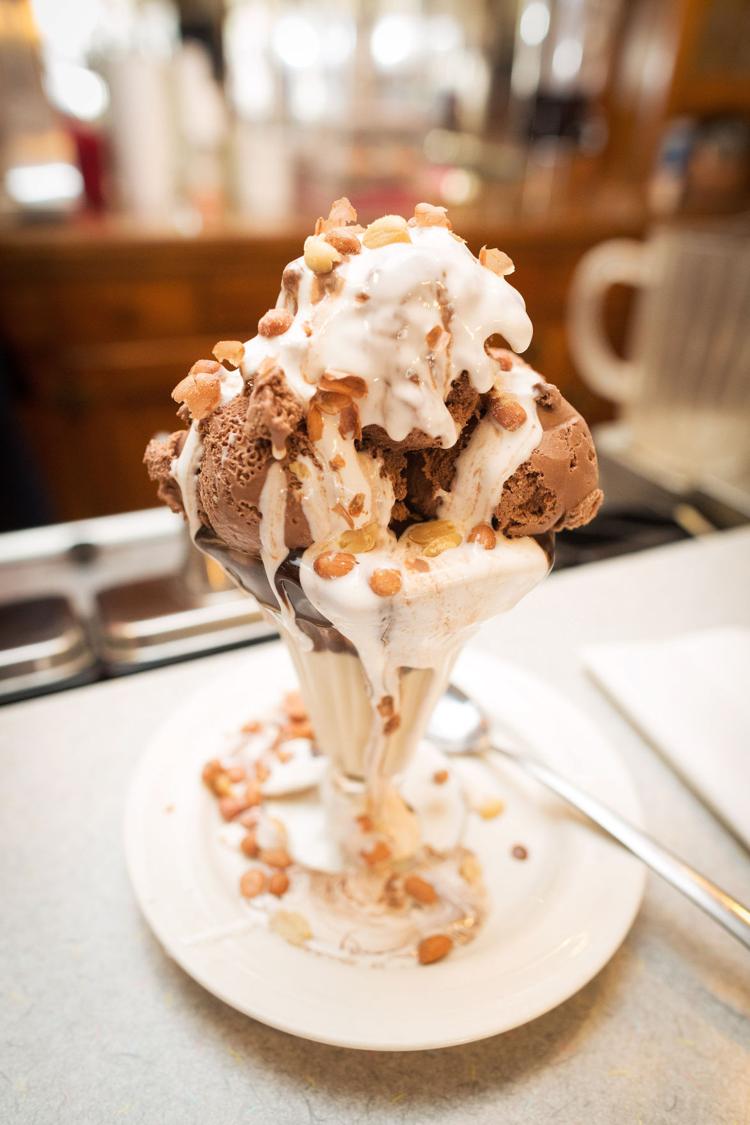 Nancy tops off the dessert with two ingredients that, most likely, made this small town's Tin Roof Sundae famous in the first place: a hefty drizzle of warm marshmallow cream and a handful of skin-on, salty Spanish peanuts. She gingerly walks two sundaes toward the White family — on vacation from Wyoming — sitting inside the Potter Sundry. Max raises his arms in excitement, spoon in hand.
"Tasty!" he says a few bites in.
Google "Tin Roof Sundae" and you'll find that many companies — Blue Bunny, Baskin-Robbins and Breyers among them — make packaged ice cream in the flavor. Bon Appetit magazine and famed cookbook writer David Lebovitz have published recipes for the ice cream and used the flavor combination as inspiration for pies and bars.
There's even YouTube videos to teach you how to make the dessert. (Ignore the line devoted to "calories in a Tin Roof sundae," please.)
But this small diner in a village of 300 is where it all began. Harold Dean "Pinky" Thayer stood behind the same counter at the same soda fountain where Alaree and Max sat this summer. It's where Thayer came up with the Nebraska-made concoction, piling those now iconic ingredients into a soda glass, and perhaps gazing up at the ceiling after his first bite. That's how his daughter, Kathy Thayer Heine, said he came up with its name: the tin roof refers to the decorative tin tiles that still sit above Sundry diners' heads today.
So the White kids' infatuation is nothing new. And they're not the only ones taken with this sweet sundae. It's the reason that the town restored its Potter Sundry and its tin roof, too. It's the reason that tourists land here all summer long in search of dessert.
"I have many fond memories of the place as a small child," said Bruce Juelfs, who grew up in Potter, just off Interstate 80 about 40 miles east of the Wyoming state line. Juelfs moved away years ago, but calls the town home again.
"I was always intrigued with the soda fountain, where you watch them make your ice cream or milkshake or phosphate," he said.
Today, Maida Gotfrey is in charge of the Sundry; she has leased the space from the Potter Historic Foundation for the past dozen years or so. Over Memorial Day weekend, Gotfrey said the Sundry likely sold close to 50 sundaes — the amount it usually sells in an average summertime week. It'll happen again on the Fourth of July weekend, she said.
"The locals like it because it was here when they were kids," she said. "It's like coming home."
There's a long history of Potter families associated with the Sundry — it's a timeline pieced together through memory and old documents, passed down through the ages — and it begins with the Thayers.
The Sundry dates from 1914, and The Potter Drug Co. opened there around 1916. James Earl Thayer ran the pharmacy in Potter, and his family lived above it. Pinky, his son, who got his nickname because of his bright red, wavy hair, worked at the soda fountain. Sometime in the early 1930s he made the first Tin Roof Sundae.
"Oh, yeah, he loved sweets," Thayer Heine said of her dad, laughing. "He was just a bored high school kid working at his father's pharmacy, inventing stuff."
He also came up with a treat called the Zombie, which Thayer Heine said was a rainbow sundae, maybe something like Neapolitan, with different flavors of ice cream, and another called a Blitzer.
"But the Tin Roof," she said, "that was the one that stuck."
After he graduated from high school, Pinky went to Dana College for a year with hopes of traveling with the school's choir.
"He was a very good singer," Thayer Heine said. "When I was little, I'd close my eyes and think it was Bing Crosby singing to me."
He quit school after a year — his father died and he came home to help with the Sundry. He enlisted in the Army, and when he got back from World War II, he settled in Iowa, where he met his wife.
The Thayers traveled to the Philippines, Germany, France and England, then returned to the U.S. and lived again in Iowa and in Kansas. Eventually the family moved to Colorado, where Pinky retired in 1965. A year later the family moved to Osceola, Nebraska, and there they stayed.
Thayer Heine remembers periodic trips back to Potter which, of course, involved stops at the Sundry for sundaes.
Dale Dedic's parents, Rudy and Wilma, took over the Sundry in July 1944, sold it to Ed and Opal Winn in February 1959 and bought it back in February 1964. The Dedics owned the spot for a total of 30 years, until early 1978.
Frank and Janis Osweiler ran it from 1978 to 1980; Annie Juelfs, Bruce Juelfs' aunt, held it from 1980 to 1993; then Joe and ChrisAnn Borla took over, running the Sundry until 1998.
At that point the Sundry was set to close its doors — a sign hung in the front window advertising a liquidation sale — until Potter native Steve Davis, who lived in Denver, bought it. He and his wife, Margaret, ran it from Denver for nearly two years while they worked to form the Potter Historical Foundation, a nonprofit, said Kirk Enevoldsen, the chairman of the foundation. The Davises eventually donated the Sundry to the foundation.
"That's why it's still in business today," Enevoldsen said. "Steve said 'As long as there is a Potter Sundry, that back bar is going to stay.' "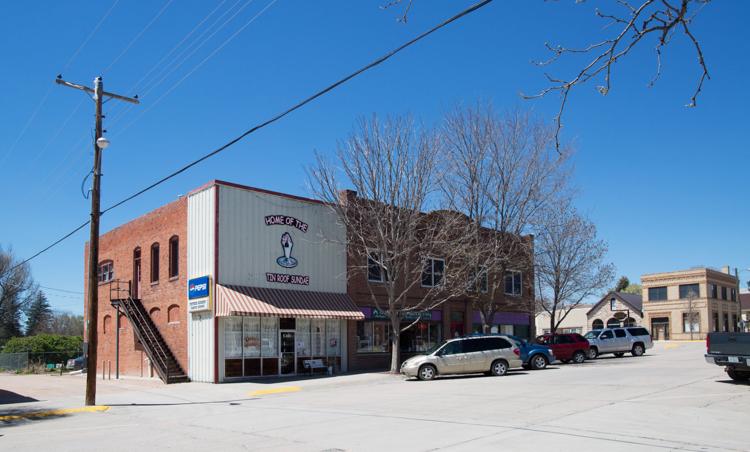 In 2009 the foundation began fundraising efforts to restore the building's tin ceiling, which had, at some point, been obscured by a drop ceiling. It raised more than $13,000 toward the effort, and the ceiling restoration was finished in 2010.
"If you are inside and look up," Dedic said, "there it is, the tin roof again."
While they were at it, foundation members also worked on the flea market next door — it's open for business and full of antiques — and on the restoration of a second-floor duck pin bowling alley, also now open for business.
"The whole community got involved in helping," Dedic said.
It wasn't until the 1960s that Dedic himself realized the reach of the Tin Roof Sundae.
"When I joined the Navy in '62, I was in California, and I went to a grocery store," he said. "I saw Tin Roof Sundae ice cream and thought 'Wow!' "
The sundae has popped up in Juelfs' life, too. When he was working in Colorado, he'd hear from co-workers and friends who, without knowing it was his hometown, would rave about the small Nebraska town and its ice cream treat they encountered while traveling.
"It's so incredible to me that the little place in Potter has affected so many people," he said.
And Gotfrey continues to see the impact this big sundae has had on a small town. She said it persists because of news stories — a writer from as far away as Denmark came to Potter — and word of mouth. And, more recently, because of T-shirts.
"People see it in all those different magazines and clippings, and they say 'Oh, we should see what this is all about. And we better have ice cream.' "
Earlier this year, when some of her staff suggested the Sundry get a T-shirt that says "I ate the whole thing" — the largest sundae the Sundry sells is a humongous 10 ounces — Gotfrey said she thought it was "a waste of time."
But now? They just ordered their third batch of shirts.
It's a testament to the diners, both locals and tourists, that keep Potter's tiny Sundry running. And it's also because of the townspeople themselves, who realized the value of ice cream.
"Some towns are just dying. They're done," Gotfrey said. "But this town is all about keeping things. They work hard at it."