The Sons of the American Revolution will have a monumental ceremony this weekend at Prospect Hill Cemetery to honor historic Omahan Champion Spalding Chase.
Right about now, you're asking yourselves: "Who the heck are they? And why should I care?"
"I've heard of the Daughters of the American Revolution, but I didn't know there were sons," you're thinking. "What's up with that? And Chase? I don't recall any notable Nebraskan with that name."
Don't feel bad. We've asked several people, and their reaction was the same. In fact, someone at the Douglas County Historical Society told us she'd never heard of him.
All the more reason for this weekend's solemn festivities, say local representatives of the national group formed expressly for men whose ancestors fought in the battle for American independence.
Many Nebraskans aren't aware that Chase was the first Nebraska attorney general and the 17th mayor of Omaha, they say. And many are equally ignorant about the Sons of the American Revolution. Many express surprise that the group exists, even when they meet members.
"We actually run into that a lot — people who don't know about us," said Paul Burright, secretary of the Omaha chapter of the state group, which also has a chapter in Lincoln.
Sign up for the Go newsletter
This complete guide of local music, movies, dining and entertainment will have you weekend ready.
Both the state SAR — founded 129 years ago — and Chase have stories that should be shared, they say.
Chase was born in Cornish, New Hampshire, in 1820. He became a teacher, then studied law and practiced in New York before moving to Racine, Wisconsin, where he married Mary Sophronia Butterfield. While there, he was a delegate to the Republican National Convention, was elected to the state senate and became district attorney for Wisconsin's 2nd judicial district.
He joined the Union Army in 1862 and served at the siege of Vicksburg.
"He was the paymaster for the Army during the Civil War," said Shawn Stoner, president of the Nebraska SAR. "His cousin was the Secretary of the Treasury under (Abraham) Lincoln, and he somehow finagled a position for Champion to be paymaster (the person who was responsible for paying soldiers)."
He landed in Nebraska in 1866 and became its attorney general the next year, when Nebraska became a state. He also was on the University of Nebraska Board of Regents from 1869 to 1875. He was known as a great orator; copies of his notable speeches are in the state archives in Lincoln.
Chase was elected mayor of Omaha in 1873 and won reelection three times.
That's where his story takes a little turn. He presided over a city that was still fairly rough and tumble.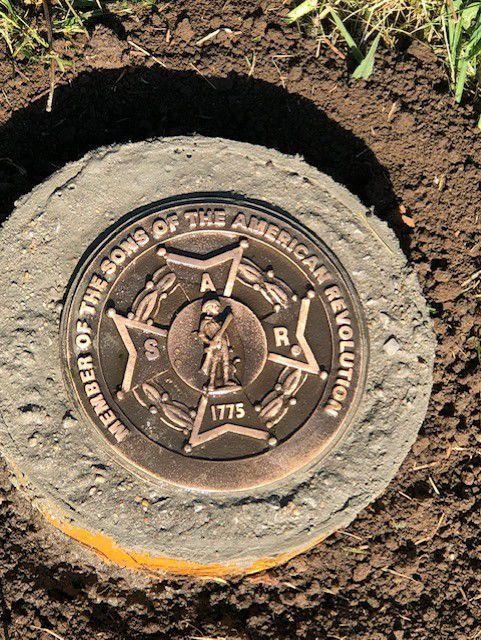 In his 1917 book, "Omaha Memories: Recollections of Events, Men and Affairs in Omaha, Nebraska," attorney Edward Francis Morearty said Omaha in the 1880s was "a frontier town (where) little regard was shown for law and order (and) saloons were licensed after a fashion."
According to Morearty, Chase shut down one notorious establishment, "one of the toughest joints between Chicago and Leadville," but it changed its name to the classy-sounding Buckingham and picked up where it left off.
The City Council removed Chase from office in 1884, "for drunkenness, his duty being neglected, and nervous system derangement." He went to court arguing that he was illegally removed from office, and a jury agreed. Many at the time thought his wife's death from cancer contributed to Chase's problems.
Stoner said that smudge on Chase's record didn't lead anyone to question whether he should be Nebraska's first recipient of an SAR marker on his grave at Prospect Hill, where he was buried when he died in 1899, three days after falling on a downtown Omaha street.
"Some suggested we not bring it up (in remarks)," he said, "but it's his life. Things happen."
The marker will be dedicated at 10 a.m. Saturday, with a speech by former Omaha Mayor Hal Daub, who has been a member of the state SAR for 35 years. The event also will include a wreath presentation by the DAR, a membership citation for Daub, a color guard in Revolutionary War uniforms and a musket salute.
Stoner said he couldn't reach any descendants of Chase to attend. Chase had only one son, Champion Clement Chase, who was an editor and publisher of banker's magazines in Omaha. Descendants are out there, Stoner said, but they didn't respond to his correspondence.
It's the first time in the Nebraska group's 129-year history that it has placed a grave marker.
Sons of the American Revolution ceremonies are much more common on the East Coast, where it's not difficult to find the grave of a Revolutionary War soldier. Such graves are rare — if not altogether unheard-of — west of Iowa, Stoner said, so SAR groups here honor "compatriots" with impressive achievements and SAR backgrounds, meaning they have ancestors who fought for American independence.
Chase is descended from Moses Chase, who was a captain in the New Hampshire Militia.
Stoner and Burright said events such as Saturday's have helped give their 100-plus-member group a higher profile. They've also marched in the Ralston Fourth of July parade the past couple of years.
In fact, Stoner said, the group has had a growth spurt of late, with about 10 new members over the last six months and five or six applications pending. Joining is a fairly long process because Revolutionary War credentials must be verified. The group has about 34,000 members nationwide.
The state SAR will follow up Saturday's ceremony with another one later this year in Nebraska City at the grave of its first Nebraska member, Aurelius Brown.
Both men said they think they have a worthy honoree in Chase. Though there are no apparent Omaha tributes to him, such as street names or plaques, Chase County in western Nebraska and the town of Champion in that county were named after him.
SAR members are pleased to introduce him to new generations in Omaha. He also was known for his kind treatment of friends, neighbors and strangers, typified by his yearly New Year's Day open house.
"He held his friends very close to his heart and it may be said ... even those who had met him once or twice never forget him. For many, many years, to some, Champion S. Chase will be remembered for his public spirit, for the integrity of his private life, for his unfailing loyalty to his friends and for his stainless honor," his published obituary said.
Check out 42 stories that built, defined and characterized Nebraska
The World-Herald has gone back through the archives and uncovered stories that define not only the Omaha area, but the entire State of Nebraska.