Jim Cox and Gary George cooked up a delicious way to celebrate the 100th anniversary of their craftsman home in the Minne Lusa neighborhood in north Omaha.
Since last January, they've marked the occasion by hosting 100 people at small dinner parties, barbecues, brunches and neighborhood get-togethers. A Minne Lusa coffee was their largest gathering at 26.
"Living in a 100-year-old house is a big deal to me," George said.
They reached 100 guests at the end of November, although at times it looked a little iffy. August was a no-go after George's mother fell ill (she rebounded and was guest No. 100), and early on weather conditions were an issue.
Sign up for the Go newsletter
This complete guide of local music, movies, dining and entertainment will have you weekend ready.
But now, they're a little sad it's over.
"Every meal had a different flavor," George said.
"Joyful and unique," is how Cox described each gathering.
Cox has been the tour guide and George the cook for every occasion, which attracted a smörgåsbord of people that even included some past residents. One, Chaz Bellamy, shared how the kitchen cupboards used to be wallpapered inside and out.
He brought along a photo album of the work he did to the house.
No one was asked to bring food, although George and Cox are still raving about Mary Jo Franco's homemade apple pie. One guest brought a painted birdhouse and another a poem, an homage to a 100-year-old house.
"They were more like gifts for the house," said George, the director of the Hospice House-Josie Harper Residence.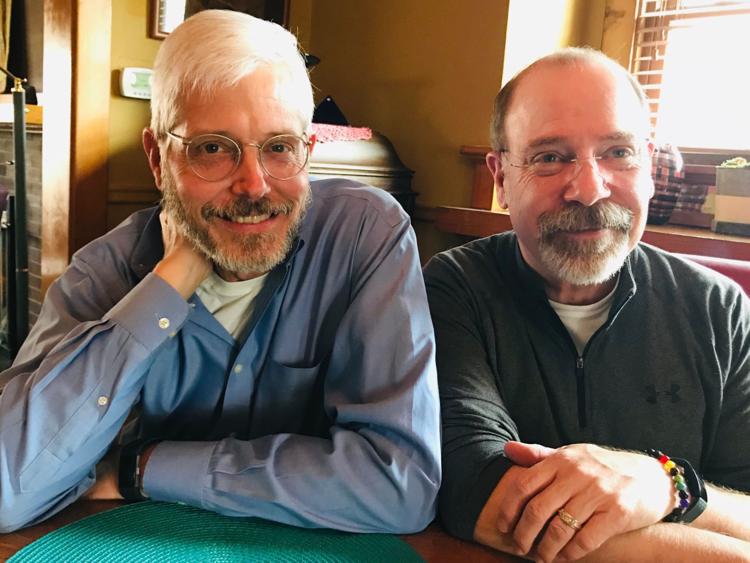 For each gathering, they had just one rule: Everything had to be cleaned up and back in its proper place before the couple of 27 years headed to bed. Since George cooked, Cox, who works for Centris Federal Credit Union, washed up the heavy pans. They have no dishwasher.
Sometimes their tasks weren't completed until the early hours, because people loved to sit around the dining room table and talk after meals. There was lots of laughter, singalongs and even a few tears.
"It's really been the stories that people told around this table," George said when asked what he liked best about each occasion. "This is such a comfortable room and home. The conversation would go on for hours."
No guest went home empty-handed. Before each occasion, they received a letterpress invitation that Cox manufactured on the printing press in the basement. They left with a rubber jar opener with the logo of the house.
Although the parties were supposed to celebrate the house, they also put a spotlight on the Minne Lusa neighborhood, the largest subdivision in Omaha at the time when hundreds of houses were constructed north of Miller Park.
George and Cox love the neighborhood's diversity, unique houses and friendly neighbors.
"It's such a cool, loving, wonderful neighborhood," Cox said. "It's a place people are really proud to live."