To most of the public, the massive structures have seemed bare ever since. But look a little lower and you'll see that's not the case.
Since 2014, students and mentors in the Joslyn Art Museum's Kent Bellows Mentoring Program have painted the bottoms of nine grain elevators. You can't see them from the Interstate, but from the Hanscom Park neighborhood or the South Omaha Trail, they pop.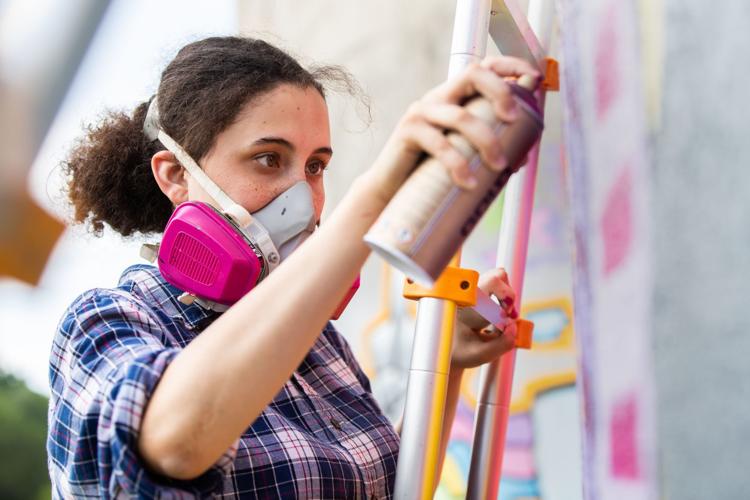 "It's a little bit hidden," said artist mentor Hugo Zamorano, "but as soon as people drive past, they slow down."
Zamorano is mentoring a team of four students as they complete the final mural in the project this summer. The last mural will span one and a half grain elevators. It will tell the story of each facet of the Kent Bellows Mentoring Program, depicting students screen-printing, spray-painting, designing clothing and more.
"It's kind of liberating to paint on a canvas this large," said Gabrielle Washington, a student at Millard South High School, who is using spray paint for the first time.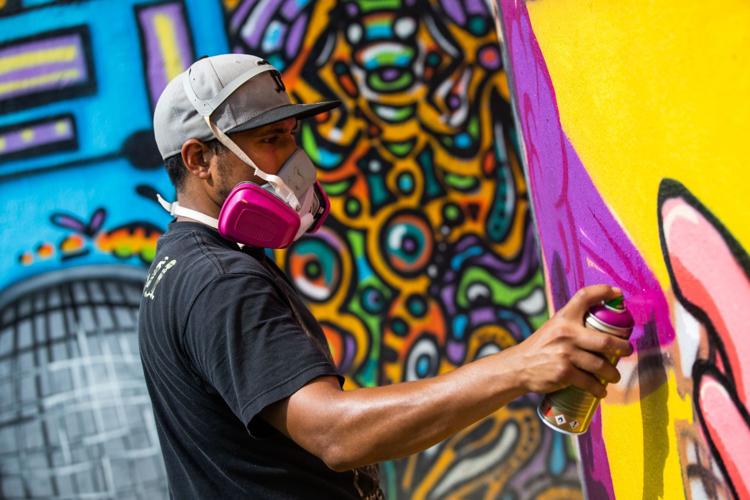 The Silo Mural Project began as part of the City of Omaha's Graffiti Abatement Program. The grain elevators are a common target for vandalism, but areas with artist-created murals often are avoided by vandals, perhaps out of respect for their artwork.
"I can't think of one mural in Omaha that has been hit," Zamorano said. "It helps people express themselves, and it helps keep away excess vandalism. We need more (murals)."
The project already was underway when Chris Roseland purchased the grain elevators a few years ago. Roseland said he supports the idea and is proud to display the artwork.
"I think they're gorgeous," he said. "They have a better curb appeal than graffiti."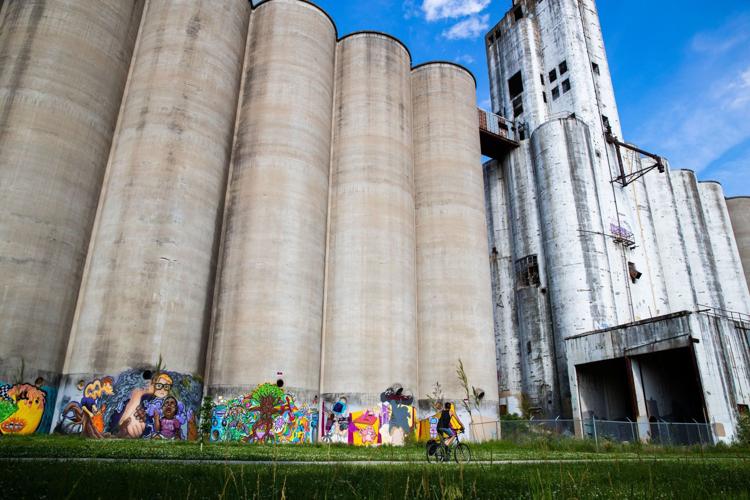 Each mural tells a different story. Since 2014, a total of four mentors have led at least seven different students who collaborate on the murals, most of which are self-contained at the base of one bin.
One mural includes such state icons as a crane, the Bob Kerrey Pedestrian Bridge, the Desert Dome at the Henry Doorly Zoo & Aquarium and the Kool-Aid man.
Another, which attempts to show the effects of climate change, shows a trio of penguins with bindles searching for a new place to call home.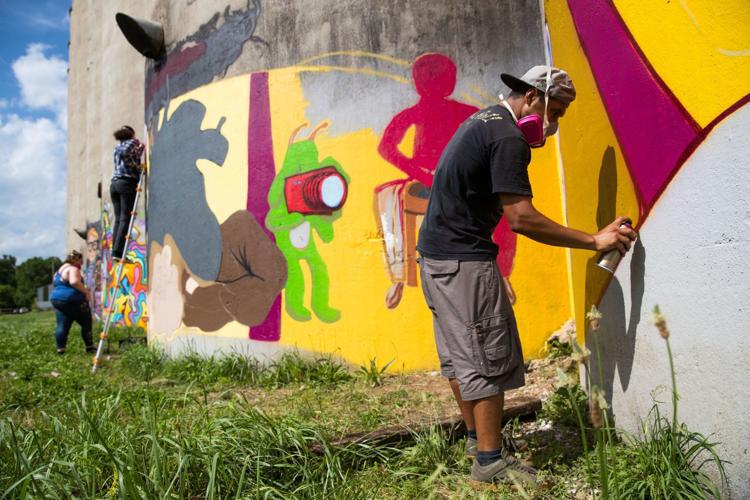 For some students in the program, the bins act as a canvas. For others, it's a legal way to express the art they may have created illegally in their past.
Washington said it gave her an opportunity to bounce ideas off other creative people in an atmosphere unlike her high school art classes.
"Half of the kids (in class) don't care," she said, "but here it's a creative environment and you learn more."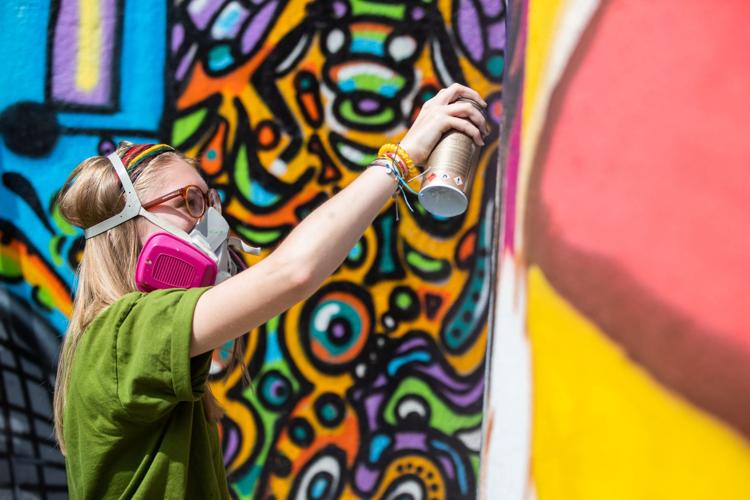 Students have to apply to be part of the Kent Bellows Urban Art Mentoring Program. The wait list is about 100 students long.
Program director Katie Temple said she looks for students who submit passionate art they created outside of school and students who demonstrate good interpersonal skills and a willingness to collaborate with other artists.
The project is about more than just art, she said. Mentoring and collaboration come first.
This summer's mural is the final one in the project. It should be finished by the end of July or early August.
Photos: Thought-provoking murals enrich Omaha walls and buildings
Omahans sure love their murals. Check out these pieces of art — space aliens, octopuses and vegetables, oh my! — you can find all over the city.