On a recent Sunday afternoon, four women sat at the corners of a long table in perhaps the tiniest room in the First Unitarian Church basement.
A large quilt, multicolored with purple backing, was spread out on the table, and each woman was holding a needle and hemming a portion by hand, dodging most of the pins.
The women talked and laughed as they worked. One had just returned from a trip to see a grandchild graduate. Another talked about her efforts to save monarch butterflies, and her dad's long tenure as a geology professor at the University of Nebraska-Lincoln.
They assessed their handiwork.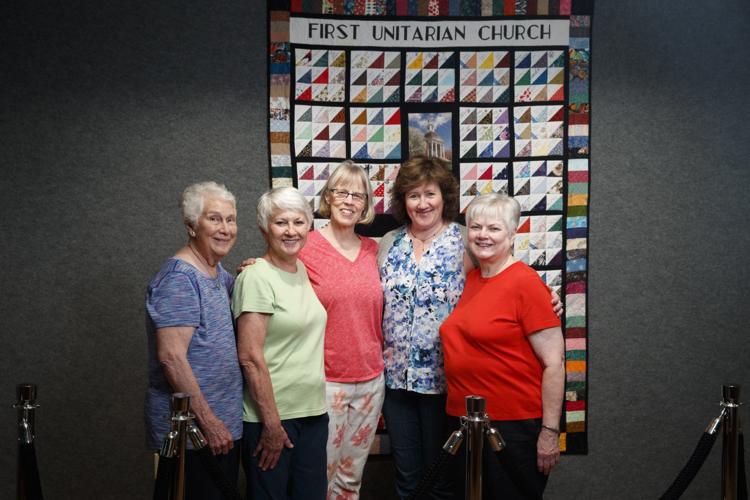 "When people see this, they're just going to be astonished," longtime church member Kay Lynn Goldner said as her needle went into the hem, then out, over and over.
It could have been a quilting bee from a century ago — until they used their cellphones. If you ignore the rude interruption of modern technology, however, the old-fashioned scene was fitting.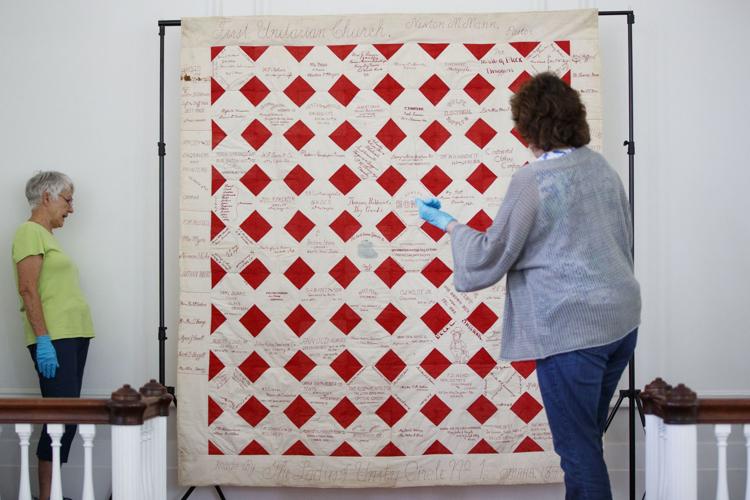 "Just being Unitarians, we're quite diverse," said Nancy Scott, another worker.
The infant quilt and its great-grandma will meet this weekend.
The old quilt will travel from its home at the International Quilt Study Center in Lincoln for a tea party at the church from 2 to 4 p.m. on Saturday. It will hang in the sanctuary for public viewing. A reception will be held in the church common room, where the new quilt will hang permanently. A slideshow will offer a closer look at the names on the historic piece.
Two of the women, Barb Dewell and Scott, did a holiday quilt for the church a few years ago. Participation was great — so much fabric was donated that they made more than a quilt.
That gave them the idea for the new quilt, which was intended to include all current members. They brought in swatches from their fabric stashes (pretty much everyone who sews has one) so congregants could choose fabric for their squares. They also could provide their own.
As do many projects at First Unitarian, the new quilt became a community endeavor.
Dewell, who became something of a de facto leader for the effort, tried to involve as many people as possible.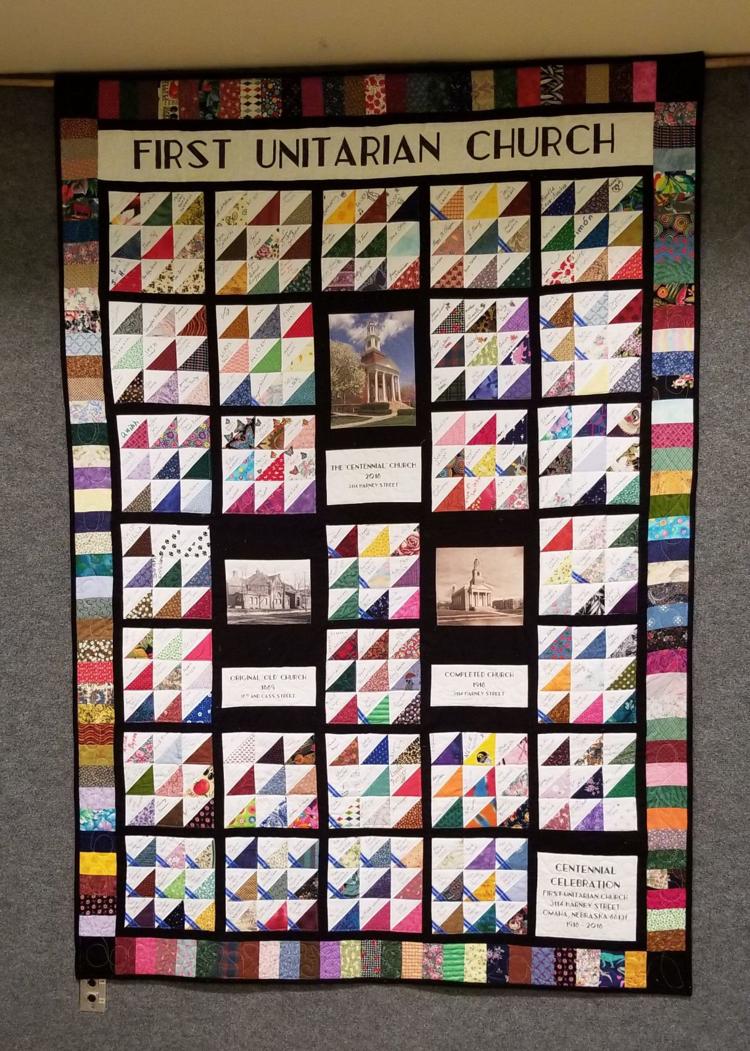 "She'd come on Sundays with these little packets with instructions for sewing," Goldner said.
"And ironing," Scott added.
Several families took them home.
The family of Price, who recently died, donated several yards of rich purple material from her collection to use for backing. Close to 200 people signed squares and included their lost loved ones with names and blue ribbons. That's great participation for a church with about 230 members, planners said.
Many were clever and creative when they chose fabric.
Two people used the tartan plaids that represent their Scottish families. One man, a cycling enthusiast, wanted a bicycle in his square, and Dewell scrambled to find the right material.
Nellie Chenoweth, who sewed for a few minutes on that Sunday before she went next door to a graduation party, chose the Iowa Hawkeyes logo because Iowa is home. Goldner chose fabric she had left over from doll clothes for her daughters and, later, her granddaughters.
Cherries were Dewell's decoration choice, because her family grew the fruit for local winemakers and her great-grandfather invented a cherry-pitting machine.
And you can probably guess what's on the material chosen by Scott, the butterfly conservationist.
The quilt also includes pictures of the first church building and the current one, and squares for notable people in the church's history, including all its pastors, former members Sarah Joslyn (of museum and castle fame) and Dick and Mary Holland, and William Howard Taft, the 27th president of the United States and 10th Chief Justice of the Supreme Court.
Sign up for the Go newsletter
This complete guide of local music, movies, dining and entertainment will have you weekend ready.
"He laid the cornerstone to our building," said Nadine Keith, another volunteer seamstress who's also a coordinator for the quilt event on Saturday.
Someday, the new quilt might be discovered and studied much like the old quilt has been. When Price discovered the hundred-year-old piece, she remembered having seen it more than 30 years before. A Connecticut company restored the backing, which had been removed, and cleaned the quilt top. Several church women embroidered all the business names to make them uniform.
Experts at the quilt study center in Lincoln, part of the University of Nebraska, said the quilt was historically significant. At the time the old quilt was given to the center, scholars there said they expected to study and write papers about it.
The old quilt will return to Lincoln after this weekend, but Keith said she thinks the new quilt will hang in the First Unitarian common room for many years.
And when the church's bicentennial rolls around, who knows where it might be, the women said.
No doubt they will do everything they can to make sure it doesn't end up dusty and dismantled in the bottom of a drawer.
If you get bored this summer, don't blame us. There's more to do in the Omaha area, and beyond, than anyone could handle in three months. Fest…