Her hands trembled as she held the letter.
"Hello," the note began. "I apologize for sending this to your office — it's the only address I found."
Her body shook as she read the next words in a message she'd awaited for decades and wondered if she'd ever receive: "I'm the person you were looking for."
Kathleen Chafin cried at her desk on that April day two years ago. As co-workers came to her side, she assured them she brimmed with joy, not sadness.
There already had been too much anguish in her life. Kathleen is 67 today, but she was just a teenager back when the heartbreak began.
Kathleen never held her baby boy, never saw him, never had a photo. But that wasn't the toughest part.
The hardest for Kathleen — the part that pounded her heart — was never knowing what happened to him.
As a college freshman in 1968, she became pregnant, and her parish priest counseled her and her boyfriend against marriage. Later, she says, another priest coerced her to give up her baby for adoption.
Kathleen's child was adopted during a period known by some researchers as the "Baby Scoop Era," spanning the mid-1940s to the early 1970s, when an estimated 1.5 million unwed U.S. women and girls felt pressured to surrender babies for adoption. Parents, clergy and social workers played active roles, aiming to shield young mothers and their families from shame and provide children to married couples who could not conceive.
It was a far different time in America. Being an unwed mother like Kathleen carried an intense social stigma, particularly for largely white, middle-class women who gave birth in the days before easily available contraception and legal abortions.
Kathleen still carries anguish from the adoption, and she never forgot about her child. She wanted answers about her case — more specifically, the Rev. Thomas Halley, the Jesuit priest she says was involved in the 1968 adoption of her baby. Halley died in 2001 at age 86.
In 2015, she sent a letter to Catholic Church officials seeking a review of his conduct and an admission that Halley's action's were wrong.
The Wisconsin Province of the Society of Jesus, the regional office of Halley's religious order, through its attorneys hired an investigative firm to look into her allegations.
The investigation drew conclusions far different from Kathleen's recollections.
A summary of the investigation — which involved interviews of Kathleen and 16 others — said Halley's actions "seem born of a desire to avoid scandal and find good homes for babies of unwed mothers." It also concluded that the priest was beloved and respected in Omaha; that he did nothing illegal; that the adoption followed Nebraska law; and that there was not "evidence sufficient to conclude that the infant was forcibly taken ... "
The conclusions left Kathleen angry and frustrated. She wanted a more independent investigation into Halley, and she says she was never given a copy of the full report.
Those concerns and others led to her lawyer filing a lawsuit in Douglas County District Court against the Wisconsin Province of the Society of Jesus and the Archdiocese of Omaha, alleging in part that they engaged in an "adoption conspiracy." She is seeking $3 million for pain and suffering. The province called the allegations "unfounded and untrue." The archdiocese also denied the allegations.
The archdiocese and Wisconsin Province have filed motions to dismiss the suit, arguing that the claim has no merit and that, because it occurred in the late 1960s, it is barred by the statute of limitations. A hearing on the motions is scheduled Tuesday.
Kathleen would spend nearly five decades searching for her son, and though she longed for a reunion, just knowing he was safe and happy would provide her some measure of peace.
Growing up Catholic in Omaha in the 1950s and '60s, Kathleen learned from her parents and nuns at school that priests stood next to God.
She remembers how holy they looked in their vestments at the altar during Mass, surrounded by statues of saints. During the sacrament of penance, she revealed her sins to them, and she trusted that the priests would never tell a soul.
She grew up with a sister and two brothers and attended Catholic schools, graduating in 1967 from Omaha's all-girls Duchesne Academy.
That fall, she began her freshman year at St. Louis University, a Catholic Jesuit college in St. Louis, Missouri. Soon after arriving, she remembers meeting another freshman, a handsome 18-year-old from Tennessee named Harold Miller.
Harold was tall and slim and liked wearing a sport coat and tie. Kathleen and Harold clicked from the start, a romance growing over their shared love of books, movies and poetry.
They read Robert Frost poems to each other, ate toasted ravioli at an Italian deli near campus and attended Mass together at the campus church.
Soon they were in love, and starting to talk about marriage.
In early 1968, they flew to Memphis so Kathleen could meet his parents, and Harold drove her through neighborhoods, showing her his favorite houses.
They talked about the home they would live in someday, how many kids they would have and the names they would give them.
When Harold and Kathleen returned to campus, their romance intensified.
One winter day, the two college students rented a room at a hotel near campus and had sex for the first time.
Kathleen called Harold from the pay phone in her dorm.
I need to see you, she told him.
She raced from her dorm, hugged him and whispered in his ear.
Kathleen recalls Harold being happy to hear the news. He loved Kathleen and knew he wanted to marry her and start a family. It was all just happening sooner than they planned.
Kathleen had gone to the campus health clinic for a pregnancy test after feeling nauseated and tired.
A few days after the test, as Kathleen studied in her dorm room, a woman in a nurse's uniform appeared at her door.
Are you Kathleen? the nurse asked. I see you had a positive pregnancy test.
Kathleen felt angry. Why is the nurse confronting me, she wondered.
Have you told your parents? the nurse asked.
Kathleen told her no, but that she planned to.
The nurse turned and left without saying another word.
The next morning, Kathleen received an urgent message: Call home immediately.
Kathleen worried. What could be so urgent? she wondered as she dialed the number. Was someone hurt?
Her mom sounded upset when she answered.
I know you are pregnant, her mother said. Admit it.
I was planning to tell you, Kathleen said. I just couldn't think of a good way.
Kathleen's mother wanted her and Harold to fly to Omaha so the parents could meet him and talk about the pregnancy with their parish priest. Her parents picked them up at the airport, with her father sitting silently behind the wheel.
Harold held Kathleen's hand and told her parents he loved their daughter and wanted to marry her.
She remembers that the next day they gathered with the family's parish priest, who advised Kathleen and Harold not to marry. With Kathleen pregnant, the priest told them, they would be starting their marriage in sin.
When Harold and Kathleen returned to St. Louis, they still talked about marrying.
Looking back, Kathleen realizes they were naive and "in our own world."
They didn't know how they would manage to raise a child while attending college full time, yet that remained their plan.
They decided they needed to save their money, so at the end of the school year, Harold went to Memphis to spend the summer with his parents and Kathleen returned to her family in Omaha.
On a warm day a few weeks after returning home, Kathleen slipped into a bathing suit and lay out in the sun in her family's backyard.
She heard her dad knocking on a window from inside the house, motioning for her to come in.
She was now four months pregnant. Her father worried the neighbors would discover the secret.
Kathleen didn't recognize the man sitting in her parents' living room.
She could tell by his Roman collar that he was a priest, but he wasn't the man who had talked with her and Harold about marriage.
This priest sat on a couch with her mother, and as Kathleen stepped into the room, he smiled.
She says it was the Rev. Thomas Halley.
In a gentle voice, he told Kathleen it must be difficult being single and pregnant.
But you are brave, she recalls him saying, and you're handling it well.
Then his voice turned firm. You must consider how the pregnancy is affecting your parents, he told her, and the shame and embarrassment they face.
Several weeks after Halley's initial visit, Kathleen's mom told her the priest had called with a suggestion.
He knew a family in Sioux City, Iowa, that would let Kathleen stay with them until she delivered her baby, saving her parents the embarrassment of a pregnant daughter and protecting her from ridicule.
Tension had developed between Kathleen and her parents over the pregnancy, and she thought going away for a while might provide an escape.
A few days later, Kathleen climbed into the family station wagon for the 90-minute ride to Sioux City.
Though she was with her family, she felt alone.
A couple of days after Kathleen arrived in Sioux City, Father Halley came up to visit. Kathleen recalls that on this trip, Halley was accompanied by a man she now believes was an attorney assisting her son's adoptive parents.
Halley had a paper for her to sign. She recalls him telling her it was an agreement for her to stay in Sioux City to provide housekeeping for the family after her baby was born, through spring 1969.
The summary of the Jesuit investigation concludes that the document was "most probably" an adoption consent.
She recalls signing the paper without reading it.
Soon the Sioux City family put her to work. She remembers her back aching as she trudged up the basement steps with a load of laundry.
It was July and she was six months pregnant.
She would have to cook, clean and help care for the family's young children in exchange for her room and board. She was a terrible cook and didn't even know how to make baked potatoes.
It was an unhappy summer. Kathleen missed her family and her friends.
She especially missed Harold, and they spoke by phone a couple of times a week.
Kathleen recalls that as the weeks passed, Harold became less interested in marriage.
She said Father Halley had been calling him, urging him to abandon the marriage plans and give up the baby for adoption.
A nurse checked Kathleen's blood pressure and asked how she was feeling.
It was August, seven months into her pregnancy, and she was visiting an obstetrician's office in Sioux City for a checkup.
As she chatted with the nurse, Kathleen mentioned that she planned to get her baby baptized as soon as possible after the birth.
The nurse seemed surprised.
Your baby is set for adoption, the nurse told her.
She called Halley and related what the nurse had said, and he asked Kathleen if she had considered adoption.
She told him no and began sobbing. She told him she wanted to go home to Omaha and deliver her baby there.
Halley told her he would stop by the house where she was staying. When he arrived, his tone was harsh.
By getting pregnant before marriage, she recalls him telling her, you have committed a grave sin. You have put the stain of illegitimacy on your child, she remembers him telling her. If you keep the child, people will always know the baby was born out of wedlock.
He told Kathleen that to redeem her soul and erase the shame she brought her parents, she must give her baby to a Catholic couple he had found.
Kathleen's hands shook. Her eyes welled with tears. She felt embarrassed and ashamed.
She told Halley she wanted to keep her baby, but he persisted. Just to make him go away, she finally told him she'd think about adoption.
Looking back now, Kathleen wishes she had thrown a fit about the adoption plans. She wishes she would have thrown furniture, called the police, done something to change the path she felt he was pushing her toward.
But she didn't. Halley was a priest, and Kathleen grew up believing that priests were next to God.
You don't challenge priests.
It was the middle of the night in late October 1968, and Kathleen was scared.
She saw blood on her underwear and frantically knocked on the bedroom door of the mother and father of the Sioux City family.
I need help, she told them.
Kathleen didn't know it, but she was in labor.
She slid into the back of the family's car after the father put down a towel on the seat. She was still bleeding as she walked into the maternity department.
She shivered as a nurse brought her a blanket and tried to comfort her.
Why was she bleeding, Kathleen wondered.
She worried that she and her baby would die.
Kathleen remembers nothing about the labor because of drugs she was given that she says made her unconscious. Her first memory after the delivery is a doctor telling her, "Here's your baby."
She turned her head and saw a nurse holding a white bundle, but without her glasses on, Kathleen saw only a blur. She tried reaching for her baby but recalls her arms were strapped down.
Kathleen called Harold and told him he was the father of a baby boy. He sounded happy, she recalls, and joked that the baby probably didn't get many athletic skills from him.
The next day, Kathleen asked to see her baby, and a nurse told her she'd get a chance after the circumcision. She remembers making plans with her grandmother to take the baby back to Omaha and for Kathleen to raise the child.
Kathleen was waiting in her bed when Father Halley walked into her hospital room carrying a yellow baby sweater.
He told her he was there to get the baby, she says, and take the child to the adoptive parents.
She grabbed his arm and yelled, "You can't do this."
Kathleen wept, and Halley walked out of the room. She got out of bed and walked into the hallway to follow him, but felt weak.
A nurse helped her back to her room, Kathleen says, and told her Halley had left with the baby.
Kathleen says today that she has no memory of ever signing an adoption consent form.
The question of whether she did is a key point where her account differs from the investigation ordered by the Jesuits' Wisconsin Province. The summary of the investigation concludes that it is "highly probable" that Kathleen signed a consent. That's in part because Halley worked with an attorney experienced in Nebraska adoption laws, the summary says, and would have known that legal consent was required. Plus, the family that adopted Kathleen's son "adamantly confirms" that required legal steps were followed, the summary says.
Kathleen's recollection and the investigation also differ over whether Halley coerced her to surrender her child.
A September 2016 letter to Kathleen from the Rev. Thomas Lawler, head of the Wisconsin Province, says that based on the investigation "we are now confident in saying that Fr. Halley became involved in facilitating adoptions" of babies born to unwed mothers.
But the letter adds that the investigation "did not find evidence to support the idea that he coerced mothers to give up their babies."
The letter also says no evidence was found that the Jesuits directed Halley to become involved in adoptions, and it appears he took them on "of his own initiative."
Halley's actions appear to be "well-intentioned efforts to help people avoid scandal and place them in a better position in life," the letter states. The letter to Kathleen, though, also says: "As your experience illustrates, however, even well-intended actions can produce unforeseen and unhappy consequences."
In the letter, Lawler tells Kathleen he is sorry for any hurt and trauma she experienced because of the adoption and for "any way that Fr. Halley's involvement caused you pain. I do not believe that was his intention."
The summary of the investigation notes: "Fairness requires that the conduct of Father Halley be measured according to the norms of 1968, nearly a half-century ago."
It was common in those days for parents to seek guidance from clergy, who often advised that babies be put up for adoption. Some parents arranged for pregnant daughters to leave town and stay with relatives or at privately run "maternity homes" so friends and neighbors wouldn't notice a swelling tummy. The baby would be adopted before the woman returned home, with hope of concealing the pregnancy and child.
The practice occurred elsewhere, too. Last fall, the Catholic Church in England and Wales issued an apology for adoptions in those countries. A British cardinal said he regretted "the hurt caused by agencies acting in the name of the Catholic Church."
Tom Halley, a nephew of the priest, said his uncle helped with adoptions because he wanted to protect women from the stigma unwed motherhood carried in those days. He also wanted to give the women's babies the best chance for a good and successful life, said the nephew, who lives in the Denver area.
Father Halley was born in Scottsbluff, Nebraska, and ordained in 1948.
His role with the Jesuits in Omaha included involvement with the Jesuit Mission Service, serving with the campus ministry and as associate pastor at St. John's Church on the Creighton University campus.
He was known in the Jesuit community for helping people who were short on money or food, and taking Holy Communion to elderly Catholics in their homes. He also was known for having a loyal following among parishioners at St. John's.
Halley held leadership roles with a number of local organizations including one that helped rehabilitate prison inmates.
His nephew called him a humble, holy and devoted priest.
Kathleen doesn't remember much about the drive back to Omaha, or even who picked her up to take her to her parents' house.
She felt numb and she longed for her child.
She called Halley repeatedly and left messages. She says he called back only after she left a message threatening to hire an attorney to help her get her son back.
Kathleen told him she needed to talk.
He picked her up, and as they drove away, she told him simply: I want my baby back.
It's too late, she recalls him telling her. The baby has been adopted.
She told Halley she needed to pray, so he dropped her off at St. John's Church.
As she stepped out of the car, Halley handed her a religious medal: the Sorrows of Mary.
After he pulled away, Kathleen glanced at the medal in her hand, then tossed it away.
Kathleen spoke to Harold a few times in the weeks after the birth.
He was upset about the adoption, she remembers, and asked if there was anything they could do to get the child back.
She still loved Harold. But talking with him had somehow become painful, like picking at a wound. Soon after, their relationship ended.
Kathleen stayed with her parents and took a job supervising clerks at an Omaha hospital.
She felt depressed and devastated about the loss of her son and says she twice tried committing suicide. In her mind, her life had already ended because she didn't have her boy.
She enrolled at Creighton in January 1969. Soon after, she met a young Army soldier at a party.
By May, less than five months later, Kathleen married him in a small ceremony at St. John's Church. Just 19, she barely knew him.
Kathleen felt defeated and says now that she agreed to the marriage because she just didn't care what happened to her anymore.
The couple moved to the Seattle area in 1970 — where she still lives. They had two daughters before divorcing in 1990.
Through it all, Kathleen never forgot about her son.
She had so many questions.
Was he safe and healthy? Where did he live and what did he look like? Did he ever think about her?
Each Oct. 29, his birthday, she would hope and pray he was having a wonderful party surrounded by people who loved him.
All she had to remember him by was her hospital bracelet listing the time and date of his birth: 5:56 a.m., 10/29/68.
Over the years, she searched for her son. She guessed that he probably was adopted by an Omaha family because of Halley's local ties.
She remained in the Seattle area after her divorce, and in the days before the Internet, she visited a Seattle library and looked through the Omaha phone book, hoping to find a name — something, anything, that might look familiar.
She wondered if Halley had at some point mentioned the name of the couple who adopted her son, and hoped she would see a name that would jar her memory.
In the 1980s, she considered hiring a private investigator, but it was too expensive. She called courthouses in Nebraska and Iowa, looking for clues, but never succeeded.
Kathleen says she repeatedly called Creighton, the archdiocese and other Catholic institutions, seeking help finding her son, but says she received no help.
In the 1990s, she began searching on the Internet and started posting her name and other details about the birth on adoption websites.
Maybe, she hoped, her son was looking for her.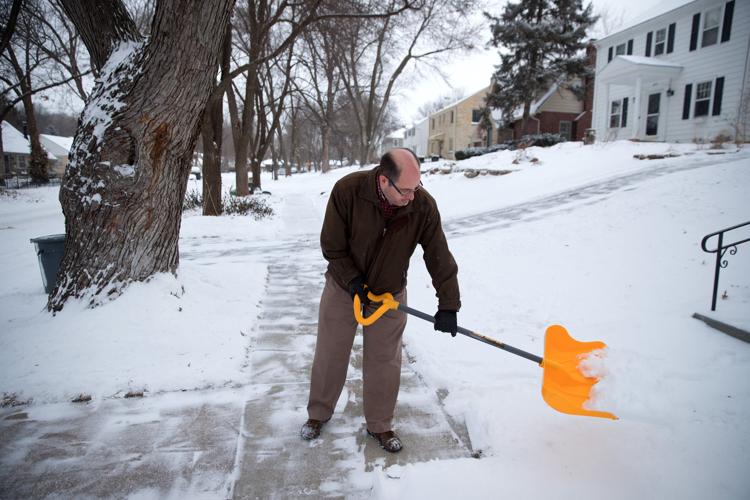 He is middle-aged now, married and with four children of his own.
He lives on a leafy street of handsome older homes near Omaha's Memorial Park, and it's remarkable how much he looks like his birth father.
Tom Rouse grew up in Omaha, but he was born in Sioux City in October 1968 to a single mom he never knew.
Adopted by an Omaha couple, he attended a Catholic grade school and graduated from Creighton Prep before heading away to college. He says he had a happy childhood and now has a good job, serving as administrator of the cardiology division at the University of Nebraska Medical Center.
His parents, Tom says, were open with him about his adoption, telling him about it at a young age.
They told him he was a gift from God and that they were filled with joy when he entered their lives.
They had been married five years when they adopted him, Tom says.
Tom, now 48, never dwelled on being adopted, never felt bitter. He said he loves his adoptive parents and they have treated him wonderfully. He believes God meant for him to be with them.
Still, he wondered about the woman who gave birth to him.
When he was young, he imagined she was a strong woman who had to give him up because she faced tough times.
He never tried looking for her until he was in his 30s, and started having children of his own.
He wanted to find her partly so he would know more about his family medical history and share that with his own children.
But he also wanted to find her so he could connect with that part of his life and learn more about his roots and whether he had blood relatives.
And most of all, he wanted to thank her for bringing him into the world.
One day in March 2015, Tom was on his lunch break, browsing through news stories on his phone, when he spotted an article about a state unsealing its adoption records.
He thought about his own adoption and typed his name, birth date and the words "Sioux City" and "adoption" into Google.
He found a post on an adoption website from a birth mom, and her details matched his: a boy born in Sioux City on Oct. 29, 1968; adoptive parents were teachers; Father Thomas Halley assisted with the adoption.
Excitement and happiness welled up inside him.
Her name was Kathleen Chafin. This must be her, Tom thought.
But he also worried. Would he get bad news if he tried contacting her? He could tell the post was at least a few years old. Had she died since making the post? Had circumstances changed since her post and she no longer wanted to meet him?
Tom found a work address for her in the Seattle area and wrote her a letter and provided his phone number:
I would like to communicate with you, but I understand you posted your note some time ago, and your feelings may have changed. In any event, I'm happy that I've been given the chance to thank the person who sacrificed that portion of her life for me.
The same day Kathleen received the letter, she called Tom.
They talked for nearly an hour, with Kathleen sharing the story of the pregnancy, the adoption, and her search for him.
I love you and miss you, she told him.
They began exchanging letters and photos, and in August 2015, five months after that first phone call, Kathleen flew to Omaha to meet him.
She sat in the restaurant of an Omaha hotel, waiting for him to arrive.
Don't break down and sob, she told herself. Don't let his first experience with her be soaked in tears.
She glanced out the restaurant window and saw him walking in with his wife. It was as if Kathleen were watching him through a telescope, like the moment was not quite real.
She got up and walked quickly out of the restaurant, down a hallway and, on that summer day, mother and son spotted each other across the hotel lobby.
They hugged, and Kathleen, who as a college girl lost her boy all those years ago, finally got her chance to hold her son.
Bond between reunited mother, son, grows stronger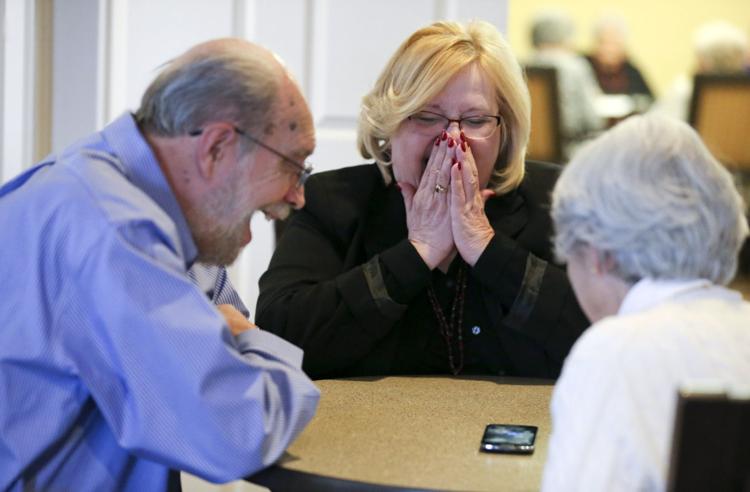 Kathleen Chafin and her son, Tom Rouse, have gotten to know each other since their initial reunion less than two years ago.
She has traveled to Omaha five times for visits, and he took a trip to see her at her home in the Seattle area.
Both say the reunion has been a happy one, and their relationship grows deeper with each visit.
They've discovered they share a dry sense of humor, a fondness for pumpkin pie and the same favorite holiday: Halloween.
Tom has met relatives he never knew he had, including his grandfather, an uncle and cousins on Kathleen's side and two of her daughters, who are his half sisters.
Kathleen has met Tom's wife, four children and his adoptive parents.
Last year, Kathleen also reunited with Harold Miller, her college boyfriend and Tom's birth father.
Tom has talked with his birth father via Skype, and said he hopes to meet him in person.
Kathleen says Tom gives great hugs and she cherishes every one of them.
About her boy, she simply says:
"He is a blessing on Earth."