A revolving team of students at Metropolitan Community College spent four years building a classic 1933 Ford sedan hot rod from the ground up.
"The money from the sale of this car will go back into the program, and we'll build another one," instructor Pat McKibbin said. "It's an ongoing program that will be self-supported. The college really hasn't had to put any money into this car."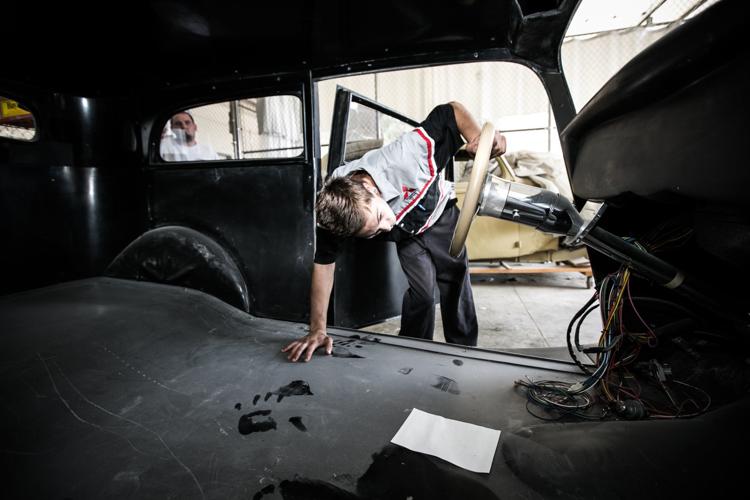 An anonymous donor delivered a shell of a car and presented the idea to McKibbin four years ago. Students would use modern technology; it would be a project of pride, but also one of practical education.
"The idea behind this was to have all new technology, so you could drive it like a regular car and not break down and get good gas mileage, good performance and have it handle well but look like an old car," McKibbin said.
Five students each from the Auto Collision Technology and Automotive Technology programs were chosen for the start of the project, and others joined and left along the way. McKibbin didn't open the project up to all of his students for fear of overcrowding, so the car became a sort of honors project. Students had to earn a spot.
"They showed up on their days off, they showed up on nights and weekends," McKibbin said. "There were a lot of students involved that went above and beyond."
The car was built in pieces at two Metro campuses, the college's South Omaha campus and a garage near Irvington in northwest Omaha. Students from both programs had to share ideas and make compromises to get the job done.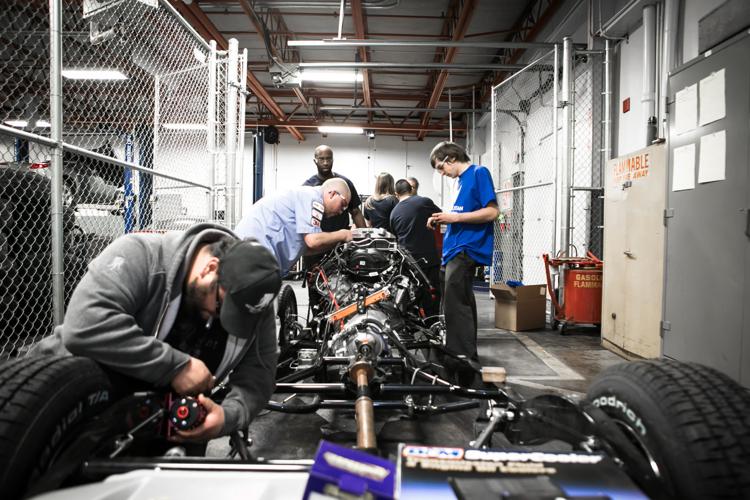 "You've got two different programs working on it, so you get some more knowledge from the other side while you're working on it," said August Kaven, a former student who was involved from the start.
There isn't much space in a 1933 Ford sedan. One company told McKibbin that fitting some modern parts in this car — like a 5-liter Ford Coyote Mustang engine — would be impossible.
"Well, guess what?" he said with a laugh.
Students created a custom exhaust system and cut into the body to maximize space. The undercarriage is a coordinated orchestra of mechanical components.
Almost every bit of the overhaul was done by students, with the most notable exception being the interior upholstery.
The final product is an "antifreeze green"-colored, street-ready ride with an old-school body, a new-school engine and a Metro logo etched into the dash.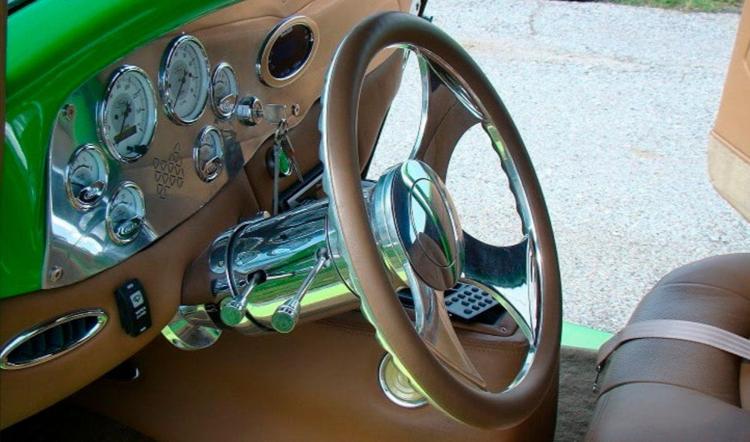 Students finished the build in March. In the months leading up to auction, Metro has used the car as a recruiting tool, taking it to events and car shows, trying to attract more students to the program.
McKibbin said he doesn't know what to expect at auction, but a lot is on the line.
If it goes well, he already has two more old-school cars in the shop, waiting for a workable budget and a new crop of students.