That 7-foot-4-inch, putrid-smelling Sumatran flower known as "The Amazing Stinko" once again is creating a stench at Lauritzen Gardens that would knock a buzzard off a garbage scow.
Lauritzen Gardens announced Sunday morning that the flower has bloomed for the second time in Nebraska history. The first time came in 2017.
With Railroad Days also holding some of its events at the gardens, the Lauritzen parking lot quickly began filling up with visitors Sunday. One observer thought the plant, housed in the 17,500-square-foot Marjorie K. Daugherty Conservatory, next to the visitor and education center, smelled like a cross between garbage and a dead body.
"It's a little stronger than garbage," said Jeff Andersen of Omaha. "It's like a dead body or something. When you get a good whiff, it's powerful."
His wife, Beth Andersen, said Stinko was definitely worth smelling and seeing. She also had an antidote for her offended olfactory receptors.
"We're going now to smell the roses," she said. "That will clean this smell out."
The garden was to stay open Sunday until midnight. The plant will be on display starting at 9 a.m. Monday.
Are you all aboard for PEAK STINK? I have unleashed the obnoxious odor/strong stench/atrocious aroma on Omaha. See & SMELL me from 9 a.m. to midnight! pic.twitter.com/OhHRXIDSdF

— The Amazing Stinko (@AmazingStinko) July 14, 2019
Visitors only had to step inside the conservatory doors to get their first aromatic blast of Stinko. Early visitors also had to adjust to intense humidity, because the vents in the conservatory had been kept closed to let the malodorousness build. The vents were opened later in the day.
People who rode the elevator to Stinko's home on the third floor were enveloped in its smell.
"We came (to Omaha) for Railroad Days yesterday and stopped to see (Stinko), but he wasn't blooming yet, so we came back today," said Nicole Schmidt of Lincoln. "I thought it smelled worse in the elevator."
Blooms are rare for the plant known formally as titan arum and informally as the corpse flower. Fewer than 300 blooms have been recorded worldwide since the late 1800s.
Sarah Hankin, a spokeswoman for Lauritzen Gardens, described the flower as smelling like "dead fish and garbage." The smell not only permeates the conservatory, but visitors can also experience the funk outside it.
Hankin said the plant's stinkiness is intended to attract pollinators that "like smelly dead things."
She had her own description of the stench Sunday morning: "Right now, it's that kind of fishy smell, then it will be garbage sitting in the sun smell, eventually we will get to that lovely corpse smell, like a house full of dead mice."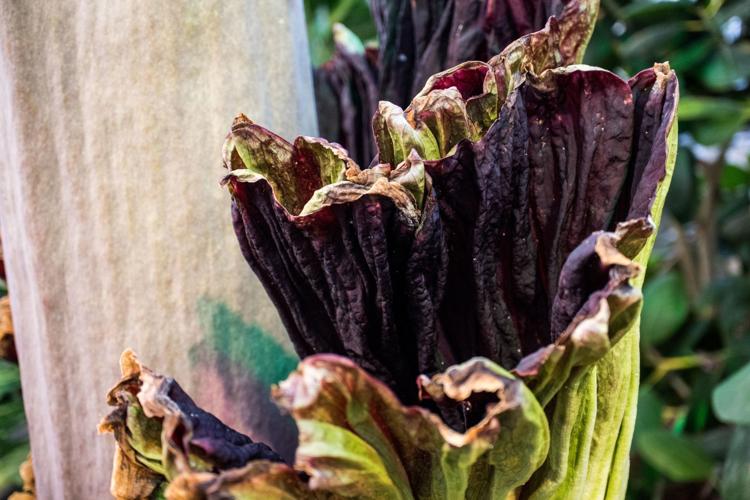 But that foul odor made the botanical garden a packed conservatory in 2017, when more than 7,500 people lined up to sniff "The Amazing Stinko" once word spread that it had bloomed.
The bloom is tricky to predict. In 2017, the flower bloomed during a wedding while the botanical garden was closed on a Saturday night. The remains of the stench lingered through Sunday, but visitors had just one day to bask in Stinko's glory.
Since the 2017 bloom, staff at Lauritzen Gardens has shared information with other botanical gardens to gain a better understanding of the plant. Collaboration among gardens has helped lead to more blooms in the past few years.
Even so, Omaha having its second bloom with only two years in between is unusual, as the plant typically waits three to 10 years to bloom again.
The garden plans to swap pollen with a botanical garden in Chicago, which also has had a recent bloom.
World-Herald staff writers Chris Machian and Chris Peters contributed to this report.
Photos: Our best shots of 2019 (so far)
Take a spin through the best of our staff photos from 2019. The gallery will be updated throughout our journey through the next year.