Sharing is caring, but in this age of coronavirus, there are limits. Here's an idea for spreading art and kindness, along with wisdom and positive thoughts, while staying close to home.
All year long, the Facebook community group #402Rocks! paints and hides rocks throughout the Omaha metro area to brighten people's day. This is one activity where finders really are keepers — and collectors, too.
Join the movement — while practicing an abundance of caution — by painting rocks and leaving them along pathways, in flowerbeds and elsewhere for friends, neighbors, loved ones — even strangers — to enjoy.
You can find rocks at landscaping, home improvement and garden centers, as well as craft stores and online.
Pick the smoothest, flattest ones and avoid any waxy coatings for best results with markers and paints.
Need inspiration? We've got it, in a dozen rocks painted by the Living section team (they had a blast), words and phrases to fuel your creativity, and a step-by-step tutorial to tie it all together.
Words to make someone smile
Faith can move mountains
Hang in there
Go where your heart leads you
You matter
Choose kindness
I love us
Give hugs
You rock
Hope
Never quit
Believe in yourself
Stay strong
Just breathe
Kindness rocks
Be-YOU-tiful
Lady bugs
Color outside the lines
Today, I chose to be happy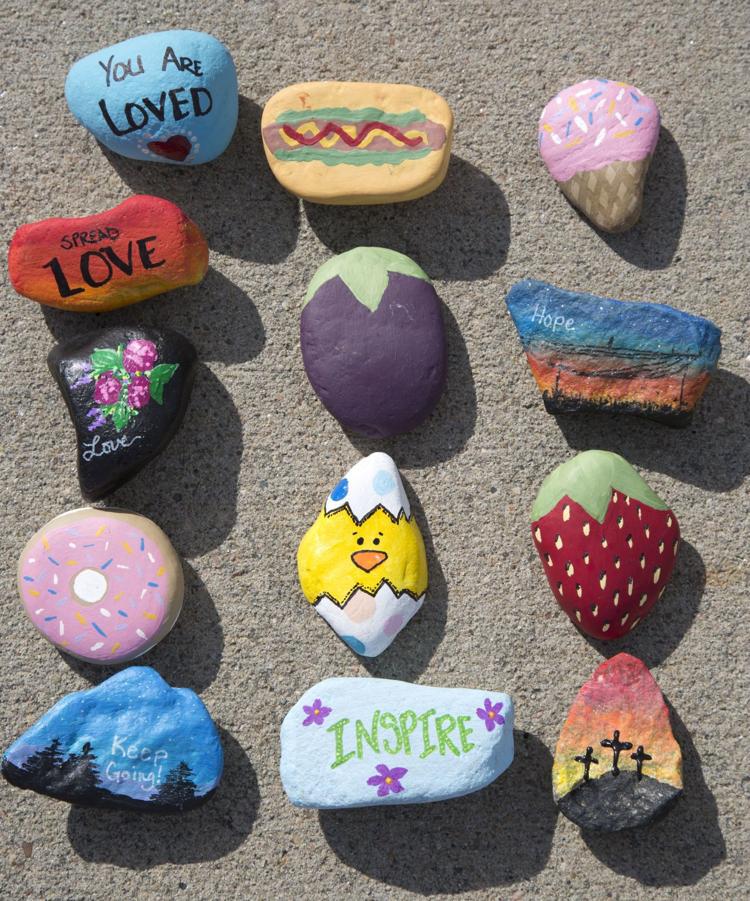 On the back of your artwork, add the hashtag #402Rocks! and post a photo to social media to interact with others engaging in rock-painting fun.
What you need
River stones or other smooth rocks
Base coat
Acrylic paints
Paint markers
Chalk crayons
Artist pens (optional)
Art brushes, varying size
Spray sealant, matte or glossy
Old plate as a palate
Hand sanitizer
Disinfectant wipes
What you do
1. Prep the rocks for painting. Rinse your rocks under warm water and scrub with your fingertips to remove any dirt or germs. Take a brush to the rock, if necessary, much as you would a potato before cooking. Blot rocks with paper towel, then place on towel to dry.
2. Select a rock to paint and apply a base coat on all sides.
3. Decide on a design and begin painting it on the rock.
4. Let rocks dry completely.
5. When hiding your rocks, take along hand-sanitizing wipes. First, disinfect your hands before handling, then wipe the rocks before you set them somewhere for people to find.
Note: Rock handing calls for good sanitizing measures during prep, painting and hiding. Finders also need to protect themselves from germs by disinfecting their hands and the rocks they collect.