Duane Pieper and his wife, Kathie, spent an exciting five years in the Middle East. Pieper worked, studied and excavated in Israel, and the couple lived in Jerusalem.
Pieper felt that the best way to share his tremendous experience with his community was through the visual arts.
"I am a teller of stories, God's story recorded in the Scriptures in a visual format," he said. "Out of prayer, study and ongoing reflection, I strive to bring new insights to God's word and illuminate connections woven through the biblical narratives."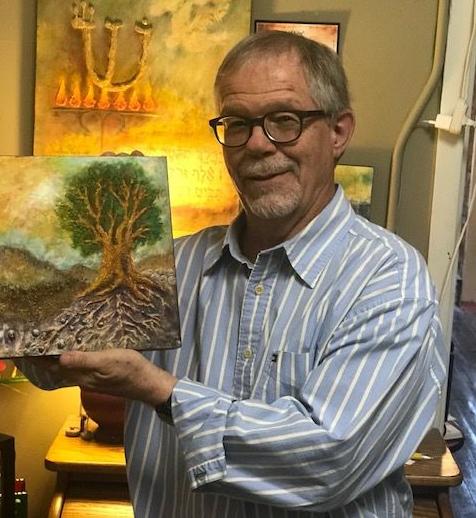 As a visual artist, Pieper's goal is to invite the viewer to take a closer look at God's creative genius and divine nature through His word, starting with the Book of Genesis.
He is a member of the International Encaustic Artist organization, which has given him access to other professional artists with a passion for wax. He also is a member of Christians in the Visual Arts.
At his gallery, the intent is to help the viewer make connections, leading to a greater understanding of the written word of God through art.
An example of this is his beautiful encaustic wax image of a deer in a lovely hillside setting with the biblical verse Psalm 42, "As the deer pants for streams of water, so my heart thirsts for you." Next to it is a small placard with an explanation of the piece, titled "As the Deer Pants." Then the Bible verses are printed. The final words on the placard written by Pieper are, "Those who love the Lord yearn for more of God amid their own search for meaning, purpose and direction. God, knowing our needs, in His infinite love and mercy gave us the Bible to address our yearnings and quiet our souls." There are many other beautiful images by Pieper in the gallery with informative placards.
"A common theme incorporated into the creation of many of my pieces is ... the concept of the vessel," Pieper said. "In a generic sense, a vessel is a container that holds and protects a substance of importance and significance. This symbolic reference can be seen throughout the Scriptures both literally and figuratively."
As a gallery owner and curator, Pieper has an opportunity to interact with a diverse group of people and discuss his biblically themed artistic expressions. These occasions have precipitated interesting and meaningful conversations.
"As it states in the Book of Ecclesiastes 3:1, 'There is a season for everything,' " he said. This experience has prompted him to consolidate his artistic efforts under one roof for a better continuity between the design, creation and display of his work.
In the coming weeks, he will be leaving his gallery and operating from his Gretna studio and gallery, where his biblically themed creation will still be available for viewing.
Pieper is also upgrading his website, www.biblicaltouchstones.com, to be more user-friendly. He also is exploring a variety of opportunities to exhibit in galleries, places of worship and conferences. This move also will allow him to make greater progress on his forthcoming book featuring his creations.
Photos: Thought-provoking murals enrich Omaha walls and buildings
Omahans sure love their murals. Check out these pieces of art — space aliens, octopuses and vegetables, oh my! — you can find all over the city.