First United Methodist Church in Omaha recently made a decision that might have many people experiencing déjà vu.
"We said we would host same-gender weddings, and, should our clergy choose to do them, we will support them," said the church's pastor, the Rev. Kent Little.
The decision, the result of a unanimous vote by the First United Church Council this month, is momentous for at least a few reasons:
First United has a long history of advocacy and action for the LGBTQ community. In the 1990s, before same-sex marriage was legal, a First United pastor did just what the church council approved this week: He performed a same-sex wedding on church property. A church member filed a complaint against the pastor, the Rev. Jimmy Creech, who was sanctioned, faced a church trial and eventually was defrocked.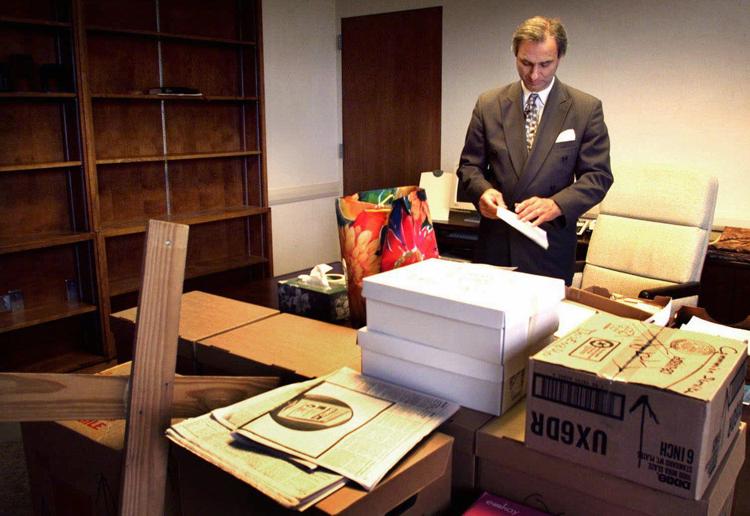 The decision is in defiance of a vote at February's denominationwide United Methodist General Conference in St. Louis affirming a ban against gay clergy and same-sex weddings performed on its property. Delegates also approved stricter sanctions for pastors who disobey.
It will make First United one of perhaps only two Methodist churches in the Omaha metropolitan area that will allow their pastors to officiate at same-sex marriage ceremonies in their buildings. Urban Abbey, in the Old Market, has been hosting same-sex ceremonies for several years, said its founding pastor, the Rev. Debra McKnight. Urban Abbey is a seven-year-old church and campus ministry center that has a specific outreach to LGBTQ people, she said, and it applies the same process to every wedding, regardless of gender.
U.S. delegates to the General Conference, for the most part, favored a modification of the same-sex marriage and clergy rule that would give individual churches the right to decide, but others from Africa and Russia pushed the vote to retain the churchwide ban over the top.
That doesn't mean that every American Methodist wants to see gay marriages performed in their churches, said the Rev. Bruce Emmert, pastor of St. Andrew United Methodist Church at 150th Street and West Maple Road.
"We have a pretty broad swath of opinions and feelings on things like this," he said.
Pastors of several other area Methodist churches contacted for this article said they were taking more of a wait-and-see approach to the recent conference vote. The worldwide church's Judicial Council is reviewing the outcome of the General Conference and might rule against at least part of the ban. And the late May annual meeting of the Great Plains Conference, which includes 1,007 congregations in Nebraska and Kansas, might offer more clarity, pastors said.
The United Methodist Church and the Lutheran Church each make up 8% of Nebraska's Christian population and are the largest mainstream protestant denominations in the state, according to the Pew Research Center, which last studied religious demographics in 2014. In Iowa, the Methodist Church edges out the Lutherans, 10% to 8%.
The Omaha metropolitan area has 25 United Methodist churches with about 8,500 members total. The largest is St. Andrew, with about 1,800 members.
Little, of First United, attended the General Conference as a nonvoting observer. Before the trip, he had been doing marriage preparation with same-gender couples but stopping short of administering vows, signing licenses and hosting ceremonies in his church.
He was disappointed with what he saw at the meeting, including a less-than-collegial tone, and it gave him new resolve to oppose the conference action.
First United joined three other Omaha congregations — St. Luke's across from Burke High School, Hanscom Park at 44th and Frances Streets and Urban Abbey — in purchasing a World-Herald ad protesting the vote. Each congregation is a member of the Reconciling Ministries Network, a group of Methodist churches that advocate for LGBTQ Methodists. The network is not officially associated with the United Methodist Church.
On April 2, Little and his Church Council, made up of about 40 elected or appointed congregational leaders, voted to defy the General Conference vote.
"(Now) if a gay couple came in tomorrow, we would treat it like any other wedding," Little said. "I would have a conversation with them, do marriage counseling, then determine whether I think they ought to get married or not."
If he found they were compatible and ready for marriage, he would allow it at the church and perhaps perform the ceremony.
Sign up for World-Herald news alerts
Be the first to know when news happens. Get the latest breaking headlines sent straight to your inbox.
"I'd consider it strongly," he said.
But even if he didn't approve a same-gender wedding that took place at First United Methodist, or officiate at one, as senior pastor he would be liable under church law if someone complained to the Great Plains Conference after a ceremony on church property. So would McKnight at Urban Abbey.
Creech's actions in the '90s and the effect they had on First United Methodist loomed over discussions as the church's council deliberated its response to the General Conference. The church became bitterly divided in the Creech era; some members left and started another congregation. The remaining members joined the Reconciling Ministries Network for support.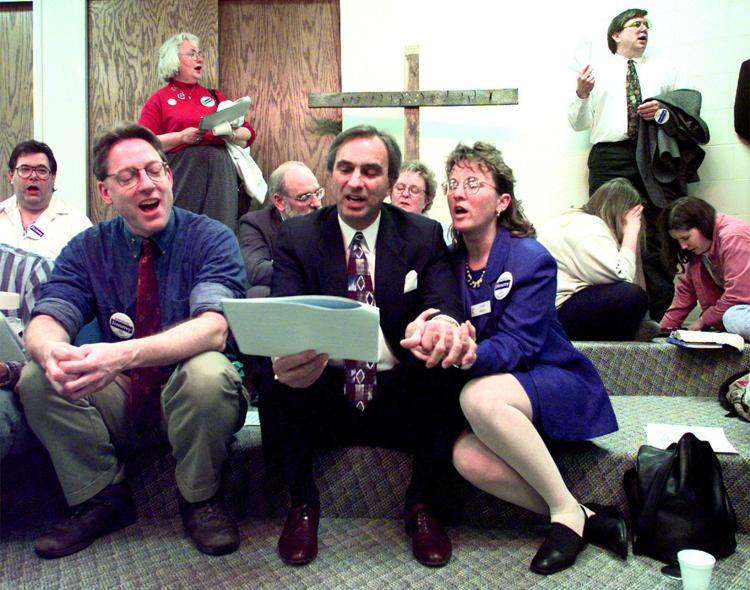 All of this put First United in the national spotlight for some time.
"It's a huge part of the history of our church," said Little, who was not in Omaha at the time. "When this conversation comes up, it's like any other trauma: Anytime you experience stress and struggle, previous stress and struggle comes back."
Little sent a letter detailing the church's recent vote to Bishop Ruben Saenz, who leads the Great Plains Conference.
"I understand what they're trying to do and why their position is what it is, given the context of ministry," Saenz said in an interview.
Without a formal complaint, he said, there's no reason to sanction First United Methodist. He plans to have a conversation with Little but won't monitor him for wrongdoing.
"I keep an eye on all churches and their mission vitality, not in the sense of waiting to catch them in doing something inappropriate but to celebrate when they are about the mission of Jesus Christ in the world," Saenz said. "When they're feeding the hungry, responding to flooding in Nebraska, that's what I keep a watch on."
He, too, is reserving additional reaction to the General Conference decision until after the Judicial Council's review.
Little has cautious optimism about the coming deliberations.
"I don't think it's likely that (the Judicial Council) will just bless the whole thing," he said.
In addition to its decision on same-sex weddings, Little said, his council also came up with three options going forward:
Remain in the United Methodist denomination while working to determine new directions and retaining solidarity with LGBTQ people.
Leave the Methodist Church and join a denomination more in line with its values.
Become an independent congregation.
He plans to have a series of meetings to further explore the issue.
The First United council also decided it would withhold its remaining 2019 contribution to the denomination's Mission Share fund, the money each congregation pays for global mission work and administrative costs. Little said the church already paid for the first three months of the year, but would not pay about $89,000 more.
Both the Rev. Marshall Johnson, St. Luke's pastor, and Chris Jorgensen, Hanscom Park's pastor, said their churches weren't ready to adopt First United's defiant stance, though they have been considering all possibilities.
"Our leadership is still in discernment," Jorgensen said. A position similar to First United's "is on the table for us, but we're being more cautious. It is one of the options in my mind."
Johnson, meanwhile, said he discussed the General Conference with his council right after the vote, but they haven't discussed the future because he wants to see what happens at the meetings later this spring.
St. Andrew's Emmert said he knows some Methodists still agree with the ban, but he offered anecdotal evidence that feelings on the issue are evolving.
"Following the (General Conference) vote, I sent out a pastoral letter affirming who we are," said Emmert, who described St. Andrew as open and welcoming from its beginning.
Out of 45 responses, only two didn't like what he wrote, and it was because they thought his letter indicated that welcoming the LGBTQ community fully was a strike against traditional marriage.
"To me, that says a lot: Even though we have a wide diversity of opinions in church, that basically this is a church that is going to love everybody," he said.
Emmert also said he thinks sexual identity is not an issue for young people. He worries that affirmation of the ban on same-sex ceremonies and clergy is causing them to leave the denomination.
"They say, 'Why are you worrying about this stuff?' " he said. "And, 'Do I really want to be part of a church that takes this world view?' "
Check out nearly 100 stunning photos of Nebraska
Check out some of the most beautiful images of Nebraska.