The largest construction project in the history of the Henry Doorly Zoo & Aquarium is opening one piece at a time.
The first two structures of the 28-acre, $73 million African Grasslands project — the African Lodge and adjacent train station — opened May 22, and more are on the way.
Between now and next spring, the zoo will open new exhibits spanning its entire south end, stretching to the zoo's farthest east point at Pachyderm Hill. Most of the African Grasslands will open by fall, including a pygmy goat petting area, a giraffe feeding station and buildings for giraffes and elephants, though elephants themselves will come later.
The end goal is to create an area that actually feels like Africa.
Barriers between humans and animals have been designed to minimize obstructed views, while backdrops and buildings will be camouflaged. When you look out from a railing, you will see something similar to what you might see in Africa — species intermingling on a convincing savanna — except with a safer, closer view.
"We're immersing you into the African landscape and the animals that live there, not unlike indoors at the Desert Dome or the
Lied Jungle or the aquarium," said Dennis Pate, zoo CEO and executive director. "This one is different because it's outside."
Architecturally, buildings match regional themes with thatch and tin roofing. Even the lodge's food borrows flavors from the area.
Conceptual models of a kopje (rocky hill), a giraffe feeding station and a pygmy goat kraal (enclosure) are all on display near their future locations. Although most of the area is under construction, the new gradual walking path will stay open all the way to the lagoon, letting visitors see the African Grasslands come to life.
"They are going to be kind of a front-row eyewitness to all of the work going on," Pate said.
For now, construction ends at the lagoon. Once rhinos move from their exhibit on Pachyderm Hill into their new habitat this fall, construction will begin atop the easternmost hill.
To encourage people to come down to the south end during construction, the zoo has set up a handful of white tents along the meandering path. There, zoo staff lead animal encounters, demonstrations and other educational sessions.
Right now, people can expect to see plenty of dirt and a few trees. But if you look closely at mud and rock and use a little imagination, you can make out the exhibits to come.
"I didn't think it was going to be this big," said Logan Anderson, a 20-year-old student at Midland University and recent visitor to the African Grasslands. "I was just confused as to where we were. There's so much more. I didn't know it went back that far."
Planned additions include the zoo's first impalas, the first black-and-white striped zebras since 1986 and the return of elephants, the last of which (Shenga) left the zoo in 2011.
Species who intermingle in the wild will be grouped together in the new space.
Elephants, zebras and a bachelor group of impalas will share a yard, as will giraffes, impalas, rhinos, ostriches, storks and geese.
Lions will leave the Cat Complex for a new home near cheetahs in the east end of the zoo. They'll have a prime view, overlooking the entire African Grasslands from a high-vantage rock formation, just as they would in the wild.
Many exhibits will include training areas where animals, even as tall as giraffes and elephants, will approach visitors at eye level for feeding or other demonstrations. Elephant and lion demonstration areas will both have spectator seating.
The bulk of the animals will begin making their way into the new exhibits this year. Most of the animals in the African Grasslands already have a home in the zoo or a temporary home at the Lee G. Simmons Conservation Park and Wildlife Safari near Ashland.
Construction began last spring and is ahead of schedule by about a year.
Money for the project was donated by individuals (56 percent), foundations (42 percent), corporations (1 percent) and government (1 percent). Zoo officials declined to disclose donor names, though many of the exhibits will have names attached to them, including the already-opened Kenefick Train Station.
Since announcing the project last April, the zoo has removed wild dogs, warthogs, crocodiles, hippos and kudu from the plan and added pygmy goats, bongos, meerkats, pelicans and impalas, among others.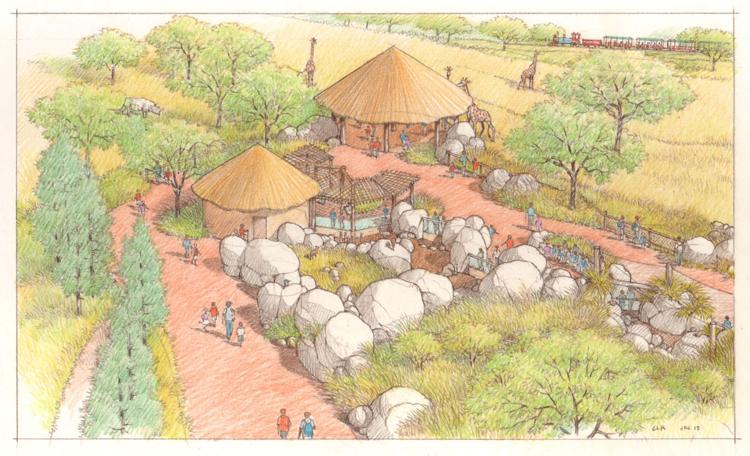 "We had a big shopping list, but then you have to match what you can really do," Pate said.
Hippos, for example, wound up being too expensive because of the costs of water filtration and the need for a separate winter facility with indoor pools. Most of the changes were made early on, except for wild dogs, which were a late scratch.
The first animal move is taking place right now. Keepers are training giraffes to use a temporary pathway, which crosses the pedestrian path on the way to their new building. By using branches as a training tool, they can ease giraffes down the path.
"Anything different is frightening for them, so it's kind of this slow process of getting them used to it and comfortable with it," said Arden Brewer, lead keeper for hoofstock.
Visitors will be able to tour the new giraffe building for a few months before it eventually becomes a winter-only exhibit (for crowd-control purposes). Most of the time, giraffes will be outside in their mixed-species habitat.
The opening date for the giraffe building is still up in the air, though it may be in just a few weeks. Pate said he wants to make sure the giraffes get fully acclimated to their new exhibit before allowing people to take a tour.
Like the giraffe building, the elephant herd room will be open for tours for a short time. While the building is still empty, people will be able to venture into the elephant pen.
"It's not often that people get to go where the animals will live," Pate said.
The zoo is still working out fine details in the new area. Most of the uncertainty lies with acquiring animals.
Elephants, in particular, are tricky. Pate said he is hoping they can bring in as many as seven, but that is a best-case scenario. Still, he's sure it will be more than the two the zoo had in the past.
"Bringing elephants back will be huge," he said. "Of course, they're the iconic animal of Africa and the African plains, so we'll have a good group here."
The African Grasslands is the first and biggest piece in a series of regional-based redesigns. If the zoo can raise enough money, future projects in the coming decade will include Asian Highlands, Coastal Shores and Equatorial Africa and may include a project named Andean Foothills.