A century ago, as the U.S. prepared to enter World War I, soldiers shipped to Omaha to learn an unusual combat skill: spy on Germans from hot air balloons.
Flimsy captive-air balloons were a developing battlefield weapon in 1917. Soon — with the arrival of the airplane — they would fade away, but for a time during the Great War, balloons were deployed to gain an upper hand or counteract a German advantage.
Citing the Germans' success using dirigibles to scout and plan attacks, American Gen. John J. Pershing aspired to assign at least one blimp to each division. Blimp pilots came to be known as "the eyes of the Army."
When the call came to build up America's balloon fleet, the surplus property named Fort Omaha found its calling. Omaha became headquarters for the Army's balloon school.
Now the site of Metropolitan Community College, Fort Omaha served as training grounds for about 16,000 troops using balloons and blimps during the final two years of World War I.
"Balloonatics," as dirigible-flying soldiers were dubbed, were the U.S. Army's first wave of aerial observers sent to the front lines in France. The Omaha school was the first and most productive facility of its kind; similar schools were launched around the U.S. later.
Balloons were short-lived on the battlefield, but they helped Omaha become a cog in the American war machine.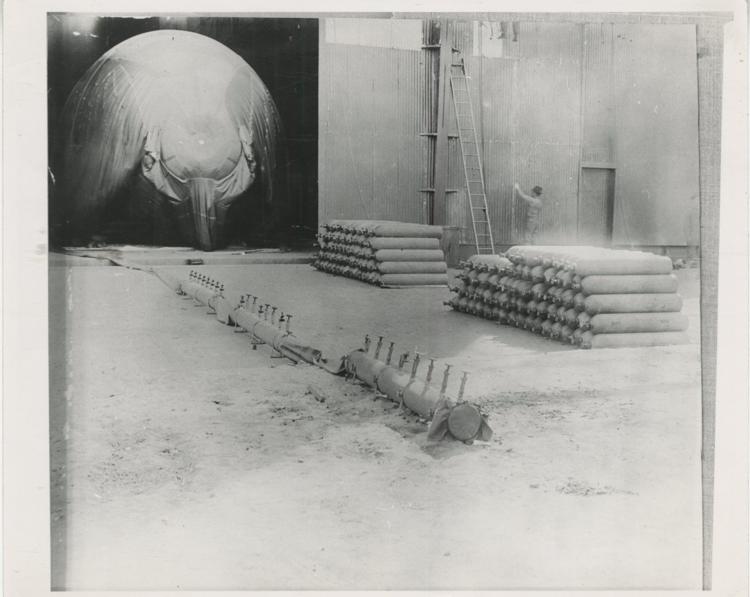 FORT OMAHA WAS A NATURAL, BUT IMPERFECT SITE
In 1908, a steel hangar was built at the fort to house America's only dirigible, a Drachen observation balloon bought from Germany for the Spanish-American War. The blimp was never used, according to "Haul Down and Ease Off," the publication of the National Association of American Balloon Corps Veterans.
Once it became apparent that the U.S. would enter World War I, plans to establish a balloon school began, and Omaha's existing facility, which included a hydrogen plant, made it a natural hub.
The Army expanded Fort Omaha by acquiring the 119-acre Florence Field, just one mile to the north.
While the facility had the capacity to train troops, it lacked the housing and other amenities to do so on a large scale. Many troops in training lived in tents from March through November.
"It was no place for a balloon school," veteran Craig Herbert told the Douglas County Historical Society in a 1981 interview. "It was so small. They couldn't have made more than two companies at a time."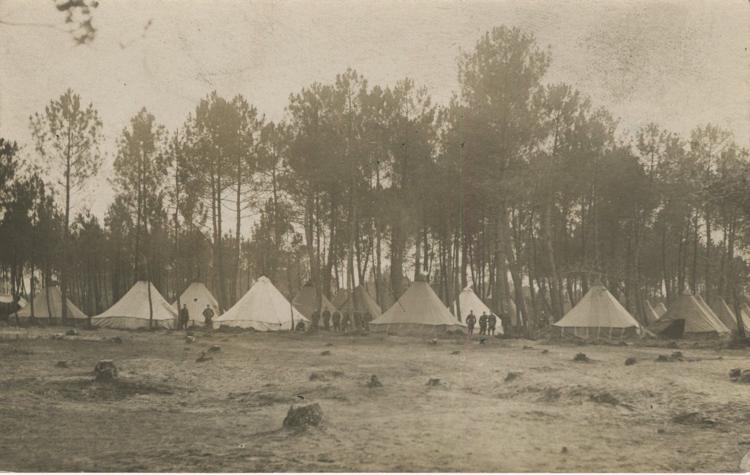 PATRIOTISM SWEEPS OVER OMAHA
Strong support from locals helped Omaha's school become a success.
Col. H.B. Hershey, who led the school for more than a year, called Omaha "the most patriotic city in America during the war."
According to the Nebraska State Historical Society, Omaha was second in the nation in armed forces enlistments per capita, and civilians widely bought War Savings Bonds. Soldiers from the school recalled receiving free streetcar rides and tickets to shows and dances.
"Sometimes you could even go into a restaurant and get a cup of coffee and maybe a hamburger and they didn't charge," balloonist Charles Brown told the Nebraska State Historical Society.
Balloon companies organized bands, orchestras and sports teams. One company even played the Nebraska Cornhuskers football team, losing 19-0 in Lincoln two days before Armistice Day in 1918.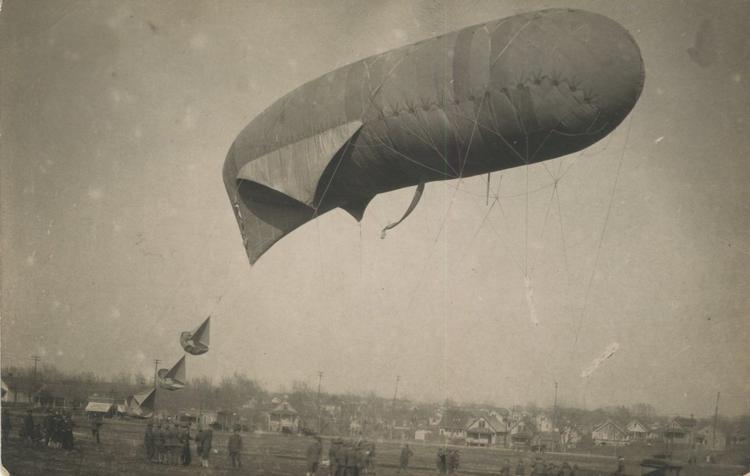 SPONTANEOUS COMBUSTION, PARACHUTES AND LOOP-THE-LOOPS
The soldiers at Fort Omaha Balloon School were pioneers of their craft, and that meant learning things the messy way.
Balloon operators were trained to evacuate punctured or otherwise imperiled balloons using parachutes built into the basket. On several occasions, balloons burst into flame, set off by static electricity.
A static shock at Florence Field set one French Caquot balloon ablaze on May 2, 1918, killing two soldiers and seriously burning 18 others.
"I have wondered why I became (a balloonist)," said Col. William C. Farnum in a 1969 article for the World-Herald. "But it was a job — interesting, fascinating, exciting and rewarding. I got used to it.
"We were pioneers in space."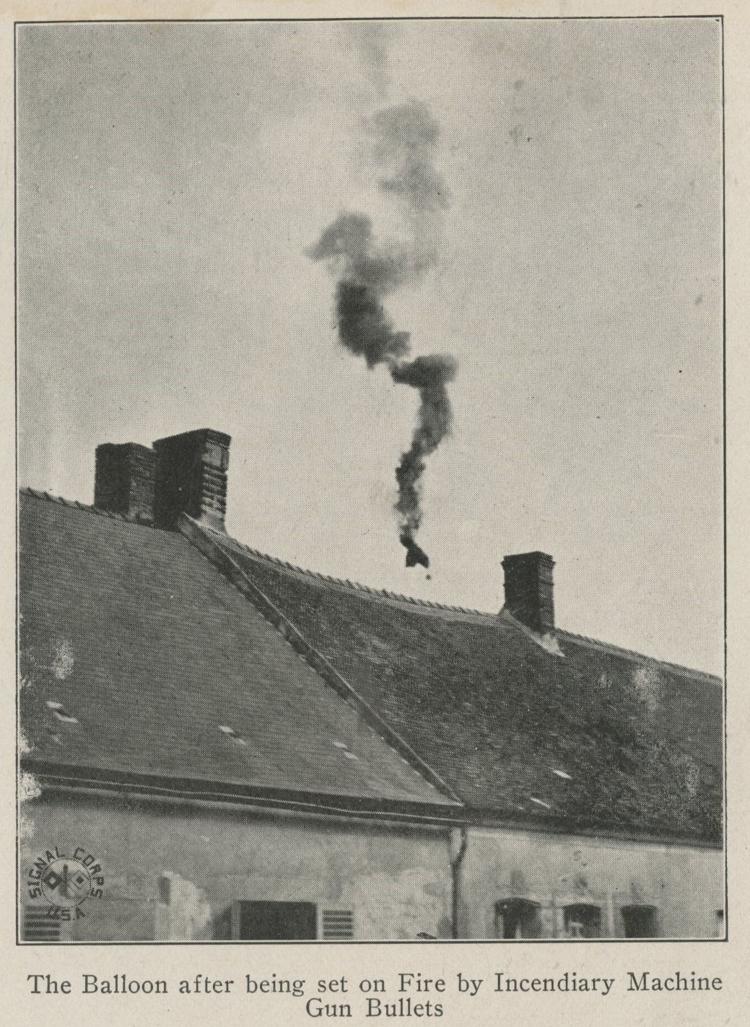 Balloon masters from France and Britain traveled to Omaha to train the troops, but flying what some called "elongated sausage" balloons was no exact science, as Farnum learned in spring 1918.
At the training grounds of Florence Field, a gust of wind thrashed his balloon so badly that the basket containing him and one other soldier was sent careening around the balloon — a full "loop the loop," as he called it.
"I have never been so scared in my whole life," he wrote of the experience.
The other soldier, Lieutenant Gillies, was thrown headfirst into a trapeze bar, knocked out cold. Farnum broke his nose on the floor of the basket, but scrambled to save the balloon as it twisted and rolled in 55 mph winds.
When Gillies came to, he shouted "We gotta jump!"
"Yes," Farnum wrote, "but how the devil can we? Our parachutes were tangled in the rigging. We were committed to ride that basket and pray that it doesn't tear loose."
He shouted at the men below, who manipulated the quarter-inch thick telecommunication cables from the ground: "Haul down, haul down, for God's sake, haul down!"
As the balloon came storming down, a team of soldiers wrangled it in. Just before touchdown, Farnum pulled the ripcord.
"All we could see were many, many white faces peering at us," he wrote, "and a big cheer went up."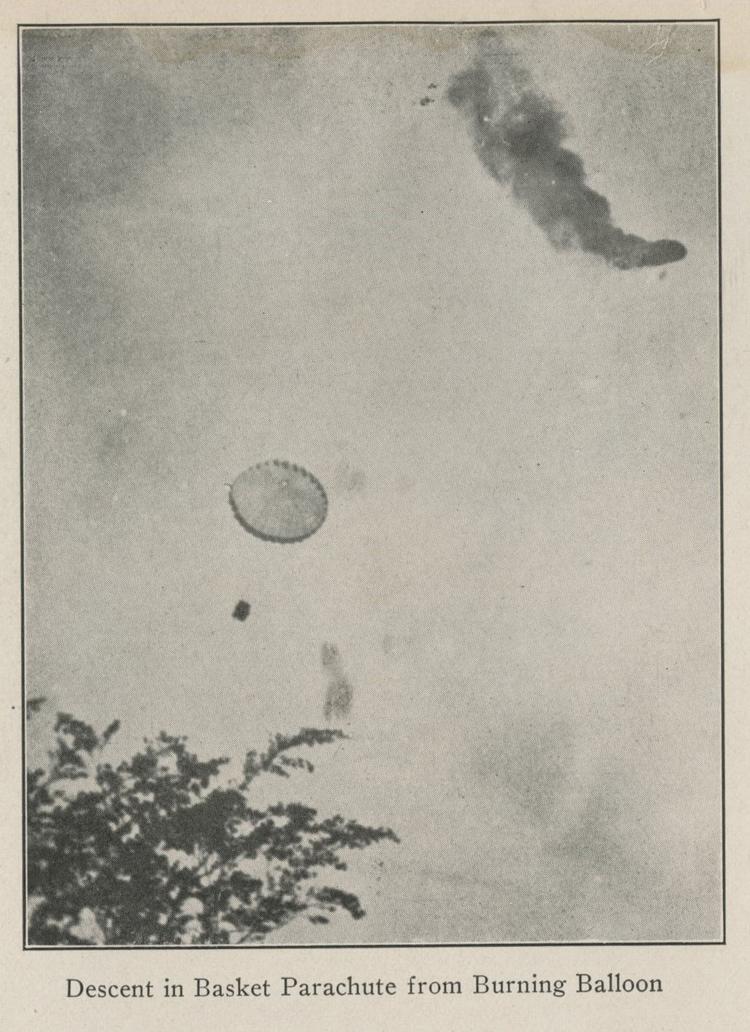 In 1917, Omaha's school sent the first four American balloon companies to the front lines in France. It would eventually send more than a dozen.
Troops sailed for two weeks from eastern Canada, arriving in Liverpool, England, on Christmas Day 1917. One month later, they inflated the first American balloon on the front lines.
Omaha-trained soldiers fought along the Marne River near Épaux-Bézu and Château-Thierry, picking out enemy batteries and identifying targets for ground gunners. They flew 90-foot-long balloons at altitudes of 3,400 to 3,600 feet, working shifts as long as 22 hours. Fort Omaha's Second Company spent 244 continuous days on the battlefield without relief.
Private Herbert described the life of a balloonist at the front lines: "Shelled and machine gunned by day, bombed by night, fighting off aerial attacks with machine-guns and automatic rifles, frantically carrying 200-pound hydrogen cylinders on shoulders to inflate another balloon after one had been shot down, personnel weakened by inhaling phosgene or chloride gas, suffering from dysentery, soaking wet from almost continual rain, uniforms crawling with cooties, eating maggoty food."
Despite the hardships of war, balloon companies were hardy. Several balloons were damaged by enemy fire, but parachute escapes saved the lives of dozens of Allied balloonists.
"The Germans shot down our balloons frequently and regularly; they could not ignore us because we were too good at spotting their activities," wrote Farnum. "When the balloon was hit, it always burned and fell. Hence, the observer got the hell out of there as soon as the winch man below would yell 'Jump!'
"Not many observers were lost on the Western Front."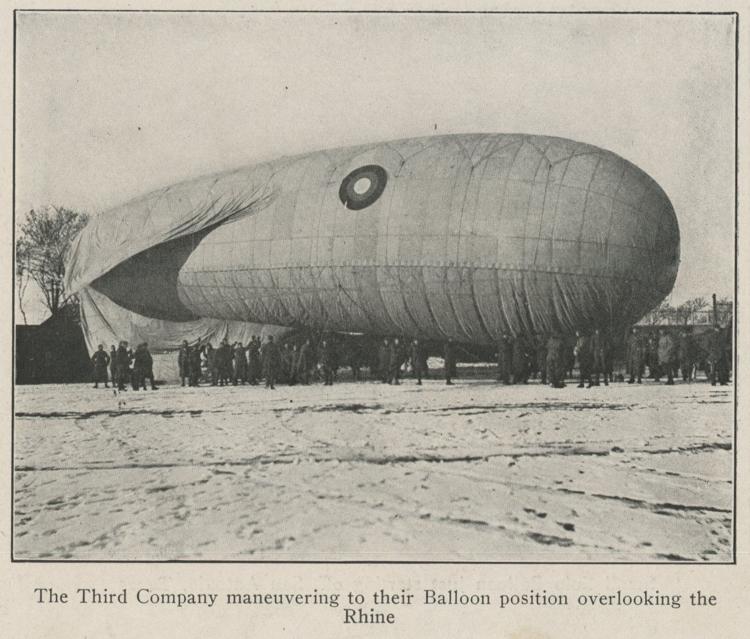 VICTORY IN EUROPE AND THE DEFLATION OF THE BALLOON PROGRAM
American balloon units spent less than one year on the battlefield before the armistice was signed. But even in occupation, balloons proved useful. Omaha-trained soldiers flew above the Rhine Valley in 1919.
As the war came to a close, so too did the Fort Omaha Balloon School. In 1919, the property was declared surplus and was abandoned by the U.S. Army. In 1921, the school was moved to Belleville, Illinois.
The program was shuttered in 1932.
"The Balloon Corps became a Balloon Corpse," Herbert said.
But for a brief time, when Europe needed eyes above the battlefield, Omaha answered the call.
The Douglas County Historical Society provided extensive research for this story.