Omaha's Dehner Boot Co. has fit shoes to the famous feet of Beach Boys and five-star generals, movie stars and presidents (and one movie-star president). Their boots have seen world wars and Warner Bros. studios. They've been worn by spy plane pilots and Oscar-winning actresses.
This 142-year-old company is, as one employee said, "known worldwide but not locally." Its boots have gone farther and faster than most soles would dare to dream.
Dehner, tucked into a residential neighborhood in midtown Omaha, has traveled the world. Maybe even left it altogether.
One of Dehner's most far-out facts:
In 1959 the company made eight pairs of boots (at $41 a pop) for B.F. Goodrich Co. Dehner received a repeat order the following year.
These boots had three layers: a white calfskin exterior, a plastic foam insulation and a tanned elk lining. They were large — roomy enough for, say, the sock of a spacesuit.
Dehner (pronounced DAY-ner) later discovered — through a research specialist at what was then U.S. Strategic Air Command — that these boots were made for Project Mercury, NASA's first manned space program, for which B.F. Goodrich made the suits.
Did Alan Shepard and Gus Grissom wear Omaha-made boots into outer space?
NASA "never said for sure," said Jeff Ketzler, the 60-year-old president of Dehner and great-grandson of the company's founder. "But when you saw photos of the guys suited up and ready to go, the boots looked an awful lot like ours."
And he couldn't imagine, he said, that NASA would have placed a second order of boots if they weren't going to use them.
The Smithsonian Institution's National Air and Space Museum has boots in its collection that were used in Project Mercury or the high-altitude flights preceding it. Some of these boots have the manufacturer's stamp of B.F. Goodrich inside them, said Cathleen Lewis, a curator of International Space Programs and Spacesuits at the museum. This fact doesn't confirm that Dehner boots went to space, but it does better the odds.
Ketzler can confirm this: He has personally measured the feet of more than 30 astronauts. He's met nine of the 12 Apollo astronauts who walked on the moon: Neil Armstrong at a SAC event, Buzz Aldrin at a party in Houston.
"Buzz is a special kind of crazy," Ketzler said. "He's a great guy to hang with."
Before these boots (probably) went to space, they'd already flown to the edges of Earth's atmosphere. The space boots were a modified version of the "alert" boot Dehner made for SAC. Pilots in pressurized suits wore Dehner boots while flying in SR-71 Blackbirds and U-2 spy planes.
Yuri Gagarin might not have donned Dehner leather, but the company's shoes did set foot on Soviet soil. When U-2 pilot Francis Powers' plane was shot down over Russia in 1960 (an incident chronicled in Steven Spielberg's "Bridge of Spies"), he was wearing Dehner boots.
"That's the thing about the place," Ketzler said of his company. "We're just a little place in Omaha. But we get around."
Dehner no longer sends shoes spaceward, but it still makes training boots for NASA.
The company — which started in Junction City, Kansas, in 1875 and moved to Omaha in 1930 — has a history filled with stories like this. Dehner shoes kept popping up Forrest Gump-style at dozens of key moments in the 20th century.
In a lot of cases, Ketzler still has the receipts. He kept the measurement sheet for Ronald Reagan, the order ticket for James Dean and the pattern for a pair of Oxfords purchased by Dwight D. Eisenhower.
Even so, "the amount of history that's been lost by my grandfather and my dad because they just didn't think it was that important was just astronomical," Ketzler said. "Just the mountain of history that's been lost. It's devastating to me."
As a rule, Dehner trashes all client paperwork if the client hasn't done business with them in a few decades. Jeff's grandfather (Harold Ketzler) and father (Donovan Ketzler, who died in 2013) followed this rule no matter the customer's historical significance. Jeff admits he himself is starting to overlook the fame of some clients.
"We don't pay much attention to a lot of the stuff," he said. "We're always proud of it. But we don't really know exactly what the hell's going on with a lot of it."
There's also this: Whether you're a president, an astronaut or an average Joe, the shoemakers are going to give your shoes the same level of care and quality.
The boots, of which Dehner tries to produce 200 a month, are still made using the same sewing and leather-working machines the founder himself purchased secondhand in the 1930s. The shop has machine parts books dating back to 1929.
In the beginning, the company was known as Teitzel & Dehner, and it supplied custom-made boots to cavalry officers. The founders, Carlton C. Dehner and John Teitzel, later moved the factory from Junction City to Wichita, Kansas, and took on a third partner, Schuyler Jones. But when Teitzel died in 1929, the partnership soured. Dehner sold his shares and started over in Omaha. He brought along seven employees and his son-in-law, Harold Ketzler.
As the U.S. Army moved away from horseback cavalry, Dehner expanded its product line, making the equestrian riding boots for which it's now internationally known. Much of the rest of the company's business went to military and law enforcement. Dehner was at one time outfitting about 70 percent of the California Highway Patrol.
"And I would say," Ketzler said, "that every West Point graduate from 1912 to 1970 has worn a pair of our boots or shoes at one time or another. MacArthur, Eisenhower, Patton, Bradley."
The company grew over the years. By the time Jeff became president in the early '90s, Dehner was employing 34 people and making 12,000 boots a year, half stock, half custom-made.
Today, Dehner employs 17 and makes more than 2,000 boots a year. The company's number of U.S. dealers, mostly tack shops, has dwindled from 700 to about 200.
The majority of its sales are online. Sort of. Dehner.com actually directs customers to a downloadable order form that they can print out and mail in.
Depending on what you want — riding boots, polo boots, biker boots, paddocks, wellingtons, saddle shoes, golf shoes, bowling shoes — items range from a few hundred dollars to well over $1,000. Dehner does not make cowboy boots or leather handbags, due to the oversaturated market in each. But it will turn leather into belts, key cases, shoulder holsters, nightstick loops, cellphone holders, wallets and pepper spray cases.
Producing each pair of boots is a long undertaking, especially those custom-made.
"It's an eight- to 10-week process from the time we get the order to the time we ship it out," Ketzler said.
He says a good pair of boots takes two things: time and good leather. Too many bootmakers don't bother with either.
"I look at something, and I can see what corners they cut to make it quicker and cheaper," he said. "When we do something, we do things the way we always have. We don't cut corners."
A simplified version of the Dehner process: It starts with the measurements. Then customers pick their linings, leather, colors, soles and heels. The pattern-maker cuts a paper pattern. Once that's right, someone cuts the leather from the pattern. The stitcher stitches the leather together. The shoe then is put on an object known as the last, a wooden form in the shape of a human foot. It stays there for weeks, taking its shape. Near the end, each boot is given a sole.
Every step of the process is done by hand. This is, with a few exceptions, the same way the company has always made its products.
"When you look at those boots, you know what you're looking at," said actress Jill Wagner, pointing at a completed boot. "That's going to last you 50 years or more."
Wagner is the host of "Handcrafted America," a series on INSP Network. The show travels the U.S., seeking the country's finest artisans. "Handcrafted America" recently visited Dehner to shoot an episode, which will air sometime in the series' third season, premiering in August.
The show's purpose, Wagner said, is to highlight old-fashioned craftsmanship in an age of ever-increasing automated manufacturing.
"There are a lot of people making things by hand," Wagner said. "But there's not a lot of people in this country that are doing things to this standard. These are the best of the best."
The quality comes from more than a century of know-how passed on from one generation to the next.
Jeff's been working in the factory since he was 8. He got his start folding boxes. ("It kept me out of trouble.")
Jeff's father, Donovan, started learning the trade when he was 12. He was taught to sew and stitch by Francis Thompson, a bootmaker who started working for Dehner in his late teens and followed the company from Wichita to Omaha. Altogether, Thompson worked for Dehner for more than 70 years, through a heart attack and bypass surgery, up to his death in 1997.
There "just wasn't anyone like him," Ketzler said of Thompson.
In a World-Herald interview a few years before his death, Thompson, then 85, said, "I've thought about retiring, but if I'd retire I'd be out looking for something to do and I've already got something to do."
It's doubtful that any other Dehner worker (aside from a member of the Ketzler family) would break Thompson's employment record. But this appears to be a staple of the shop: longtime workers, happy to be here.
Steven Jensen, plant supervisor, has been working at Dehner since he graduated from high school in Council Bluffs 37 years ago.
His claim to fame: "I made boots for Ronald Reagan," Jensen said, shaking his head. "I made him boots. Literally made him boots. Two different times."
Not every pair of boots fits the feet of a leader of the free world. But Jensen takes pride and pleasure in the creation of every shoe.
"It is really cool," he said. "What I like about it is I get to see something from the beginning to fruition. From pieces and parts to a whole."
Jensen and fellow employees are amused that the company remains so little-known in Omaha.
It's funny, said Adrian Sanchez, supervisor of the fitting department. "We've got a lady living two blocks away, and she didn't even know about (the shop)," he said. "We're shipping worldwide, but around here they don't even know about us."
When Sanchez walked into the shop 13 years ago looking for a job, he'd had no experience in the industry. His most recent jobs had been working at Burger King, Zio's Pizzeria and Lo Sole Mio.
But he did know a little sewing, and the shop hired him.
Now Sanchez is a skilled artisan who takes on some of Dehner's oddest projects. His enthusiasm for his work is infectious.
"It's amazing because of all the stuff that we do," he said. "That's why I'm here. Because I like to design things."
Things like the star-spangled red-white-and-blue boots Sanchez designed with Jensen. Or the replicated space boots Sanchez is making for a museum installation.
Sanchez is crafting the NASA boots tribute with the aid of an original prototype. Though, at one point in our visit, he wasn't sure where the old shoe had run off to. He asked around the shop. Plant secretary Mary Rushing soon brought over one of the boots.
In the boot's lining is a written order number and, embossed in gold letters, a name: John Glenn.
The World-Herald reporter and photographer stood there stunned, mouths agape.
Ketzler laughed. "No, I did that, maybe 30 years ago. Put his name in the boots."
There's a good chance the Earth-orbiting astronaut did wear a Dehner boot into space, though most likely not the same size as this one. But with so much of the company's history lost, Ketzler likes to occasionally feed the legend.
For an operation with such an out-there past, the story fits.
Dehner Boot Co.'s most famous customers
The Dehner Boot Co. has a rich history of well-heeled and high-profile customers
President Reagan started buying Dehner boots in the 1930s, when he was a radio sports announcer in Des Moines and serving as a cavalry officer in the 14th Infantry Reserves. He was a Dehner man the rest of his life.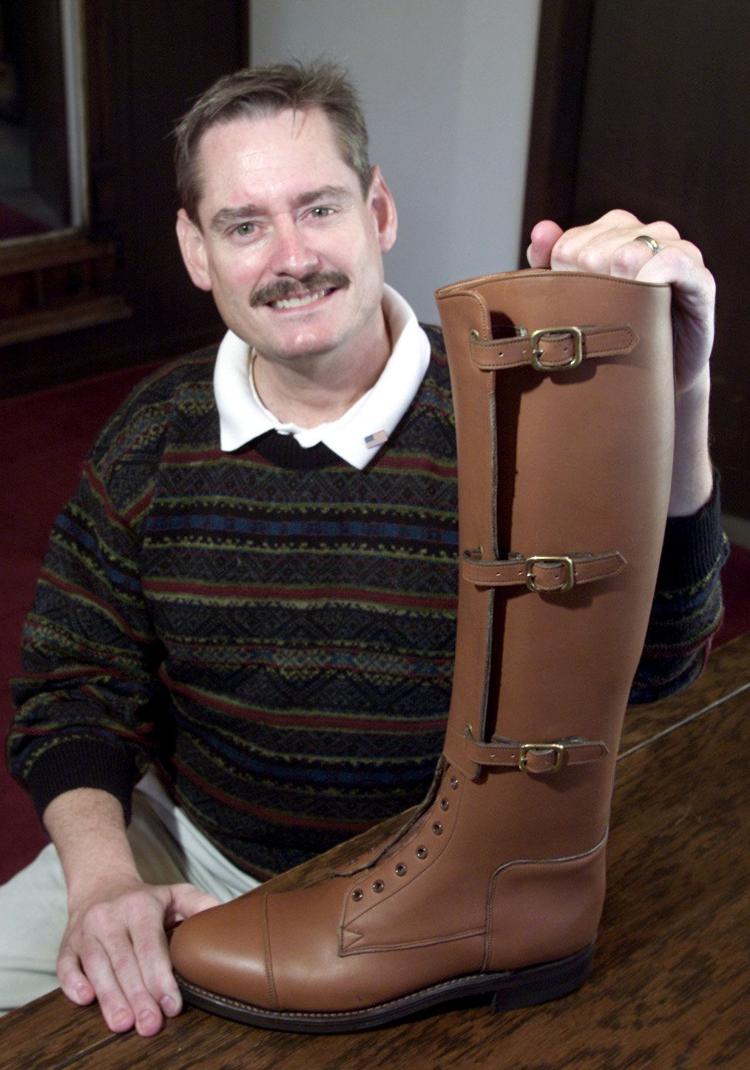 In 1951 Reagan was in Omaha for the premiere of his film "The Last Outpost." He walked into the Dehner shop (then on Farnam Street) wanting to know if a mail-order customer could buy a pair of boots in person. According to former company president Donovan Ketzler's account of events, the Dehner clerk asked Reagan, "Have we made boots for you before? What is your name?"
Reagan preferred a three-buckle style, an out-of-fashion Army officer boot like the ones worn before World War II.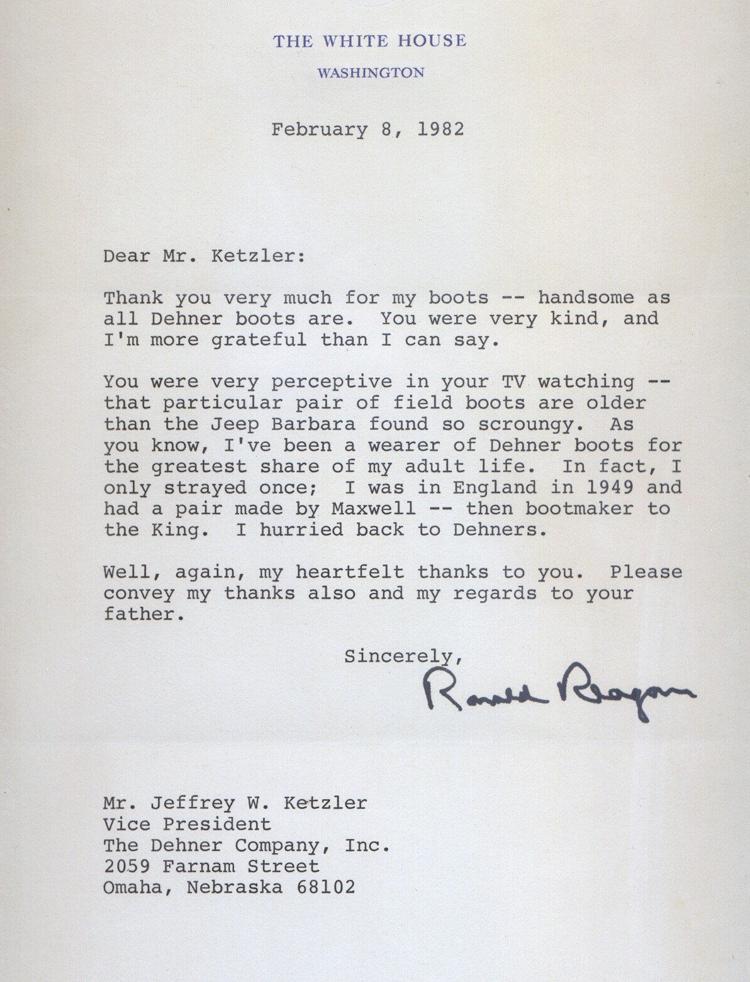 After Reagan's inauguration in '81, Dehner made a dozen pairs of boots for the Secret Service team that accompanied the president when he went riding.
In 1982 Donovan Ketzler saw Reagan on a Barbara Walters TV special and noticed that the president's boots had become old and worn. He sent Reagan another pair, and the president wrote the shop a thank-you letter, which the Ketzlers had framed.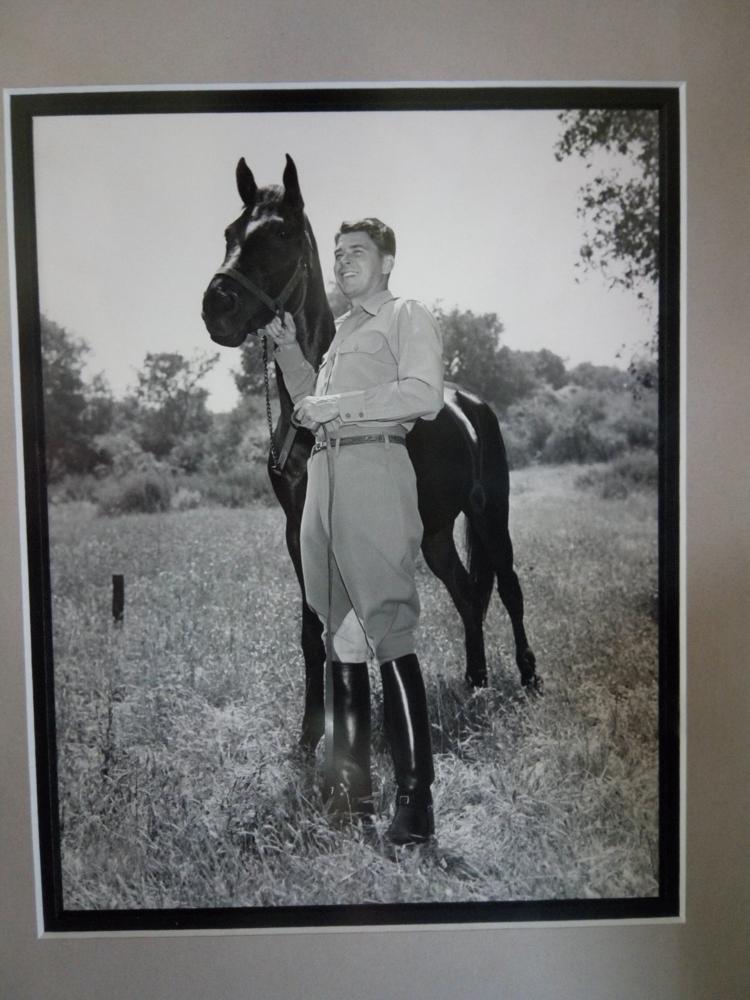 In the letter, Reagan wrote: "As you know, I've been a wearer of Dehner boots for the greatest share of my adult life. In fact, I only strayed once; I was in England in 1949 and had a pair made by Maxwell — then boot maker to the King. I hurried back to Dehners."
The final pair of boots Dehner made for Reagan were used in 2004 for the president's funeral cortege. They were placed backward in the stirrups on a riderless horse, symbolizing a fallen warrior who will never ride again.
Jacqueline Kennedy Onassis
The first lady was a Dehner customer.
Company President Jeff Ketzler said they also made boots for John F. Kennedy's funeral, on his widow's request.
"She called my dad, and she wanted a pair of boots for the (riderless) horse," Ketzler said. "We had just a few days, so the old man got something together for her."
In 1941 Dehner designed the "tank boot" with the aid of Gen. George S. "Blood and Guts" Patton.
Patton and several other generals were guinea pigs for a new kind of military boot Dehner was developing. The general wore the beta boots on maneuvers in Georgia. After so many maneuvers, the shoes were in a sorry, sagging state. Patton suggested that the boot be made an inch higher and be given a latch-like fastener.
By this point Dehner had been a longtime custom boot maker for the military. Patton and the participating generals had previously worn Dehner boots and were reportedly happy to participate in the experiment.
In a 1945 World-Herald interview, company co-founder Carlton C. Dehner was asked if Dehner would expand after the war.
He said, "I've always wanted to put out the best boots in the world, not the most boots."
In the summer of '81, the Beach Boys played a show at Rosenblatt Stadium to a crowd of more than 20,000.
One of the original Beach Boys, guitarist Al Jardine, was a Dehner customer. While he was in Omaha, he stopped by the shop with his wife.
"Afterward," said Jeff Ketzler, "I got to drive him to the airport and got to meet all the guys.
"I was a huge Beach Boys fan, so that was kind of neat."
Another time, actor George Hamilton walked into the shop.
"My dad had no idea who the guy was," Jeff Ketzler said. "All the women knew."
They asked, "George Hamilton the actor?"
No, Donovan Ketzler said, "George Hamilton the polo player."
Donovan Ketzler knew his customers by the purpose of their shoes.
"That was what dad connected with," Jeff said, "the horse deals. With Reagan, he knew him as a fellow cavalryman. Dad didn't go to movies much. When (Reagan) got elected president, (Donovan) said, 'Well, the guy finally made something of himself.' "
Jeff Ketzler: "I saved the ticket for that."
When Donovan Ketzler saw the first episodes of the TV series "CHiPs" in the late '70s, he was appalled by the state of the officers' boots.
He got in touch with one of the show's producers to gripe about it.
"You think you can do better?" the producer asked him.
"Well," Donovan said, "as a matter of fact I can."
"If you look between the first and second year of 'CHiPs,' " Jeff Ketzler said, "you see their boots got a lot better. We made them after that."
At the time, Dehner was making 70 percent of the boots for the California Highway Patrol, and he thought the TV show's shoes were a terrible representation of the company's product.
"That was kind of dad's way of doing things," Jeff said. "If it wasn't exactly the way he wanted it, then he was going to fix it."
'Demolition Man' and 'Judge Dredd'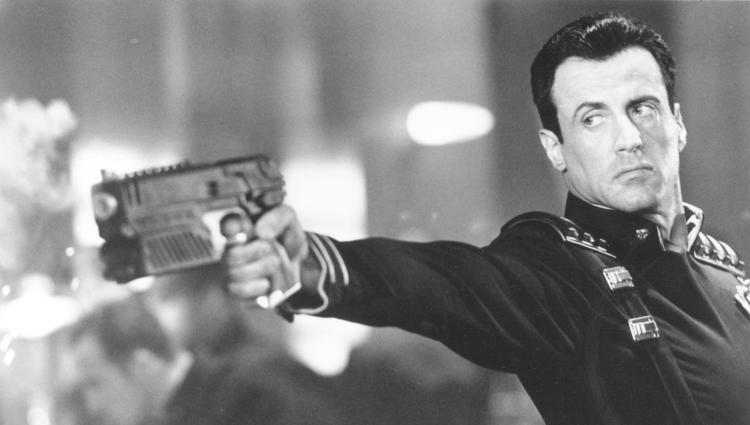 "We did a bunch of (Sylvester) Stallone movies," Jeff Ketzler said. "We did 'Judge Dredd.' We did 'Demolition Man.' Stallone really likes our stuff. We do a lot of movies."
Ketzler: "We did all the stuff for that."
"And we did stuff for Nicole Kidman in some costume flick," Ketzler said. Given the time frame, the boots were most likely made for Werner Herzog's 2015 period epic, "Queen of the Desert."
Dehner boots can next be seen in the 2018 superhero sequel "Deadpool 2." Ketzler said the shop is making boots for Josh Brolin's villainous character, Cable.
The biggest shoe Dehner ever made
The shoe belonged to a 7-foot-5 man from Iowa, shoe size 24, double E.
That was in the late '60s and, Jeff Ketzler said, the order probably would have cost around $125.