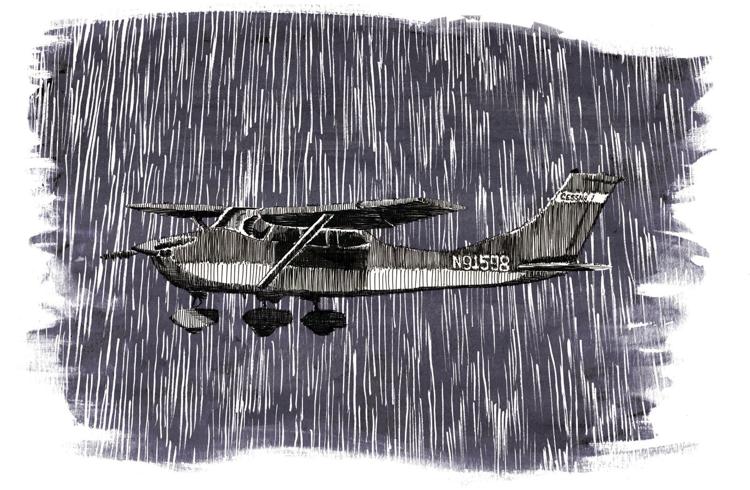 GUTHRIE COUNTY, Iowa — They walk up and down the grassy slopes in an impromptu funeral march.
Three families, more than a dozen people, hike northeast from a rural western Iowa home toward a clearing, talking quietly in groups of two or three.
A man holds his grandmother's hand, steadying her climb and, perhaps, lending strength for the sights to come. A daughter clutches a bag full of photographs; through the plastic one is visible: a smiling man in black-and-white, raising a beer can to the camera.
Most of them have memories. Some only fragments. Others all too vivid.
Men in suits at the front door. A mother collapsing in shock and despair. Confusion. Grief. And, more than anything, an unimaginable feeling of loss.
Here, on this land 48 years ago, a spring thunderstorm struck a small plane from the sky, killing four men inside and shattering the lives of wives, sons and daughters. Their families were left to pick up the pieces as best they could. Children grew up. Life went on. But questions lingered.
Because, like the families, the crash never faded from the memories of two teenage farm boys who stumbled on the smoldering wreckage of the plane the following morning. The wreckage itself served as a reminder, a twisted mass of aluminum, abandoned by the authorities, that became a permanent fixture on the farm.
For decades, the questions plagued the boys. "Who were these men?" "What happened to their families?"
Now, on a damp day in late August, they're getting their answer.
* * *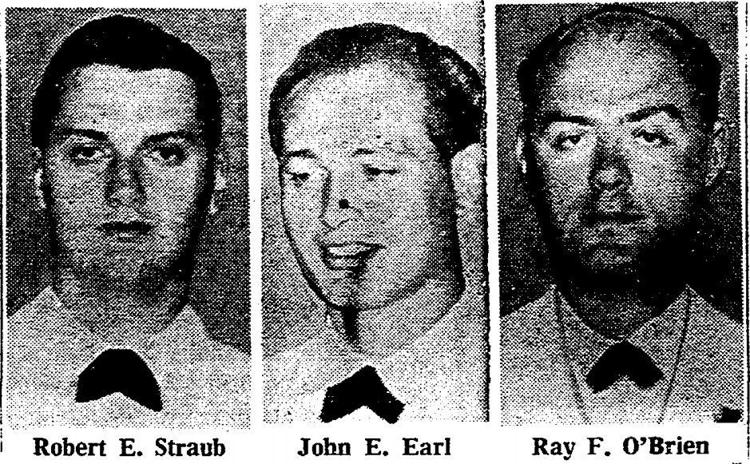 Omaha World-Herald Evening Edition
Four Omaha men, returning from an Omaha Knights hockey game in Waterloo, Ia., were killed early Sunday when their private plane crashed about eight miles southwest of Guthrie Center, Ia.
The dead were identified by Guthrie County Sheriff Lester Petersen as:
Robert E. Straub, 32, of 5601 Briggs Street.
John E. Earl, 40, of 1931 South Sixty-first Street.
Ray F. O'Brien Jr., 30, of 12712 Gold Street.
Romeo F. Bordigon, 49, of 1113 South Thirty-second Street.
Straub and Earl were foremen at the Omaha Printing Co. O'Brien was sales manager for McKenzie Pontiac, and Bordigon was employed as a pilot by Sky Harbor Air Service.
The plane was found about 8:30 a.m. Sunday on the Louis Schafer farm. Charles Gonzales, editor of the Guthrie Center Times, said the plane was found by Schafer's sons, Chris, 15, and Charles, 14, while they were rounding up cattle.
Gonzales said no one heard the crash, but one of the victim's watches was stopped at 12:10 a.m. The plane hit a tree during a thunderstorm and apparently crashed into a clear grassy area. Debris was scattered for 400 feet, he said. …
* * *
National Transportation Safety Board aviation accident database
NTSB Identification: MKC70AK053
Aircraft: Cessna 182M, registration N91598
Departure point: Waterloo, Iowa
Intended destination: Omaha, Nebraska
Type of accident: Collided with trees
Pilot in command — Inadequate preflight preparation and/or planning
Pilot in command — Continued VFR flight into adverse weather conditions
Weather — Thunderstorm activity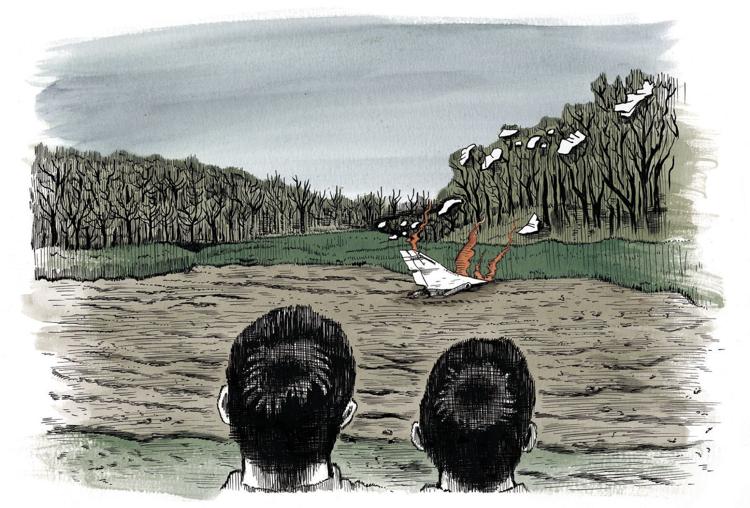 To ask Chris and Charlie Schafer to describe the morning of April 12, 1970, is like asking them to re-enter a dream. The episode was surreal even then, and the decades have made it seem more so.
Chris Schafer, 64, still lives on the Iowa farm that's been in his family for more than 100 years. His brother Charlie, 62, runs an agriculture business that the brothers started back in the 1970s and splits time between his home state and St. Petersburg, Florida.
On a recent day, the two men sit in the kitchen of Chris' house, on a rural stretch of road about eight miles north of Adair, and begin to piece together the story.
It was a Sunday. And that meant chores before church.
About 8 a.m., the boys went to feed the cattle. They broke ears of corn over the edge a feed bunk where, most days, the animals would be eagerly waiting for them.
But that morning, they weren't there.
"It was kind of unusual," Chris says. So the brothers set out to find them.
As they neared a wooded area, they saw chunks of white shimmering in the trees.
"It looked like snow," Chris says. "It was late enough in the year that there was no snow on the ground, so it had us kind of confounded."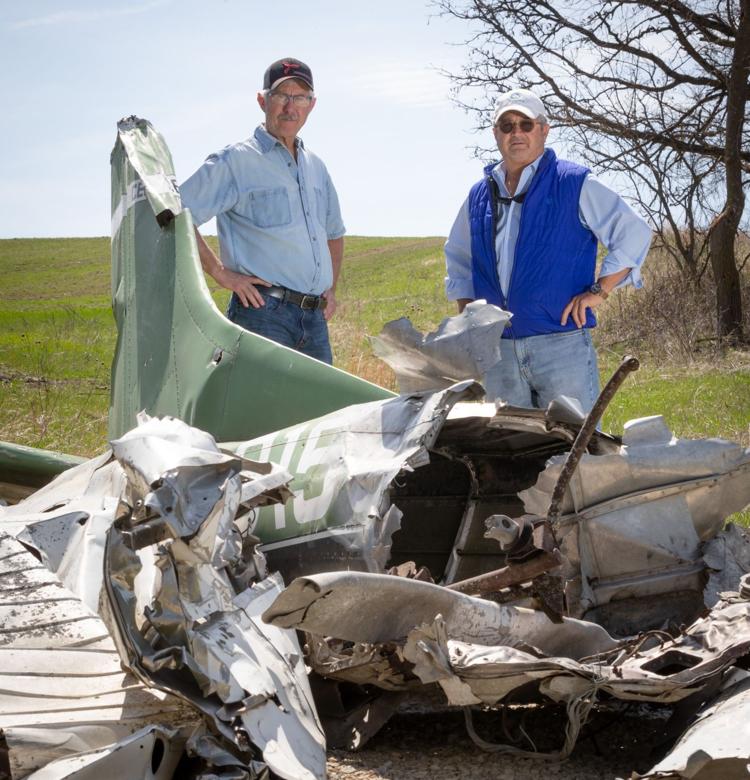 What the boys were seeing were pieces of the aluminum body of the Cessna 182 that had been stripped off the plane as it collided with the trees eight hours before.
They pressed on, eyes glued to the treeline, until they saw it.
"I thought it was an old building. An old building that had fallen down," Chris says. "I looked at it, and I just couldn't process what I was seeing."
The wreck was maybe 100 feet away, across a ravine. Looking back, knowing the scale of the damage, the brothers are surprised they didn't hear the crash the night before.
They're delicate when they describe the scene. Parts of the plane were still aflame, they say. Mostly, it was a mass of hot, twisted metal. Battered numbers on the body — 1598 — partially identified the aircraft.
Some pieces were surprisingly unscathed. A door was almost entirely intact. The landing gear, notably tough on Cessnas, looked pristine.
There were bodies, the brothers recall. Two men, badly burned, who had been sitting in the front of the aircraft. Two more, they found out later, were underneath a wrecked wing.
The boys called out, hoping there were survivors. Chris still remembers what he yelled; it felt weird to say at the time and still does all these years later.
The boys lingered, surveying the wreckage for just a few more moments, before turning to run back up the hill and alert their father.
Emergency crews would respond later that morning, removing the four bodies. Accident investigators would visit the wreckage, eventually concluding that the plane was flying upside down when it collided with the trees. The National Transportation Safety Board would determine that the crash was caused by bad weather and poor preflight planning.
Authorities would abandon the wreckage on the Schafer property while others worked to notify the families of the victims.
The wreck would play in the imagination of the Schafer boys for decades. Always, they were curious about the families — about whether they would want to know the wreckage of the plane was still there on their farm. Eventually, they erected a memorial plaque, scraping together information from newspaper stories about the crash.
As they tell their story, the Schafers think back to the morning they ran to find help. The ground was wet after the storm, and mud stuck to their boots.
They had seen the two men in the front seats. They had called for survivors and heard nothing.
It dawned on them, then, that running would make no difference. So, still in a daze, they walked the rest of the way.
* * *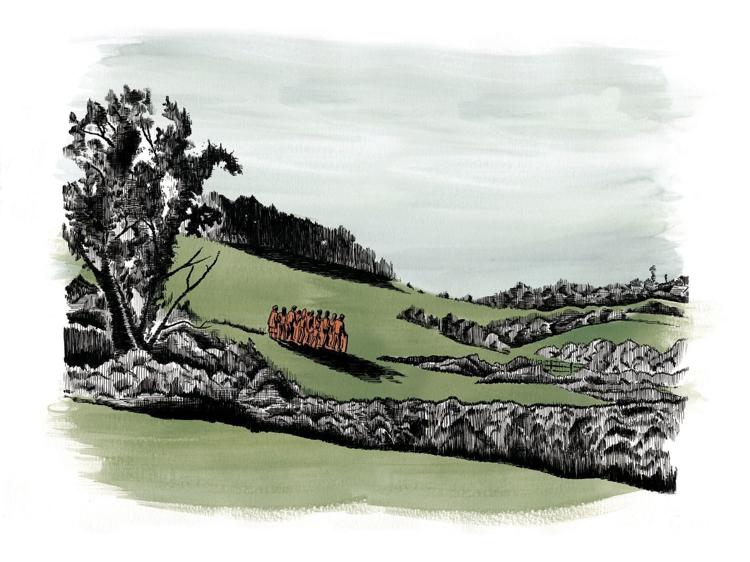 (Raymond) O'Brien's daughter Colleen will be 2 Tuesday. His wife said he had been with McKenzie Pontiac for about 10 years ...
Survivors include his widow, Evelyn; four children, Christy, Jeffrey, Colleen and Brian …
Evelyn O'Brien is still haunted by one of the last conversations she had with her husband, Ray.
He was home, preparing to leave with his buddies yet again to watch the Omaha Knights, the city's minor league hockey team, play Waterloo, Iowa in the Jack Adams Memorial Cup.
The season was almost over, O'Brien assured his wife. So he would be home more often with her and their four young children.
Evelyn laughed and told her husband that she felt like a "hockey widow" when the Knights played.
"At this point I'll end up burying you with a hockey puck in your mouth," she told him.
Now 76, Evelyn's memories of what happened in April 1970 are spotty. Clear in some places, hazy in others. She was unhinged by her husband's death, she says, overwhelmed by the prospect of raising her children by herself. The shock and stress left her in "la la land."
More solid are her memories of life with O'Brien before the crash.
She met him when he was in the Air Force. Stationed in South Dakota, he wrote letters to one of Evelyn's girlfriends, who shared the notes with her.
"He was very poetic about describing what he was doing, and the area, the scenery and stuff like that," Evelyn remembers. "I actually fell in love with him just reading his letters."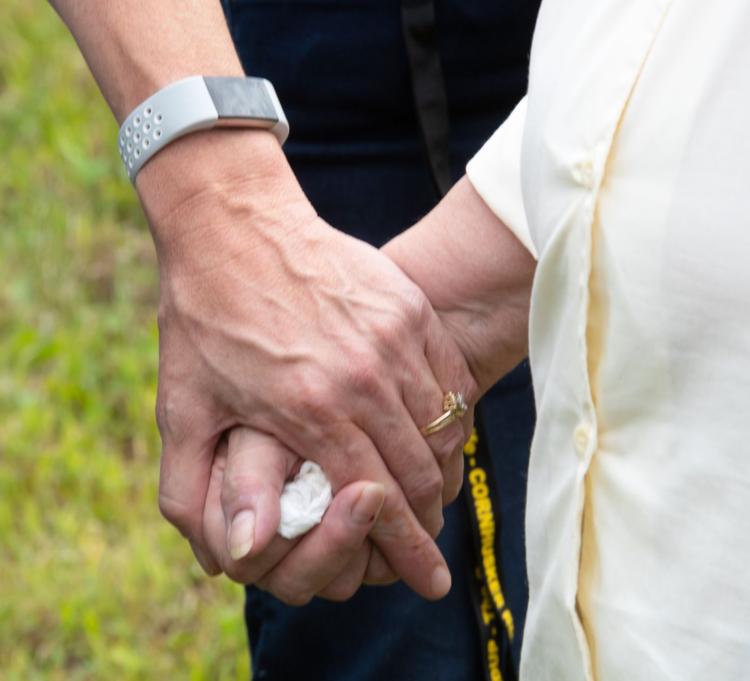 When he was discharged, he returned to Omaha and started dating the girl he'd been writing to. But he and Evelyn soon hit it off.
They married and had four children: Christy in 1963, Jeffrey in 1965, Colleen in 1968 and Brian in August 1969.
Her husband was a talented car salesman, Evelyn remembers, and he was a favorite of his employers. He was a trained pilot with a tattoo of a green-eyed black panther on his left forearm from his days in the military. He could be stern at times. He loved the outdoors. He was a people person who enjoyed entertaining friends, including two buddies who worked at Omaha Printing Co., John Earl and Robert Straub.
For his kids, Ray O'Brien exists largely as a series of scattered memories and stories told by their mother. Colleen Johnson, just shy of 2 at the time of his death, has heard that she used to wait up for her father to return from work, and he would share his dinner with her.
Christy O'Brien, now 55-year-old Christy Blake, remembers his tattoo and his electric guitar and the times he took her flying in small airplanes.
She also remembers the day two men, co-workers of her dad's, came to the door, and told her he was gone.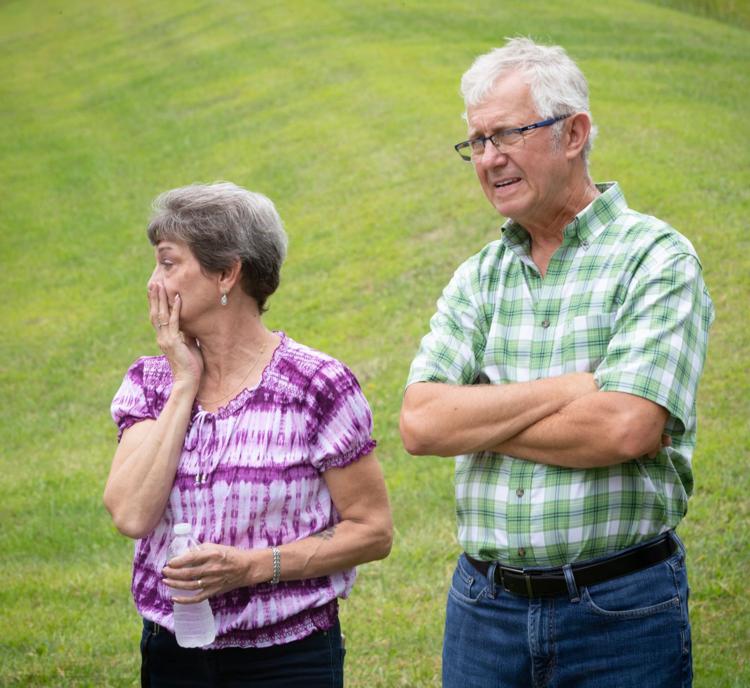 "I saw them talking to my mom, and in a moment, she just melted into the floor," Christy says. "I remember (one of the men) coming up the stairs, I remember him looking directly at me and saying 'It's going to be OK.' He said something like 'Your dad has passed.' My brother and me looked at each other and we said 'What does that mean?'"
Family arrived to help Evelyn care for the children. She was unable to leave the house, paralyzed with grief. She wanted to see the body, to see Ray's panther tattoo for herself and know they had the right man. Now, she knows the body was likely too badly burned.
Eventually, Evelyn and the other widows, Lynn Straub and Renee Earl, began meeting regularly at the House of Pies, formerly at 90th Street and West Center Road, to comfort one another and heal together.
Evelyn attended Straub's funeral and Earl's, both held on the same day so employees of the printing company would have to miss only one day of work. But O'Brien's funeral was delayed. The plane had been chartered at Sky Harbor Air Service in his name. And he appeared to have been seated in the front of the aircraft.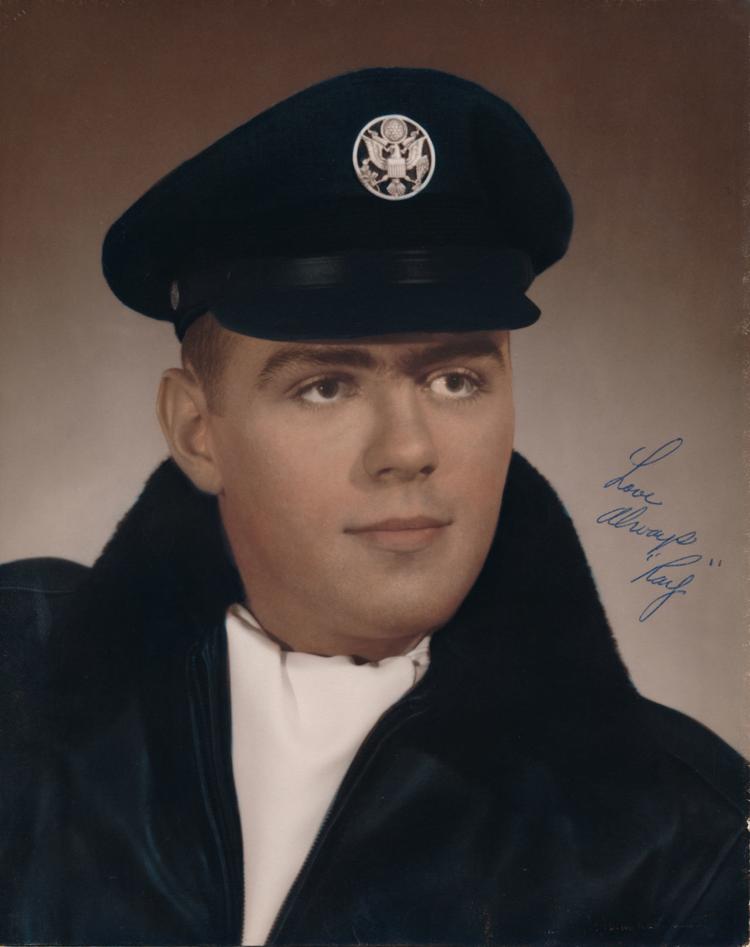 An accident report listed O'Brien as the pilot, and authorities had to perform an autopsy to determine whether he had been drinking the night of the crash. He hadn't.
Though she was never able to prove it legally, Evelyn says it's unlikely that her husband was piloting the plane. He wasn't cleared to fly at night, she says.
For the children, it was like their father just vanished, and they held out hope that he would walk through the door at any moment. They entertained conspiracy theories about the accident: Maybe he was a spy brainwashed by the government. Maybe he had wandered away from the crash with amnesia and started a new life somewhere.
At a time when parents often shielded their children from dark realities, Christy says she resented that she and her siblings weren't allowed to attend their father's funeral when the time for it finally came.
"I held a grudge for quite a long time because they didn't let me go to the funeral. And yet how am I supposed to, as a 7-year-old, take in death, take in all this?" she says. "I didn't get to see a casket or put some kind of physical closure to it. For me, it was always like an open box."
* * *
A native of Omaha and a graduate of Omaha Technical High School, (Robert) Straub had started with the printing firm in high school, (his wife) said.
Survivors, all of Omaha, include his widow, Lynn; a daughter, Jennifer Lee …
The only memory Jennifer Backencamp has of her father is of that day.
Now 53, Backencamp says it's hard to sort out her actual memories from stories she was told later. She was only 4 years old in April 1970.
She remembers waiting, desperately, for her dad to come home. She remembers seeing her mother, Lynn, standing at the kitchen sink washing dishes. She remembers the doorbell ringing and the two of them rushing to the door, thinking it was Straub.
"I remember it was two guys in suits," she says. "And I remember them taking my mom in the basement and saying that I needed to stay upstairs, and I remember my mom bawling and bawling and bawling. That's really all I remember of it."
She wonders, now, if the pain of her father's loss caused her to block out earlier, happier memories of him. When she looks at old photos, she finds herself hoping one might jog something.
In lieu of memories, she has stories.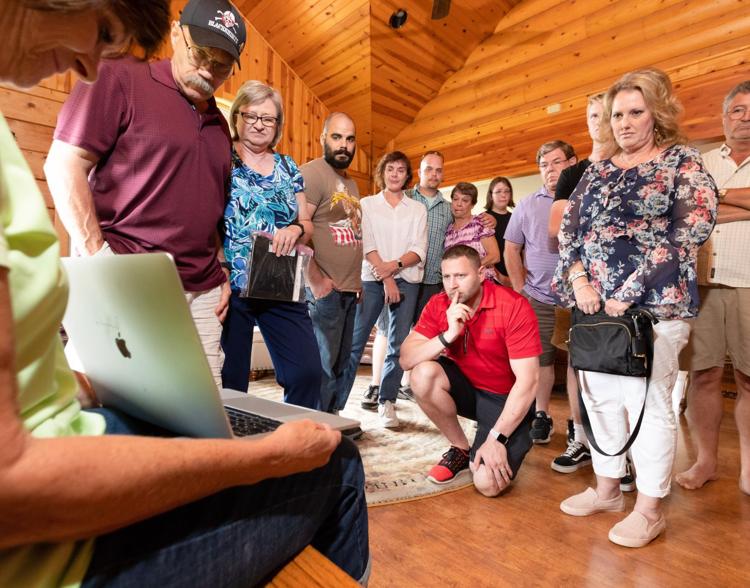 "It's hard to sort out when somebody passes. Everybody says nice things about the person who passed away. But I tell you, about all those guys, I've just heard wonderful, wonderful, wonderful things," Backencamp says. "And they were tight friends."
From her mother, Lynn, who died about three years ago, she learned that her father was well-respected at the printing company where he worked. She learned that he loved the outdoors and built his own cabin at Sherman Dam, near Loup City. For years, she, her mother and other family visited the cabin every summer.
After high school, Backencamp took a summer job at the printing company. For months, she says, friends and former co-workers of her father's came up to her to introduce themselves and say nice things about him.
Looking back, she says, she was blessed to have had the childhood she had. She was extremely close with her mother and found a strong support system in her grandparents and in her father's family.
Still, there have been times when Backencamp wishes he could have been there for her. Three years ago, shortly after her mother died, she was diagnosed with stage 3 breast cancer. She's healthy now, but the long months spent in bed gave her plenty of time to contemplate life and loss.
"When you're laying in bed, you can't not think about this stuff," she says. "You can't not think 'What if my dad was here?'"
***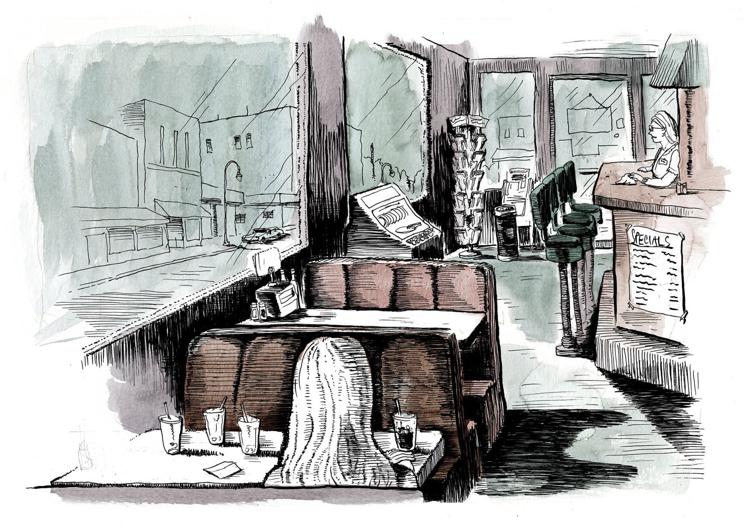 (John) Earl, a graduate of Tech High, was a Korean War veteran. He had been employed at the printing company about 15 years, Mrs. Earl said …
He is survived by his wife, Renee; daughter, Debra …
Debbie waited, alone, at the cafe.
At 13, she was the oldest of the Earl, Straub and O'Brien children, old enough to realize how quickly and dramatically her life had changed in the past several weeks.
On Saturday night, April 11, 1970, she had gone to see the Ice Capades at Ak-Sar-Ben with her mother and grandmother. They had left a note on the stairs for her father, telling him where they'd gone in case he returned from the hockey game before they came back.
Sunday morning, he still wasn't home. Early that day, well before noon, the doorbell rang. Two of her father's co-workers at the print company delivered the news.
Now 62, Debbie Hanslip remembers the following days as a whirlwind of activity. Funerals were held. Condolences were given. And when it was over, life went on.
"It was a shock," Hanslip says. "I went back to school the following Monday and, I mean, you didn't have a chance to hardly think about it. You just pick up where you left off."
But Hanslip's memories of her father stay with her. He was her hero, she says. A character with a magnetic personality and a great sense of humor. When Omaha Printing hosted ice skating events for employees, Earl, who knew perfectly well how to skate, would show up at the arena with a pillow strapped to his behind.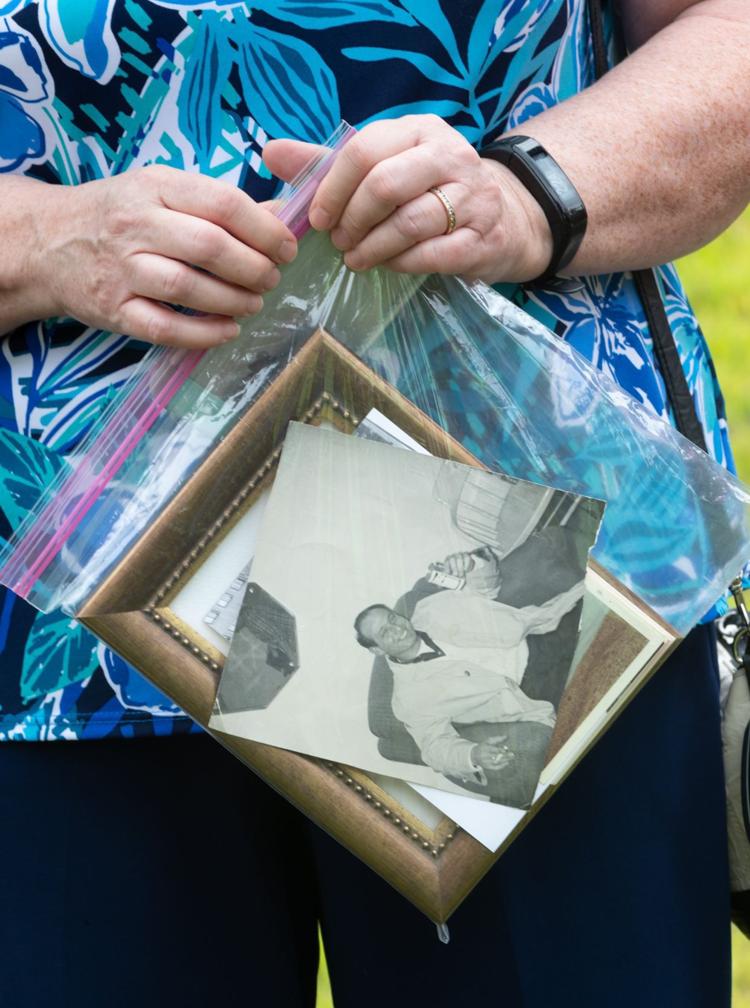 In the early 1960s, Earl, who had served as a paratrooper during the Korean War, made headlines in The World-Herald when photographers captured him trying out the new sport of "parasailing," first pulled by speedboat on Carter Lake and later by car near 126th Street and West Dodge Road.
He loved to sew, and ran a side upholstery business from the family home.
Her father worked hard and played hard, Hanslip says. And, as she grew up without him, she carried his example with her. She became an award-winning educator, working for Westside Community Schools for more than 30 years.
She did it, she says, to make her dad proud.
There were other reminders, other tokens of his presence in her life. Her mother recovered a ring her father was wearing the day of the crash, and Hanslip later had it made into a necklace.
Still, throughout her life, she was plagued by the same lack of closure the other children now speak of. Even though she came the closest to seeing the crash site for herself.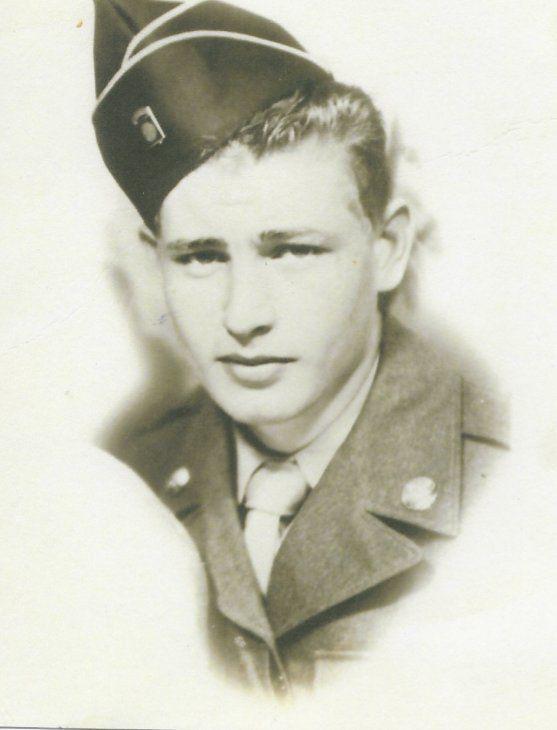 One day in 1970, a few weeks after the crash, Hanslip rode to Guthrie County with her mother, a cousin and Lynn Straub.
The widows were determined to see the site for themselves. Evelyn, everyone agrees, was in no state to go along, but Renee Earl brought her young daughter with her for the drive, maybe because there was nowhere else for her to go.
But before they made it to the Schafer's farm, the women stopped at a cafe in a nearby town and asked a waitress to watch Debbie while they met with a local sheriff and continued to the crash site.
Looking back, Hanslip thinks the women were trying to spare her the trauma of seeing the wreck so soon after the accident. They weren't sure what they were going to see there.
"It seemed like I was in that cafe an awful long time," she says, remembering that the staff kept serving her pop until she felt like she was going to burst.
The ride back to Omaha was silent, Hanslip recalls. She later found out that the women saw the wreckage and had talked with Chris and Charlie's parents. Renee recovered a pair of her husband's shoes.
But Hanslip was left wanting. To her, the trip was a missed opportunity to learn more about the accident that took her father from her. To see the place where he died and understand how it happened.
* * *
(Romeo Frank) Bordigon was a retired lieutenant colonel in the Marine Corps, serving in both World War II and the Korean War as a fighter pilot, a Sky Harbor spokesman said.
He is survived by his parents and a sister, Violet Fillbach, all of Denver Colo., and a daughter, Kathryn Lynn, of Wichita, Kan.
Bordigon remains a mystery.
He was an acquaintance of O'Brien's — Evelyn remembers the two had met while her husband was taking flying lessons at Eppley Airfield's Sky Harbor Air Service.
A newspaper story from 1968 refers to him in passing as a "chief pilot" at Eppley Airfield's Sky Harbor Air Service. His short World-Herald obituary gives a nickname — "Bordy" — though it doesn't mention who called him this.
An online database of grave sites says he is buried in Colorado's Fort Logan National Cemetery.
* * *
The wreckage now rests on a gravel platform about 150 feet west of where the plane originally came down. Earlier this year, spurred on by an older brother, Chris erected the plaque and called an Omaha newspaper, hoping someone there could locate the families of the victims.
The paper did for all but Bordigon.
Several months later, on a day chosen specifically so all three families can visit together, they make the short walk from Chris Schafer's house to the new memorial.
When they finally reach it, there are tears, there are questions. But mostly, there is a hushed calm.
The Schafer brothers hang back. For them, the meeting is the culmination of almost 50 years of wondering. Even so, they say, today is about the other families.
"I'm just glad to see it's given them a little bit of closure," Chris says.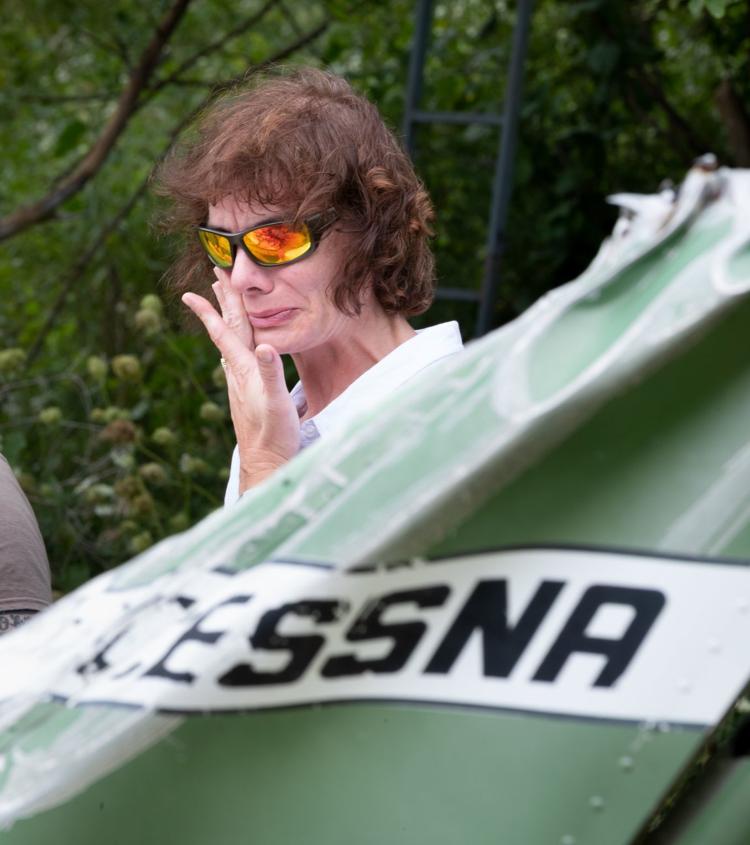 Colleen Johnson weeps silently. Christy Blake is shocked at how small it all looks.
Debbie Hanslip, the necklace made from her father's ring around her neck, thumbs through her bag of photographs. This day is especially poignant for her: Her mother, Renee Kovar, died at the age of 89 just the day before.
"I just wish your mom could've been here," Evelyn O'Brien tells her.
"It's OK," Hanslip says. "She's seeing it all now."
They come with loved ones, including grandchildren who never had the chance to meet their grandfathers. Jeffrey O'Brien Jr., the son of Ray's now-deceased oldest son, stares at the wreck alone after everyone else walks away. He is the spitting image of his grandfather, his family says.
Many don't have the words to describe the experience in the moment.
A day later, it's easier.
"I've got to tell you, I can't quit thinking about it," Christy says. "There was, for me, such an awesome closure. An awesome time to get a lot of questions answered I wanted answered …
It's not just a story anymore."