Dan Vehle didn't notice the browning pines until a friend returned to Omaha recently and asked about all the dying trees.
Then he seemed to spot them everywhere on the drive to and from his home near 180th and Q Streets.
"It's like someone applied crabgrass killer,'' Vehle said.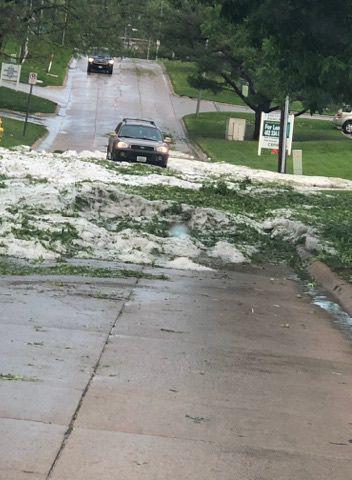 The actual culprit is the hailstorm that swept through Omaha at the end of May. The storm hit the southwest part of the city especially hard.
Phil Pierce, a consulting arborist after working for the city for 29 years, said the hail opened wounds in the trees, giving diseases a foothold.
"The Austrian pine is the main pine that is being affected,'' he said. "Scotch pine was affected a little.''
The trees are usually able to withstand tip blight and needle cast, the two fungal diseases that are their biggest threats. But the hail hit the tender bark and split it apart, leaving them open to disease.
Some trees might be too damaged to save, Pierce said. If your pine is more than 80% brown, he said, it probably won't survive.
Anything less severe and Pierce said owners can wait until the end of the growing season to see how much green is left.
If the tree is worth saving, the next step is to get the pine treated in the spring with a fungicide that will help control the diseases. That needs to happen when the bud break occurs, usually a two-week period between the end of April and the end of May.
Members of the Nebraska Arborists Association will be notified when the bud break occurs.
Unless a pine is still small, Pierce said it's best to have a professional treat the trees so all the new growth is covered.
"Most of the trees are too big for people to get coverage,'' he said.
If a pine needs to be replaced, Pierce says there are lots of evergreens that can better withstand Nebraska's climate extremes and bouts of drought and rain.
Concolor fir, Douglas fir, ponderosa and white pines and Norway and Black Hills spruces are on that list.
"They are always pushing for more variety, because they want to spread the diversity, but some of them are just plain real iffy in our area,'' Pierce said. "The Austrian pine has proven to be that way.''