Peg Pennell once gave a talk about quilting titled, "I Love It All.''
And she does. Pennell's done every type of quilting, from traditional to modern, since she first took up the activity at age 18.
Pennell prefers to be known as a fiber artist. She works with many mediums, including all types of fabric and beads. Her commissioned pieces usually are smaller and hang on walls.
The one constant: She loves color.
"They are almost like paintings out of cloth," she said.
Pennell will be the featured quilter this weekend at Threads Across Nebraska 2019 at the Buffalo County Fairgrounds in Kearney. The Nebraska State Quilt Guild will display 150 to 200 unique quilts by Nebraskans at the Oct. 11 and 12event.
Pennell will bring her favorite piece to Kearney. It's a 4-by-6-foot representation of a macaw based on a picture she took while on a trip to Mexico. Plaids and prints are combined together, adding texture to a realistic portrait of the bird.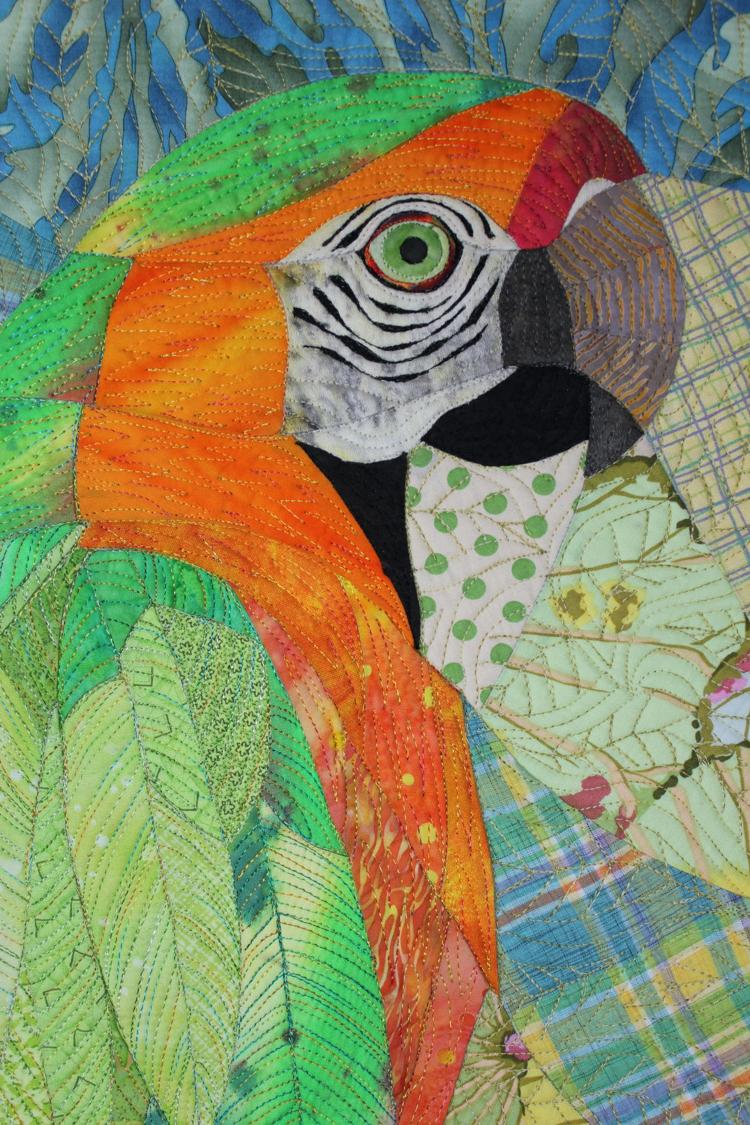 Pennell and her husband, Craig, are among a group of friends who travel together every few years. Those trips, some to more exotic places, are the basis for many of her works.
A safari on the Serengeti in Tanzania was particularly fruitful. One of her pieces was drawn from a picture she took of the thousands of zebras on migration. The indigenous fabric she purchased inspired several quilts.
Friends sometimes wonder about some of the pictures she takes on those vacations, such as a man hole cover or different colors on a wall, but they all provide inspiration.
"I bring those ideas home, they percolate for a while, and a lot of times become a quilt,'' she said.
Pennell's work hangs at places throughout Omaha. She also has four pieces in an exhibit called "Avian Inspired" by the Fiber Works group at Lauritzen Gardens through Oct. 30. She'll be part of a Fiber Works display at the Jewish Community Center in November. And she's part of a group show, "Cyanotype: Lasting Impressions," at the International Quilt Study Museum from Nov. 26 to May 17.
A work of art can take from a week to months to complete, depending on how complicated it is. She recently pulled out a flamingo project that she's been working on for years, a collage that requires many many tiny pieces. Around her studio, there are baskets of fabric everywhere. 
"When I'm in the middle of working on a piece, there is a lot of stuff out,'' she said. "It's hard to be creative when you have to put everything away at night.''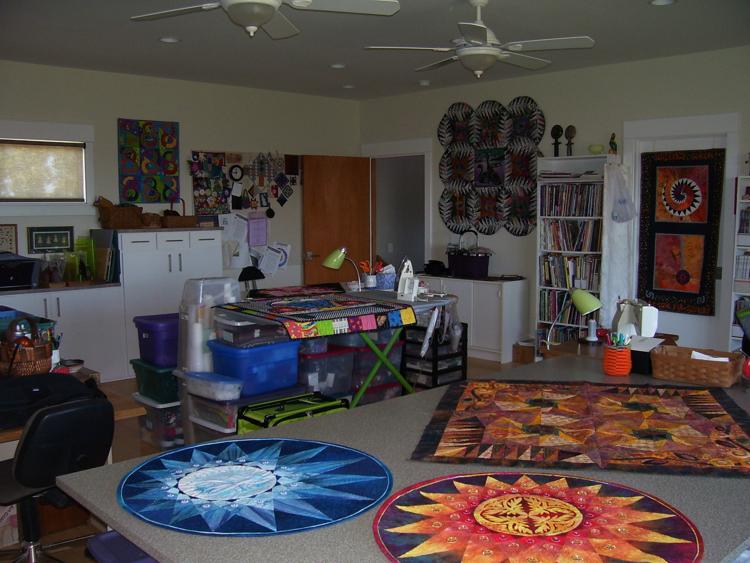 Pennell used to work in the basement of her home, using the kids' pingpong table as a cutting board. When the couple moved to Ashland 12 year ago, they built a dedicated studio for her above the garage.
The dozens of ribbons she's won for her quilting hang in a closet there. Shows, she said, are a good way to force her to finish a project. They also allow her to support the quilting community in Nebraska.
Pennell, 64, has begun to shift away from commissions to work on projects that she does for pleasure.
Some of what she does is as difficult as it looks. She struggles to make modern quilts but finds art quilts much easier.
She doesn't like to shut the door on any type, though, hence the name of her talk: "I Love It All." She's taught quilting for at least 25 years, as far away as California, and wants her students to enjoy the process of creating.
It's not all about perfect technique, she says, unless you plan to enter shows and be judged.
"Make what you love," she said.
Photos: Fabric artist often turns to nature for inspiration
Peg Pennell is one of the preeminent fiber artists in Nebraska. She often uses things she sees in nature for inspiration. Her works are on display in Omaha and will be featured at the Nebraska State Quilt Guild even in Kearney next weekend.