Bob Goding laughs when asked how much time he spends on his "hobby."
"This time of year, it's 40 hours a week. It's a full-time job."
The retired Omahan loves to garden, and since he and wife Janelle moved to the Omaha Country Club area in 2008, she has been drawn in, too.
She works on the yard about 15 hours a week. It's a combination, she says, of a large yard and being empty-nesters.
"I really learned to love it," she says.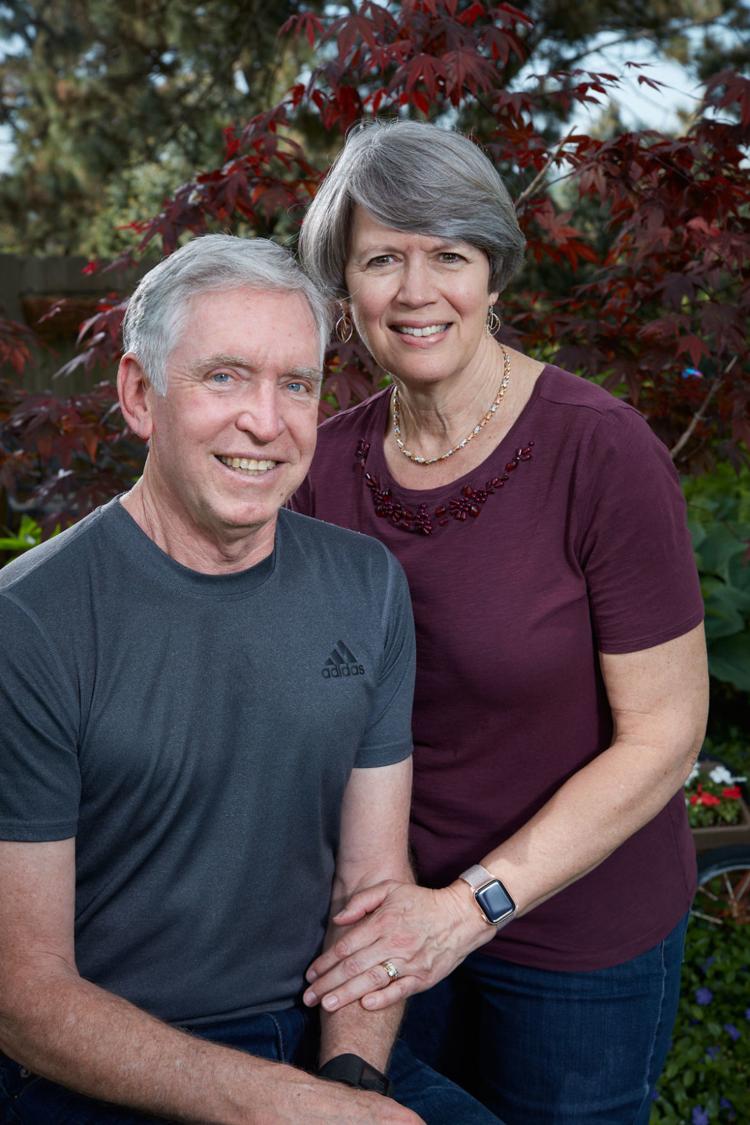 Except for some large trees, they had a blank canvas when they began landscaping. A bit daunted by the task ahead, friends gave them hostas, ferns and day lilies to get started.
They first created several bermed areas, which are surrounded by 15 tons of football- and basketball-size rocks. It was in 2011, after putting on an addition to the back of their brick ranch, that Goding took it to the next level.
Tons of fill dirt remained from the expansion, and Bob had the perfect solution: the water feature he had always wanted. But it wasn't a simple project.
"We didn't want it to look like a fake water feature," he says. "We were going for a mountain stream."
This water feature, built to Bob's design, stretches the length of their 75-foot patio. It took 8 tons of rock to construct. Three pumps and a spinner keep the water flowing.
Sign up for The World-Herald's afternoon updates
Receive a summary of the day's popular and trending stories from Omaha.com.
"One of my friends calls this the Goding spa," Bob says. "When it gets hot, there are as many as a dozen robins in there."
Janelle says it was an instant bird magnet. They'll spy orioles, robins, hummingbirds, wrens, nuthatches, yellow warblers and even a bluebird and a rose-breasted grosbeak from the large picture windows at the back of the house.
When they hear a certain sound on the roof, they know it's a wild turkey. The bird feeder at one end of the pond has proved so popular to raccoons, that Bob finally resorted to putting Vaseline on the pole to keep them away.
Huge silver maples, pin oaks and a black locust keep the garden beds in shade, so they've used large varieties of hostas in the landscape, as well as ferns, hydrangeas, impatiens, coleus, goatsbeard, bugloss, Solomon's seal, astilbe, begonias, lamium and vinca minor.
They cut the usual 14 yards of mulch for the beds to six this year by planting ground cover.
A vegetable garden stretches across the sunny back edge of the property, and Bob has started experimenting with native grasses on another side of the house.
A shady area in back includes a hammock, a gift from children Nick and Lindsey, that makes visitors dream of lazy afternoons curled up with a cool drink and a good book. But not Bob.
"I'm such a Type A personality, I never use it," he says. "I've been on it about two hours in 10 years."
Once planting and cleanup are done, the Godings cut back some, to allow for camping and hiking trips.
Their private oasis, screened on both sides by large bushes, has involved lots of experimenting. Bob has gained a lot of knowledge by becoming a master gardener, something Janelle wants to do, too, when she retires from nursing.
"I wanted to learn more," Bob says. "I'd been doing a lot by trial and error. I decided to do that and get a little smarter as well."
Photos: 'Mountain stream' is centerpiece of backyard garden
Bob and Janelle Goding spend hours and hours working on their landscaping, but they love every minute of it.