For an interior designer, a bare wall is a golden opportunity.
For the average home decorator, that same space can be paralyzing.
"I get a lot questions about arranging art at home," Omaha artist Katrina Swanson said. "Some people have pieces leaning against walls for years because they're too nervous about hanging it."
There are three universal dilemmas: Hanging height, groupings and hardware.
Here, Swanson shares tips for arranging art with confidence.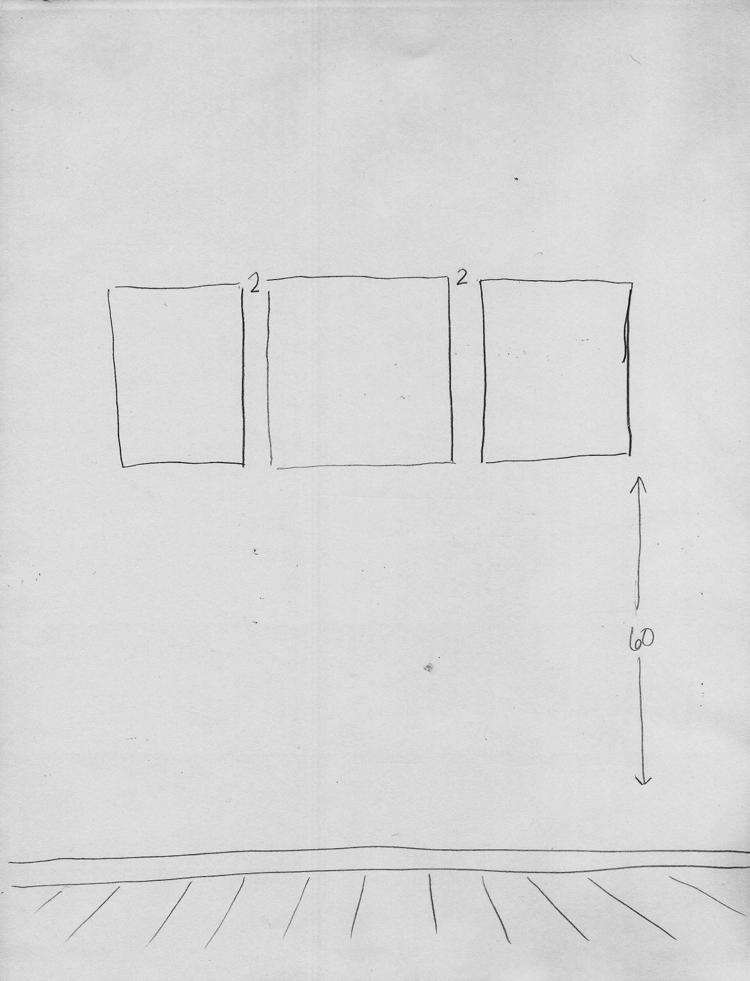 SIZE UP YOUR ROOM
"We've all heard the tip that art should be hung at eye level — but whose? The worst is when the wife is short and the husband is tall and he's hanging the art," Swanson noted. "The pieces are going to be too high and throw off the balance of the room."
Furnishings, wall space and the art you wish to hang need to be factored into placement decisions, Swanson said.
Her fail-safe tip: "Use furniture to anchor your art." This automatically creates a cohesive vignette and allows the eye to make an easy connection between the furniture and the art. Hang the art so it hits just 3 to 6 inches above your furniture piece.
Proportion is as important as hanging height. Select art that's about two-thirds the width of your furniture. If your choice is not that wide, bring it into proportion with a grouping.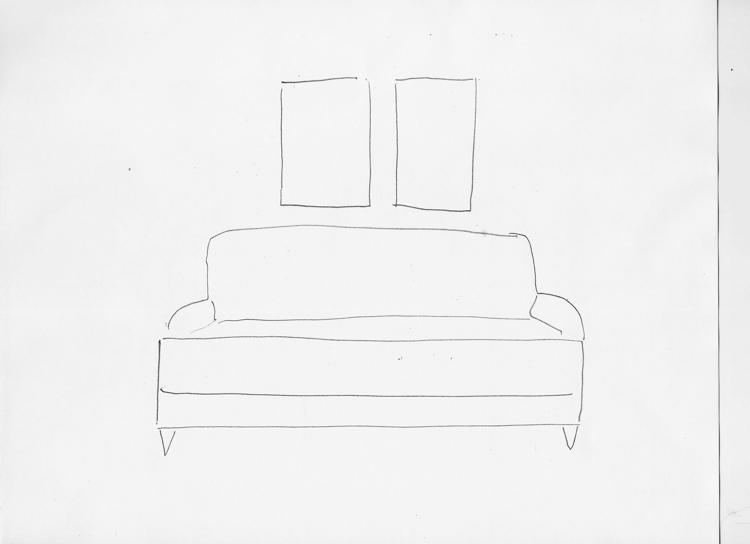 CONTEMPLATE YOUR GROUPING
Let the architecture of your space guide the shape of your grouping: Diagonal for stairways, horizontal for wide expanses, vertical for slender spaces.
For a well-balanced wall display, place the largest component of art in the center of your wall space or just to the left or right of center and build out and up. Try working in groups of three or odd numbers.
For spacing, use the width of your largest frame as your guide. If pieces are unframed, allow 2 to 3 inches between straight edges. Allow 5 inches between 3-D objects to avoid overcrowding.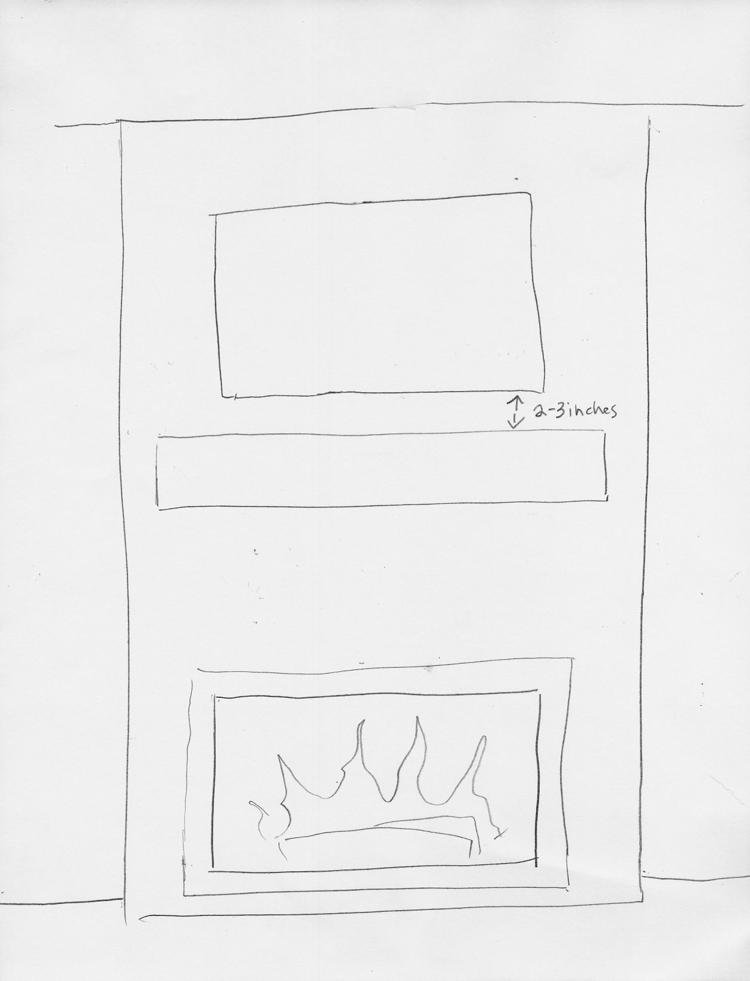 1. Size up how much wall space you want to fill. Outline the space with painter's tape. Find the center and mark it in tape with a small X.
2. Gather all the items you wish to display — prints, photographs, paintings, drawings, 3-D objects.
3. Trace your frames and objects on kraft paper and cut out each template.
4. Plot your arrangement on the floor or within the space defined on the wall using our guide for a grid, asymmetrical, symmetrical or aligned/ragged design.
5. When you're satisfied with your arrangement, begin hanging your pieces. Hold each art element up to its corresponding pattern on the wall, pull the picture wire taut, mark the center nail position, and then drive the nail right through the paper for accurate positioning.
6. Remove the paper, hang the art, and step back and admire your work!
HOW IT'S DONE
Omaha artist Katrina Swanson sketches possibilities for your own mini galleries.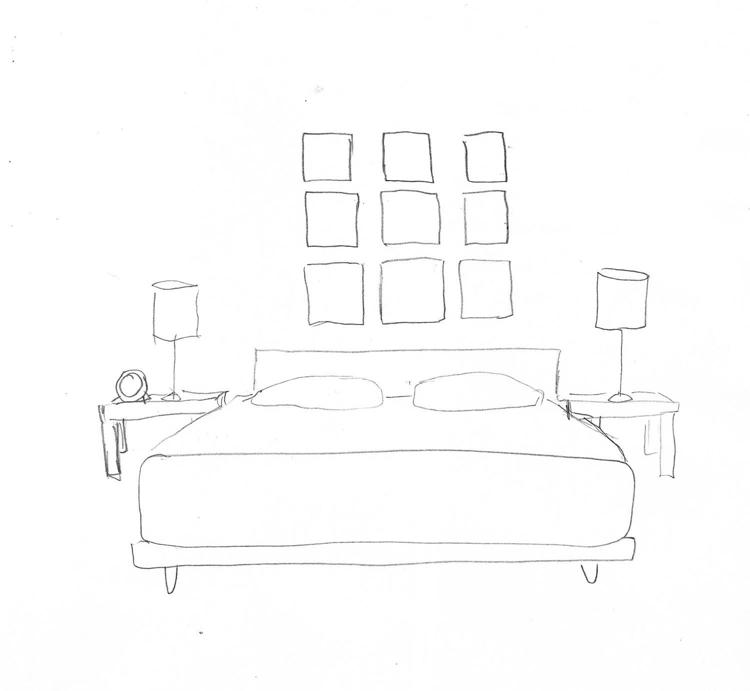 » Grid: A grid display is the best choice for showcasing a series of photos. Use identical frames and mats to keep the art the same size within each frame for a crisp, modern look.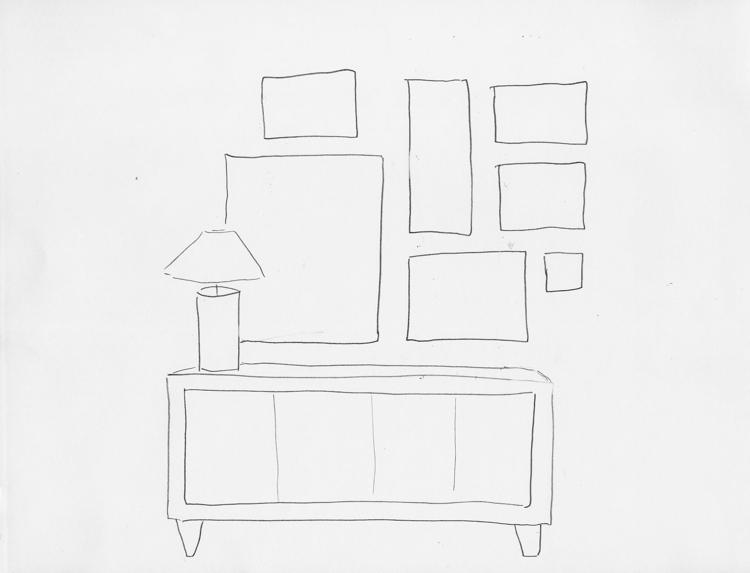 » Aligned/ragged: For a small space, aligned frames might be your best option. Create a clean look with multiple frame sizes above chairs and consoles, on small walls or in a bathroom.
» Symmetry: Symmetry is your friend when it comes to jazzing up a space above an entryway table or sofa. Start by centering your largest frame above your furniture, and then work outward two by two for a cohesive unit that draws attention from every angle of the room.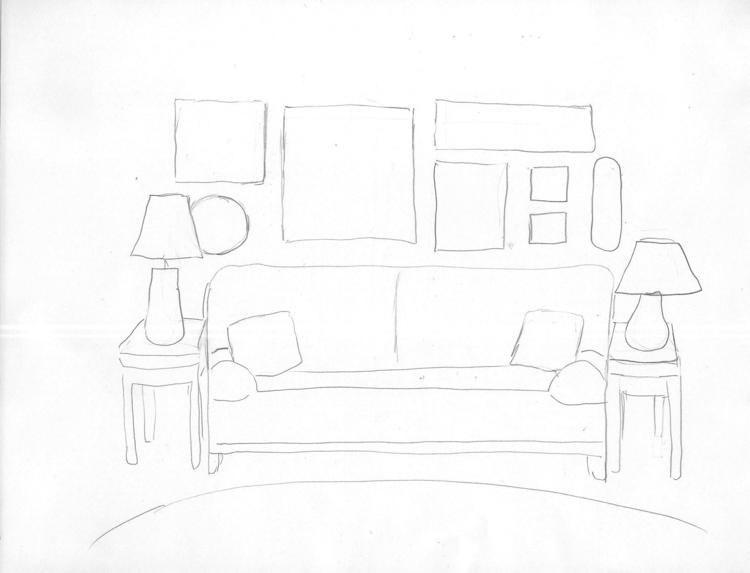 » Asymmetrical: Asymmetrical arrangements are great for large, open walls. You can accommodate a mishmash of frames and add to your collection with ease. Just be sure to strike a balance by teaming unlike objects that have similar visual weight.
DESIGN TRICKS
» Get a custom look without the custom price by using standard frame sizes: 5x7, 8x10, 9x12, 11x14, 16x20, 18x24, 20x24, 24x30.
» Create contrast by using light-colored frames on dark walls and dark-colored frames on light walls.
» Group art with similar themes: Black-and-whites, botanical prints, sketches, illustrations, etc. Treat two, three or four related pieces of identical dimension as one. Hang them at the same height but only a few inches apart so they look together and not disconnected
» If you have patterned backgrounds, choose wall décor that is pattern-free or surrounded by a wide frame or mat so the art stands out. The average width for a mat is about 3 inches all around. Going wider will give the framed piece more breathing room.
» Incorporate different shapes and textures into wall displays with five or more elements. Clocks, plates, woven baskets, mirrors and architectural salvage keep displays from looking flat. Leave 5 inches of space between each object to avoid overcrowding.