Prime blooming time starts in mid June. But don't worry, there will be plenty of other plants to ooh and aah over.
Langan loves flowers and, like most gardeners, finds them hard to resist. Especially if they look interesting.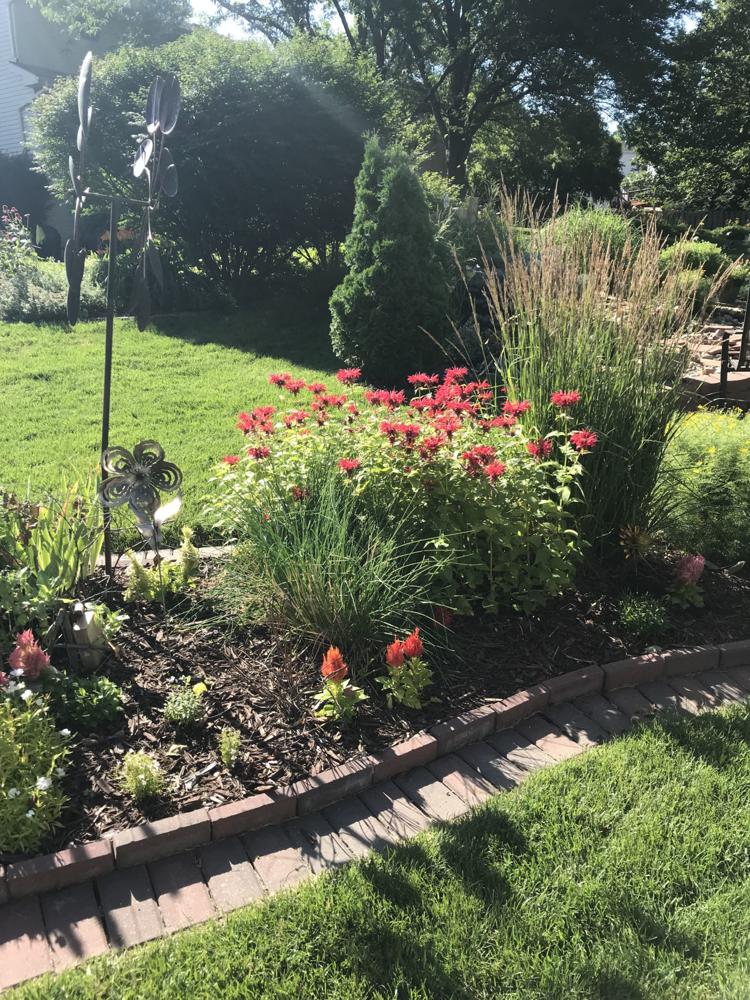 "I'll buy it and find a place for it," she said, "just because I thought it might be fun to try."
Langan has been working on her garden for 23 years and has a wide variety of perennials on the large lot near 124th and Maple Streets.
But that's not what makes it unique. She likes to plant in eclectic things, such as an antique bathroom sink and a tea kettle. There's a chandelier or two in the décor, and old garden rakes support some of the Asiatic lilies.
Be sure to check out the Wisteria vine on the pergola, which she says has an amazing smell as it blooms.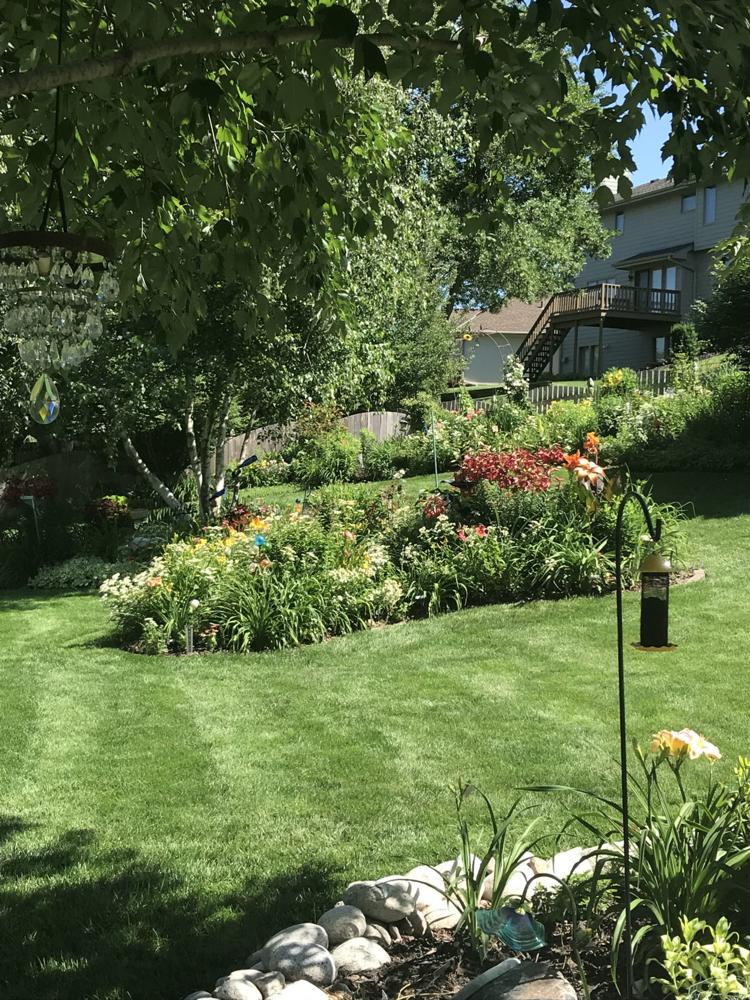 It all works. If it doesn't, Langan isn't afraid to move her plants around. She uses a spreadsheet to keep track of her lilies, which come in every hue, and a journal details when things bloom each season.
One spot near to her heart is a memorial bed dedicated to her late sister-in-law, Judi Messina, who she says inspired her gardening efforts. Many of Messina's favorites are planted there.
"I called her my garden guru," Langan said. "She was a naturalist and introduced me to not only daylilies, but viburnum shrubs. I have six or eight."
The property is a certified Nebraska pollinator garden, and Langan is planting more pollinator-friendly plants. She's also a member of the Nebraska Daylily Society and became a master gardener four years ago.
"That has really, really broadened my knowledge of dos and don'ts," she said.
Sign up for the Go newsletter
This complete guide of local music, movies, dining and entertainment will have you weekend ready.
Sad plants
To quote Elton John, it's a sad, sad situation. Even plants are looking droopy and depressed.
Everything and everyone just needs a break from this rainy spring.
Evans said he's actually been getting calls about sad-looking plants. Don't make the mistake of thinking they need watering, he said. They can actually start to droop when they get too much.
Waterlogged soils could be a potential issue. All this moisture fills the spaces in the soil, leaving no room for air. That will start stressing out the plants.
The wet soil becomes more favorable for diseases such as black spot fungus on roses. Slugs and snails will start appearing under hostas already ravaged by last week's hailstorm. Powdery mildew could soon start affecting peonies.
Even turf grass may start turning yellow because of too much water and the lack of nitrogen, which is washed away by the rain.
Evans recommends turning off your sprinkler for a few days, so yards and gardens don't become even more waterlogged.
Pull some of the mulch away from plants, making it easier for them to dry out.
Don't do a lot of heavy garden work, to avoid compacting the soil.
And, by the way, Evans said to leave your storm-damaged hostas alone for now. They've sealed off the holes and need their leaves to make energy.
"As they start getting new growth, trim out some of the worst-looking leaves," he said.
Garden Center updates
"Everybody was calling and coming down and were really worried about us. They were very sorry things happened that way," patriarch Phil Cirian said. "But we're now up and running again with fresh supplies."
Insurance covered most of the costs. The family-owned business is celebrating its 40th year, its 37th at its location at 4911 Leavenworth St. Phil Cirian is semi-retired, and son Tony and grandson Austin are in charge. But on any given day, customers will find as many as seven family members at work.
» The Earl May Nursery and Garden Centers are celebrating 100 years in business on June 21 from 4 to 8 p.m. at each location. The family-owned and -operated business is headquartered in Shenandoah, Iowa and has 29 stores in Iowa, Nebraska, Missouri and Kansas.
» The south lot at Indian Creek Nursery has been sold to developers and the garden center has expanded to the east, where its perennials and shrubs are now located. "That growth will allow our entire operation to be united on one combined property," owner Scott Farrington said. "It will allow us to continue to serve the neighborhood for many years to come."
» On my quest to find My Monet weigela, I made my first stop at Canoyer Garden Center in Papillion last week. Beside those two shrubs, I came home with some other fun perennials. Prairie smoke and tequila sunrise geums, a butterfly plant and a "peachie's pick" Stokes aster are just the type of pollinator plants I've been hoping to add to my landscape.
30-plus weird, unique places to go and things to do across Nebraska this summer
Looking for something fun and interesting to do this summer? Check out our list of fun destinations across the entire state of Nebraska.