Cassie Fish has Omaha on her front doorstep and the Missouri River in her backyard.
Her three-story Riverfront Place town house east of TD Ameritrade Park is the perfect combination for someone who loves the amenities of the city but hasn't forgotten the rural roots of her childhood.
"I have so enjoyed living down here," says Fish, a beef industry expert and consultant.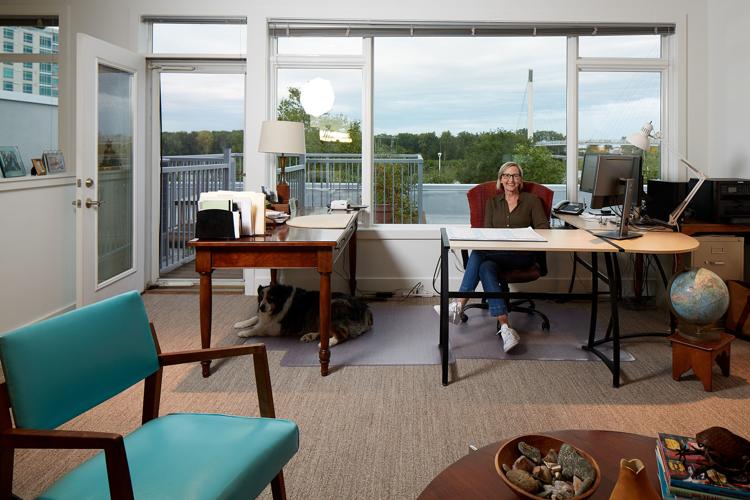 She has some of the best views in the city, with the Bob Kerrey Pedestrian Bridge right outside her third-floor office windows. She enjoys weaving imaginary stories about the interesting people she spots there.
But it's the bend of the Missouri River in the opposite direction that most often catches her eye. "That's my favorite view."
An eagle lives across the way. She spots all kinds of flora and fauna on walks along the "Big Muddy" with Lucky, her Australian shepherd.
She loves the views so much that friend and interior designer Sandy Koepke suggested she buy swivel chairs for her living room, so she can easily twist around to look out the windows.
Koepke was her "guiding light" in updating and furnishing her new home.
Fish moved in August 2018. She had been living in the Raven Oaks subdivision to the northwest, with woods all around. But after a trip to Charleston, South Carolina, she had an epiphany.
"What am I doing here on the edge of town?" she remembers thinking.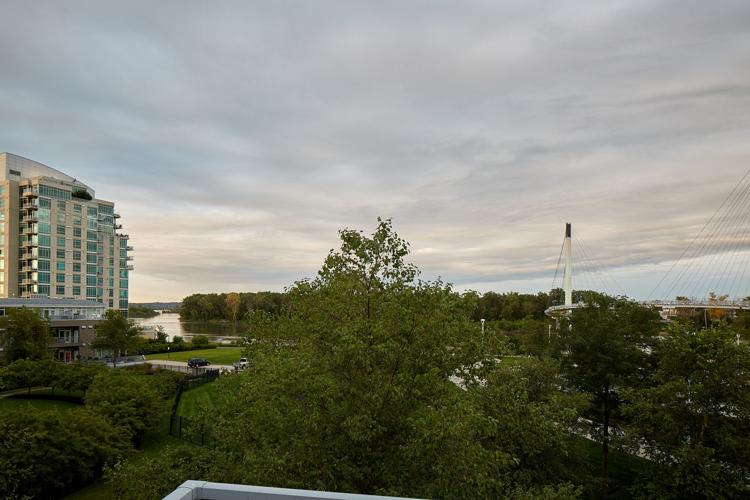 She concentrated on downtown.
"I walked in, and I pretty much knew," she says of her three-bedroom, 2,624-square-foot unit.
The purchase wasn't without its challenges. The town house needed a serious refresh.
Fish replaced carpeting with white oak floors on the first and second levels, repainted every room, replaced the countertops and backsplash in the kitchen, and updated the fireplace and lighting throughout.
"It looks a lot different," she says.
Fish also bought the new furnishings and design elements, many sourced in Omaha. She says she did a major purge before moving in, shedding many of her former things.
She remembers telling herself she couldn't leave her old home until she touched everything.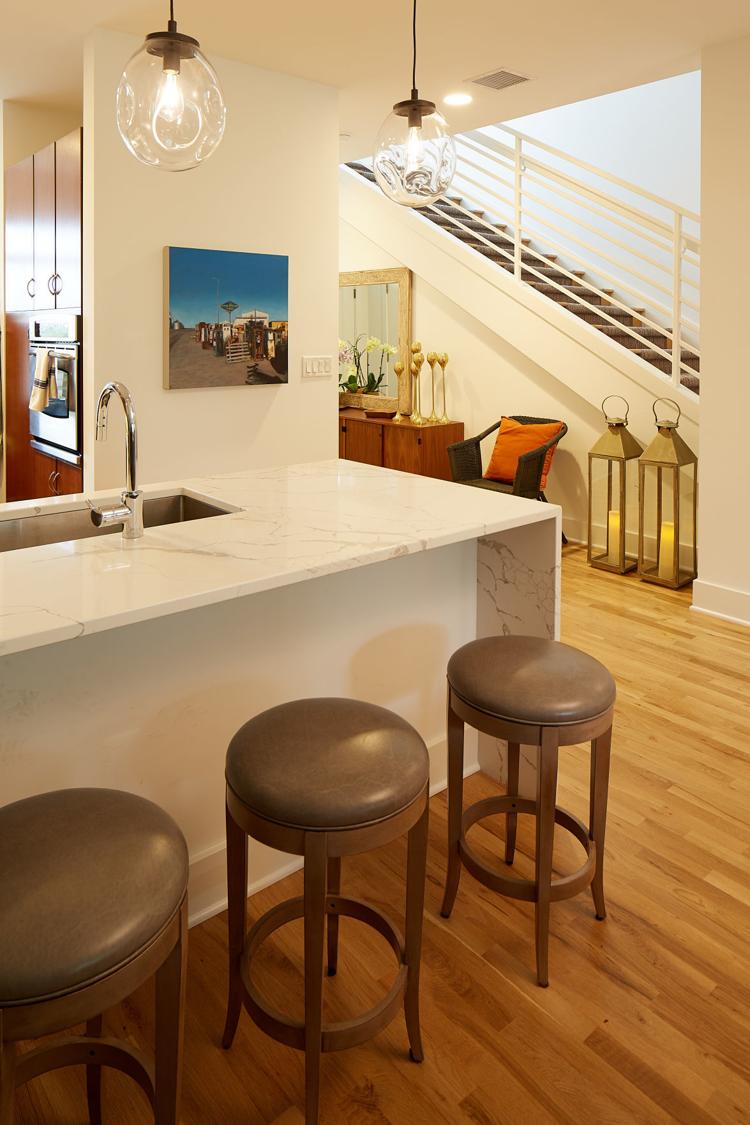 "I just wanted a fresh start,'' she says. "I wanted everything in present time."
Her town house has a midcentury modern yet rustic vibe. The decorating scheme radiates from a Christopher Farr rug in the living room. Found by Koepke, the design echoes the river just outside.
Fish says decorating choices for her new abode were challenging − things like picking out the tile for the master bathroom and the perfect light fixture for above the dining room table. Koepke, she says, kept her from making any mistakes.
She, Lucky and cat Sister had to spend a few months living on the third floor during the early part of the renovation. But a year later, it's complete.
Fish says it's an inspiring place to live. It feels fresh, modern and current but not trendy.
"I learned a lot," she says. "It was really fun to do."
Collection: Cassie Fish's riverfront condo