Eryn and Ben Swan were looking for a place to start a family last fall when they discovered a newly renovated house on Hawthorne Avenue.
They'd lived downtown and in Dundee and Benson since marrying five years ago, and knew little about the Bemis Park neighborhood. But they liked the proximity to downtown where they both work; Ben owns Greenstreet Cycles and Eryn, Wag Specialty Pet Store.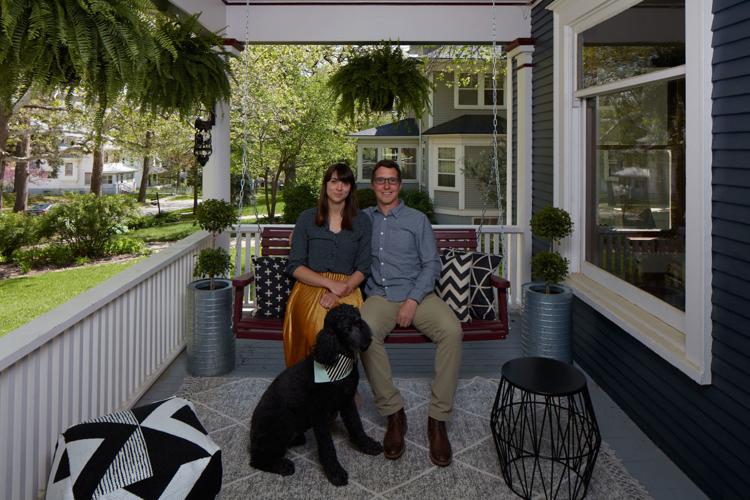 Large sycamores and a welcoming front porch drew them in. By the time they stepped into the foyer, they gave each other a look, acknowledging that this surprisingly could be the one.
"We were just falling in love more and more," Ben says.
The mix of 1905 architectural details and updates done by a trio of Creighton students selling the house further sealed the deal.
Every time they turned a corner, Eryn says, they spotted a feature they loved. Details like brick fireplaces on both floors, wood finishes and pocket doors give the American foursquare a craftsman feel.
The updated kitchen and master suite, they say, are the perfect meeting of modern and vintage.
"I love that there are so many intact historic details. It still looks and feels like a historic home," Eryn says. "It's a really nice blend that works for both of us."
They knew they made the right decision when, shortly after they moved in, a stray kitty appeared on the front porch while they were enjoying a glass of wine with the dogs at their feet.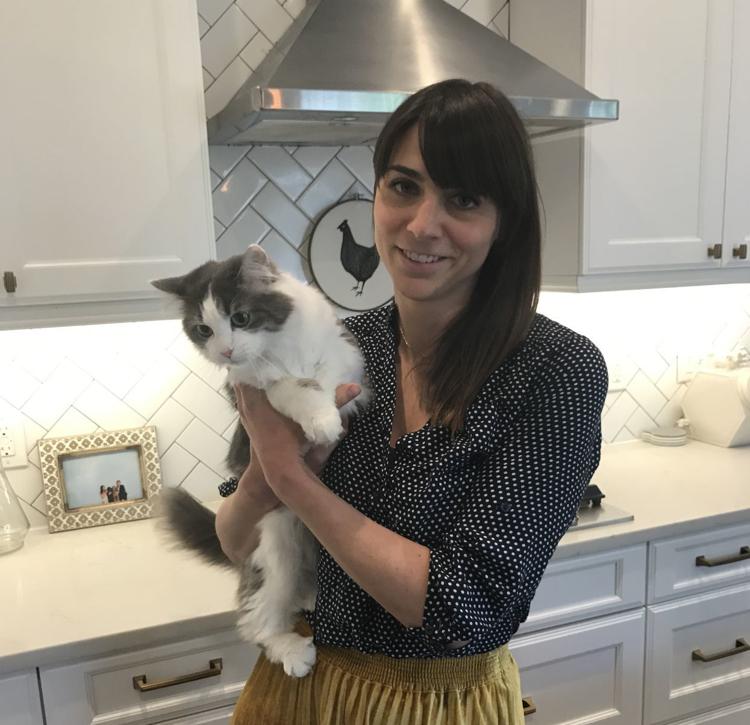 Besides owning Wag, Eryn helps run a cat rescue organization called Omaha Wags to Riches. The fact that a cat in need found her at her new place seemed to give it the stamp of approval.
Bemis, as the hungry, matted and flea-ridden kitten is called, never left and now has a front-row seat for the work the couple is doing to make the house a home.
Up first this summer is the exterior.
They don't have a driveway or garage but they are exploring that project. Because it's a landmark neighborhood, they have some extra regulations to follow before any construction can begin.
Eryn's favorite ferns dress up the front porch of the home, which stands out on the block with its blue paint (Gale Force SW 7605 by Sherwin-Williams) and white trim. They've added a backyard fence and updated the coop where eight chickens and two Pekin ducks reside.
They join two dogs, Piper and foster Clementine, and three cats. At any time there could be foster bunnies and kitties in the mix, too.
But there's plenty of room for non-fur babies, too. The square footage of the three-bedroom home was listed at 2,800. That doesn't include the basement, and there's also a finished attic.
While little work is needed in the main living spaces, there's still a long list of to-dos. Like finding the perfect table to fit in a kitchen corner.
Eryn jokes that because they are both so busy with work, they need a staycation to tackle everything on that list.
But they know they made the right decision to take a chance on a new neighborhood.
Friends once joked about their frequent moves, but they're no longer looking at houses. They enjoy the walkability of the tree-lined streets and the quick commute to downtown and the interstate.
"I like community and character," Ben says. "There is a lot of old world craftsmanship that is unique to these homes."
Photos: They fell in love with a Bemis Park beauty
First it was the trees and the porch. Then Eryn and Ben Swan stepped inside. The rest is history.