His beloved wife, Patti, had just died after six years of battling ovarian cancer.
Kids Greg and Rachael were ready to resume their own lives. Dog Ziggy Marley, Patti's constant companion, had to be put down for health reasons.
Eric Wolfe needed a lifeline.
"A project,'' he says. "Something to get me out of my own head."
Living alone in the country near Elkhorn no longer appealed. Wolfe says he's a people person, and so he began looking for condos in Omaha, concentrating on midtown and the Old Market.
Wolfe is an architect and construction consultant. The 61-year-old laughs that he's a fireman, too, because he's always putting out fires for clients.
One of them told him about an available penthouse in the tower condominium at 30th and Farnam Streets. The Omaha landmark, built in 1919, had at one time housed a car assembly plant and then a Sears, Roebuck & Co. store.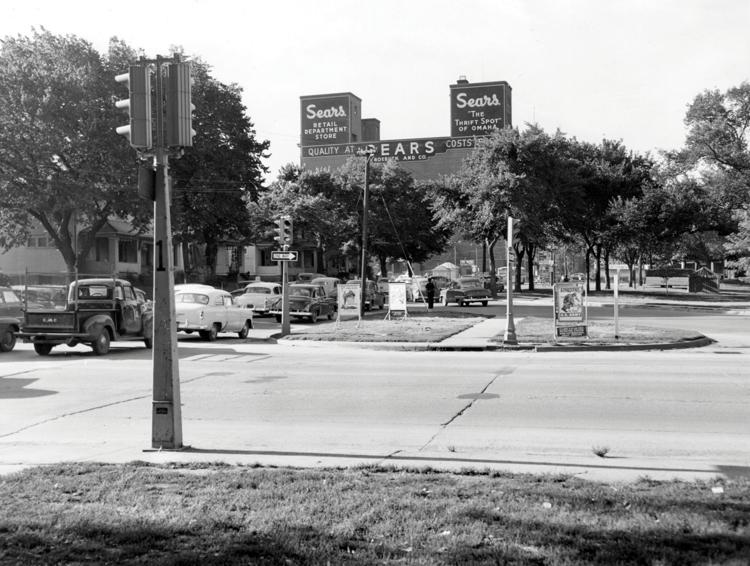 At 3,200 square feet, with three bedrooms and four bathrooms, plus 2,000 square feet of roof deck, Wolfe originally thought the condo was too big. Downsizing had been his goal.
But after giving it some thought, he decided the residence was the perfect challenge.
"I could see the potential," he says.
It took a year to get the penthouse the way he wanted. He opened up the narrow galley kitchen and removed another wall to turn one of the bedrooms into a den, eliminating a long dark hallway to the master bedroom.
Loving the depth and richness of the stone, he added "Black Galaxy" granite countertops. Cupboards in the bathrooms and renovated kitchen now match the walnut-paneled floor-to-ceiling cupboards you see when you first enter the 10th-floor condo.
Those cabinets conceal three closets and a laundry room. At one end is a hidden bar, meticulously constructed by friend Dave Nelson of Dave's Custom Interiors.
"Everything that was cool I kept," Wolfe says. "I wanted to blur the lines between vintage and retro. It all looks midcentury."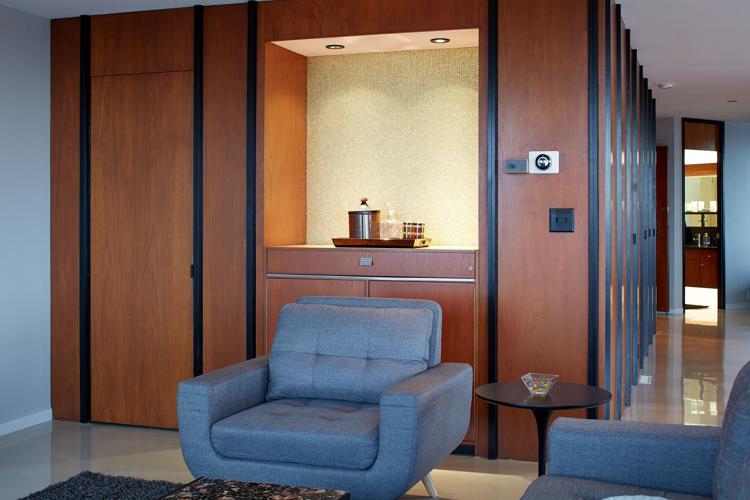 Electricians spent hours adding dimming lights, wiring for shades that drop with a touch of the button for massive windows, and heated floors for the master bedroom and bath.
The homeowner has a 132-inch projector screen instead of a television in the living area.
No detail was too small. After finding 699 small gold-leaf tiles in a cupboard, left over from some original features in the condo, Wolfe used them to enhance the kitchen backsplash.
Wolfe is done with the mechanics of the home. Now he's focused on decorating. Choosing the right furniture and artwork will be an ongoing project, he says.
He found the huge black sectional in his living room on allmodern.com.
"It's funky and modern, and I just like it," he says.
Wolfe loves sharing the details of his restoration. But it's the massive panoramic windows that immediately catch a visitor's eye.
The windows in the main living space overlook deck space that nearly wraps around the condo.
Dotted with patio furniture, the deck offers views of the city that stretch to the Missouri River. It's an immediate draw for every guest, including workers who traipsed through during the year of construction.
"I've never lived anywhere before where everyone wants to take a selfie," Wolfe says.
Collection: Eric Wolfe's condo project