More people are using the backyard as an extension of their home.
Decks and patios are part of that trend, but so is your landscape.
Are things looking a little rough around the edges now that winter is finally over?
We talked to a few experts who will help you spruce up your backyard space and leave it ready for whatever you throw at it, whether it's a graduation party or low-key family fun.
Start with the landscape
By Kathleen Cue, Nebraska Extension Educator
Clean up and cut back: If you waited to cut back your ornamental grasses until spring, hooray for you! This gives solitary bees a chance to emerge from hollow stems, and it helps out our pollinator friends. If you needed a reason to wait until spring to clean up, now you have one. Getting rid of weeds in the lawn? Leave one portion of the yard just for pollinators by letting dandelions and wild violets grow. Their flowers can provide needed nectar and pollen when there are not a lot of other things blooming.
Plant a container: These high-impact additions offer plant color, fragrance and texture up close. Containers are an exciting way to direct traffic, call attention to an ignored corner of the yard and add a welcome presence to the front door. Window boxes have the added appeal of providing color from both the inside and the outside of the home. Some gardeners aspire to the pointy, mounding, trailing method of design, but there are very successful combinations that don't follow this method, so mix it up.
Group like plants together: Intermixing flowers of different colors dilutes their impact. Instead, plant large numbers of flowers of the same color together to increase the "wow" factor.
Don't try to grow turf grass where it doesn't want to grow: If the area is getting fewer than three hours of direct uninterrupted sunlight daily, then even the shade-tolerant varieties of grass won't grow. Here is your chance to be creative! Add shade-tolerant groundcovers, hosta, celandine poppy, Lenten rose, Solomon's seal, bloodroot and bleeding heart to brighten the space.
Make note of "holes" in the landscape: You need spaces where there are no flowers or something green resides to relieve monotony. Things like spring-flowering bulbs can be put on the activities list for fall, while the addition of perennials and annual bedding plants can be done now.
Sign up for The World-Herald's afternoon updates
Receive a summary of the day's popular and trending stories from Omaha.com.
* * *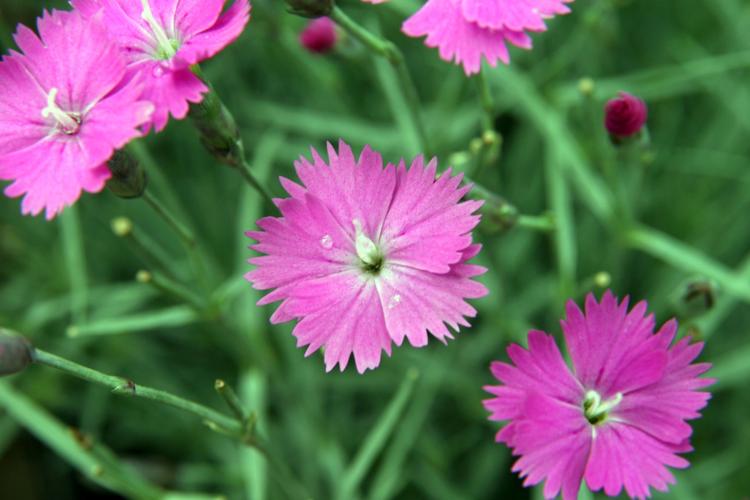 Bring in the color
By J.T. Savoie and Patrick Wood, landscape designers at Lanoha Nurseries
These plants will add the pop of color you're looking for in your landscape.
Moonshine yarrow: Vibrant yellow flowers with lacy sliver foliage. Drought tolerant and reliable bloomer.
Caradonna salvia: Great companion plant to add robust purple color to the landscape. Pairs well with bright colors and is drought tolerant.
Firewitch dianthus: Hot pink flowers bursting from a bed of bluish green grass-like foliage. Great border perennial for high impact landscaping.
Prairie fire crabapple tree: Bright magenta blooms emerge in early spring to bring great scents and color to the landscape. Smaller ornamental tree is great for vibrant spring blooms.
Compact orange sunpatien: Brings tropical fusion to any summer landscape. Electric bloomer that can be added to any container or annual bed for unique summer blooms.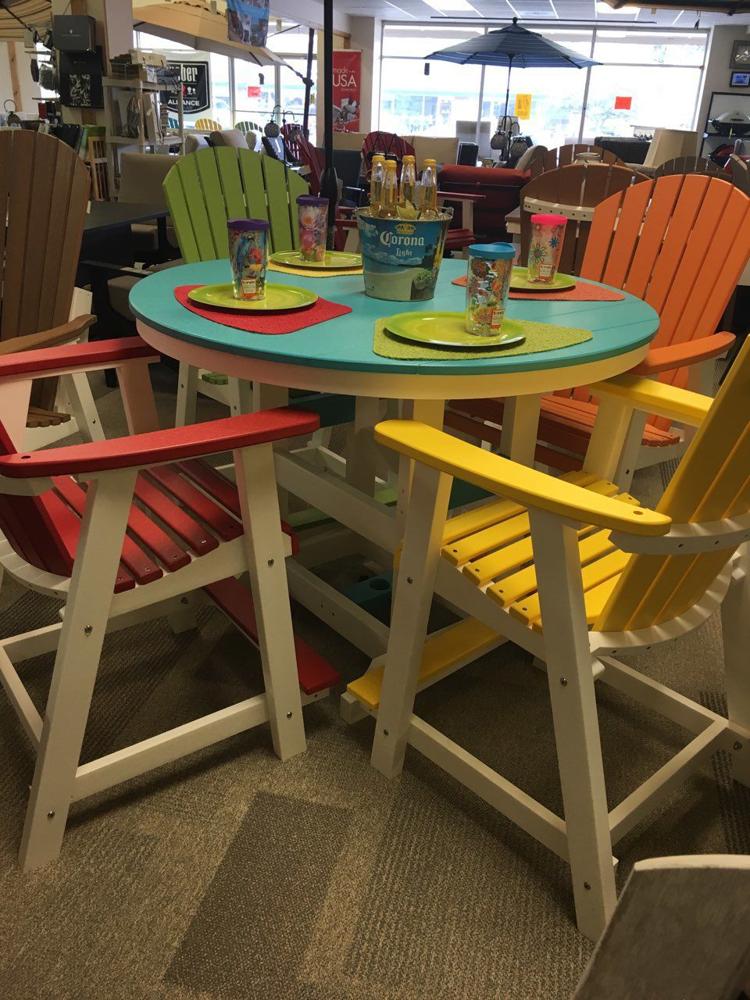 Outdoor furniture
By Dan Gould, Outdoor Kitchen & Patio
Shade products such as large cantilever umbrellas and bigger table umbrellas have become increasingly popular. People are more conscious about sun damage than they were a few years ago, and umbrellas allow them to spend more time outdoors while protecting them from the sun's harmful rays.
Recycled plastic outdoor furniture has taken the patio furniture industry by storm. People want something that is heavy and doesn't have to be brought in over the winter. Since it's "recycled," it's also popular with the more eco-minded customer. It's also way more comfortable than most people think.
Historically, the grill industry has been slow to innovate, but recently the pellet-style grills have really taken off. Users like the idea of being able to program the temperature they want to cook at, thus taking the guessing out of the equation. The Wi-Fi versions are the most popular. Different kinds of wood pellets also allow you to pick the smoke flavor you desire.
The largest change in outdoor furniture over the past few years has been the growing popularity of cushion types of furniture. Outdoor furniture stores no longer offer only dining tables and chairs, and now carry several versions of "deep seat" cushion options. Most new home construction has some type of covered patio, making it a lot easier to go with cushioned furniture. More folks are relaxing outdoors with friends, rather than just eating outside.
* * *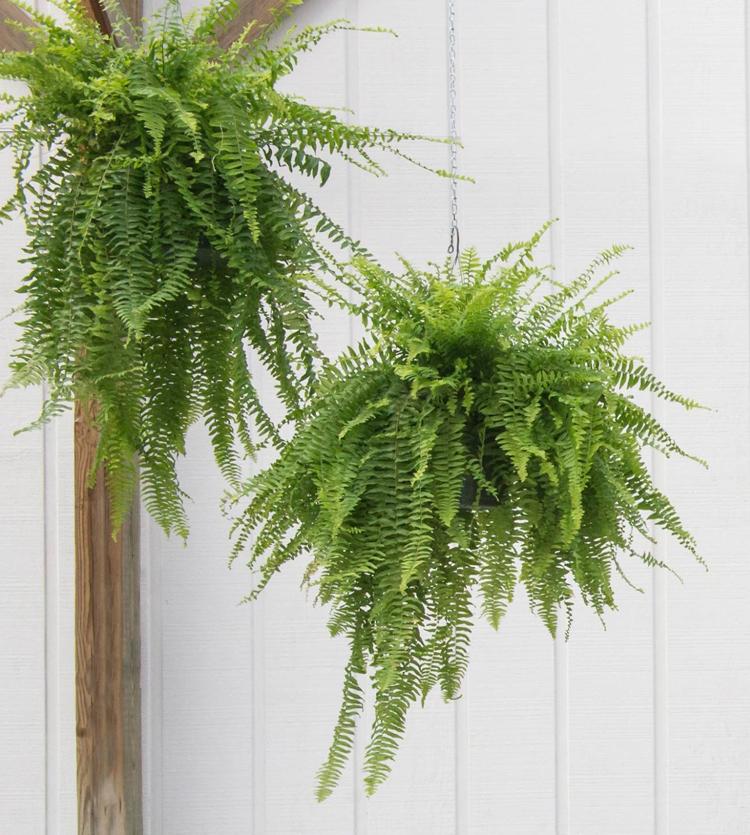 Finishing touches
By Karen Richards and Chris Hanks, landscape designers at Mulhall's
Add a few strings of lights in your outdoor space — it gives a magical glow to the evenings. Lanterns and scented candles are a great option, too. Not only do they bring extra lighting and a nice fragrance in the evenings, but they add a decorative element during the day, too.
Add hanging ferns from pergolas, trees or the side of the house. This extra layer of texture and greenery helps frame the area and produce a "sense of place."
Invest in some new brightly colored cushions for your patio furniture, and coordinate the colors with the plants in your outdoor container designs. You might be surprised at how much that extra touch can brighten up the space and bring everything together.
If you have a hardscape patio, consider adding an outdoor rug to soften the space and create a more inviting and comfortable place to relax.
Consider a wireless Bluetooth speaker so you can enjoy some background music outside — being considerate of neighbors, of course. That little bit of music will help reduce the sound of traffic and create a more relaxing ambiance.
Bubbling fountains make a great addition — the sound of water has a way of cooling the area in the heat of summer. They're easier to maintain than the large traditional fountains, and many styles are small enough that they can be moved and stored away in the off-season.
Check out nearly 100 stunning photos of Nebraska
Check out some of the most beautiful images of Nebraska.