She issued him a library card. He fixed her door lock.
Amy Mather and Randall Smith call their love story, "The Handyman and the Librarian." The title was on the invitation to their wedding.
They first met at Dixie Quicks restaurant, and then reconnected at a Restore Nebraska conference in 2011.
Mather, adult services manager for the Omaha Public Library, had a booth. Smith, a handyman, had planned to attend several workshops.
Instead, they talked for two hours.
Sign up for The World-Herald's afternoon updates
Receive a summary of the day's popular and trending stories from Omaha.com.
A month later, Smith fixed the lock on Mather's front door, and the relationship took off. They were married in 2015. They've both been back to many restoration events.
This year's Restore Nebraska will be Feb. 28 and 29 at Metro Community College's Fort Omaha campus.
Smith plans to check out talks by Bob Yapp and Dick Grace, because fixing cracks in the stucco facade and repairing windows in the couple's home in Dundee are at the top of their to-do list.
Yapp is giving the keynote address for the second time at a Restore Nebraska conference. Grace has more than 35 years of experience in plaster and stucco repair.
"Bob Yapp knows windows backward and forward," Smith said.
The library will have a booth again, too. Mather in the past has handed out library cards and shared information about how to connect with a home's history, which is what she did with their own 1925 Tudor Eclectic.
"So people can understand their soul," she said.
The couple inherited their house from Smith's parents. B. Frederick Smith was an interior designer, so Randall was exposed to lots of different interiors.
Fred Smith had an art collection, some of which the couple has mixed in with their favorite local artists. Amy loves the juxtaposition in the dining room of an Evan Major painting and a painting of a French general from Fred Smith's collection.
When they moved into the three-bedroom house three years ago, they had already painted every room. The "screaming yellow" in the dining room had to go.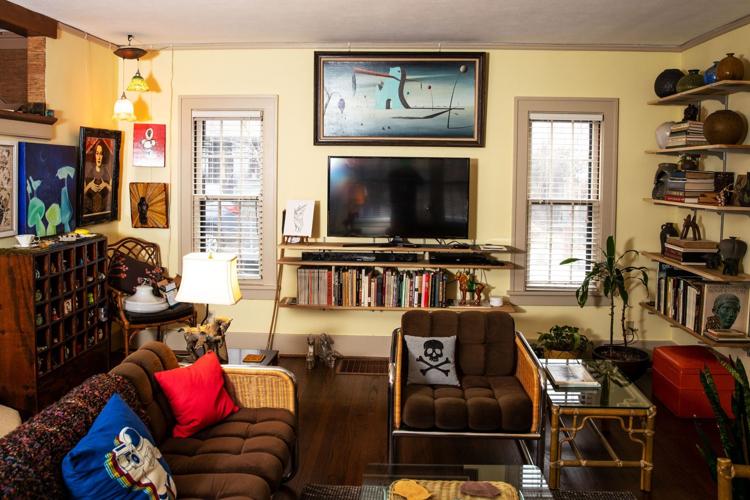 The small kitchen was remodeled in the 1980s when the bathtub above it on the second floor leaked. The couple just had the 1967 Hardwick stove that came with the house repaired. They love it so much that they fondly call it Marilyn, after Smith's mom.
Like most owners of an older home, their project list is long. After the stucco and window repairs comes painting the exterior. A three-season porch off the living room needs restoring, as well as the second-floor open porch above it.
They'd like to transform the pocket backyard with plants that can take care of themselves. The focus will be on planting for birds and pollinators, along with a small kitchen garden.
Smith admits he's a little intimidated by the stucco project, which will involve investing in scaffolding.
"It's hard labor, but not terribly complicated," he said.
Smith is an electrician who is self-taught in carpentry and plumbing. That's why he continues to attend Restore Nebraska events.
Besides making valuable connections, he can soak up knowledge from the experts. In honor of its 15th anniversary, organizers are bringing in favorite speakers from past programs.
"If there are window workshops, I always go," Smith said. "If they are doing stucco, I always go."
As they work on the house, Smith is interested in using best practices from years gone by, such as construction of original windows. But they're not beholden to the 1920s when they decorate.
"The house is considered Tudor Eclectic, and the interior is certainly eclectic," Amy said.