Tyler Curnes was grabbing a bite to eat at a bar and grill in Olde Towne Elkhorn when he noticed a flier advertising the auction of a familiar building.
"It's a sign," Tyler told himself.
It was the fall of 2014 and Tyler, a glass artist, was looking for studio space.
The Main Street building up for auction — once occupied by Elkhorn Oil & Propane — could serve that purpose.
Two decades earlier, Terry and Mary Curnes — Tyler's parents — had tried to buy the 1915 structure, remembering it fondly as the automobile service station frequented by Mary's father. He drove the Lincoln Highway in his work and stopped there often for gas.
"I had been saving for a house and studio space; I liked the history of the building; and the price and location were right. It was fortuitous," Tyler says.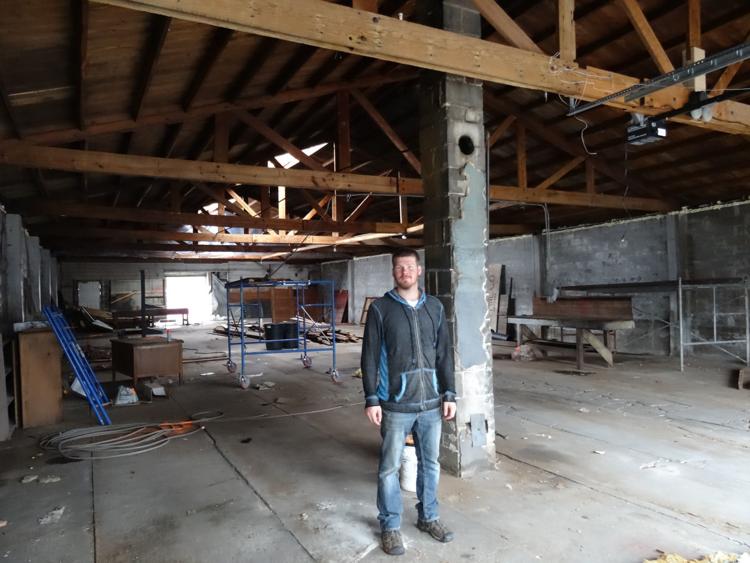 Restoration would be extensive. The building, used for storage for 30 years, had fallen into disrepair.
"I got the keys and we started the demo the next day," Tyler says.
He would have help — lots of it — from his dad and mom, and his sister and brother-in-law, Terra and Ryan Palmquist.
The family has considerable experience with restorations and ultimately did 80% of the job. Contractors were brought in for the plumbing, heating, electrical and interior concrete work. Specialists also were needed to remove the gas pumps and seal old fuel tanks in compliance with EPA regulations.
Tuckpointing proved painstaking for Tyler and his crew. The mortar was so bad, it had to be ground out and replaced — brick by brick. "That took well over three months," Tyler says.
When he started ripping off the roof, he found a second. "I called in so many favors for that," Tyler says. By then, it was the summer of 2015, and temperatures were in the 90s. "That was a hot one," he says.
As interior walls were demolished, Tyler encountered more than his share of structural surprises. Spaces with three separate ceilings and heavy layers of dirt, dust and grime were particularly challenging. "After a day of work, I looked like I had come out of a coal mine."
Renovation of the front half of the building was job No. 1. It took two years, but in June 2016, Main Street Studios & Art Gallery finally was ready for its public debut — and three studio artists as tenants.
Work on the 1,100-square-foot lofted apartment wrapped up in December 2016.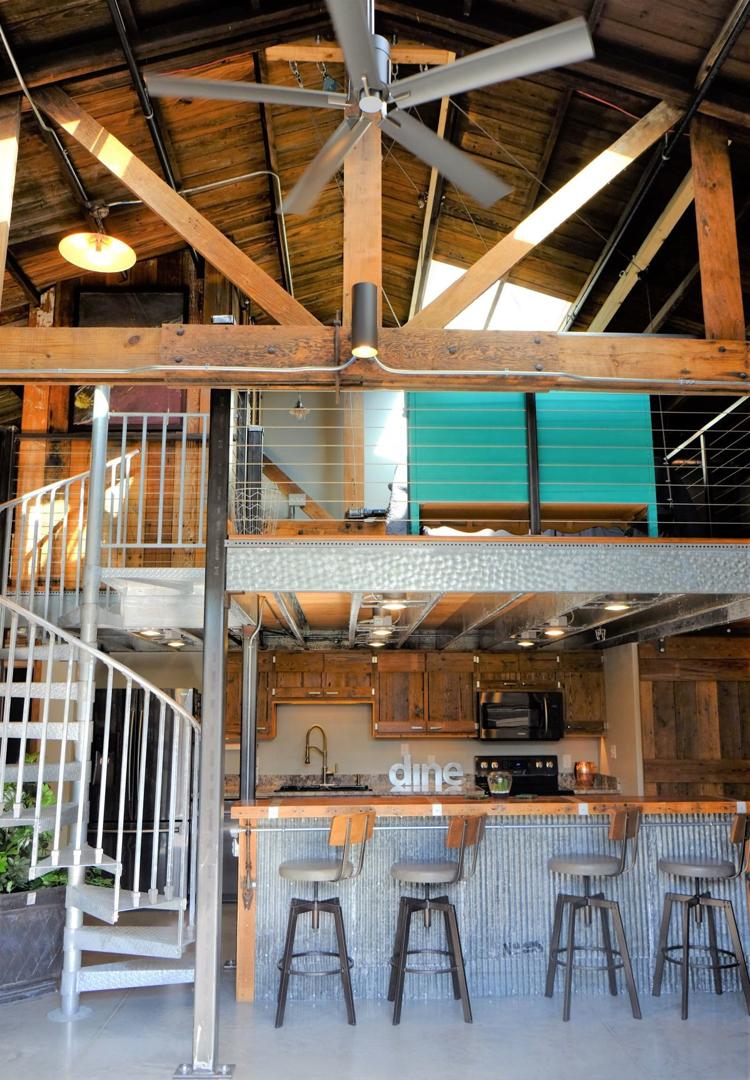 Tyler's live-work environment has an industrial look. The old blends with the new in gallery and personal spaces with polished concrete floors, high ceilings, wood trusses, red brick and galvanized steel.
An immediate attention-grabber in Tyler's apartment is library shelving with a heavy-duty tracked rolling ladder. "I've always wanted that ladder," says Tyler, an avid reader and collector of books.
The shelves — constructed from reclaimed barn wood and custom metal pipework — hold favorite leatherbound classics and travel books, plus special travel photos in frames.
Early on, Tyler envisioned floor-to-ceiling bookshelves wrapping the room's two open walls and window nooks for reading. Practicality prevailed. "I don't watch more than an hour of TV a week, but I still wanted a proper living room look and feel," he says. "My poor parents now have 1,100 books in storage at their home."
Tyler tapped his mom's talent for interior design in defining the open floor plan with area rugs and furnishings mostly reclaimed or repurposed from artist friends and family.
The kitchen cabinets and bar top were constructed from reclaimed plank flooring. The tin on the face of the bar carries a clue to its origin, stamped "CC Holling Elkhorn, Nebr." If you look closely, you'll see a bullet hole, kept for character.
Barn doors suspended on rails conceal a pantry, washer and dryer and workout equipment.
"I really didn't want to do plumbing everywhere, so I designed the space so that all the plumbing would be behind the kitchen sink and cupboard wall," Tyler says.
A spiral staircase leads to a mezzanine space with a California king-size bed, small dresser and closet. The mezzanine was a way to meet code and not install a bathroom, Tyler says.
The staircase, of galvanized steel, came from a house in Elkhorn undergoing its own remodel.
A pulley system lifts the bed frame to reveal storage underneath. "I've always wanted to do that." But then he confesses the necessity: "I hadn't planned enough space to keep things."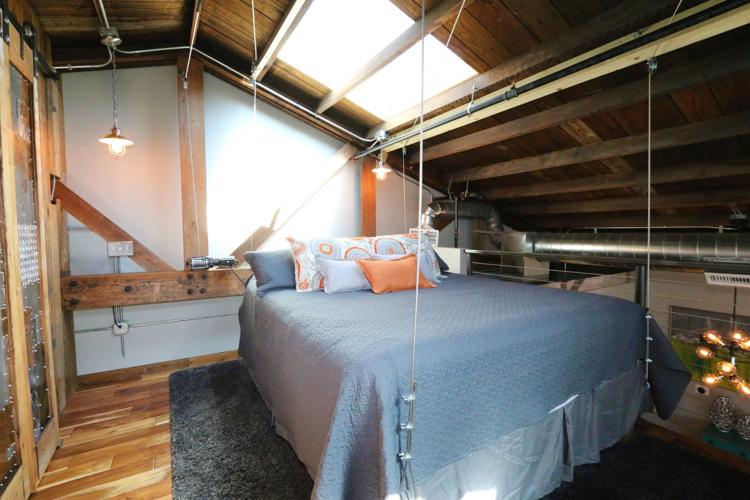 A skylight above the bed fills another wish.
"I've always wanted to sleep under the stars. It's even better when it's raining. The sound of the raindrops hitting the glass lulls me to sleep.
"It's not a bad little place."
Photos: Once abandoned, Elkhorn building is transformed
Tyler Curnes and his family turn an old automobile service station into a work of art, for art.