The kitchen is one of the most important spaces in a home. It's also the most important investment you can make in your home's construction or renovation.
Taking careful time and consideration in planning the layout and design of your kitchen – the heart and soul of your home – will pay off in how well your kitchen functions for years to come. Hiring a professional designer will help you get the most from your investment and avoid buyer's remorse.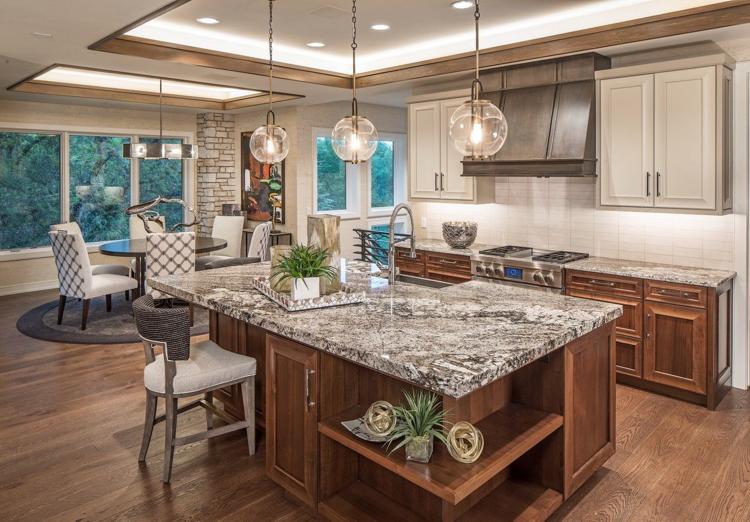 TRENDING IN KITCHEN DESIGN
Natural elements. Carrara marble is a classic choice for its timeless appeal. However, its porous quality makes it a poor choice for some family lifestyles. Natural quartzite is a durable alternative for the same look.
Smart kitchen elements. Eco-friendly dishwashers, refrigerators with Wi-Fi, and other smart appliances help kitchens run faster and safer, and overall are better for the environment and our fast-paced lifestyles.
A homeowner's personality is reflected in colorful cabinets, tile and wall covering. Even appliances, such as ranges, offer amazing personality in their dials and features. Hoods even are available in pops of color or metal detailing. Tiles are an easy opportunity to inject personality and color into a space. But also look for colorful paints, stains and finishes. A bold island color is your friend!
Wall coverings are better than ever in stunning materials, bold patterns and quiet textures. Many natural materials can be mimicked in vinyl as a beautiful yet durable option for high-traffic areas.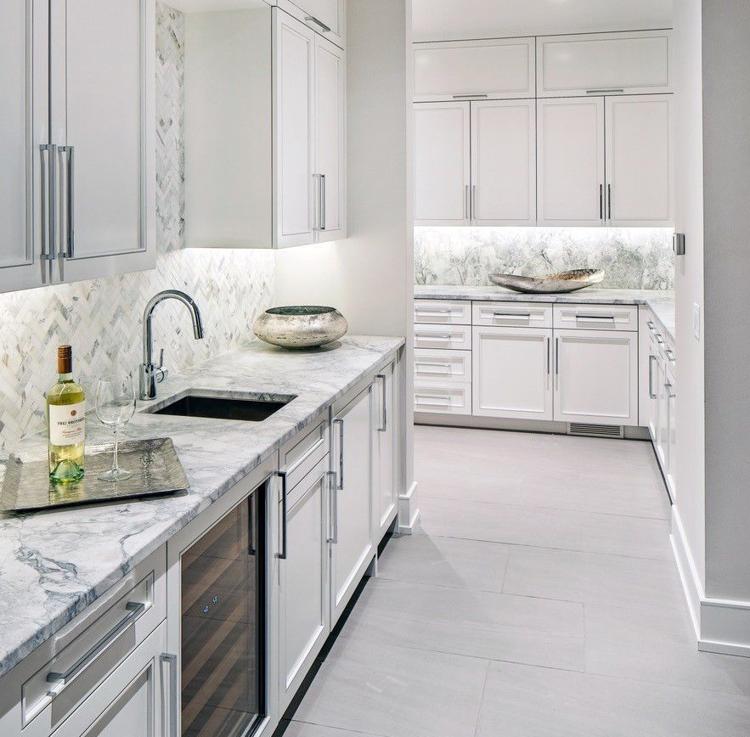 Large floor-to-ceiling cabinetry. Historically, these were called "larders" for overflowing pantry items. Convenient and gorgeous, today's versions provide a tidy place to park cooking ingredients and create customized storage solutions for spice racks, drawers for specialty linens, etc. Many clients are replacing the 36-inch drop counter desk with a larder for extra storage. In smaller kitchens, this provides a taller utilization of space to achieve a pantry.
Integrated "dirty" or "prep" kitchens. Without a formal dining room, guests gravitate to the kitchen to eat at large dinette tables. This often means our cooking mess is exposed. Integrating the work space behind a walled area solves the dilemma.
Fun finishing touches in cabinet hardware and plumbing and lighting fixtures. It takes a delicate balance to play off the current variety of finishes. Antique and French brass, pewter and chrome can be mixed, but caution and precision are needed to get it right.