There are a lot of shared memories when you've been best friends for more than 86 years.
Like the time that Helen Plunkett wrapped all of Joyce Lane's Christmas presents for her after Lane broke an ankle.
"She set off the security system twice just bringing the presents in," Lane said.
They played paper dolls together, rode the laundry chute down to the basement together and would call each other in the morning to coordinate their outfits.
"We just got along, obviously," Lane said.
Lane once even tried to set Plunkett up with a great guy named Jim. That thankfully didn't work, Lane said, because she ended up marrying him herself.
There's one constant in all their stories, which began when they discovered each other across an alley in Grand Island when they were 3 or 4 years old. Helen was a Musselman and Joyce a Zuspan.
"She's always there," Lane said.
Their decades-long friendship hits another milestone in a few days when Plunkett becomes the first of the two to turn 90. She'll celebrate with family and her best friend.
"I'm the honored guest," Lane said.
"That's right," said Helen.
They have a habit of completing each other's sentences or chiming in when one of them doesn't get a detail just right.
But they've never had a fight. Part of that is because politics are out of bounds.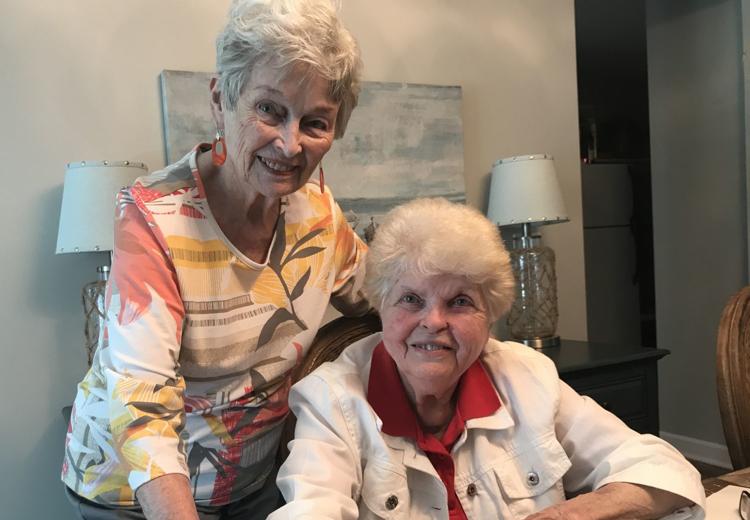 Their friendship has survived Plunkett's moves to Pennsylvania and California, when they would just exchange Christmas cards, and the death of both of their spouses.
Lane was there when Plunkett lost her son Gary at the age of 51 and took her to see her favorite singer, Frank Sinatra, in Lincoln shortly after her husband died.
"That was monumental," Plunkett said. "She has been so kind to me."
Both women, who have now lived in Omaha for years, are still independent and say their health is good for the most part. Lane said she didn't want to be one of those people dragged kicking and screaming from her home, so she moved into independent living three years ago.
Plunkett shares a town home with her daughter and son-in-law.
Both still drive, which makes it handy when they want to meet for their favorite activities — catching lunch or dinner and a movie or playing bridge. They think they are a lot alike.
"I like everything about her," Plunkett said.
Sign up for The World-Herald's afternoon updates
Receive a summary of the day's popular and trending stories from Omaha.com.
There are a few other girls from Grand Island with whom they still keep in touch — Barbara Finley Brown, Ann Augustine Martin and Donna Bilon Moyer went through school with them, too.
They remembered how much Plunkett once loved "The Jolson Story" and how they sang her songs from the 1946 movie for her surprise birthday party when she turned 70.
"It was so cute," Lane said.
When they get together, they don't speak often about the past. They talk about the future and the fun still to be had.
But they're glad they've had each other for all these years.
"That's the magic part of it," Helen said.