Homeowners, let your hair down.
It's National Pollinator Week, and with it comes a chance to spread the word about how you can protect them with a few adjustments to your landscape. Those little insects are part of a group that is responsible for one of every three bites of food we eat.
Our first piece of advice?
"Your yard doesn't have to look like Augusta National," said Jonathan Larson, the Nebraska Extension entomologist for Douglas and Sarpy Counties. "You can let things grow a little bit, and that will help those pollinating insects."
That's easy to say and difficult for many gardeners to do. We've grown up with the idea that a neat landscape is the best landscape.
But planting for pollinators is about more than adding a pretty flower or two in a perfectly manicured bed, said Scott Evans, the horticulture program coordinator at the Douglas-Sarpy County Extension Service.
"We need to view pollinator health as creating a habitat that allows them to thrive," he said. "Pollinators need access to nutritious food all season long, along with shelter and water."
Evans is part of the Pollinator Habitat Certification Program with University of Nebraska-Lincoln Ph.D. candidate Natalia Bjorklund.
Asked about the most important things homeowners can do to help pollinators, Bjorklund started by advising gardeners to buy pollinator-friendly flowers. Newer cultivars or those with double flowers aren't as attractive to insects, she said. Plants that have been around for a long time haven't been hybridized to the point that the pollen and nectaries have been lost.
"For instance, with hollyhocks. The double flowers are pretty, but they have so many petals, you can't see the nectar or pollen," Bjorklund said. "If I can't see it, the pollinators can't. A single-flower hollyhock would be better."
Make sure to provide a muddy area or a shallow source of water instead of a bird bath in which insects can easily drown. Replace the water weekly to avoid creating a breeding ground for mosquitoes.
Pollinators also need nesting sites. About 70% of Nebraska's native bees nest in the ground, while the rest live in twigs and dead logs.
Leave part of a garden bed empty, with a light layer of mulch. Don't worry about getting stung. The ground bees are usually solitary and will leave you alone unless you rile them up. A pile of twigs and branches in a corner of the yard is the perfect home, too, especially over the winter.
Also important is using pesticides and insecticides according to the directions. Avoid the parts of the plant where insects will be looking for food, or they could be poisoned. Better yet, let the clover and dandelions grow in part of your yard. The bees will love it.
Larson applauds people's efforts to help pollinators by planting such things as milkweed. But he will often get calls if no butterflies or caterpillars appear.
"I have to explain, they can't see your one plant," he said.
He would love to see homeowners devote about a 6-by-6-foot plot to pollinators. Seed it with pollinator-friendly plants, and he guarantees that butterflies and bees will put on a show.
"Just make sure there is something in bloom from April to October, with a lot of different shapes and colors so you are maximizing how many pollinators you are helping," he said.
Bjorklund said they've already had 77 people qualify for the Pollinator Habitat Certification Program since it began in 2016, so she knows that it's an important issue for gardeners.
She echoed Larson's advice about your lawn and garden beds. Pollinators aren't looking for perfect.
"I would encourage people to relax," she said.
Bumble Bee Atlas
The University of Nebraska-Lincoln and the Xerces Society for Invertebrate Conservation are looking for your help with the Nebraska Bumble Bee Atlas.
They are asking people to identify bees they see on the community-science platform Bumble Bee Watch.
While the project will target all bumble bees, the Nebraska Game and Parks Commission has identified four species as having the greatest conservation need. They include the western bumble bee (bombus occidentalis), southern plains bumble bee (bombus fraternus), Suckley's cuckoo bumble bee (bombus suckleyi) and variable cuckoo bumble bee (bombus variabilis).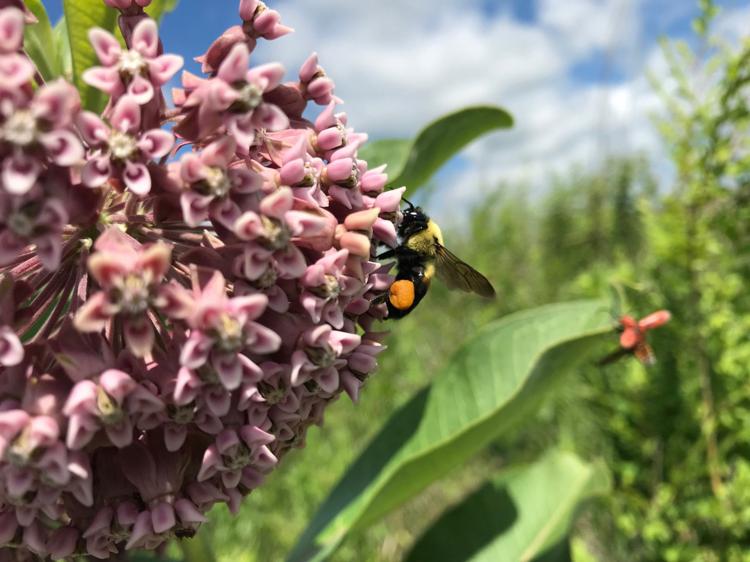 "Whether you're a career scientist or even just slightly interested in nature, community science provides an opportunity for the public and researchers to work together," said Louise Lynch-O'Brien, assistant professor of insect biology at UNL. "Right now, our pollinators in Nebraska and beyond are facing all sorts of problems. Research is how we get a handle on these problems. It is always exciting to see community science efforts, like the Nebraska Bumble Bee Atlas, in action. This is a chance for anyone to get off the sidelines and do something about pollinator declines and conservation efforts."
To help launch the project, there will be several community science volunteer training events throughout July and August. The events will help community scientists connect with other volunteers while learning about bumble bees and how to contribute to the atlas.
Game and Parks is looking for volunteers to complete butterfly surveys in Nebraska through the end of July. To learn more, go to outdoornebraska.gov/butterflysurvey.
The Sierra Club is holding the Hawley Hamlet tour in Lincoln at 6:30 p.m. Saturday. Tour one of Lincoln's premier urban agriculture areas. The address is 605 N. 26th St., at the corner of 26th and T Streets.
A prairie walk is set for 7 p.m. Thursday at the Glacier Creek Preserve in Bennington, at 14810 State St. More than 350 species of woody and herbaceous plants and 170 species of fauna have been observed at the restored tall grass prairie preserve.
30-plus weird, unique places to go and things to do across Nebraska this summer
Looking for something fun and interesting to do this summer? Check out our list of fun destinations across the entire state of Nebraska.