It's not every day that a house of Styrofoam and concrete springs up in your neighborhood.
"It's better than a speed bump," Louis Moisset quips about the double takes his eco-friendly modern ranch gets from passing motorists. The gawking started the day the hole was dug in the summer of 2013.
Word spread quickly — not always accurately — that a "concrete house" was going up in Northern Hills Estates, a relatively new northern Douglas County subdivision with mostly conventional homes.
Nervous neighbors initially wanted to know, "So, what's the outside going to look like?" The homeowner, for the most part, alleviated fears of a Flintstones' cave or a lunar module.
He and his wife, Deanna, were building a modern-style ranch of his design using green materials, Insulated Concrete Forms, and geothermal heating and cooling technology. To conform to neighborhood covenants, the concrete exterior would be finished with earth-tone paint, cedar planks, lap siding and stone.
"I'm a conservative guy," says Louis, who served as his own general contractor. "I wanted to build as green as possible without being a tree-hugger. I'm a 'sensible green,' not a 'political green.' If I can have the same or better outcome with less in a sensible way, you have my attention."
Though he found "excellent options" in alternative materials for his 2,400-square-foot home, "some did not fit my build or fell too short of my requirements for cost, energy efficiency and sustainability," he says.
Insulated Concrete Form (ICF) technology snagged high marks on those three points. The construction method — a system of interlocking Styrofoam blocks filled with concrete — is strong, energy efficient, airtight and sound dampening.
Key among the geothermal unit's selling points: service now is available from most HVAC contractors, the in-ground system relies on constant and predictable groundwater (in this case, pumped from a pair of 200-foot-deep wells on the property), and OPPD estimates that the system could pay for itself within seven years.
A bonus, Louis says, was a 30 percent tax credit that brought the geothermal cost to within $1,100 of a conventional heating and cooling system.
Planning the house on paper was one thing. Executing the build was another. The project took nearly 22 months to complete.
"We are in the Midwest. We have many great contractors but only a very few are willing to step outside the box," Louis explains. "My floor plan was basically two intersecting rectangles. Yet, since I wasn't using typical materials and the house looked different from most projects, it took time to find the right contractors."
The Moissets did a lot themselves. "Way too much, with full-time jobs and family life," Louis says. "But it all turned out great in the end."
The home embraces modern European design inside and out. That's not surprising, since Louis is a native of France.
Industrial modern elements such as exposed ductwork and raw particleboard ceilings provide architectural interest and economy for a building project on a super-tight budget.
For the ceilings, Louis handpicked the boards to avoid any hint of unsightly manufacturer's stamps. He smiles, sharing that visitors frequently ask, "When are you going to finish the ceiling?"
In the great room, tall windows face east and south to maximize solar heat and capitalize on views of trees and rolling countryside.
The open ranch floor plan is a departure from the multistory home the couple originally thought they would build on a narrow urban lot purchased about eight years ago.
When Northern Hills Estates sprang up just east of the North Omaha Airport, an acre lot in a quiet neighborhood sounded more practical.
"You're in your 40s; do a ranch," Louis rationalized. The floor plan is not completely zero step-entry. But it could be, if the need arises. "You gotta plan for aging," Louis says, pointing to "mini" steps in a hallway that could be modified into ramps, and door frames, hallways and walkways wide enough to accommodate a wheelchair or walker.
"She's my 'break,'" Louis says of Deanna's way of critiquing proposals with a raised eyebrow and a playful admonishment, "Really? Did you think that through?"
Case in point: In an early interior rendering, the kitchen was in the middle of the house, where the living room now stands. The couple decided better placement would be along the south wall of the open space.
The kitchen is a home chef's dream, with stainless steel appliances, extra-deep work surfaces, a walk-in pantry with sliding door and a center island with seating.
"The cooks can cook and guests can visit," Louis says of the island. A conversation piece in itself is its stainless steel tabletop in the shape of Nevada, manufactured by Hempel Sheet Metal Works in Omaha.
Other countertops are Cambria quartz – sans backsplash. "It killed Lou when I said that I didn't want them," Deanna remembers.
What's next?
"Retaining walls," Louis says. "I've got to have an outdoor summer project, right?"
If you're in the neighborhood, look for the ranch with the angled roof. "We're that house," the homeowner says with a wide, eco-friendly smile.
TOUR THE HOME (CLICK IMAGES TO ENLARGE)
GREAT ROOM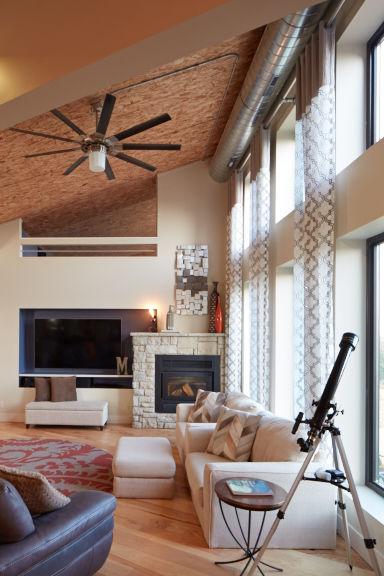 Draperies running the full height of the windows soften the hard angles of the ceiling and walls in the great room. The panels, made by Deanna's mom, Lil Chatfield, hang from gas pipes as rods. To save money, Deanna and her mother painted the entire interior.
A recessed wall pockets a 70-inch television for a home theater experience, and a loft room tucked under the ceiling serves as a kids' hideaway and nifty overlook. For Deanna Moisset, the loft kindles fond childhood memories of playing at a friend's house. "You always wanted to go to Brook's house because of the loft." The Moissets' version is only accessible by ladder.
LIVING ROOM & KITCHEN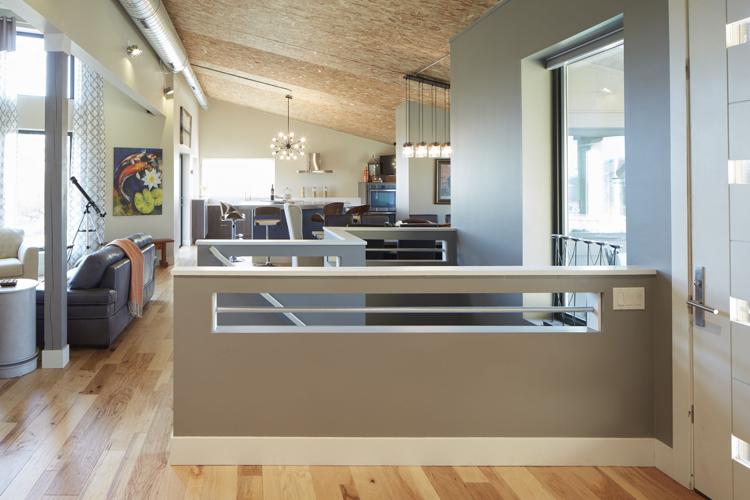 The living room and kitchen share an open floor plan.
KITCHEN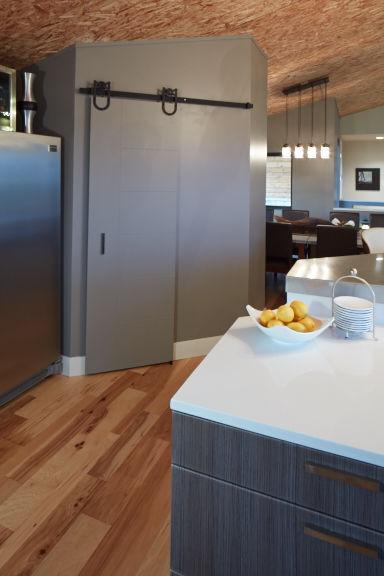 The kitchen features stainless steel appliances, extra-deep work surfaces, a walk-in pantry with sliding door and a center island with seating, where meals on the run are eaten.
DINING ROOM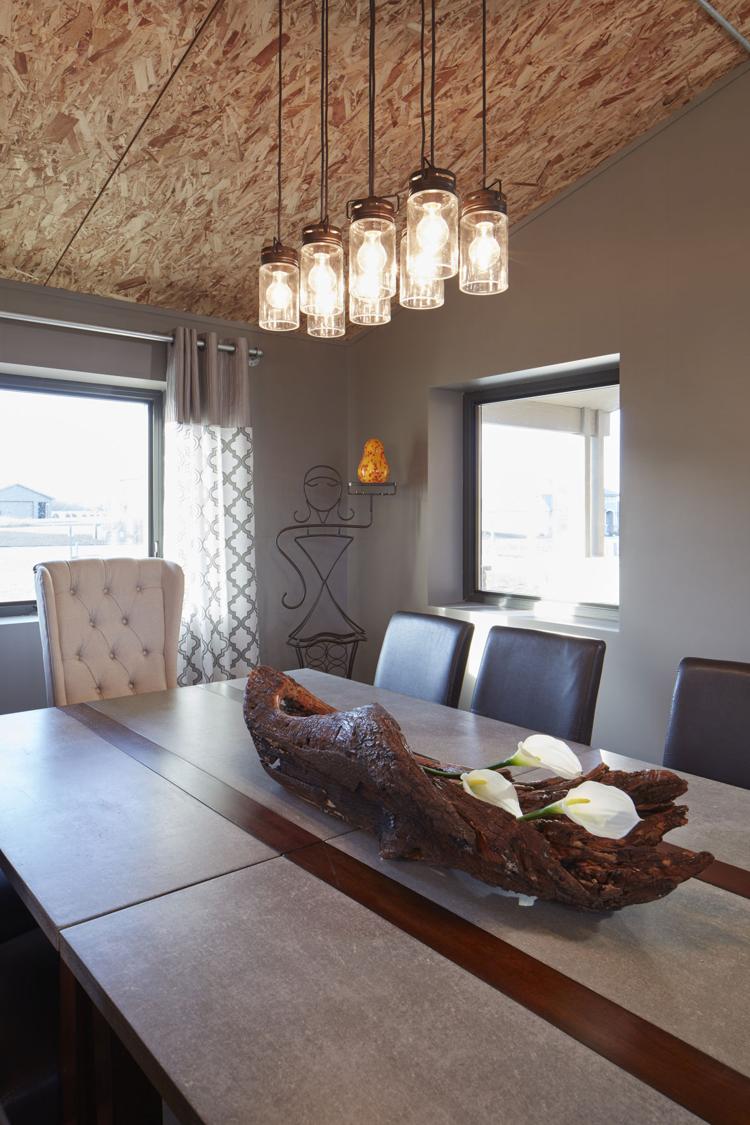 Family meals are shared around a stone-topped dining room table that actually is two tables pushed together. The industrial look is softened with a pair of upholstered wingback chairs.
CENTERPIECE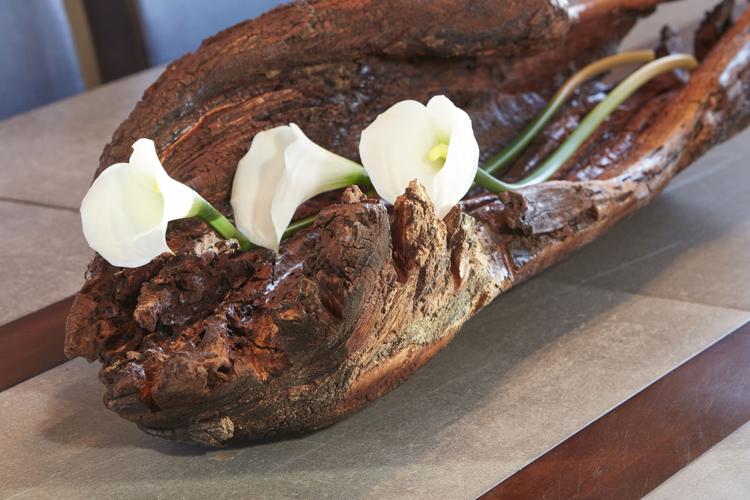 The centerpiece is a hollow tree limb that the homeowner cleaned and varnished.
MASTER BATH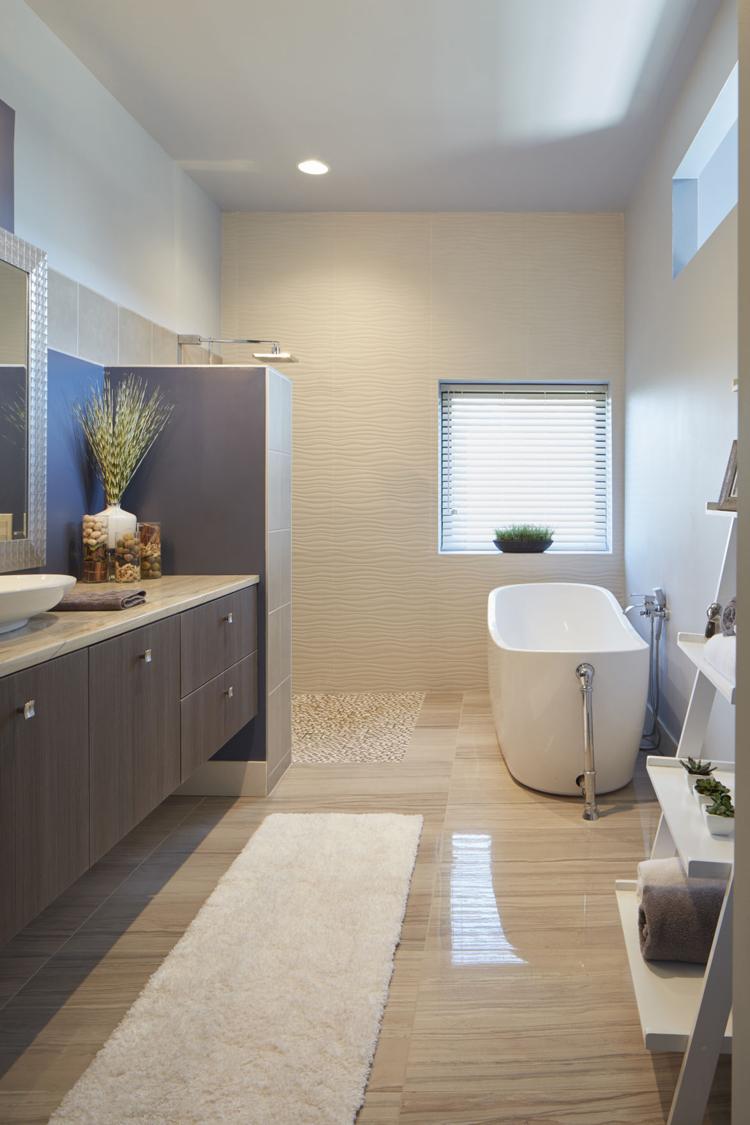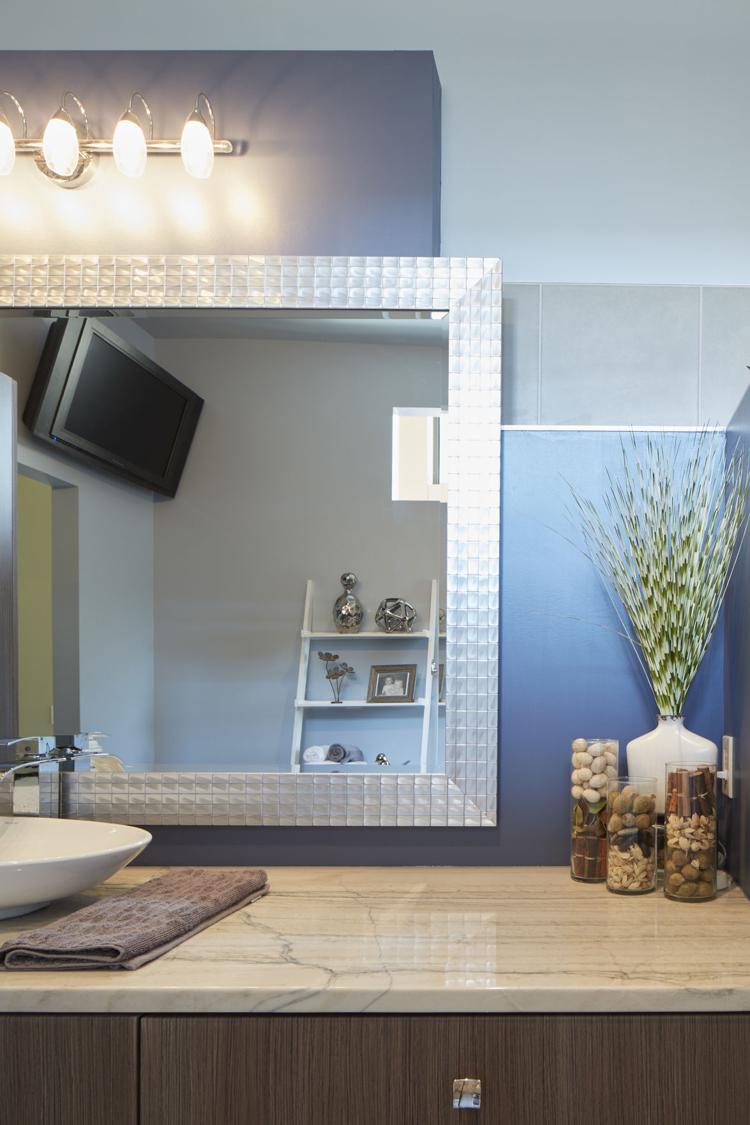 The master bathroom features a zero-entry shower with 3-D waterproof wave tile and radiant heat flooring.
MASTER BEDROOM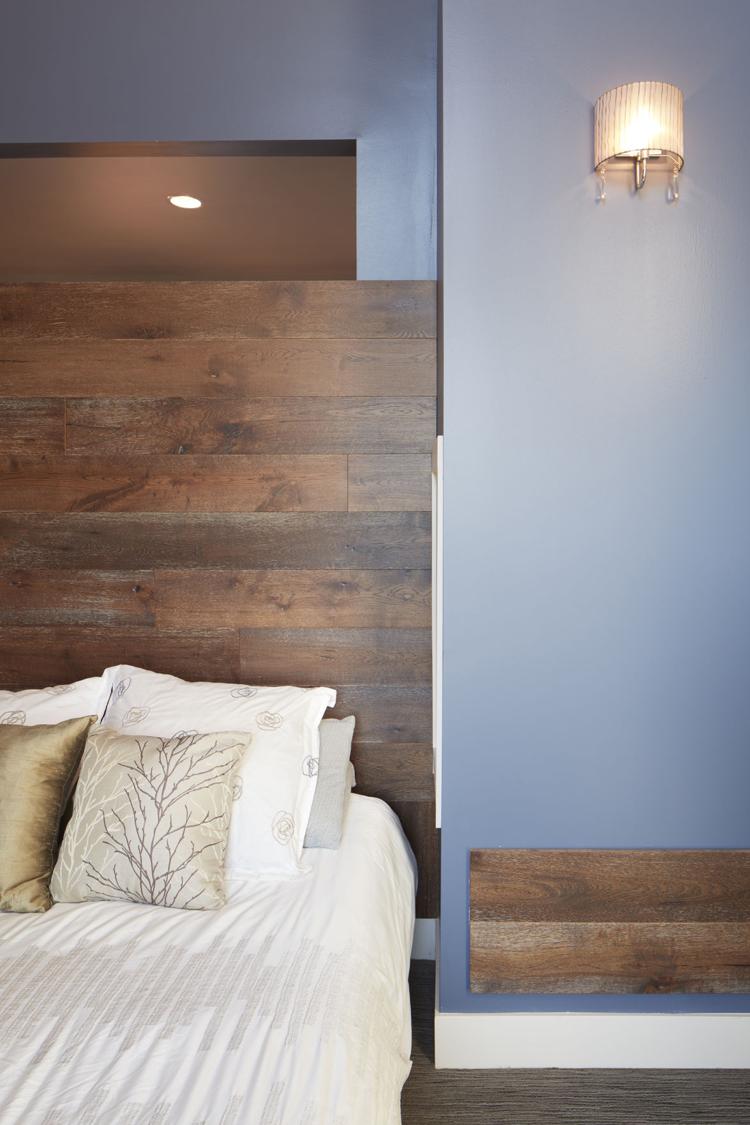 The master bedroom is 12 feet by 17 feet with a 20- foot ceiling. Reclaimed wood attached to a wall shared with the bathroom gives the illusion of a headboard.
JACK AND JILL BATHROOM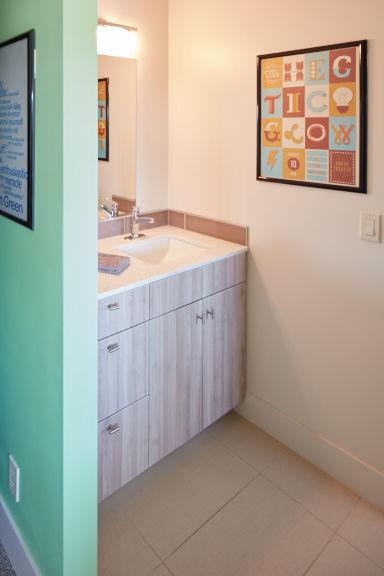 The Moissets' two children have a Jack-and-Jill bathroom with private sinks and a shared toilet and shower. The cabinetry is vinyl-wrapped here, as well as throughout the home.
Click here for more innovative eco-friendly design in the Metro.